Impacts of Sludge's Reporting (So Far)
Sludge's investigative journalism has already had impacts to date: a public hearing and new legislation in the NYC Council, an elections complaint submitted by a watchdog group to the New York Board of Elections, donations returned from white supremacist candidates, and more.
A public hearing and a resolution passed in the New York City Council. An elections complaint filed by a New York state watchdog group. Campaign donations returned from white supremacist Congressional candidates.

Sludge's investigations into the mucky systems of money-in-politics are having an impact, and we're still ramping-up.

Here's a quick overview of some of what we've accomplished at Sludge in our first three and a half months, relentlessly uncovering corruption:

83 original investigations on how special interests hide their campaign donations and how lobbyists influence policy on behalf of powerful industries
Links from many top news sites, including: CNN, HuffPost, Politico (CA, DC, and NY), Guardian US, The Daily Beast, The American Prospect, The Appeal, Slate, Splinter Politics, TechDirt, Motherboard, Popular Information, New York Post, and more.
Regular links in numerous email newsletters, including those from Politico Playbook, the Sunlight Foundation, ReThink Democracy, Every Voice, Tarbell, and the New York political journalism organization City & State.
Co-published stories with several top outlets, including: Capital & Main; Capital & Main and WNYC; Fast Company; and The Young Turks Investigates.
Check out our new post, "Sludge in the news", to see citations in other articles and on social media (over 131 noteworthy links there as of this writing), and subscribe to our free email newsletter.
The Sludge team (Jay, Alex, Josefa, David, and Donny) have been raking muck and covering the deeper aspects of the swamp:

Over 18 weekly newsletters sent to our growing list, including exclusive content and links to the best money-in-politics coverage around the internet
Tweets of our articles from members of Congress and statewide candidates, including U.S. Sen. Jon Tester and Rep. Ro Khanna
Media appearances on WNYC radio, NY1 News' "Reporter Roundtable", "The Majority Report" with Sam Seder, The Young Turks Investigates, BRIC TV in Brooklyn, and more.
Sludge's original reporting and data analysis has been circulating in campaign finance circles, as recently:

The U.S. Senate finally adopted electronic disclosure of campaign contributions
The California legislature passed the strongest net neutrality bill in the country
A member of Congress sold her stock holdings in private prison companies, days after a Sludge reporter's previous investigation
We've held public Q&A's on Reddit around New York elections, recorded videos of our Sludge reporter chats, and published bonus content from the "editing room floor" on our Member discussion forums, where readers interact directly with our reporters.

Our most-read and most-shared article so far, on the Immigrations and Customs Enforcement agency (ICE), prompted several follow-ups by local news outlets. Sludge's July 6th investigation on ICE contracts in states, and our follow-up report from July 13th on ongoing contracts with sanctuary cities, inspired three subsequent articles by other Civil newsrooms:

Chicago city government contracts with ICE, by Block Club Chicago on July 10th;
Former CIA subcontractor's deportations for ICE, by Documented on July 13th;
NYC Council legislative proposal to cancel government contracts with ICE, exclusive by Documented on Aug. 28th.
As a newsroom practicing open-source reporting, these localized follow-ups were made possible by a public spreadsheet of cleaned and standardized government data from Sludge journalists. (More collaborations with fellow "First Fleet" newsrooms are currently in the works, such as the real estate industry investigation with the NYC political journalists of FAQNYC–this is one of the areas about which we're most excited, expanding our approach to money in politics coverage and data analysis to more cities, states and policy areas as the Civil network grows.)

Sludge's ICE investigations resulted in two new legislative items in the New York City Council: a resolution (Resolution 0513 of 2018), calling for the U.S. Congress to abolish ICE, which passed the full Council; and a bill (Introduction 1092 of 2018) to cancel ongoing ICE contracts with New York City, which is currently active in the Immigration Committee from Chairperson Carlos Menchaca.

The #AbolishICE bill was prompted by a constituent letter to Councilmember Carlos Menchaca's office after reading Sludge's ICE contracting investigation. After its public hearing and testimony from NYC agency heads and immigration advocates, it is currently laid over in the Immigration Committee, sponsored by Chairperson Menchaca with two co-sponsors.
Councilmember Menchaca described Sludge and Documented's work as coming from "amazing investigative reporters":

Sludge's New York coverage of the state primary election produced more results for transparency around what can fairly be described as "ethics-challenged" Albany. An official complaint was filed on Sept. 18th with the New York Board of Elections by Reinvent Albany, a good-government group, prompted by Sludge's Sept. 12th report on an unregistered Brooklyn political club's activities. Another unregistered Brooklyn club was subsequently identified by Sludge, one of approximately 25 such shadowy groups spending on elections that have been active this year.


Sludge reporters' research has had impact at the federal level as well, such as prompting a stock sale by a member of Congress. As reported on Sludge on Sept. 20th, after Alex Kotch found that Rep. Lois Frankel (D-Fla.) owned stock in private prison giant CoreCivic, the U.S. rep sold it–just four days after the report came out on July 12th.

In fact, in just over two weeks from launch, Sludge had received links in tweets from two members of Congress: Sen. Jon Tester, on June 27th; and Rep. Ro Khanna, on June 25th. Sen. Tester referenced Donny Shaw's reporting on a long-needed electronic filing measure of Senate campaign finance data–which passed, after years of obstruction, on Sept. 13th.

(That long-petitioned-for step forward builds on previous work from Sludge's co-founders from 2007-2013 on the innovative Congressional transparency site OpenCongress.org, the first non-profit site to combine official legislative actions with campaign contribution information, public comments, and daily news analysis. It's been over 15 years of good-government advocacy for Senate #efile!)

Back to the local level: Laurence Berg, a pathologist and elected member of the LaCrosse County, Wisconsin Board of Supervisors, told a local newspaper on July 10th that he would seek donations to be returned from Paul Nehlen, a white supremacist and Republican candidate for the U.S. House in Wisconsin's 1st Congressional district. Berg's request comes after Sludge first reported on July 3rd his donations to the white supremacist Nehlen.

In California, reporters picked up a Sludge story after our July 11th exclusive report that Sen. Feinstein's husband, Richard Blum, purchased at least $100,000 of Facebook stock in January 2018, ahead of an April Congressional hearing with the company's Mark Zuckerberg.

Also in California, Sludge reported on Aug. 30th on a major AT&T lobbyist dodging disclosure requirements to oppose net neutrality. This past month, the California legislature passed a bill (known as SB 822) re-implementing strong net neutrality regulations, supported by tech freedom groups such as EFF and Fight For the Future, which was last weekend was signed into law by Gov. Jerry Brown.

Sludge's reporting on an AT&T front group in California was used by corruption watchdogs on Twitter to push back against astroturf anti-net neutrality ads:


Sludge's co-published story with Capital & Main, on Gov. Cuomo halting an investigation of Harvey Weinstein after a donation from David Boies, was featured on Aug. 29th as a Twitter moment. The scoop was in heavy circulation in New York political circles ahead of that night's Democratic candidate debate between Gov. Cuomo and challenger Cynthia Nixon.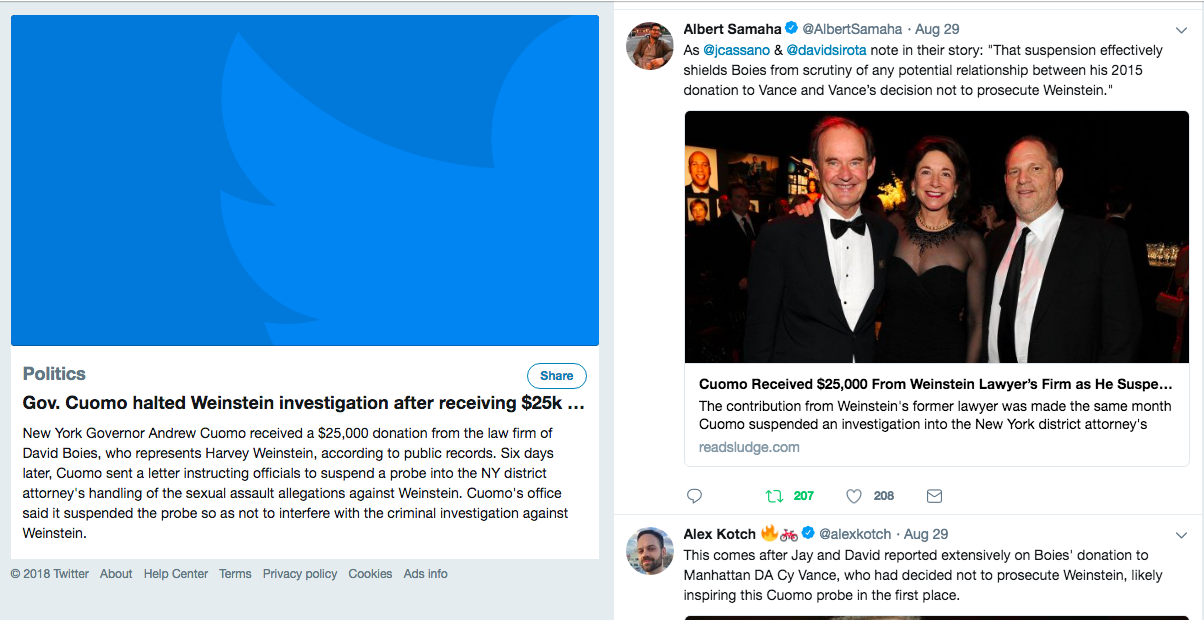 June's most-read Sludge story was our launch-day feature investigation on a shadowy think tank with close ties to major defense contractors.

July saw the ICE investigations go viral early in the month, and was followed in total views by our investigation into donations to white supremacist candidates and a catch on the Winklevoss Twins' donation to Gov. Cuomo, just weeks before their new cryptocurrency was approved in New York. Right behind those articles was the scoop on Sen. Feinstein's husband's undisclosed holdings in Facebook and reporting on how the Michigan Chamber of Commerce was donating to judges affecting that state's redistricting process.

The scoop on Gov. Cuomo and Harvey Weinstein was the runaway hit of August, followed by our look into the special interests illegally funding NY Senate candidates, a find on a U.S. rep's holdings in Bitcoin, and a report on another U.S. rep's lavish trip to speak at an anti-Muslim group. August 30th saw another timely collaboration with a Civil newsroom, the FAQ NYC politics podcast, on real estate industry donations in the New York primary for Attorney General.

Work such as the above requires reporting time (for data analysis and power mapping), editorial independence (for exposing how the deeper campaign finance system really works), and a network of collaborators (in the investigative journalism community and on the Civil publishing platform). Sludge has been seed-funded by a generous grant from the Civil Media Company, as one of the "First Fleet" of newsrooms, but in the short months ahead we are responsible to bring on Members who help underwrite our work with donations.
Join today as a Sludge Member (it takes just two minutes at most) and help us continue to create these impacts for greater public accountability.
Because we believe that uncovering corruption is so critical to the public interest, Sludge is paywall-free and advertiser-free. We publish all of our articles free-of-charge on the open internet, and share our cited data openly for follow-up investigations by other news outlets–but in order to pay our reporting costs, we need to make progress on the path of signing-up more reader donations.
Check out our Membership rewards programs and get in touch to discuss other ways to support our relentless investigative journalism–an exciting new model of independent media, blockchain-backed, directly accountable to our Members.
Questions, feedback? Get in touch! We're always interested in hearing from readers about topics of interest and potential investigations.