Mysterious Political Group Linked to N.Y. Sen. Martin Dilan is Funded by Big Real Estate
An eight-term state senator from North Brooklyn, who was recently exposed for failing to report thousands in campaign contributions, appears to have a shadow group that's taking cash from the same real estate interests that fund his campaign.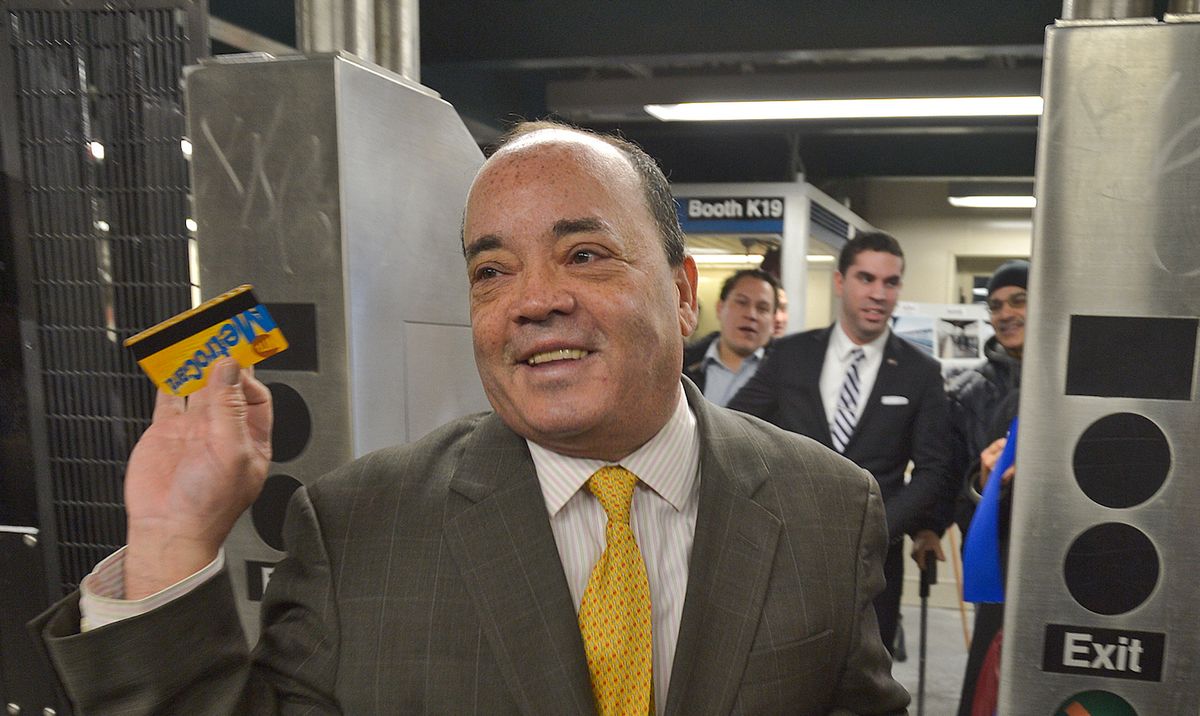 UPDATE, 7:20pm: Sludge co-founder David Moore visited 58 Vermont St. in Brooklyn, the address reported on campaign finance filings by donors to both Dilan's campaign and to the mysterious Northeast Brooklyn Democratic Club. The bottom-floor office appears to be a Dilan campaign office. Campaign posters for Martin Dilan, Attorney General candidate Tish James, and combined posters supporting Gov. Andrew Cuomo and Lt. Gov. Kathy Hochul were attached to the windows and the inside walls. Photos taken by David Moore and his account of his visit have been added to the bottom of this story.
A shadowy group called the Northeast Brooklyn Democratic Club has been taking in tens of thousands of dollars from major real estate interests in the run-up to this week's state primary elections, but how, or if, it has spent that money remains a mystery.

There are a few clues, however. Several reports filed by its donors reveal its address—58 Vermont St. in Brooklyn—the same address that has been reported as the location of state Sen. Martin Dilan's campaign.

On Monday, the New York Daily News reported that Dilan failed to report tens of thousands of dollars in campaign donations to the state board of elections. If the Northeast Brooklyn Democratic Club is also spending unreported money to assist his campaign, this would add considerably to his unreported campaign cash.

If an entity receives or spends $1,000 or more in connection with an election in New York State, it is required to register as a political committee with the State Board of Elections and report its donations and its expenditures. The mystery Democratic club has done neither, so there's no evidence that it has spent any money on elections.

However, the fact that friendly political groups, donors to Dilan's campaign, and Dilan's son's old federal campaign committee have given to this so-called Democratic club raises legitimate questions.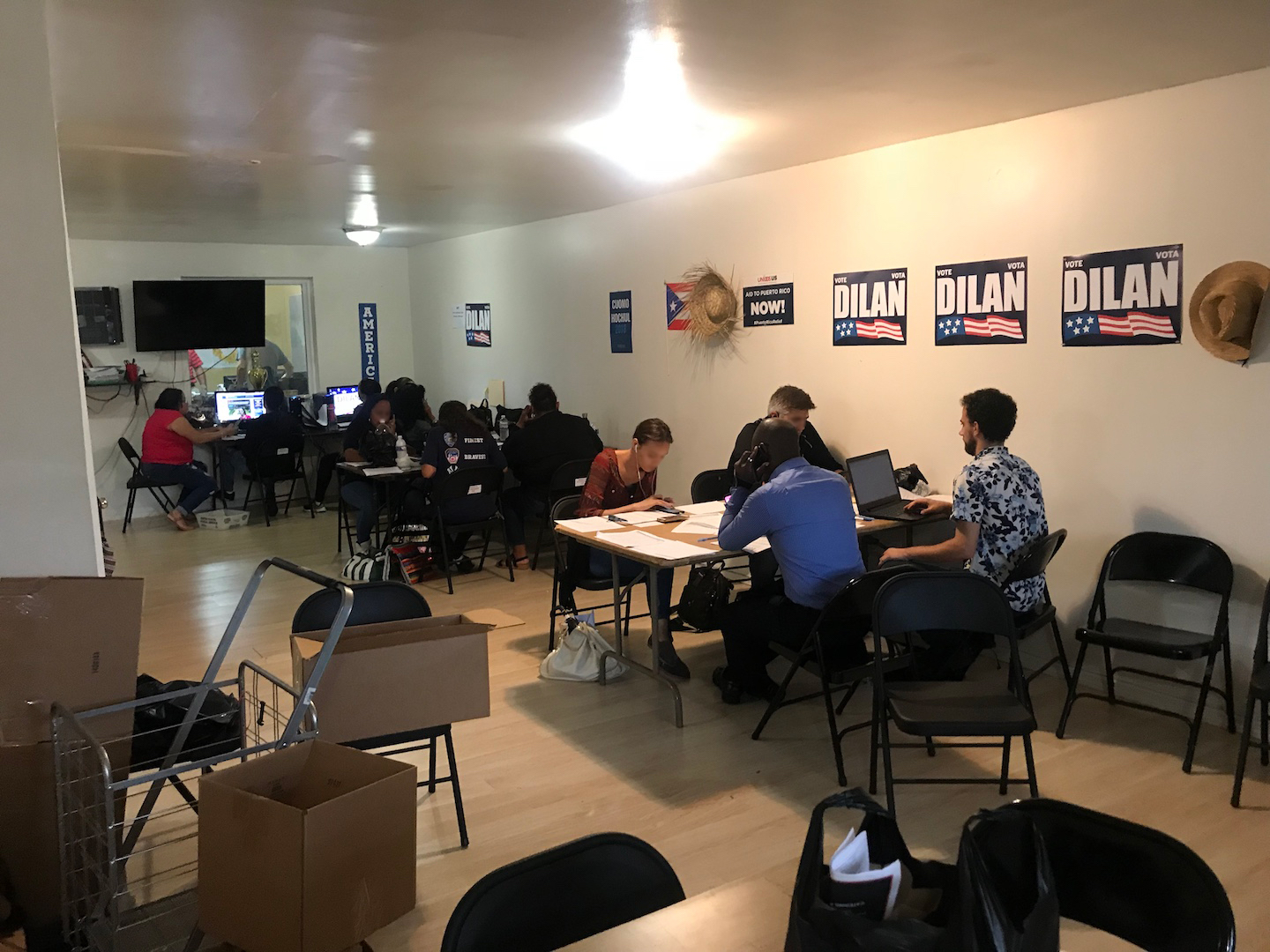 Dilan's spokesperson declined to comment, and a request for comment from the state Democratic Party was not returned.

The known donations to Northeast Brooklyn Democratic Club are:

$25,740 from the 2012 U.S. House campaign of Dilan's son, current state Rep. Erik Dilan, two months before the campaign was terminated
$20,000 from two PACs operated by the Rent Stabilization Association
$10,000 from the Real Estate Board PAC
$250 each from Justice Lillian Wan's New York Supreme Court campaign and the campaigns of civil court judges Loren Baily and Devin P. Cohen
Attempts to reach the Rent Stabilization Association and the Real Estate Board PAC were unsuccessful.

Michael Kinnucan, campaign spokesman for Dilan's primary challenger Julia Salazar, told Sludge, "These revelations about Dilan's links to real estate slush funds, following on news earlier this week that he had received tens of thousands in illegally undisclosed PAC money, make it all too clear whose interests Senator Dilan represents. North Brooklyn voters deserve a senator who will be accountable to them, not his donors."

Dilan is one of Big Real Estate's favorite state lawmakers. According to Gothamist, the senator's campaigns have received $325,000 from real estate interests since 1999, amounting to 15 percent of his total campaign funds—nearly double that of any other state lawmaker.

Since 2007, under Dilan's watch, District 18 lost 21 percent of its rent-stabilized housing. Real estate firms appeared to cash in on their political contributions to Dilan, as he voted for tax breaks that benefitted his campaign donors, ignored pro-tenant legislation, and fought proposed limits on contributions from real estate interests and lobbyists, even suing the New York City Campaign Finance Board to stop them.

One of these interests, a landlord lobbying group called the Rent Stabilization Association, has donated a total of $84,000 to Dilan's campaigns over the years, and its president has contributed still more. Both of the PACs the group runs have recently given money to the Northeast Brooklyn Democratic Club: $17,500 from the Neighborhood Preservation PAC, most of which was donated in August, and $2,500 from the RSA PAC.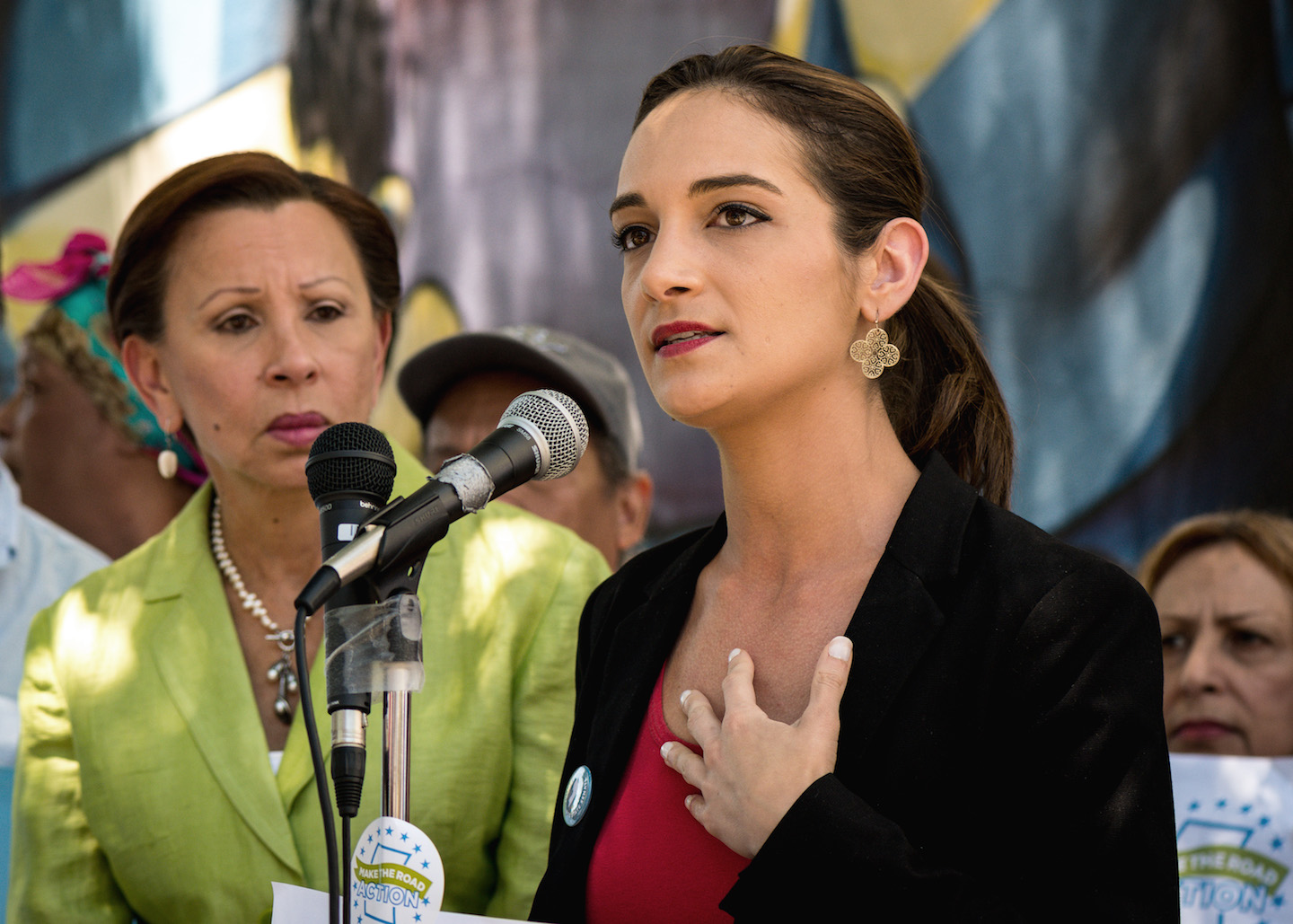 Another major player in New York real estate, the Real Estate Board PAC, not only gave the Dilan-linked club $10,000 on Aug. 23, but it has also contributed over $51,000 to Dilan's campaigns. As Sludge previously reported, the Real Estate Board is the biggest donor to a political group that was ruled illegal in June, the Senate Independence Campaign Committee, which funnels money into the campaigns of eight Democratic senators who, until recently, formed a renegade, corporate-friendly caucus that aligned with Republicans to halt progressive legislation.

Backing the real estate organizations are major players in New York City. Funders of the Rent Stabilization Association's political activities include Glenwood Management, the Parkoff Organization and the LeFrak Organization. Donors to the Real Estate Board PAC include real estate private equity firm Fisher Brothers and developer Donald Zucker.

Meanwhile, Dilan faces off against a young, leftist candidate on Thursday. Democratic socialist Julia Salazar is running a campaign focused on tenants' rights. Salazar has been the subject of an array of obsessive media reports on everything from her religious identity to a dropped lawsuit against her that led to a defamation settlement in her favor. Few of these stories have so much as mentioned any details about Dilan and his record.

Salazar has run a campaign focused on what she sees as a "housing crisis of vast proportions" in North Brooklyn, proposing to expand affordable housing and rent stabilization, and to fight upzoning and vacancy decontrol.

Because of her progressive platform, Salazar has endorsements from the Working Families Party, the Democratic Socialists of America and leftist congressional nominee Alexandria Ocasio-Cortez.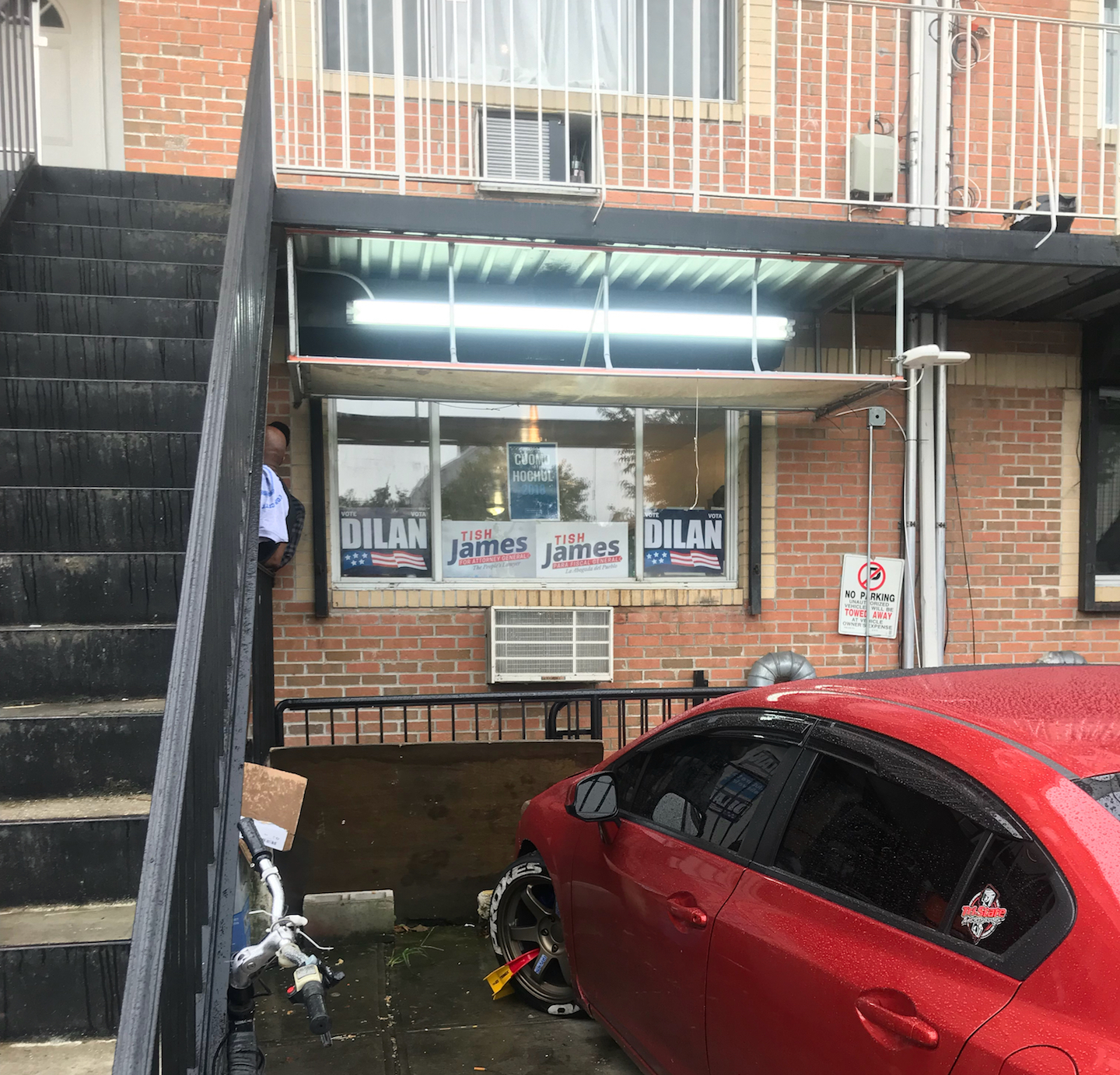 Sludge Visits the Office
An account from Sludge co-founder David Moore:
At 5pm on Wednesday, I entered the ground floor door at 58 Vermont St. in Brooklyn and saw a phone banking operation, with Martin Dilan and Tish James campaign signs posted in the windows and inside. Some phone bankers inside were wearing union logos, and several gray hooded sweatshirts from a carpenters' union were draped over a chair. After observing the phone banking for about two minutes, I approached the back office, where five people were sitting, two of them on computers. I introduced myself and asked if I was at the location of the Northeast Brooklyn Democratic Club, and none of the five people would respond. I asked if I could speak with anyone from the Northeast Brooklyn Democratic Club, and none of the five would respond. I asked if I could speak with anyone there on the record, and one of the individuals motioned to show me the door, indicating that I should leave the office. I asked if I could have his name and affiliation, and he declined to respond.
Reached on his cell phone for comment, Dilan campaign spokesperson Bob Liff declined to speak over voice and requested to respond to questions over text messaging. Liff confirmed that 58 Vermont St. in Brooklyn is the location of the Dilan re-election campaign, but when asked about its relationship of the Northeast Brooklyn Democratic Club, Liff responded over text: "Marty Dilan has been a progressive and stable champion for his constituents and votes their interests no matter who his contributors are. He has been a consistent supporter of pro-tenant legislation in Albany."
Asked whether the Northeast Brooklyn Democratic Club is using funds from the real estate industry for campaign activities supporting Dilan, Liff texted back, "No." Asked what the funds were being used for, Liff replied, "Ask them." Asked if he could connect Sludge with anyone with the Northeast Brooklyn Democratic Club, Liff did not respond. Liff did not acknowledge that Sludge had previously contacted Dilan's office spokesperson Graham S. Parker several times since Monday seeking comment on this story—once over the phone, and four times over email.
Correction: A previous version of this story identified Erik Dilan as Martin Dilan's brother. Erik is Martin's son.