As Feinstein Questioned Zuckerberg, an Undisclosed Investment in Facebook
When Sen. Dianne Feinstein grilled Mark Zuckerberg in April, she had not disclosed her husband just purchasing as much as a quarter of a million dollars worth of Facebook stock.
On April 10, Facebook CEO Mark Zuckerberg testified at a joint hearing of the Senate's Commerce and Judiciary Committees, in the wake of the Cambridge Analytica scandal that saw as many as 87 million Facebook users' personal information compromised. As the ranking member of the Judiciary Committee, Senator Dianne Feinstein (D-Calif.) was one of four senators to make opening remarks and one of the first to question Zuckerberg.
At the time of the hearing, the senator's husband, the investment banker Richard Blum, had recently purchased between $100,000 and $250,000 of Facebook stock. The transaction was undisclosed at the time, because it did not appear on any financial disclosures until a May 22 periodic transaction report.
Three members of Congress sitting on committees that Zuckerberg testified before disclosed owning Facebook stock at the time of the hearing, according to D.C. publication Roll Call. Had Feinstein disclosed her husband's purchase prior to the joint Senate hearing, she too would have been named in that list.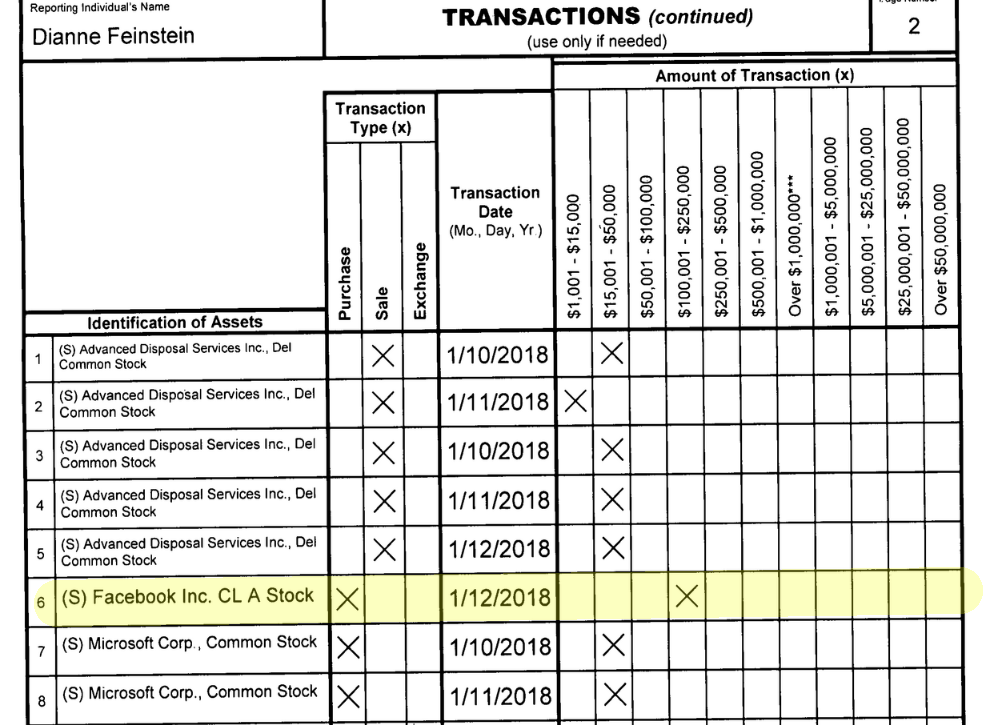 Unlike many of her colleagues, Sen. Feinstein focused her questions on foreign influence operations using Facebook's platform, rather than violations of user privacy — an anomaly her hometown paper the San Francisco Chronicle noted.
The Stop Trading on Congressional Knowledge (STOCK) Act, passed in 2012, requires members of Congress to disclose any stock transactions within 45 days of a transaction or being notified of a transaction by an agent like a stock broker. Senator Feinstein may have complied with the letter of the law in this case. Feinstein's office originally did not respond to repeated requests by Sludge to answer questions about the purchase. After this story was published, her office reached out with comment:

"The transaction you mentioned should have been reported earlier in the year, and that mistake was fixed as soon as it was discovered," said Tom Mentzer a spokesperson for Feinstein. 
By not disclosing her husband's investment of at minimum $100,000 in Facebook until after the hearing, she could be viewed as deliberately concealing a possible conflict of interest.
"At the very least, Sen. Feinstein should have publicly disclosed her financial investment in Facebook at the time of the hearing before the Senate Judiciary Committee," Craig Holman of consumer advocate group Public Citizen told Sludge. "As a ranking member of the committee, Feinstein should have followed the protocol expected of anyone who testifies before the committee that requires disclosure of potential financial conflicts of interest."
Holman, who advocated for passage of the STOCK Act, said that he believed requiring disclosure of stock trading activity would itself dissuade members of Congress from dabbling in the stock market, for fear of potential conflicts of interest being exposed. While a study that Public Citizen conducted found a 68 percent decrease in stock trading activity by members of Congress after passage of the STOCK Act, Holman believes that the STOCK Act may not have gone far enough.
"Some members of Congress don't seem to care about the negative image and continue to trade stocks in businesses they directly oversee in their official capacities – in this case, Feinstein's Facebook stock purchases while overseeing Facebook," said Holman. "The STOCK Act needs to be revisited to address these conflicts of interest for members who disregard proper ethics standards. Officials in the executive branch are prohibited from investing in businesses and stocks that they oversee in their official capacities. The same standard should apply to Congress."

CORRECTION 5:42PM: This article originally stated that it was Senator Feinstein who herself purchased the Facebook stock. It was in fact her husband, Richard Blum. The story has been updated to reflect that fact.