Arizona Rep Took $10,000 Trip to Speak at British Anti-Muslim Rally
Under the guise of free speech protection, Rep. Paul Gosar of Arizona took a pricey trip to London in July, funded by an anti-Muslim group based in Philadelphia.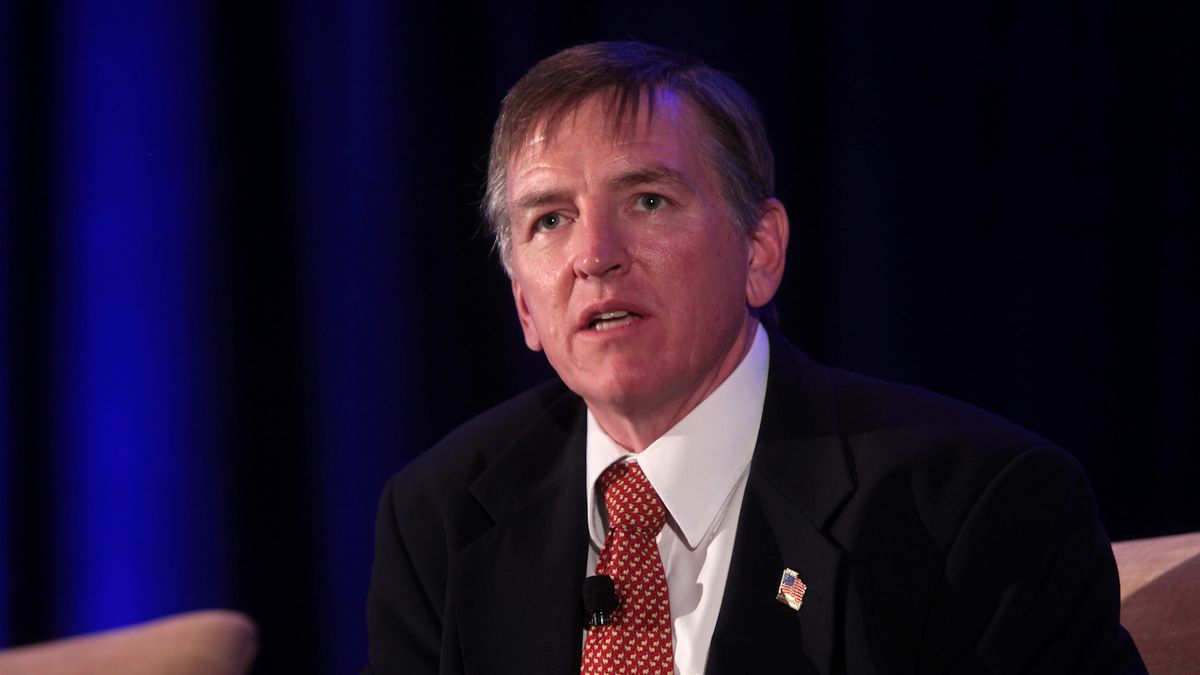 On July 14, anti-Muslim activists in London staged a rally in support of anti-Muslim activist Tommy Robinson, who was jailed for illegally publicizing a trial involving Muslim defendants. Speaking at the rally were far-right political figures including Brit Gerard Batten, Belgian Filip DeWinter and Australian Debbie Robinson—and U.S. Republican Congressman Paul Gosar of Arizona.
A Philadelphia-based pro-Israel and anti-Muslim nonprofit, Middle East Forum (MEF), spent nearly $10,000 to bring Gosar to its rally and other events in London that weekend, according to a travel report reviewed by Sludge that Gosar recently filed with the Clerk of the House. Gosar later tweeted that he made the trip "to express my concern over Tommy Robinson's arrest and to fight back against suppression of the truth."

"The Middle East Forum is one of the longest-standing and most nefarious organizations in America when it comes to purveying anti-Muslim hate in America," Imraan Siddiqi, executive director of the Arizona chapter of the Council on American-Islamic Relations, told Sludge. "Many of these hate groups have been emboldened by the Trump administration and see this era as an opportunity to further marginalize Muslims in the West, through shifting public opinion and passing harmful policy."

The House Committee on Ethics stated in a letter to Gosar that because the rally was "not within the scope of the officially-connected travel that is the basis of this trip…any such activities must be done on personal time and at personal expense." But MEF, which sponsored Gosar's trip, also "sponsor[ed] and organiz[ed]" the July 14 rally in coordination with British and other European groups. A month earlier, it had "provided all the funding and helped organized [sic] the first 'Free Tommy Robinson' event held June 9 in London."
In mid-June, Breitbart published an "exclusive" piece that quoted Gosar as saying he hopes the U.S. "intervenes and speaks up over the persecution of Tommy Robinson." He went on to call this "persecution and jail sentence…disgusting…"
Gosar, a member of the rightwing House Freedom Caucus, had made comments about Robinson on the House floor a few days earlier, accusing the British government of covering up child rape by Muslims. Robinson's "real crime is not taking pictures," said Gosar. "His real crime is his refusal to agree to the government's efforts to cover up crimes by Muslim gangs who are raping British girls, almost with impunity, and with little apparent regard by the British government."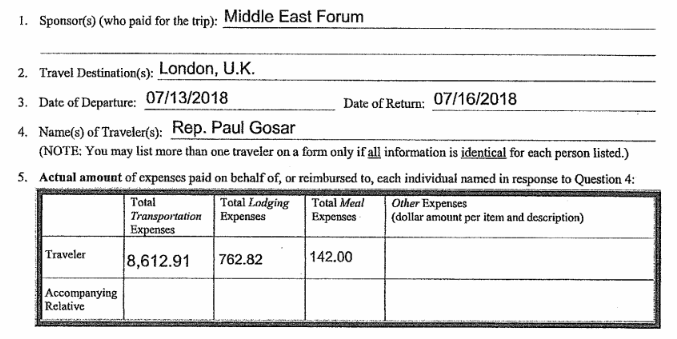 'There Is No Moderate Version of Islam'
Robinson, whose given name is Stephen Yaxley-Lennon, was arrested in late May while livestreaming Muslim defendants arriving for a trial involving alleged child molestation. He was sentenced to 13 months in prison for contempt of court, as the court had barred coverage of the trial. According to Snopes, "Robinson was jailed because a court judged he had breached the terms of an existing suspended sentence for contempt of court by violating a set of reporting restrictions often placed on the news media and others in the United Kingdom in order to protect the due process rights of defendants and prevent the collapse of trials, something that could jeopardize the conviction of potentially guilty and dangerous individuals."
Since his arrest, Robinson has become an international symbol of far-right, anti-Muslim extremism.
Anti-racist organization Hope Not Hate documented the "Free Tommy Robinson" rally, the second in just over a month, which coincided with Donald Trump's visit to the United Kingdom. The first major speaker, U.K. Independence Party leader Gerard Batten, started off the rally by declaring, "The rapists are predominantly followers of the cult of Muhammad" and, "The founder of their cult was himself a paedophile." Batten also said, "Both our Houses of Parliament are full of traitors," and, "they must be swept away."
Hope Not Hate confirmed that Gosar did speak, but that he said "little of note."
"This incident is pretty extreme," Heidi Beirich, director of the Intelligence Project at the Southern Poverty Law Center, told Sludge. "It's really awful…These are clearly Islamophobic people. Tommy Robinson has been agitating against Muslims for years. I think it's outrageous for a member of Congress to endorse this kind of thing…I expect better out of high-level officials than this kind of behavior."

"The fact that Gosar took money to appear at this rally only highlights his deep complicity in propping up hate groups, as he cannot plead ignorance here," Siddiqi said.
Other speakers at the rally included Belgian nationalist and politician Filip DeWinter, who recited the key white supremacist idea that Western nations are losing their culture because of (black and brown) immigrants.
DeWinter's political party, now called Vlaams Belang, shares roots with Flemish Nazi collaborators, and DeWinter has participated in multiple ceremonies honoring Flemish nationalists who fought for Nazi Germany. In 2004, the Belgian Supreme Court ordered the party to reestablish itself because it "continually incites towards racial discrimination and segregation."
Australian activist and Islamophobe Debbie Robinson took the stage as well, saying, "There is no moderate version of Islam."
In the audience were some who gave the Nazi salute.
An International Anti-Muslim Movement
Tommy Robinson was convicted for similar behavior last year but didn't serve jail time. He has a long history of racist agitation, from being the first leader of the anti-Muslim English Defense League to his association with a Canadian alt-right outlet, Rebel Media. According to the New York Times, he "contends that Muslims are disproportionately responsible for crime in Britain" and "has claimed that the mayor of London, Sadiq Khan, 'is busy enforcing elements of Shariah right now.'"
"I'd personally send every adult male Muslim that has come into the EU over the past 12 months back tomorrow if I could," Robinson tweeted in early 2016. "Fake refugees."
In January, a man inspired by Robinson drove a van into pedestrians outside a London mosque, killing one person.
All the while, Robinson's career and legal defense have been bolstered by an international far-right movement. As Nick Ryan of Hope Not Hate detailed, Robinson has received support not only from MEF but from rightwing political and media personalities around the world. Donald Trump Jr., Alex Jones and Paul Joseph Watson of InfoWars, Pizzagate peddler Mike Cernovich, and Dutch nationalist and Islamophobe Geert Wilders have contributed to a social media movement backing Robinson. Jones, the disgraced InfoWars publisher who has interviewed Robinson on his show, reportedly helped fund Robinson's website. Other conservative outlets including Breitbart News, Fox News and alt-right radio shows covered his story heavily. Fox's Tucker Carlson had Robinson on his prime-time show in a very sympathetic interview the day that Robinson was freed from prison.
MEF has been providing financial assistance to Robinson in the form of legal aid, as well as "bringing foreign pressure on the UK government to ensure Mr. Robinson's safety and eventual release" and organizing the two protests.
In June, Gosar tweeted at Donald Trump to express concern over Robinson's conviction and alleging that British authorities were trying to "cover up rape."
And the Trump administration is helping out. Former Kansas Gov. Sam Brownback (R), now the Trump-appointed U.S. Ambassador-at-Large for International Religious Freedom, protested the jailing of Robinson to the British ambassador to the U.S. in June, according to Reuters. Brownback allegedly told the ambassador that "if Britain did not treat Robinson more sympathetically, the Trump administration might be compelled to criticize Britain's handling of the case." Reuters reported that Brownback and his staff had direct contact with Breitbart News associates, who urged the ambassador to take up Robinson's case with U.K. officials.
"It's completely outrageous," Beirich said. "A U.S. ambassador lobbying on behalf of an anti-Muslim thug."
Wilders was scheduled to appear, but sent a video message instead after claiming the British government would not be providing security for him. MEF has financially backed Wilders in the past, helping pay his legal fees when he faced charges of inciting racial hatred in 2010 and 2011. Wilders continued to make nativist and anti-Muslim statements, earning praise from rightwing Rep. Steve King (R-Iowa).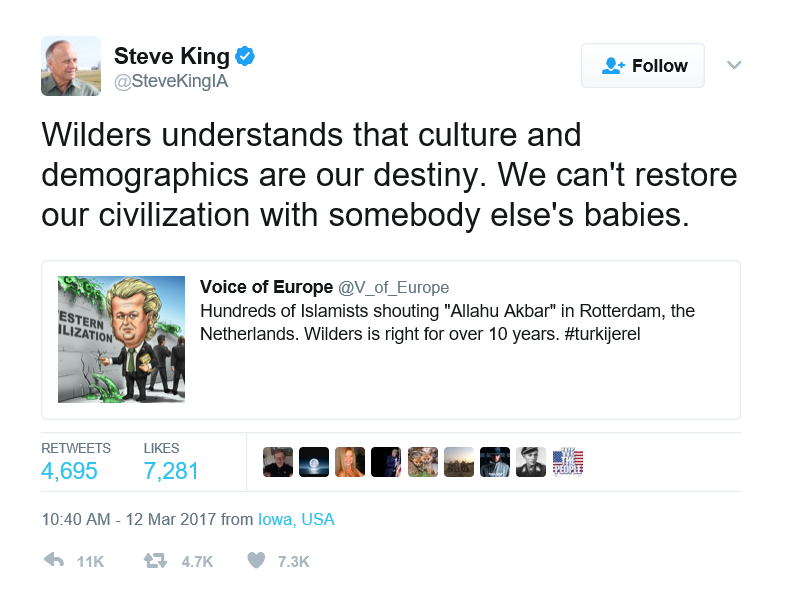 The Veil of Free Speech

"With the rise of Trump, we have seen many Arizona politicians, who were perceived as moderate shift, their rhetoric and positions in alignment with the far right," said Siddiqi. "A few years back, it would be unimaginable for a politician to appear at a rally in support of someone like Tommy Robinson, who's one of the most influential white supremacist figures in Europe."

Gosar, like MEF and some speakers at the rally, appears to be using free speech as a cover to defend and promote anti-Muslim bigotry. In his travel disclosure, Gosar claims he took the trip "to meet with outside groups to discuss the importance of free speech."
But his visit appears to only have supported one kind of expression: anti-Muslim speech. Most of the people he met with—including former Breitbart News executive and former Trump senior adviser Steve Bannon; recent editor of the London branch of racist and Islamophobic outlet Breitbart and current MEF fellow Raheem Kassam; Nigel Farage, the former leader of Britain's anti-immigration party UKIP—share this commitment to anti-Muslim speech.
The travel report reveals that Gosar also met with Barry Macleod-Cullinane of the Henry Jackson Society; Simon Richards of the Freedom Association; and Karin von Hippel, Director General of Royal United Services. The Freedom Association defended the right of cricket players to compete in apartheid South Africa during an international boycott of the nation, even taking funding from that country's government, and began campaigning for the U.K. to leave the European Union in 2006.
Gosar's sponsor, MEF, writes that part of its mission is to emphasize "the danger of lawful Islamism; protects the freedoms of anti-Islamist authors, activists, and publishers…" Its projects including "Islamist Watch" and the "Israel Victory Project" are rooted in a very clear bias against Muslims.
"Lawful Islamists—in the media, courts, schools, public squares, and ballot boxes—seek the spread of Shari'a as governing law, although it is incompatible with Western democracy. Islamist Watch aims to make Islamists in suits and ties no more acceptable than ones wearing suicide vests—by countering corporate and governmental support, tracking tainted campaign contributions, and enhancing the presence and influence of anti-Islamist Muslims."
MEF's approach to the Israel-Palestine conflict is this: "Stop pressuring Jerusalem to compromise and make 'painful concessions.' Instead, support Israeli victory, convincing Palestinians and others that the Jewish state will endure." The group claims to have influenced the Trump administration's decision to move the U.S. Embassy from Tel Aviv to Jerusalem.
Members of Congress back MEF's anti-Palestine initiative. MEF and its president, Daniel Pipes, whom the Southern Poverty Law Center labels as an anti-Muslim extremist, got two Republican representatives to form The Israel Victory Caucus, which the pro-Israel group J-Street condemned, in 2017. Republican Reps. Ron DeSantis (Fla.), who is now running for Florida governor, and Bill Johnson (Ohio) were the original co-chairmen of the caucus, and Democrat
Reps. Keith Rothfus (R-Pa.), Doug Lamborn (R-Co.), and Alex Mooney (R-W.Va.) attended a launch event, according to MEF.
Also that year, Israel's assembly launched the Knesset Victory Caucus at the urging of Pipes.
A few months earlier, Pipes had published a paper on a one-state solution to the Israeli-Palestinian conflict that includes recommendations to "reduce and then shut off the water and electricity that Israel supplies" to Palestinians when violence against Israel occurs and, "When a Palestinian attacker is killed, bury the body quietly and anonymously in a potter's field."
According to tax data compiled by ConservativeTransparency.org, MEF is primarily funded by the donor-advised fund Donors Capital Fund, which receives its money from sister organization Donors Trust. The latter fund anonymously routes contributions from the likes of Charles Koch, Robert Mercer and Richard and Helen DeVos to various nonprofits, based on recommendations from its donors. The rightwing Bradley Foundation, which gives to Donors Trust as well as to numerous far-right Christian groups, has also given hundreds of thousands of dollars to MEF directly.
Gosar's office and MEF did not return requests for comment.
'Paul Has Sunk So Low'
Gosar has made wild statements in the past, some so embarrassing that his own siblings publicly condemned him. After the deadly white nationalist rally in Charlottesville last year, Gosar parroted conspiracy theories promoted by InfoWars' Jones, claiming in a Vice News interview that an Obama sympathizer organized the rally, and liberal billionaire George Soros funded it. The congressman went on to claim that Soros "turned in his own people to the Nazis."
In response, Gosar's seven siblings wrote in a local letter to the editor, "We are aghast that Paul has sunk so low that he now spews the most despicable slander against an 87-year-old man without a shred of proof, and then doesn't even have the guts or decency to apologize?"
"It is extremely upsetting to have to call you out on this, Paul, but you've forced our hand with your deceit and anti-Semitic dog whistle," wrote the siblings.
Last year, Gosar tweeted links to an accused anti-immigrant hate group.
On Aug. 1, an appeals court in Britain freed Robinson on bail due to procedural errors in his original conviction and will face a new trial. A judge noted that Robinson "is not innocent today, despite how his supporters are attempting already to spin this."
Before Trump became president, he said he wanted "a total and complete shutdown of Muslims entering the United States." His actions and Twitter activity as president are consistent with his anti-Muslim and anti-immigration campaign stance, from the embassy move in Israel to senior White House adviser Stephen Miller's latest attack on legal immigrants.
"This administration and some of its allies like Gosar have no problem with anti-Muslim hatred," said Beirich. "It's no wonder that Muslims in America are afraid and feel under threat when they're being targeting in this way. And hate crimes against that exact population have risen under Trump."
It follows that Trump's administration would get involved in international anti-Muslim campaigns, but the fact that a U.S. ambassador and a member of Congress personally intervened on behalf of a foreign, anti-Muslim extremist has raised more alarm bells.

"Right now, Trump's presidency is a legitimization of Islamophobic policies throughout Europe and beyond," said Siddiqi. "Other countries use similar rhetoric of 'protecting our borders' and 'upholding our culture'—which in essence is an overt reference that they do not consider migrants from African or Muslim nations as part of the fabric of their country. In places as far as Assam, India, Muslim citizens are being denaturalized under the guise of 'protecting our borders.' This signals a troubling trend in the rise of global Islamophobia."