Facebook Runs Hate Group's Ads Attacking Campus Anti-Racism
The "Jew Hatred on Campus" page, which is sponsoring the ads, is a project of anti-Muslim hate group the David Horowitz Freedom Center.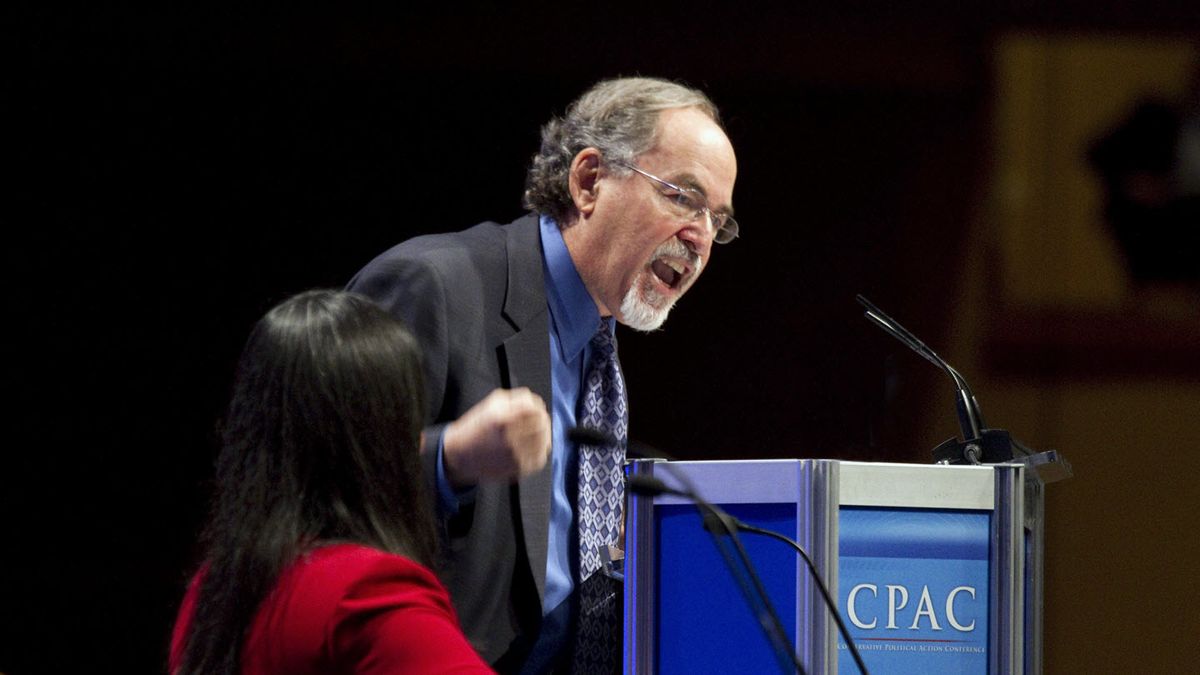 Facebook is hosting an ad campaign for an anti-Muslim hate group that criticizes ten American universities for their anti-racist policies and attempts to address racial discrimination on campus.
The ad campaign is being run by the Facebook page Jew Hatred on Campus, which was previously called Stop the Jihad on Campus. It is a project of the David Horowitz Freedom Center, a nonprofit that has been identified as an anti-Muslim hate group by the Southern Poverty Law Center (SPLC). The Freedom Center says its mission is to "combat the efforts of the radical left and its Islamist allies to destroy American values and disarm this country as it attempts to defend itself in a time of terror."
Facebook has taken $18,825 from the group to run the ads, which have the potential to reach more than 10 million Facebook users.
The ads point users to a microsite containing articles about ten American universities that it calls racist for incidents like requiring faculty and staff to attend Zoom sessions on race issues, hosting forums for white students to discuss white supremacy, and investigations of racism on campus that were determined to be unfounded. The website calls on people to "donate now" to the David Horowitz Freedom Center.
Schools targeted by Jew Hatred on Campus' ad campaign include University of Minnesota, Cornell, Brandeis, University of Central Florida, Harvard, University of Southern California, University of Pittsburgh, Elon University, Smith College, and Georgetown. The ads appear to be targeted at the students, faculty, and alumni of the schools, though Facebook does not disclose details about the demographic groupings to which its customers show their ads.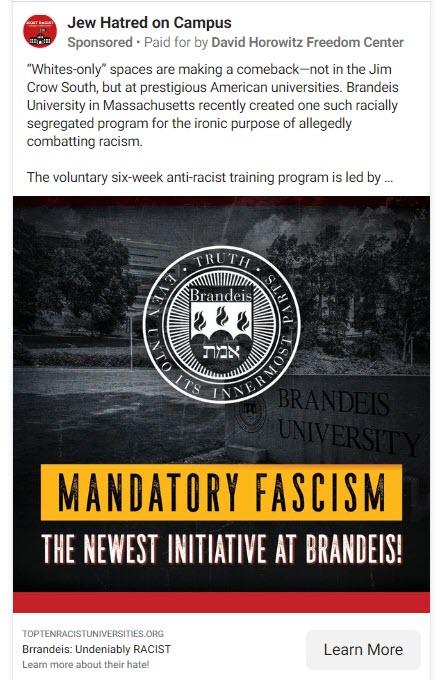 Facebook's community standards prohibit users from engaging in hate speech, which it says "creates an environment of intimidation and exclusion, and in some cases may promote offline violence," and CEO Mark Zuckerberg said in June 2020 post that the company was amending its advertising policy to ban "claims that people from a specific race, ethnicity, national origin, religious affiliation, caste, sexual orientation, gender identity or immigration status are a threat to the physical safety, health or survival of others."
However, Facebook continues to help groups that peddle hate and racial division like David Horowitz Freedom Center spread their messages and recruit new members from their platform as long as the creative content of their ads does not violate its hate policies.
David Horowitz Freedom Center has spent $39,669 to run ads on its Facebook page since May 2018, according to Facebook's Ad Library. In 2019, Sludge reported that Facebook had taken in nearly $1.6 million from SPLC-designated hate groups to run their ads.
Founded in 1988, the David Horowitz Freedom Center operates as a hub for multiple anti-Muslim, anti-immigrant, and anti-Black misinformation projects, including the websites FrontPage and Jihad Watch that distort news stories and history to depict Muslims as terrorists and rapists, and the Terrorism Awareness Project, a now-defunct partnership with former Trump adviser Stephen Miller that aimed to warn college students about the risk of "Islamofascism." Miller has contributed to FrontPage, and Horowitz has claimed that Miller is a protégé of his.
The Freedom Center describes itself as a school for political warfare that works to "identify the enemy and understand his nature" and "devise ways to attack and neutralize him." Its messaging typically involves calling anti-racist activists racists and compiling McCarthyist lists of academics and activists that on the left that it deems dangerous. In 2019, Horowitz called this reporter a Nazi after Sludge published an article that described how his organization and other SPLC-designated hate groups receive money through mainstream donor-advised funds.
Horowitz, described by SPLC as an anti-Muslim extermist, has been an important backer to Islamophobic Dutch politician Geert Wilders, who compares the Koran to Hitler's Mein Kampf and argues that religious freedoms should not apply to Islam. The Freedom Center sponsored and financed at least five trips to the U.S. for Wilder, and between 2014 and 2016 it donated €150,000 to a foundation affiliated with Wilder's political party, according to the Dutch website Follow the Money. Wilders' ideas were invoked multiple times in the manifesto left by mass shooter Anders Breivik, who killed dozens of people at a Norway summer camp.  
Facebook declined to comment for this story.
---
Read more from Sludge: