Pentagon's Top Official For East Asia Led Think Tank Funded By Defense Contractors And Foreign Governments
One expert warns that policies advanced by the think tank could lead to military conflict with China.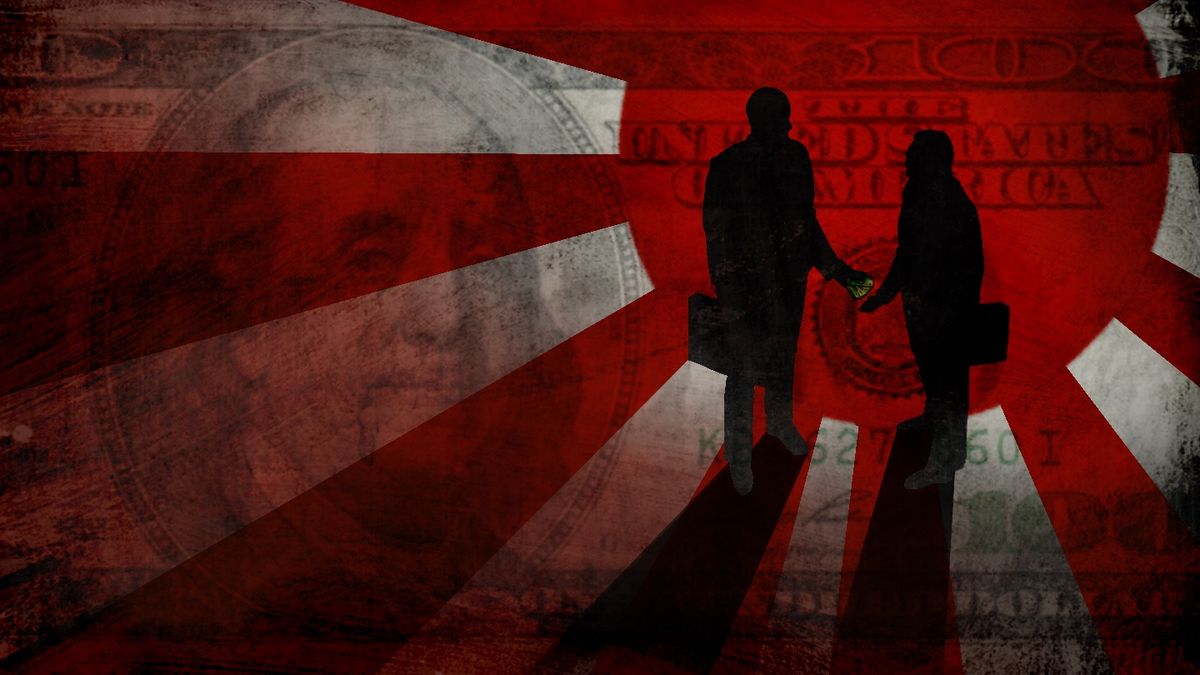 In mid-August of last year, Steve Bannon was unusually candid about his views on China and East Asian policy, telling the American Prospect: "I'm changing out people at East Asian Defense; I'm getting hawks in." Two days later, Bannon resigned from the White House in the wake of white supremacist violence in Charlottesville. He nonetheless succeeded in getting his man, Randall Schriver, in the Defense Department's top East Asia job.
"We're going to war in the South China Sea in five to 10 years," Bannon had said in March 2016. He made it his personal mission to block longtime diplomat Susan Thornton, whom he viewed as too conciliatory to China, from becoming the permanent appointee as Assistant Secretary of State for East Asian Affairs, where she had been serving as acting head since March of 2017. Instead, one name that entered the ring of potential prospects was Schriver, a longtime consultant and think tank presence in Washington and, most importantly to Bannon, a hardliner on East Asian military affairs. Thornton won out and officially got the State Department post, while Schriver got the equivalent position at the Defense Department, when he was confirmed in December as the Trump Administration's new Assistant Secretary of Defense for Asian and Pacific Security Affairs.
Bannon, through a representative, did not respond to a request for comment for this story.
Schriver was the founding president of the Project 2049 Institute, a think tank that, since launching in 2008, has released reports arguing for a harder diplomatic approach toward China and increased military sales to East Asian states with which China has geopolitical disputes. The think tank takes its name from the year in which China purportedly plans to supplant the U.S. as the world's sole global superpower, 100 years after the founding of the People's Republic. Reports published by Project 2049, argue for selling more U.S. weapons to Taiwan and to Japan, warn about China's military capabilities, and criticize China's human rights record. Several reports and articles, including those published within the past months, raise the specter of impending war between China and its U.S. ally neighbors, from the prospect of a "flash invasion" of Taiwan to a "looming short, sharp war" with Japan over disputed territories.
For a decade, Project 2049's funding was opaque. With a new website redesign in May, the group has voluntarily disclosed some sources of funding: "The Project 2049 Institute's work is made possible by grants and contracts from the U.S. government, like-minded governments, charitable foundations, major corporations, and individual donors." The site lists among its funders several major defense contractors such as Lockheed Martin and Northrop Grumman as well as branches of East Asian governments such as the Embassy of Japan and the Taiwan Ministry of Defense.
President Donald Trump, starting with his campaign refrain of "China, China, China," has made it clear that he views the country as a threat to U.S. military and economic supremacy. Recent developments, such as disinviting China from the Rim of the Pacific military exercises and the threat of tariffs on Chinese imports, show that his administration has no qualms about escalating tensions with Beijing in order to secure American interests. And in Schriver, the president now has a senior Pentagon official who has spent the last decade in the private sector advocating for a fundamental military rebalancing in East Asia and drastic shift in our diplomatic posture toward China, in order to counter what he views as the strategic threat China poses.
In November, Trump pressed Japan's president Shinzo Abe to buy more American weapons, saying that with more purchases, Japan would be able to shoot North Korean missiles "out of the sky." The day after Schriver took office as Assistant Secretary of Defense, the State Department cleared Japan to purchase $133M SM-3 missiles, manufactured by Raytheon and BAE Systems. BAE is another funder of Project 2049, according to its website.
According to Reuters, Lockheed Martin, another Project 2049 funder, is currently negotiating to export a stealth fighter based on the F-22 Raptor, which the U.S. has banned from being exported even to its closest allies so that it can maintain an edge in air supremacy.
"The Trump administration is already inclined to boost arms sales to Asia in general and Japan in particular, but appointing someone with Schriver's obvious conflicts-of-interest and ties to companies eager to sell to the region is troubling nonetheless," William Hartung, director of the Arms & Security Project at the Center for International Policy, tells Sludge. "The Defense Department is supposed to weigh the strategic and foreign policy implications of arms deals as well as to do logistics and support work, and someone with Schriver's history is ill-equipped to do so in an unbiased fashion."
Not Just A Think Tank
In her 2011 book, Strait Talk: United States-Taiwan Relations and the Crisis with China, historian Nancy Bernkopf Tucker describes Schriver as a "protégé" of Richard Armitage, who served from 2001 to 2005 as Deputy Secretary of State in the Bush Administration under Colin Powell. Schriver moved from the Defense Department to become Armitage's Chief of Staff in the State Department in 2001 and later his Assistant for East Asia in 2003.
In 2005, Armitage left the State Department to found his own consulting firm, Armitage International, along with Schriver and other confidantes from State. Armitage International's website lists Schriver as a founding partner. As a consulting rather than lobbying firm, Armitage does not have to disclose its clients; however, some of Schriver's own clients are listed on his mandatory financial disclosure submitted when he was a nominee for the Pentagon position. While at Armitage his clients included defense contractors such as Raytheon, Boeing, and Dyncorp, as well as the government of Japan.
Throughout his tenure as president of Project 2049, Schriver maintained his employment as a partner at Armitage. Tax records filed by Project 2049 show that Schriver worked 20 hours per week for the think tank, suggesting he split his time evenly between the two organizations. Other employees of Project 2049, according to their LinkedIn profiles, were also simultaneously employed by Armitage International.
Schriver's roles, taken together with the facts that Project 2049 and Armitage International share an address in Arlington, that many of Project 2049's funders are also Armitage clients, and that Richard Armitage was recently made chairman of Project 2049, suggest that the think tank may not be the independent research center it portrays itself to be. Rather, some observers suggest that think tanks like Project 2049 could be used by corporations to advance policy positions in D.C. as lobbyists might, but under the guise of objective scholarship, therefore avoiding lobbyist registrations and disclosures.
"Think tanks are sadly smart influence-purchasing investments for corporations with business to transact in D.C.—registering lobbyists is passé by comparison," Jeff Hauser, director of the Revolving Door Project at the Center for Economic and Policy Research, tells Sludge. "It was evident for several years before Trump's ascension that influence peddlers have adapted to current existing ethics laws."
Richard Armitage did not respond to questions about the connections between Project 2049 and Armitage International's consulting work.
"A corporation can fund a de facto lobbyist indirectly through a think tank, enabling the corporation to fund an influence peddler without that influencer ever registering as a lobbyist or acknowledging the corporation as a client," says Hauser. "And if and when that influencer revolves into government, their chummy relationship with a corporation is likely to evade the radar of government ethics officials."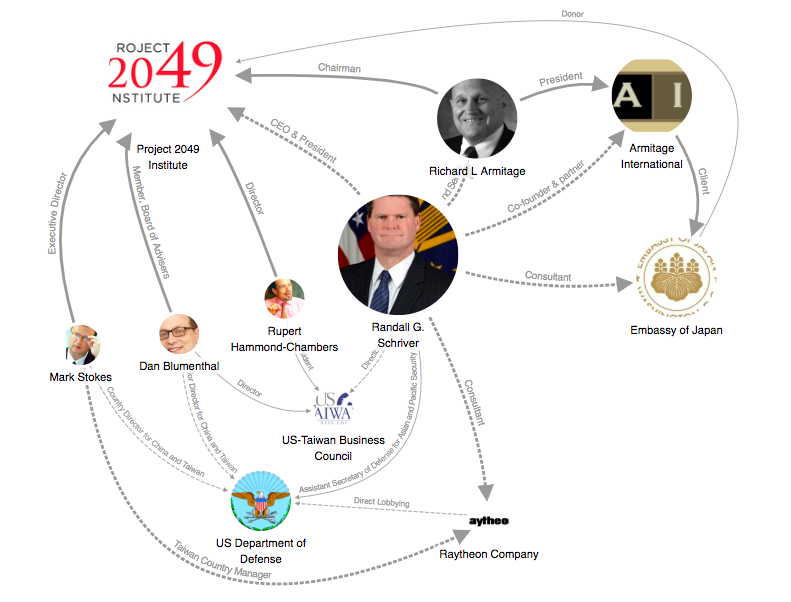 Ethics Waivers for the Ethics Radar
When Schriver entered government, one aspect of his work did trip the government's ethics radar: the fact that he consulted on behalf of the Japanese government through Armitage International. Under Trump's ethics rules, Schriver would be barred from participating in matters concerning former clients such as Japan for two years.
However, the day he was confirmed as an Assistant Secretary of Defense, Schriver was granted an ethics waiver by White House Counsel Donald McGahn. The waiver allows Schriver to work on matters involving the Japanese government.
In March, the State Department approved selling $45 million worth of Raytheon-manufactured Phalanx close-in weapon systems (CIWS) to Japan. In his role as Assistant Secretary of Defense for Asian and Pacific Security Affairs, part of Schriver's job description is to oversee foreign military sales in the region. While Schriver was issued an ethics waiver to work on matters concerning his former client, the government of Japan, there was no such waiver issued for Raytheon-related issues (nor for any of his other consulting clients such as Boeing and Dyncorp). Schriver is also not the only leader of Project 2049 with ties to Raytheon; Mark Stokes, the institute's executive director, was previously the Taiwan country manager for the defense contractor.
The Phalanx CIWS system is designed as a defense against anti-ship ballistic missiles—guided weapons designed to cripple or destroy warships. A report published by Project 2049 in 2015, while Schriver was still president of the institute, warned of the dangers of Chinese territorial incursion in the South China Sea and growing naval strength. It specifically warned of the dangers posed by China's new class of long-range anti-ship ballistic missiles. Now that Schriver is in the Pentagon's top Asia position, one of the first major military sales from the U.S. to Japan will upgrade its ability to counter China's anti-ship ballistic missiles. The Pentagon has previously described Phalanx as a last line of defense against guided anti-ship ballistic missiles.
The Department of Defense did not respond to Sludge's questions about whether Schriver played a role in approving the weapons sale.
If Schriver participated in approving the sale of Raytheon-manufactured weapons, he could be in violation of Trump's ethics rules.
Helping Lobbyists Without Lobbying
Before joining the Defense Department, Schriver was also on the board of the U.S.-Taiwan Business Council, which hosts the annual U.S.-Taiwan Defense Industry Conference. Schriver spoke at last year's conference along with David Helvey, then the Acting Assistant Secretary of Defense for Asian and Pacific Security Affairs; Mike Mitchell, a lobbyist with Orion Strategies, which since 2014 has been a registered foreign agent of the government of Japan; a Lockheed Martin official; and several others affiliated with the Project 2049 Institute. The U.S.-Taiwan Business Council's president is Rupert Hammond-Chambers, who is also a board member of Project 2049.
Lobbying disclosures show that Orion Strategies and Project 2049 have a close relationship. While Project 2049 does not itself engage in official lobbying activity, its staff, board members, and advisors are often consulted by the lobbyists of foreign governments, like Orion. For instance, documents filed with the Department of Justice under the Foreign Agents Registration Act (FARA) by Orion show that during mid-2017 the firm's lobbyists contacted several individuals connected to Project 2049, such as Mark Stokes, Rupert Hammond-Chambers, and Dan Blumenthal, the director of Asian Studies at the American Enterprise Institute and an advisor to Project 2049.
The topics of conversation with those individuals were "Japanese maritime security issues and "emerging security issues in Asia."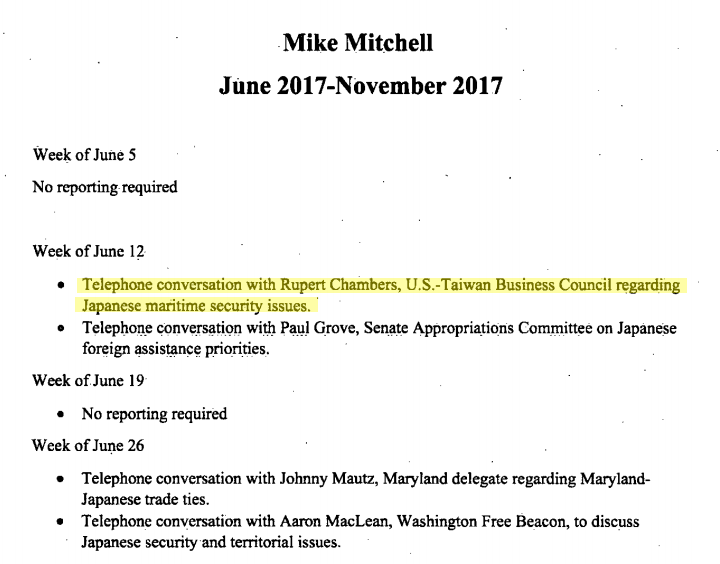 Later, Orion contacted Washington Free Beacon reporter Bill Gertz to discuss "Japanese-South Korean-U.S. security ties." Gertz had previously attended at least one Project 2049 event and has written extensively on the threat of China's military advancements. One of his articles was cited in Project 2049's report on the dangers of China's anti-ship ballistic missiles.
Orion Strategies is directly to connected to the Free Beacon. The publication's co-founder, Michael Goldfarb, is also a partner at Orion. And the Free Beacon has a history of publishing articles that benefit Orion's lobbying for arms deals to East Asian governments.
The same week in October 2017 that Orion contacted Gertz, he published an article about the threat of China developing advanced weapons capabilities such as "hypersonic weapons, laser and beam weapons, electromagnetic railguns, counterspace weapons, and artificial intelligence-directed robots." The article focused on themes that have been echoed repeatedly by the Trump administration: the $347 billion trade deficit with China and China's encroachment in the South China Sea. The article specifically mentioned China's harassment of Japan and the threats from advanced weaponry to the U.S. Navy:
"China revealed two anti-ship ballistic missiles with maneuverable reentry vehicles in 2010 and 2015 and also has set up the sensors and satellites needed for striking moving targets at sea—weapons designed for use against U.S. aircraft carriers and other warships."
Dan Blumenthal also wrote an op-ed for the influential beltway publication The Hill, in which he raised concerns about China's military buildup and the need for increased U.S. military presence to secure the waters immediately surrounding China. Orion advised him on a draft of the article, according to FARA disclosures.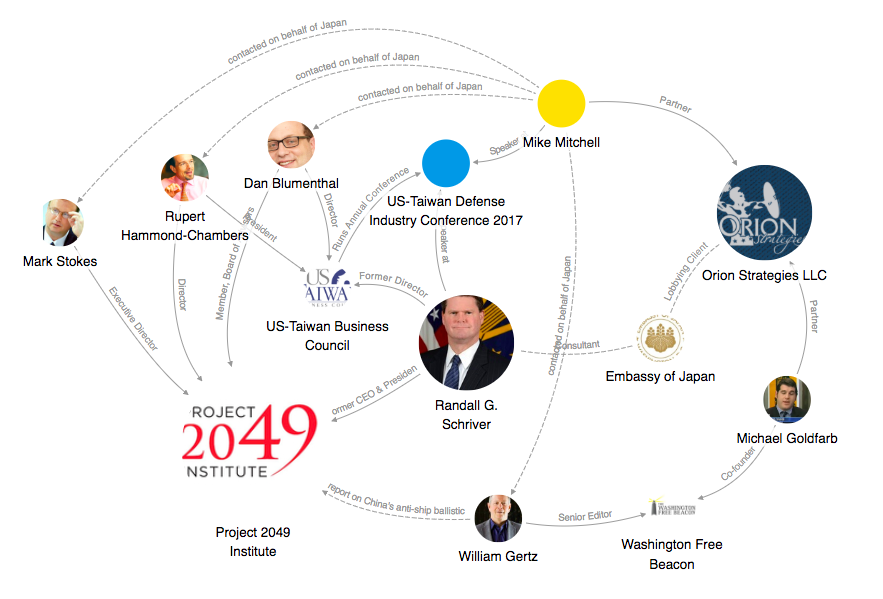 Some Funding Can Be Traced
While Project 2049 has recently begun to list its funders on its website, it is still difficult to know how much is coming from each source. Private corporations like defense contractors do not need to disclose their contributions to nonprofits like Project 2049. But some funding patterns can be traced when money passes through other nonprofit organizations.
According to tax records, Project 2049 Institute receives significant funding from the U.S. branch of the Sasakawa Peace Foundation (SPF), a nonprofit headquartered in Tokyo. From April 2013 to March 2015, Sasakawa Peace Foundation, USA (SPF-USA) donated $510,000 to Project 2049, but did not report giving the institute any money in its 2016 fiscal year. In 2016, Schriver received more than $100,000 for 20 hours of work per week with Project 2049.
In turn, the Embassy of Japan in the U.S. gave more than $465,000 to Sasakawa Peace Foundation USA (SPF-USA) from 2015 to 2016. SPF-USA has multiple associates with ties to Japan's defense ministry: distinguished non-resident fellow Hideshi Tokuchi joined SPF-USA after 36 years with Japan's Ministry of Defense. Another distinguished non-resident fellow, Tomohiko Taniguchi, was deputy press secretary for the defense ministry from 2005 to 2008 and is currently a special adviser to Prime Minister Abe tasked with writing foreign-policy speeches. SPF-USA also runs the Maritime Awareness Project, which focuses largely on the contested South China Sea territory but publishes analysis from a range of perspectives.
Anthony DeMartino, a special assistant in the Defense Department, is a former officer of SBD Advisors, a consulting firm to which SPF-USA paid hundreds of thousands of dollars from 2014 to 2016 for media services. Sally Donnelly, who also worked at SBD Advisors and consulted directly for SPF-USA, left the Defense Department in March.
SPF, which provides much of SPF-USA's funding, is affiliated with the Nippon Foundation, a large nonprofit in Japan that has long worked on maritime issues. Its president, Takeju Ogata, who is also on the board of SPF, supports amending Japan's pacifist constitution to give the nation the right to "collective self-defense," according to The Economist.
SPF-USA did not respond to questions about its funding of Project 2049 or its own financial support from the Japanese embassy.
Is Conflict with China Inevitable?
Project 2049 operates on the assumption that China is indeed intending to supplant the U.S. as a global superpower. But that view is not universal. In his recent book, Avoiding War with China, sociologist Amitai Etzioni argues that the security apparatuses in both the U.S. and China, in preparing for what they see as the threats posed by the other side, could mistake counter-preparations as aggressive intent and eventually spiral into conflict.
"Some in the militaries of both the U.S. and China are pushing for large investments in preparation for war, because they truly are concerned about the other power, thus reaffirming each other's concerns," Etzioni said in an interview last year. "Some corporations push for the U.S. to spend additional scores of billions on fighter planes, nuclear submarines and destroyers—to serve their countries and make a hefty profit."
Even among security experts who caution that China's actions should be viewed with skepticism, some of the policy recommendations promoted by Project 2049 are considered dangerous.
One of the most recent reports published by Project 2049 focuses on the Senkaku Islands, a chain of tiny uninhabited islands in the East China Sea that Japan and China both claim. Despite the fact that the dispute has gone on for decades without any military conflict, the Project 2049 article argues that China is preparing for a "short, sharp war" to take over the islands and recommends a hardline approach to counter this perceived threat. Policy recommendations from the article include joint Japan-U.S. military exercises near the islands, deploying a THAAD missile defense system in Japan, and—most drastically—encouraging Japan to establish a permanent presence on the islands. But those recommendations themselves may cause the dispute to boil over into a military conflict, perhaps unnecessarily.
"The actions recommended in the article, particularly encouraging Japan to 'physically occupy' the islands, would initiate a crisis that would increase the likelihood of force being used," Taylor Fravel, a professor of political science at MIT and author of the book Strong Borders, Secure Nation: Conflict and Cooperation in China's Territorial Disputes, told Sludge via email.
"While China may be seeking to maintain pressure on Japan in the dispute, it is not seeking to increase pressure in a way that would escalate to an attack," wrote Fravel. "Moreover, China has lived with many unresolved territorial disputes for long periods of time. I detect no urgency on the part of China for using force to bring about a resolution of this dispute."
At the beginning of June, Secretary of Defense Mattis spoke at the Shangri-La Dialogue, the largest annual Asian security summit. He spoke about China's militarization in the South China Sea, including anti-ship missiles, surface to air missiles, and electronic jammers.
"China's policy in the South China Sea stands in stark contrast to the openness of our strategy," Mattis said. "It calls into question China's broader goals."
Mattis' diplomatic rhetoric is a far cry from Bannon's bluster and premonitions of war, but Bannon's hard-line posture towards China appears to have helped push the Defense Department to put people like Schriver, with deep ties to weapons contractors, in charge of U.S. policy in East Asia.