NYC Council To Hold Public Hearing on #AbolishICE
Councilmember Carlos Menchaca's legislative push was inspired by a Sludge investigation in July that discovered ongoing NYC government contracts with U.S. Immigration and Customs Enforcement (ICE).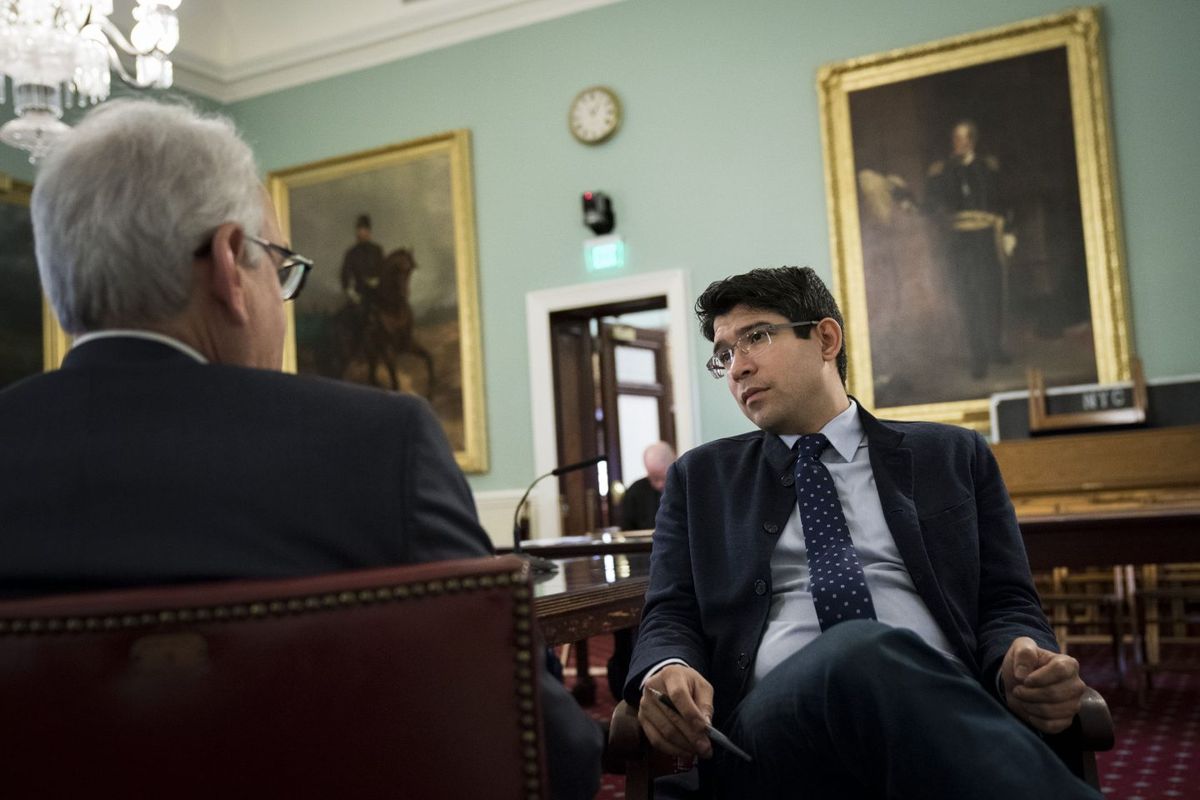 Update, Sat. Sept. 8th, 2018, 5pm ET: After a Thursday afternoon hearing in the Immigration Committee on legislation to end NYC government contracts with ICE, some Friday-afternoon Twitter exchanges sought to clarify the headline of a WNYC news article: "City Councilman Wants to Ban Contracts with ICE Enforcement, but There Aren't Any".

In summary: NYPD does have an active contract with ICE for firing range rental, but the Mayor's Office of Immigrant Affairs testifies it is used only by agents of ICE's Homeland Security Investigations (HSI) division, and not the Enforcement and Removal Operations (ERO) division.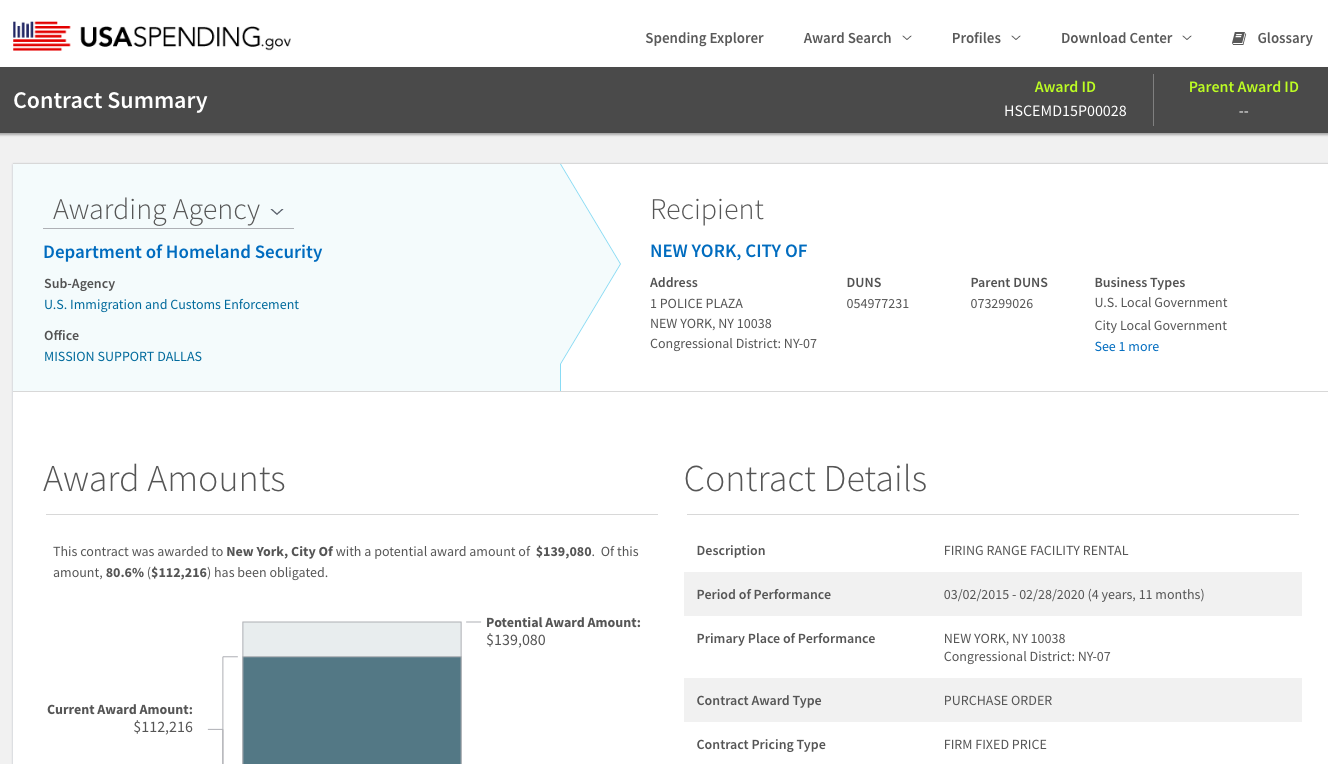 This testimony on Councilmember Carlos Menchaca's Intro 1092 followed-up on reporting by Sludge's Josefa Velasquez on July 13th that New York City government entities maintained at least two active contracts with ICE, despite billing itself as a sanctuary jurisdiction: $112,000 with NYPD for firing range rental, and $426,000 with the Hudson River Park Trust for secure parking facilities.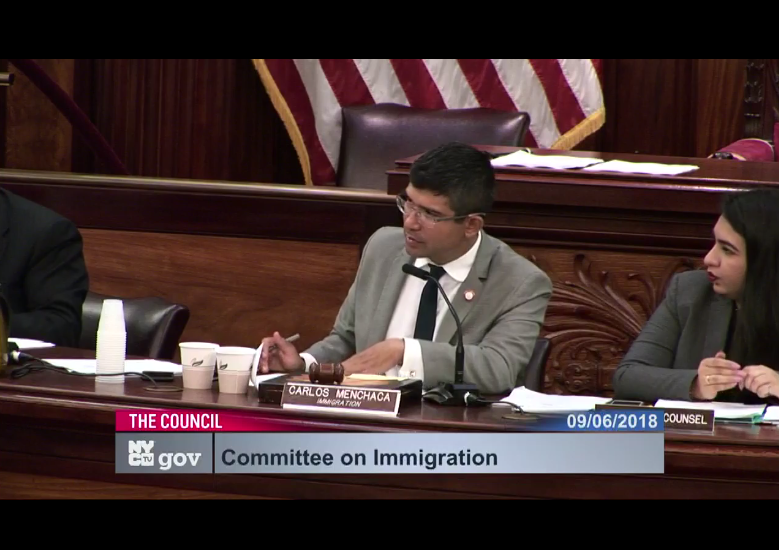 Commissioner Mostofi's testimony, excerpted on Twitter and emailed in full to Sludge on Friday by Matt Dhaiti, Deputy Press Secretary for the NYC Mayor's Office of Immigrant Affairs, is as follows: "The first active agreement is an MOU [Memorandum of Understanding] with the NYPD. This MOU allows ICE HSI to use the firing range for its own training. As I mentioned earlier, ICE HSI conducts various crucial anti-terrorism, anti-trafficking, and criminal justice activities, and it is separate from ICE ERO, which is tasked with civil immigration enforcement."

The WNYC article on Thursday Sept. 6th, quoted Commissioner Mostofi differentiating the contract with ICE for use by the HSI division from any potential use by individuals in the ERO division: "'They're not the officers that you're hearing about that are going to courthouses or that are conducting raids,' she told the council committee. 'It's a different, if you will, part of the agency.'" This separation is reportedly an official NYPD policy, but details of how agents' use of the facility are kept separate were not specified in the Thursday hearing.

Sludge's Alex Kotch and Josefa Velasquez first published their investigation into ICE contracting data on July 6th, and Felipe De La Hoz had an exclusive report for Documented on Aug. 28th on Councilmember Menchaca's proposed legislation.

The second contract identified by Sludge on July 13th is with the Hudson River Park Trust, which is governed by a 13-member Board of Directors, seven of whom are appointed by the NYC Mayor and the Manhattan Borough President. In testimony yesterday, Commissioner Mostofi stated, "The Trust is not a City agency and the City does not control or direct its contracts." A Finance Committee consisting of six members – with Chair Jeffrey Kaplan appointed by the NYC Mayor – is tasked to "Review and advise on the financial implications of major proposed transactions including significant leases and sponsorship agreements."

Video of the hearing is streamable online on the NYC Council's Legistar site, with notes from the hearing reported on Twitter by Felipe De La Hoz of the immigration newsroom Documented. Opening remarks in support of the proposed legislative items in the hearing were made by four Councilmembers: Chair Carlos Menchaca, Speaker Corey Johnson, Helen Rosenthal, and Carlina Rivera.
The hearing also featured testimony from four stakeholders in support of Intro 1092: Violeta Gomez-Uribe, a constituent and undocumented immigrant from Sunset Park, Brooklyn; Albert Fox Cahn, CAIR–NY's Legal Director; Nyasa Hickey, Supervising Attorney, Immigration Practice, Brooklyn Defender Services; and Hasan Shafiqullah, Attorney-in-Charge, Immigration Law Unit at The Legal Aid Society. Speaker Johnson's questioning on contract details to the Commissioner starts at 1h18m in to the video, and Chair Menchaca's recounting of the reported difference between agents of the HSI and ERO divisions starts at 1h30m. – update by David Moore, edited by Donald Shaw
---
As the #AbolishICE movement gathers endorsements from Democratic Party leaders, on Thursday the New York City Council will kick off its own legislative process to end city contracts with the federal agency.

The Council's legislative push was inspired by a Sludge investigation in July that discovered ongoing contracts with U.S. Immigration and Customs Enforcement (ICE), which was brought to the attention of Councilmember Carlos Menchaca, chair of the immigration committee, by a constituent.

The proposed Council legislation was first reported on Aug. 28th in an exclusive by Documented reporter Felipe De La Hoz. The Immigration Committee hearing will be held tomorrow afternoon in the Council chambers at City Hall. The oversight meeting's agenda consists of two legislative items: Intro 1092, "Prohibiting NYC from contracting with entities engaged in immigration enforcement.", and Resolution 2722, "Establishing a Humane Immigration Enforcement System Act."

In an interview with Sludge last week, Menchaca, who represents Brooklyn neighborhoods Red Hook, South Slope, Sunset Park and others in District 38, described the inspiration for the #AbolishICE legislation. The initiative was motivated by Josefa Velasquez's original report in July that NYC, despite being a sanctuary jurisdiction, maintained at least two active contracts with ICE: a $112,000 contract with the New York City Police Department, and a $426,000 contract with the Hudson River Park Trust for "secure parking".

"This is the power of a multi-sector, participatory democracy approach. We first became aware of Josefa's reporting through a constituent who shared with us the article… [the constituent] is part of a progressive Democratic club on the West Side, and she forwarded it to us with some good questions – 'What are you doing about this?'", Menacha said.
Ahead of these first public hearings with the immigration committee, each legislative item currently has one co-sponsor, though as is typical with new Introductions, none yet in the Immigration Committee. Menchaca said he believes the legislation's "spirit is alive and well in the Council… we're talking about this in the middle of the storm we're finding ourselves in."
Intro 1092 is cosponsored by Brooklyn Councilmember Jumanne Williams, a progressive running for the Democratic nomination for Lieutenant Governor. The bill was the subject of a Council stated hearing on July 28th, with a searchable .pdf transcript available on Legistar.
Resolution 2722's primary sponsor is Councilmember Helen Rosenthal, a Manhattan progressive whose District 6 includes much the Upper West Side along the Hudson River. The Hudson River Park Trust's headquarters is downtown in Greenwich Village, located in Council Speaker Corey Johnson's District 3.

After tomorrow's hearing and amendments, the next step for Intro 1092 in the legislative process would be approval by the seven-member Immigration Committee and a move to a full Council vote at a stated Meeting, at which point bills are typically approved by a majority of Council members.

In January 2018, the Council unveiled a new legislative website, NYC Councilmatic, which was created in 2015 and maintained through 2017 as a free & open-source public resource by this reporter's previous 501(c)3 non-profit organization, the Brooklyn-based Participatory Politics Foundation.

The Laws site offers several unique features for civic engagement with the NYC Council process: address-based lookup of Council districts, advanced search tools by keyword, and most importantly, free email alerts of committee hearing agendas and legislative items. The Council Laws site is currently a project of the NYC Council Labs agency along with tech leads DataMade, a civic tech company specializing in open data. Versions of Councilmatic are also up in Chicago, Los Angeles County, and Philadelphia, with volunteer-led versions being developed in Miami, Oakland, San Francisco, and more cities.
Building on the free features of NYC Councilmatic, it's now easier for NYC community groups and neighborhood political clubs to stay informed about official meetings of the Immigration Committee and the #AbolishICE Intro 1092. Anyone on the site can subscribe to calendar feeds of committee hearings – directly useful for good-government groups and immigration advocates – and anyone who registers a free account can subscribe to email updates.
Before the launch of Councilmatic as a new platform for public dialogue with community groups, receiving Council email alert "push notifications" or advanced tracking features on open data were not possible from the official NYC Council legislative publishing website.
Email alerts from Councilmatic can include the following types of notification: official actions on individual legislative items, all Councilmember actions, the keyword term "ICE" whenever used in bill text or according to categories of search filters (e.g. active Intros in a specific Committee), Committee hearing agendas, and more.

Community groups have provided crucial feedback ahead of tomorrow's hearing, Menacha said. "Right now we're working with nonprofits and allies of the Immigration Committee, through my work in the last session, to ensure that every organization that has testified in front of the city Council gets an invitation. We're also going to use our social media to get the word out and use… the media side to publicize the hearing itself. This is a public hearing which means that we'll have a live feed online to have folks tune in. Anyone who wants to Tweet at me and the Council members who are there, we'll be listening, and if people have questions for the folks on the dais and the stand, I'll look at everything," Menacha told Sludge.
Menacha has asked the de Blasio administration to do "homework" and outline what contracts currently exist between the city and ICE.
Asked whether the Immigration Committee has received any recent response from the Hudson River Park Trust or NYPD on the ongoing ICE contracts, Menchaca responded, "Not yet – we're hoping to get some of that by the time the hearing comes… We're awaiting comment and will be expecting the NYPD and Mayor's office to be there to answer these questions."

The July 13th report follow-up on ICE contracts in New York City followed up on a July 6th Sludge investigation by Josefa Velasquez and Sludge's Alex Kotch– the most-viewed article on Sludge, over the past two and a half months of publishing – which cleaned and standardized official government data from USASpending.gov to specify the amount of current ICE contracts with state governments.

When public data on legislative actions becomes more open as structured data, and easier to find and share through user-friendly web interfaces, networks of lawmakers can more easily circulate bill text, community testimony, and policy best practices. Asked whether other cities have been in touch to replicate #AbolishICE city-level legislation, Menchaca highlighted that New York City is unique in having a relatively strong Immigration Committee for oversight and public hearings.

"We have open lines of communication with other council members through multiple networks like New American Leaders and Local Progress. So with Austin and Detroit and Chicago and San Francisco and Phoenix… we're hoping to set up working calls with our legislative teams to connect as we build this law. Not just on ICE and these federal agencies but on topics like IDNYC and really building movements around engaging our immigrant brothers and sisters in our neighborhoods," said Menacha, the first Mexican American elected to the council.
Currently, the advance-written testimony of community groups and immigration advocates is not officially gathered through official public comment forums by Council committees, and is only available for review if a group posts it online ahead of time, or in the video live-stream (available tomorrow on official Legistar site) or the hearing transcript. Public dialogue app developers can build on the official open data legislative API for two-way feedback with Council offices and community groups.
The "Abolish ICE" campaign, known partly from the #AbolishICE hashtag on Twitter, has gained steam in New York and around the country, slowly becoming a mainstream political platform for candidates running for office. Over June and July, mentions of the phrase "Abolish ICE" on Twitter increased fivefold compared to the first five months of the year, according to Sean McElwee of Data Progress in an New York Times op-ed.

On June 28th, the "Abolish ICE" campaign gathered the endorsement of its first sitting U.S. Senator, Kirsten Gillibrand of New York.

Gillibrand has been joined by at least seven House Democrats and candidate Alexandria Ocasio-Cortez in supporting legislation to end the current US Immigration and Customs Enforcement agency agency within one year. Just days prior, Sen. Kamala Harris had strengthened her position and called for ICE to be "critically reexamined", and on June 30th, Sen. Elizabeth Warren called for ICE to be "replaced".

In the New York Attorney General Democratic Primary, candidate Zephyr Teachout has called for ICE federal agents who violated state laws of "general jurisdiction" to be prosecuted, Felipe De La Hoz reported in mid-August. The idea of abolishing, or at least curtailing, ICE's powers has become a campaign issue for the crowded attorney general race in New York and the Democratic gubernatorial primary.

Menchaca hopes to coordinate with state legislators on introducing new #AbolishICE legislation in the state Capitol.

"We're going to share in real-time with other legislative bodies, including the state, bringing in the Assembly. I'm talking to a couple of Assembly members and some state Senators who might want to introduce it into the state, part of the larger sanctuary movement across the country.," Menacha said.