They're Sanctuary Jurisdictions, so Why Are They Contracting With ICE?
Areas billed as safe havens for undocumented immigrants seeking reprieve are continuing to contract with ICE despite being labeled as "sanctuary" jurisdictions.
Several states, counties and cities billed as safe havens for undocumented immigrants seeking reprieve from federal immigration enforcement are continuing to contract with U.S. Immigration and Customs Enforcement despite being labeled as "sanctuary" jurisdictions.

A Sludge analysis of more than 2,200 active contracts with ICE shows that sanctuary cities, including New York City and Philadelphia, as well as sanctuary counties, such as Sacramento, San Diego and Santa Clara, have ongoing contracts with the enforcement agency within the Department of Homeland Security aimed at enforcing immigration laws and removing unauthorized immigrants.

With the debate on immigration becoming increasingly heated since the Trump administration began implementing a policy of separating children from their parents who enter the country illegally along southern border, protests have erupted around the nation calling for ICE to be abolished.

Sludge identified roughly two dozen local governments and municipalities that either reside in or are sanctuary jurisdiction that have active contracts with ICE. All told, the two-dozen contracts between state and local governments with ICE are valued at $2.09 million, with $1.03 million awarded so far.  

Several municipalities were unaware of their ongoing contracts with ICE until Sludge reached out for comment. Some contracts between sanctuary jurisdictions and ICE had gone back years, vestiges of the past being continuously renewed with few questions asked.

New York

New York City— whose progressive mayor, Bill de Blasio, has called for ICE to be abolished— is still raking in money from the agency. The city has a $112,000 contract with ICE that began in 2015, was recently renewed in January 2018, and is slated to end in February 2020, records show.

Though the New York City Police Department has said it would limit cooperation with ICE agents, the contract between New York City and ICE is listed as a firing range facility rental for education and training purposes located at 1 Police Plaza, the headquarters of the NYPD.

The de Blasio administration, which effectively controls the NYPD agenda and issues guidance on policies, declined to comment for this story.

In an email, a spokesman for the NYPD said the department's stance on immigration issues have no connection to their contract with ICE.

"The NYPD does not inquire about the immigration status of crime victims, witnesses, or others who call or approach the police seeking assistance," said spokesman Phil Walzak. "The NYPD does not conduct civil immigration enforcement.  These are facts that have no connection to the rental of a firing range facility."

The Hudson River Park Trust, a partnership between New York State and New York City, has a $426,000 contract with ICE for "secure parking for the New York field office," according to its contract.

A spokesman for the Hudson River Park Trust, a waterfront park in on Manhattan's West Side, said in an email that "The Trust has had a series of parking contracts with the Department of Homeland Security for parking in Pier 40's 2,000-space garage since before 2004, with the latest entered into in May 2016 for 35 spaces used by Immigration and Customs Enforcement."

While the state of New York isn't a sanctuary state, Gov. Andrew Cuomo has been a staunch opponent against Trump's immigration policies and ICE, sending the agency a cease and desist letter in April accusing ICE of making illegal arrests and using "aggressive tactics." The Democratic governor went as far as to say that the state would sue the agency if it continued to make arrests in an aggressive manner and signed an executive order prohibiting ICE agents from making arrests in any state government building without a judicial warrant.

Despite Cuomo's rhetoric, the state has continued to contract with ICE. The New York State Department of Motor Vehicles, which is controlled by the state of New York, has a $15,000 contract with ICE to provide license plates, registration and other motor vehicle requirements. The DMV is headquartered in Albany, New York, a sanctuary city.

When asked about the contract, a spokeswoman for the New York DMV said the agency "did not find anything" in its contract database about the contract with ICE. A spokesman for the Cuomo administration did not respond to request for comment. Efforts to reach Albany Mayor Kathy Sheehan were also unsuccessful.

Reached by Sludge Thursday, Javier H. Valdés, the co-executive director of Make the Road New York, an immigration advocacy organization, said the state and city should end their contract with ICE.

"We call on both New York State and New York City to immediately end all contracts with ICE, which is tearing apart immigrants from their families and communities on a daily basis across New York and the country."

California

As a direct rebuke to Trump's immigration policies, Democratic California Gov. Jerry Brown signed legislation in October 2017 designating California as a sanctuary state, limiting the cooperation of state and local enforcement agencies with federal immigration authorities.

Despite the legislation, nothing precludes the state, cities or counties from contracting with ICE because California doesn't have jurisdiction over local agency contracting, a spokesman for Brown explained.

Several counties that have taken the added step of becoming a sanctuary counties, such as Sacramento, Los Angeles, San Mateo, San Diego and Santa Clara, have ongoing contracts with ICE.

Last month, the Sacramento County Board of Supervisors opted not to renew its detention contract with ICE, which was expected to bring the county more than $4 million in revenue this fiscal year. The contract could have netted the county more than $6.6 million annually in the upcoming years do to increased per-night charges, Sheriff Scott Jones told the board in a memo.

Phil Serna, a member of the board, said at the meeting that he couldn't find it in himself to keep supporting the ICE contract.

"We're not housing these people, we're jailing these people," Serna said. "Some of them don't have criminal violations."

"So to have us consider extending a contract—while it has some fiscal benefit to the county— but results in, what I think, is a quite clear moral abomination. I don't want to be party to jailing people when they have no criminal violations," Serna added.

While the Sacramento County Board of Supervisors voted not to renew its largest contract with ICE, it still has a much smaller active contract with the agency, according to federal spending records.

The county has a $3,660 contract, slated to expire at the end of this month, with ICE allowing the agency to have access to the California Law Enforcement Telecommunications System (CLETS), a network that provides law enforcement access and public safety agencies access to criminal history, driving records and other databases.

Santa Clara County, which sued the Trump administration along with Sacramento County over the president's executive order withholding federal grants to sanctuary jurisdictions that refused to comply with immigration enforcement, also has two active contracts with ICE.

One contract between the county and ICE, valued at more than $27,500, is for "online access to criminal justice information," which gives ICE "limited access to the County's Criminal Justice Information Control (CJIC) system to look up criminal history information," said county spokeswoman Laurel Anderson.

The other contract is access to the Sheriff's Law Enforcement Telecommunications System (CLETS), valued at more than $2,000, which provides the agency "pass-through access" to the CLETS network, Anderson said.

The sheriff's office is "responsible only for reviewing the application for ICE to receive pass-through access, and is required to submit the application to the California Department of Justice regardless of whether the Sheriff's Office approves it," Anderson said in an email.  "The Sheriff's Office does not provide any information to ICE, only pass-through access to the statewide CLETS system under State rules. As the CLETS Control Agency for the County of Santa Clara, the Sheriff's Office also provides this access to other law enforcement agencies operating in our county."

San Diego County, another sanctuary area, has a contract valued at nearly $46,000 for communications security equipment.

A spokesman for the county explained that the contract allows ICE to use the Regional Communications System, the regional first responder radio system used in San Diego and Imperial counties.

"More than 200 first responder agencies use and lease this system including U.S. Immigration and Customs Enforcement," San Diego County spokesman Michael Workman said.

Connecticut

Hartford, Connecticut, has been a sanctuary city prior to Trump taking office. But the Hartford Parking Authority, which is charged at maintaining and operating the city's parking facilities, has a contract with ICE with a potential value of $64,000. So far, more than $38,000 has been awarded to the authority for "secure parking" for the Enforcement and Removal Operations Field Office in Boston.

Hartford Mayor Luke Bronin was unaware of the ICE contract, according to a spokesman for the mayor.

"The Parking Authority was established twenty years ago as an entity independent of city hall, as required by a Connecticut State statute. That statute was passed because of a perception that, in the past, parking contracts were seen as political handouts. Mayor Bronin is thus not involved in the day to day operations of HPA.  He is not aware of any contracts with ICE," said spokesman Vasishth Srivastava.

Colorado

While the state of Colorado is a sanctuary state, several cities and counties also hold that distinction. The only government entity within the state that has an active contract with ICE is Denver Health and Hospitals, the state-owned health care system.

The $9,000 contract is for "funding for detention guard service for ICE detainees admitted to Denver Health and Hospital," according to the contract. While the city of Denver— a sanctuary city— passed an ordinance last year designed to "reduce fear within the immigrant community and clarify for everyone that Denver is not engaging in immigration enforcement," Denver Health is not required to abide by the Public Safety Enforcement Priorities Ordinance, according to a city spokeswoman.

Illinois

Cook County and Chicago are both listed as sanctuary areas for immigrants. The village of Oak Lawn, a suburb of Chicago within Cook County, has a contract with ICE valued at $54,000 set to expire in 2021. The contract, of which $18,000 has been awarded to the village, is for "range fees" for training. Efforts to reach Cook County for this story were not successful.

Public Colleges

While several colleges and universities around the country contract with ICE, only two are public institutions residing within sanctuary jurisdictions: The University of Maryland and Vermont State Colleges.

The University of Maryland has so far been awarded $125,000 for a contract with ICE on "counter terrorism training" that was renewed in March 2018 and slated to end in 2022. The contract has a potential award value of $625,000, making it one of the largest among state and local entities contracting with ICE that are in sanctuary jurisdictions.

A spokeswoman for the the university explained that the contract covers "up to 25, two-day training sessions where university researchers present terrorism-related research findings to homeland security investigators who are sent to US Embassies abroad for U.S. Immigration and Customs Enforcement."

Vermont State Colleges' $12,470 contract with ICE, entered into in March, provides "group leadership development series training." The contract does not relate to ICE policing or enforcement, the public university system said.

"Vermont Tech's position is that the training we have provided doesn't relate to policing or enforcement," said spokeswoman Amanda Chaulk. "As a public institution, Vermont Tech strives to maintain open doors to the public that it serves, through its nondiscrimination policy and equal opportunity policies for admission and open enrollment in many programs, especially those offered by [Continuing Education & Workforce Development.] We also seek to provide education where we have expertise, as in these examples of leadership and financial best practices."

Chaulk added that the contract with ICE for leadership training ended in late 2017 and a contract for financial accounting courses ended in May.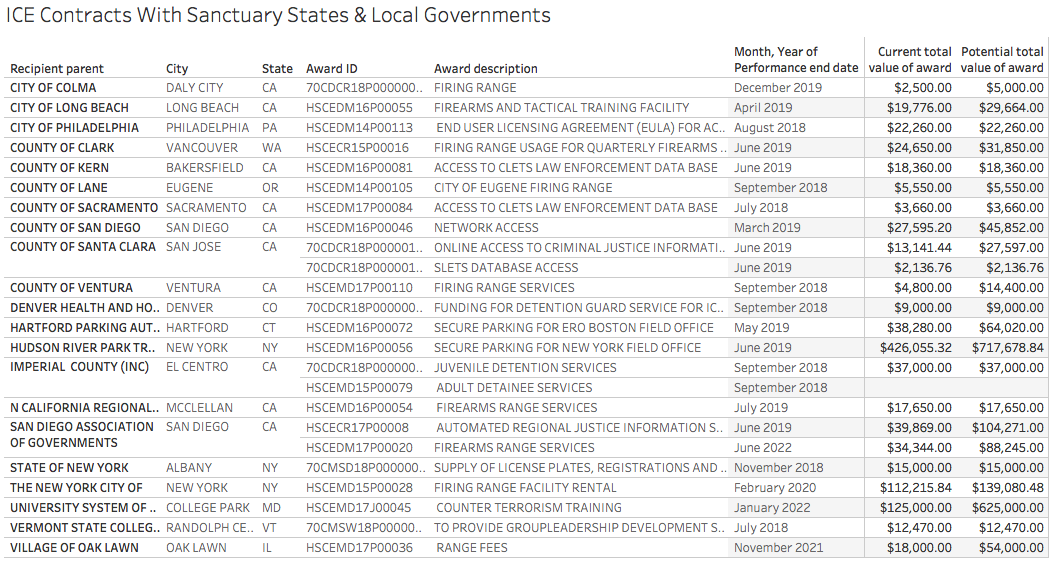 –Additional reporting by Donald Shaw and Alex Kotch