Here Are the Special Interests Illegally Funding Formerly GOP-Aligned Dems in N.Y.
A group of New York State Senate Democrats that aligned with Republicans is refusing to return hundreds of thousands of dollars worth of contributions, mostly from corporations and PACs, that the state Supreme Court ruled illegal in June.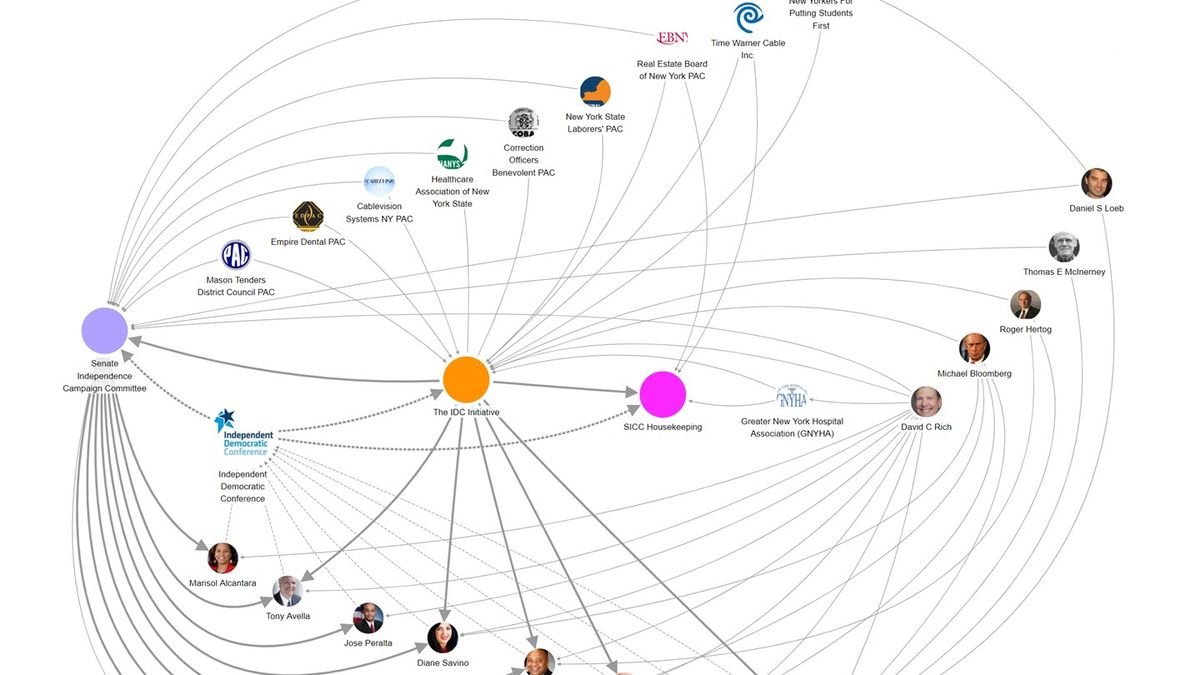 A judge ruled the committees and their campaign contributions were illegal. A New York State Board of Elections official ordered the candidates to return the illegal contributions. But the candidates won't do it.

Eight former members of the Republican-aligned Independent Democratic Conference (IDC) have benefited from nearly $1.6 million in fund transfers and expenditures from two IDC-affiliated committees since 2011, which together raised over $4.6 million, excluding a transfer from one to the other, a Sludge analysis of state elections board data found. After breaking campaign finance rules and paying a $27,400 fine in 2016 for missing numerous reporting deadlines, the senators disbanded The IDC Initiative and formed a new committee, the Senate Independence Campaign Committee (SICC). Most of this spending has since been ruled illegal.

These eight New York State Senate Democrats were part of the IDC, which until recently aligned with Republicans in the chamber, giving the GOP a narrow majority. Formed in 2011, the IDC used its campaign committees to take in money—mostly from corporations, LLCs and political action committees—and to fund their campaigns and make elections expenditures in their favor.

Another committee, SICC Housekeeping, which funded the operations of the IDC, accepted nearly $700,000 from The IDC Initiative and roughly $1.2 million in almost exclusively corporate contributions.

Even after the committees were ruled illegal on June 5, a newly constituted version of SICC continued to funnel funds it had illegally raised to the campaigns of ex-IDC incumbents, including $121,000 to Jeff Klein (NY-34), $66,000 to Marisol Alcantara (NY-31) and $60,000 to Jesse Hamilton (NY-20).

As all eight incumbents face progressive primary challengers, they're digging in their heels, defying a directive from their own state elections board in order to hold onto the illegal funds. As Sludge previously reported, the challengers have received far more individual contributions, and their average donation amount is a fraction of that of the ex-IDC members.

"Campaign finance laws aren't suggestions—they are designed to keep our democracy healthy and honest," Zellnor Myrie, who is challenging Hamilton, said in a press release. "The 'former' IDC members have shown their blatant disregard for our democratic safeguards by keeping these campaign contributions…By refusing to return this money, the IDC is showing us yet again that their real interests lie with their donors instead of their constituents."

Special interests provided the bulk of the contributions to the three IDC-aligned committees. Lax campaign finance laws in New York allow corporations to donate large amounts of campaign cash and treat opaque LLCs as individual donors, even if the LLCs are connected to corporations that have already given the maximum allowed amount. This effectively allows LLC owners to donate unlimited amounts of money.
Jessica Ramos, who hopes to unseat ex-IDC member Jose Peralta in Senate District 13, told Sludge, "These numbers make clear what we've known all along: Jose Peralta empowered Republicans because he is funded by Republicans. Our public schools are underfunded and our rents are skyrocketing, but Peralta would rather take cash from charter school billionaires and real estate lobbyists than deliver for his community."

Sludge has identified the top ten special-interest donors to the three committees aligned with the ex-IDC senators. Among these interests are three unions (the PACs of construction and hazardous material handlers union the Mason Tenders, construction union New York State Laborers, and a New York City correction officers union), two health care trade groups (Empire Dental PAC and the Healthcare Association of New York State), two major telecom companies (Time Warner Cable and the PAC of Cablevision Systems N.Y.), a powerful real estate association (PAC of the Real Estate Board of New York) and pro-charter school political committee New Yorkers for Putting Students First.
Explore this interactive map and the annotations to find out more about the special-interest donations. Hover over each connection line to see the total donated amount.

Bill Lipton, director of the liberal New York Working Families Party, which has endorsed all eight challengers, told Sludge, "The IDC spent seven years in Albany blocking tax hikes for the rich, real rent reform and public school funding—so it's no surprise their biggest donors are hedge fund billionaires, real estate lobbyists and charter PACs. These Trump Democrats are bought and paid for by Republican special interests."

IDC spokesperson Barbara Brancaccio responded with accusations of her own. "The Working Fraud Party was criminally charged in 2014 and continues to violate campaign finance and election laws in races throughout New York State," she told Sludge.

A special prosecutor did not end up charging the Working Families Party itself. The prosector did indict a political campaign, two campaign aides and a now-defunct for-profit arm of the WFP in 2015 for campaign finance improprieties, but all charges were eventually dismissed. It's unclear what current violations Brancaccio referenced.

The top five individual donors to the IDC-aligned committees, four of whom are financial executives who often donate to Republicans, include former New York City Mayor Michael Bloomberg, Greater New York Hospital Association (GNYHA) lobbyist David Rich, and Puerto Rico bondholder and charter school backer Daniel Loeb. All five have made direct campaign donations to at least one ex-IDC member, and Rich has given to all eight members' campaigns. Thomas McInerney, CEO of Connecticut-based private equity firm Bluff Point Associates, donated $100,000 to SICC in 2016 and has given hefty contributions to the New York State Republican Party and the state's Senate Republican Campaign Committee. GNYHA donated $450,000 to SICC housekeeping committee and $11,000 through subsidiaries to The IDC Initiative.

SICC's expenditures on behalf of IDC members—mainly ads, mailers, robocalls and polling—totaled $711,100 and began in 2016. Alcantara has benefitted the most from this outside spending.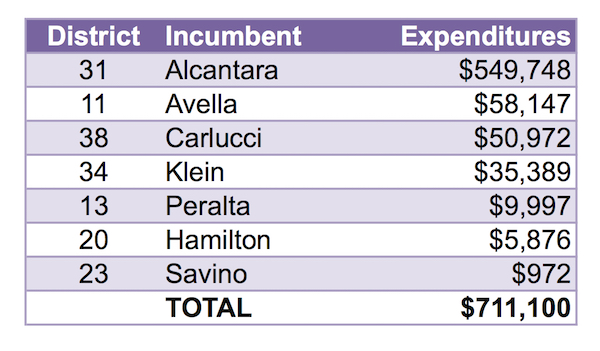 A Series of Illegal Actions

Last August, Chief Enforcement Counsel of the N.Y. State Board of Elections Risa Sugarman filed a lawsuit against the state's Independence Party, the IDC, the SICC, SICC Housekeeping, Klein and other Independence Party members and ex-IDC members' campaigns.

Acting State Supreme Court Justice Kimberly O'Connor issued a ruling on June 5 that the SICC and SICC Housekeeping committees were invalid because a legislative conference such as the IDC is not entitled to the same constitutional protections as a political party.

Therefore, Jeff Klein, a Democrat, and two other Democrats he appointed as SICC officers, are not allowed to manage another party's committees. By the time the ruling came down, the Independence Party had already replaced Klein and one Democratic officer with a members of its own party, and another had switched parties. But the ruling stated that the decision is not moot, since the illegal actions happened before the recent changes.

O'Connor wrote that "respondents must take whatever actions are necessary to comply with the Election Law in light of this Decision and Order/Judgment." The court did not specifically order the ex-IDC members to return their illegal contributions, but Sugarman, as head compliance officer at the Board of Elections, made her determination as to what actions would put the IDC committees and former IDC members within legal compliance. On July 7, Sugarman's office issued a letter outlining these actions.

SICC and SICC Housekeeping were required to file together as a non-party committee and should have abided by the corresponding contribution limits, but they raised and spent money "far in excess" of those limits, wrote Carla DiMarco, associate counsel in the Division of Election Law Enforcement. The housekeeping committee was "falsely designated," she wrote. As of the July 7 letter, "no apparent effort [had] been made to refund contributions received by this illegally-created committee or to properly allocate its expenditures to candidates."

The detailed list of steps the Board of Elections required SICC and the IDC candidates to take include:

SICC:
Register a new, non-party, constituted committee with a name other than SICC
Refund all contributions made to SICC from Aug. 1, 2016 to April 23, 2018
Demand refunds of contributions made in excess of contribution limits
Candidate Committees:
File amended campaign finance reports
Refund all contributions that exceed candidates' limits (current limits for State Senate candidates are $7,000 for a primary and $11,000 for a general election)
Refund all transfers received from SICC Housekeeping on or after April 24, 2018
Sugarman reportedly identified over $1.4 million that need to be returned to contributors. But it's now past the 20-day deadline, and the ex-IDC members are refusing to budge. In fact, they appear to have gone even further.

DiMarco explained that the committees continued to break the law after they'd gotten rid of Democratic officers.

"By commingling hundreds of thousands of dollars between the [old SICC] and [SICC Housekeeping] committees and the new [SICC] created April 24, 2018, those funds became a contribution. Thus, [SICC Housekeeping] utilized the [SICC] as a pass-through for the purpose of giving IDC candidates contributions far in excess of their contribution limits directly thereafter."

In a letter to the State Board of Elections, Lawrence Mandelker, a lawyer representing the ex-IDC members and the IDC committees, called Sugarman's order "an abuse of power" and objected to returning the $1.4 million in contributions.

In the end, the Senate challengers want a fair fight, and one that isn't dominated by special interests. As of mid-July, Rachel May, who is running against David Valesky in District 53, had an average donation of $91 dollars from over 1,300 contributions, almost all from individuals. Valesky's average donation was $893, most of it coming from corporations, LLCs and PACs, and he logged only 57 individual contributions.

May told Sludge, "The Independent Democratic Conference was built of, by, and for special interests. The former IDC members continue to fight to hold on to their campaign slush fund where they hoarded money from real estate developers, for-profit charter schools, and wealthy corporations…Unlike Sen. Valesky, I don't take money from corporations or LLCs. I am relying on small donations from individuals and the support of a movement to build an Albany that will make us proud."