Beto O'Rourke Removed From 'No Fossil Fuel Money Pledge' Following Sludge Report
In the wake of a Sludge investigation showing multiple contributions from oil and gas executives, Oil Change USA took O'Rourke's name off the list of political candidates who promised to reject fossil fuel donations over $200.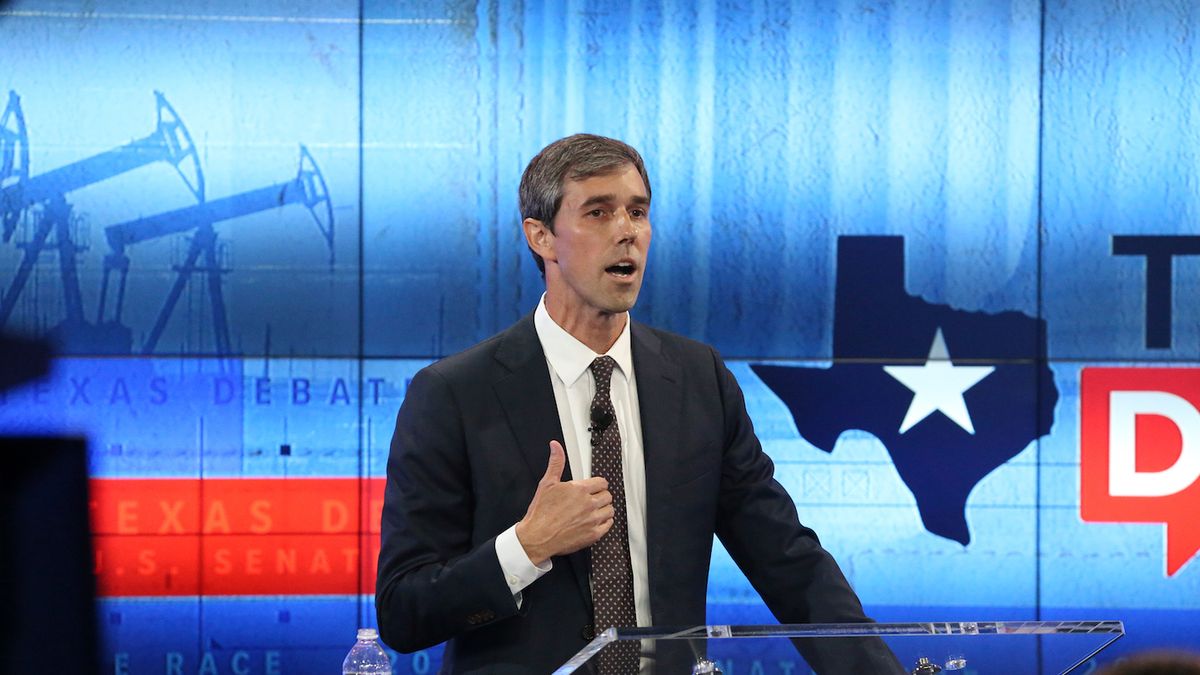 Texas Democratic Rep. Beto O'Rourke has been removed from a pledge he signed to reject large donations from fossil fuel PACs and executives, following a recent Sludge investigation of federal campaign finance records.
Sludge reported on Dec. 10 that the congressman had accepted dozens of contributions of over $200 from oil and gas executives and had not reported refunding them. Oil Change USA, which led a coalition of environmental and democracy organizations to create the No Fossil Fuel Money Pledge, attempted to reach O'Rourke's campaign and congressional office but did not hear back. Nor did Sludge.
David Turnbull, strategic communications director at Oil Change USA, told Sludge on Tuesday that the group had just removed O'Rourke's name from the list of signers.
The pledge stipulates that in signing it, "a politician and their campaign will adopt a policy to not knowingly accept any contributions over $200 from the PACs, executives, or front groups of fossil fuel companies—companies whose primary business is the extraction, processing, distribution, or sale of oil, gas, or coal."
Turnbull told Sludge that he believes O'Rourke, who signed the pledge in late April, thought the pledge only barred him from accepting oil and gas PAC donations, although the pledge language was clear at the time. An archived version of the pledge website from days before O'Rourke signed it shows that the pledge used the same language then regarding "PACs, executives, or front groups of fossil fuel companies" as it does now.
[Beto Got $430,000 From Individuals in Oil and Gas. Should We Care?]
"While we are pleased he hasn't taken fossil fuel PAC money, he needs to go further in order to be in compliance with the full No Fossil Fuel Money Pledge," said Turnbull. "We hope to speak with members of Beto's organization to encourage Beto to sign on to the full No Fossil Fuel Money Pledge, including rejecting major contributions from top executives of fossil fuel companies."
Evan Weber, political director of the Sunrise Movement, an environmental activist organization that helped coordinate the pledge and is working with incoming Rep. Alexandria Ocasio-Cortez (D-N.Y.) on an ambitious Green New Deal proposal, told Sludge that the Sunrise Movement has not been in touch with O'Rourke about this issue, and that the congressman may have misunderstood the pledge he signed.
"It seems there was a misunderstanding from the O'Rourke camp about the nature of the No Fossil Fuel Money pledge," Weber said. "The No Fossil Fuel Money Pledge goes beyond asking candidates to swear off donations from fossil fuel corporate PACs. It also asks them to swear off donations from the lobbyists and CEOs of these companies, because we need politicians to be looking out for our generation's interests, not those of oil and gas CEOs and lobbyists. We hope that if Mr. O'Rourke chooses to run for higher office again that he commits to the full No Fossil Fuel Money Pledge."
O'Rourke has not signed on to the Green New Deal plan. His press secretary did not immediately respond to a request for comment.
The Texas representative is seen as a strong potential 2020 presidential candidate by many members of the Democratic establishment, and he has been likened to Barack Obama. O'Rourke initially said he would not run for president but has since indicated he's considering it.
The issue of fossil fuel funding (and corporate PAC contributions in general) is catching fire after multiple reports from scientists issued dire warnings that unless extreme action is taken now to combat climate change, the planet will face an environmental catastrophe in the coming decades. Unlike in 2016, climate change is likely to be a major issue in the 2020 Democratic presidential primary, and candidates' choices regarding fossil fuel campaign donations and personal investments will be part of the conversation.
"It's clear that real climate leaders need to stand up to the fossil fuel industry in many ways, and that includes standing up to the full extent of the fossil fuel industry's influence on our politics," Turnbull said. "We're hopeful that Beto will ramp up his commitment to that effort further from his efforts already, by signing on to the full No Fossil Fuel Money pledge in any campaigns moving forward."
---
Related