Democrats on Key Energy Subcommittees Have Financial Stakes in Oil and Gas Companies
Seven Democratic members of the House Energy Committee's Energy and Environment subcommittees collectively own at least $2.3 million worth of stock in the oil and gas industry.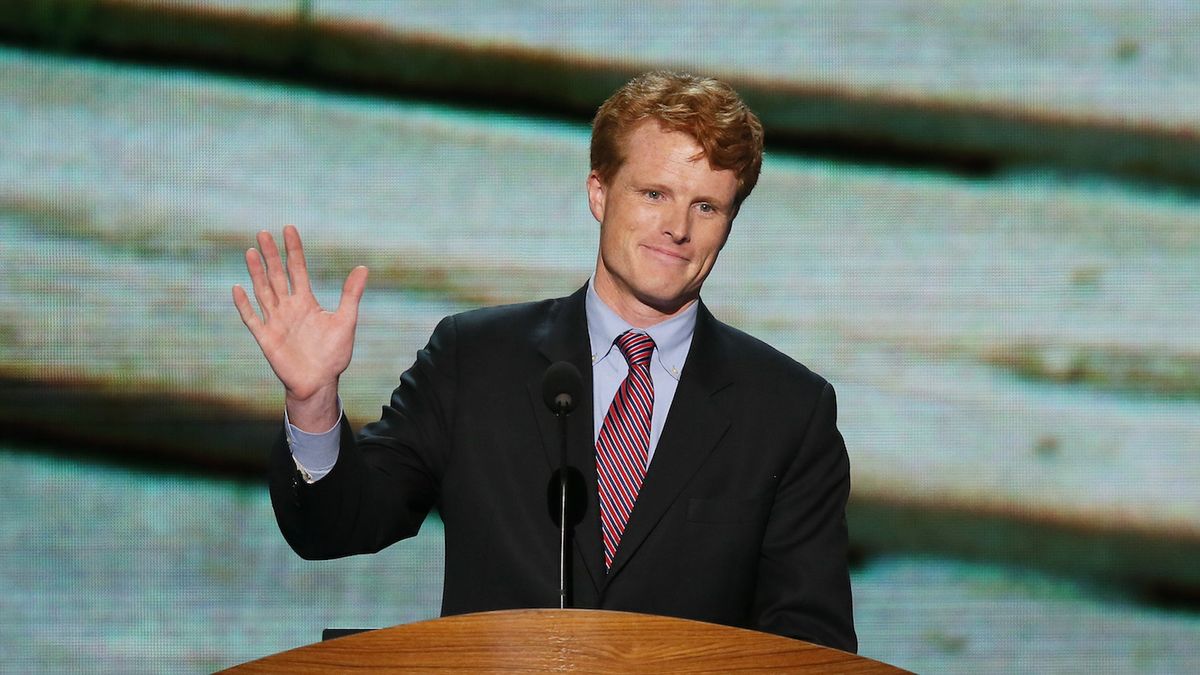 On Dec. 10, Massachusetts Rep. Joe Kennedy III signed on to the Green New Deal, an ambitious plan spearheaded by incoming progressive House Democrat Alexandria Ocasio-Cortez to make the United States carbon-neutral by 2030 and create million of green-energy jobs.

"This generation will either be defined by the wreckage of climate change or defined by the mighty effort we summon in response," Kennedy said in a statement. "I am proud to support the Green New Deal and look forward to working with my colleagues on the Energy & Commerce Committee and throughout the House to implement the climate policy this country deserves and our planet demands."

What he didn't mention, however, was his significant personal investment in the oil and gas industry. According to a Sludge review of congressional financial disclosure documents, Kennedy owns between $963,000 and $2,195,000 worth of stock in companies in the oil and gas industry, such as Chevron, Exxon, and NextEra Energy. Most of Kennedy's stock is contained in inherited family trusts.

"Congressman Kennedy's family investments play no role in his decision-making in Congress," Dan Black, Kennedy's press secretary, told Sludge. "He has supported the CLIMATE Act and the Stop Arctic Ocean Drilling Act to hold oil and gas companies accountable for their contributions to climate change, joined his colleagues in calling for a select committee on a Green New Deal, and pledged to no longer take fossil fuel donations."

Kennedy is far from the only Democratic member of the House Committee on Energy and Commerce who has a financial stake in an industry that exacerbates climate change, which scientists predict will decimate the planet in a matter of decades unless drastic measures are taken right now. Sludge has found that seven of the 14 Democrats on the Energy and Environment subcommittees, as well as the anticipated 2019 Energy and Commerce Committee chairman, hold investments that could total $4.3 million or more in oil and gas companies and companies that provide equipment and services to the oil and gas industry. Congressional financial disclosures do not provide exact amounts for these investments and instead list dollar ranges within which each investment falls.

Legislation addressing climate change and the energy industry often goes through the Energy and Commerce Committee, and these subcommittees. For example, this year, two carbon tax bills were referred to Energy and Commerce, including the MARKET CHOICE Act, which landed in the Environment subcommittee. A 2017 bill regarding a transition to clean energy went through the Energy subcommittee.

Lawmakers who design legislation regarding fossil fuel energy and the environment "shouldn't own stock, and they shouldn't take campaign money from these companies and trade groups," environmental activist, scholar, and 350.org founder Bill McKibben told Sludge.

"Fossil fuel is the biggest industry on earth, and at the center of the greatest crisis humans have ever faced, and they have used their money and power to make sure nothing substantive is ever done," he said. "They may or may not be breaking the laws of the country, but they are definitely breaking the laws of physics, and people should stop collaborating with them."
"Sunrise Movement was founded by some of the leaders who helped launch the national campus fossil fuel divestment movement here in the United States, so of course we think that politicians should divest from oil and gas companies. Everyone should!" Evan Weber, political director of the Sunrise Movement, which is working with incoming Rep. Alexandria Ocasio-Cortez (D-N.Y.) on the Green New Deal plan, told Sludge. "And if people are committed to transforming American society off of fossil fuels over the next decade…well, those probably aren't very good long-term investments anyways."

At the federal level, with many Republicans still denying humans' role in climate change, the nation's only hope of adapting to recent scientific reports predicting a global catastrophe in the near future lies with Democrats, who will assume the House majority and control the various committees in the new Congress. The party appears to be eager to move forward with climate legislation, but many disagree on to what extent, and at what pace.

Possibly Over $4 Million Invested

Rep. Kennedy's family investments considered for this article include $1 million in Exxon Mobil, $350,000 in NextEra Energy, $250,000 in Chevron, and $165,000 in Schlumberger, Ltd., as well as $430,000 in General Electric, which owns Baker Hughes, "the world's first and only fullstream provider of integrated oilfield products, services and digital solutions."

Rep. Peter Welch, a member of the Energy subcommittee, has also signed on to the Green New Deal but owns up to $15,000 in Exxon stock, as much as $60,000 in General Electric stock. He also has up to $15,000 invested in Roper, which manufactures products used in oil drilling.

Rep. Frank Pallone (D-N.J.), the ranking member on the Energy and Commerce Committee, will likely become chairman in 2019 as Democrats take the House majority. The congressman's spouse owns up to $15,000 in stock in both Chevron and Dominion Energy, and he has accepted hundreds of thousands of dollars in campaign donations from PACs and individuals in the fossil fuel industry.

Pallone's prospective chairmanship "seems akin to an umpire in the World Series taking money from the Red Sox," said McKibben. "I'm a Red Sox fan, and I'd still hate that."

Rep. Scott Peters' (D-Calif.) spouse owns over $1 million worth of shares in Tortoise Energy Infrastructure Corporation (TYG), which invests in natural gas companies such as Energy Transfer Partners and Magellan Midstream Partners. Peters is a member of both the Energy and the Environment subcommittees.

Rep. Debbie Dingell (D-Mich.), who is a member of the Environment subcommittee, and her spouse, former Rep. John Dingell, own as much as $665,000 worth of stock in companies including Chevron, Duke Energy, and Enterprise Products Partners.

Rep. Kurt Schrader (D-Ore.), a member of the Energy subcommittee and a member of the centrist New Democrat Coalition, owns up to $170,000 worth of stock in ConocoPhilips, Exxon, and Pioneer Natural Resources, among other companies.

The spouse of Energy and the Environment subcommittee member Rep. Jerry McNerney (D-Calif.) owns between $1,002 and $15,000 worth of mineral rights in Texas, listed as investments in Duke Midstream and Valero Marketing. McNerney's communications director, Nikki Cannon, told Sludge that the "annual royalties [from the land] are under $100, and the cost to divest would be more than the total value of the property." Cannon also said that Rep. McNerney supports addressing climate change, adding that he "spent his entire professional career (25 years before running for Congress) developing wind energy technology, and he feels very strongly that climate change is a serious threat that requires urgent action."

The below table includes the oil and gas investments identified by Sludge of the seven subcommittee members and Ranking Member Pallone. Because of Peters' spouse's investment of over $1 million, it's unclear how high these representatives' collective oil and gas investment could be. The investment total could be $4.3 million or more.

Of the eight Democrats mentioned in this article, only the offices of Kennedy and McNerney responded to emailed questions today.

McKibben told Sludge that there should be House rules around financial conflicts of interest. Until those rules are in place, "people should do the right thing: dozens of congresspeople have now signed the Sunrise Movement's pledge not to take money from these companies."

Sens. Jeff Merkley (D-Ore.) and Sherrod Brown (D-Ohio) recently introduced a bill to ban all members of Congress from selling or buying individual stocks.
A Pledge to Reject Fossil Fuel Money

Kennedy, a member of the Congressional Progressive Caucus but not among the chamber's most progressive members, according to a GovTrack analysis, signed the No Fossil Fuel Money Pledge, a commitment to "not knowingly accept any contributions over $200 from the PACs, executives, or front groups of fossil fuel companies," on Dec. 14. The Green New Deal plan depends on the creation of a new select committee to devise a climate change plan, and if Kennedy sticks to the pledge, he'll be eligible to join it.


According to Federal Election Commission data, Kennedy accepted maximum contributions of $2,700 from Andrew Slifka, an executive at oil and gas company Global Partners LP, and Richard Slifka, vice president of subsidiary Global Petroleum Corporation, during the 2017-18 election cycle. Both men live in Massachusetts, where Global Partners is based. Kennedy's campaign did not report returning these contributions through Nov. 26, but Kennedy's pledge is not retroactive.


Democratic Texas Rep. Beto O'Rourke, who narrowly lost a Senate race to incumbent Republican Ted Cruz and is weighing a run for president, violated that pledge dozens of times, according to a recent Sludge report.

This article has been updated to include a quote from Sunrise Movement Political Director Evan Weber.

f
---
Related: