Democratic Opponents of 'Green New Deal' Committee Received Big Fossil Fuel Donations
New Jersey Rep. Frank Pallone, likely the new Energy Committee chairman, has received $178,000 from energy and natural resources interests this election cycle alone.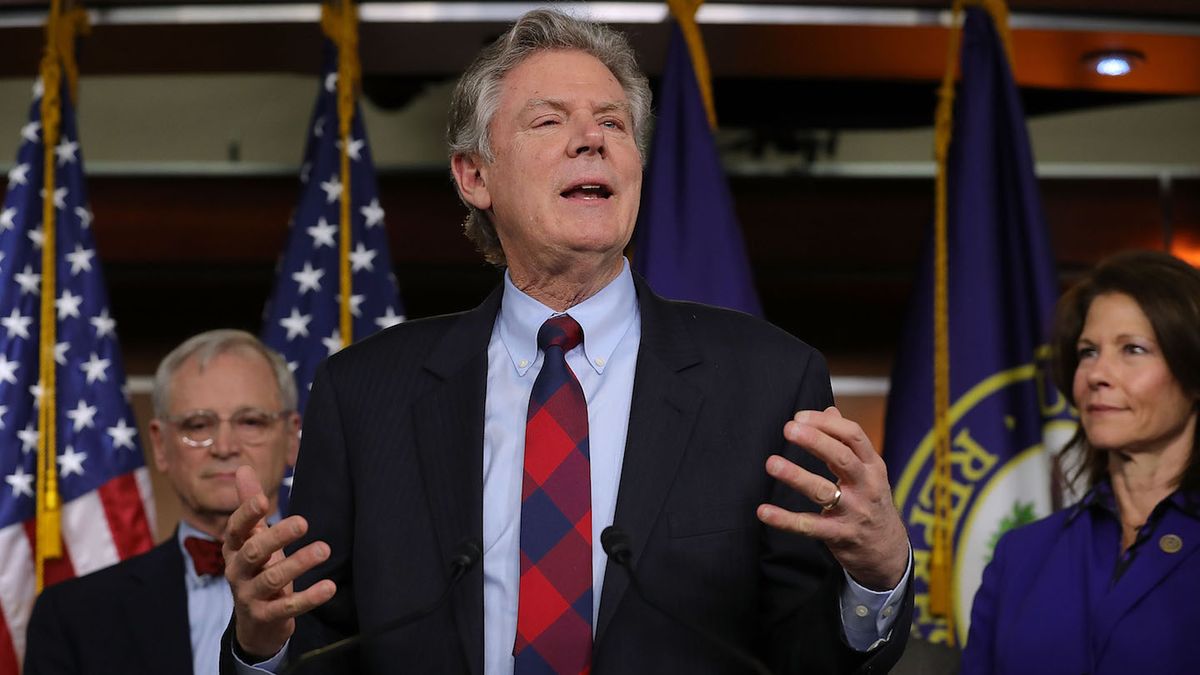 Young Democratic star and incoming New York representative Alexandria Ocasio-Cortez wants a new and very aggressive approach in Congress to tackle climate change. But many of her future colleagues aren't so sure their strategy needs to change.

Climate scientists have issued more and more urgent warnings of an impending global climate crisis, and young people are waking up to what could be a dystopian near future, with entire cities underwater, others wiped out by forest fires, and millions of climate refugees struggling to survive. On Nov. 13, Ocasio-Cortez, 29, joined the Sunrise Movement, "an army of young people to make climate change an urgent priority across America," in a protest outside House Minority Leader Nancy Pelosi's (D-Calif.) congressional office in Washington, D.C.

Ocasio-Cortez and a handful of other incoming and incumbent House Democrats are calling for a new select committee on her "Green New Deal" plan, an ambitious proposal to halt all fossil fuel energy production in the United States by 2030. This timeline correlates with the U.N. Intergovernmental Panel on Climate Change's recent warning that the planet has 12 years to drastically stem climate change in order to avoid a climate catastrophe.

Standing in the way of this kind of rapid progress aren't just Republican lawmakers, many of whom deny humans' role in causing global warming or even the existence of climate change. Veteran members of the Democratic Party are also resistant to the idea of a special House committee to lead the work of fighting climate change enough to avoid a catastrophic environmental disaster in the coming decades.

Rep. Frank Pallone (D-N.J.) will likely become the new chairman of the House Energy and Commerce Committee. While his statements and voting record show that he wants to reduce America's reliance on fossil fuels, his campaign contributions muddle that message.

The proposed select committee would not allow its members to accept campaign donations from fossil fuel company PACs, a direct conflict of interest to the committee's agenda. This means that Pallone would not be able to join unless he drastically changes his fundraising strategy.
Pallone has received $178,000 from energy and natural resources interests in just the 2017-18 election cycle alone, according to an analysis by the Center for Responsive Politics. This total includes $21,000 from the PACs of oil and gas companies and trade associations—such as the American Gas Association ($3,000), the Petroleum Marketers Association ($5,500), and Phillips 66 ($5,000)—and from the PACs of electric utilities heavily reliant on fossil fuels such as Dominion Resources ($3,500), NRG Energy ($10,000), and Southern Company ($5,000).

On Oct. 3, Pallone accepted $2,500 from the PAC of Pinnacle West, an electric utility holding company, and $2,500 from the PAC of the Calpine Corporation, a major generator of electricity from natural gas. In the third quarter of this year, he received donations from the PACs of numerous fossil fuel and utility companies.

"The ideal of getting to a carbon-free America is certainly something I agree on," Pallone told HuffPost's Alexander Kaufman. "How long it takes to do that, how we would get there, and the details of the legislation—all that has to be worked out."

Sunrise Movement activists protested at Pallone's office on Nov. 16. "We pushed him over and over again to back Ocasio-Cortez's Select Committee for a Green New Deal," Sunrise Movement co-founder Varshini Prakash told Sludge, "Over and over again, he flipped and tried to not give us an answer on it."

The protesters also urged Pallone to pledge to reject fossil fuel donations. "We asked him, 'OK, if you're really with us, we need proof. Will you take the No Fossil Fuel Money Pledge?' And he said 'no' repeatedly to our face and that perhaps later he'd consider it."

Public Citizen's government affairs lobbyist Craig Holman told Sludge, "Corporations do not give money to politicians to improve the public dialogue. They want specific policies or contracts from the government, and they use their financial clout in pursuit of those interests…Once elected, officeholders know who got them into office and jeopardize their future election prospects by not voting in the interests of their donors.

"The wealthier industries, like the fossil fuel industry, carry a very large club over lawmakers who may otherwise be honorable," Holman continued. "The sin is not so much the energy companies attempting to buy our lawmakers; the greater sin is that we have established a system of privately-financed campaigns that makes it possible for the energy companies to buy our lawmakers."

Prakash said that politicians who refuse to accept money from fossil fuel interests are the ones people can count on to combat climate change most effectively. "We've seen this striking correlation between rejecting campaign contributions from oil and gas executives and pushing for the real solutions to the climate crisis."