No Labels Funnels Finance Money to Congress
Billionaire investor Howard Marks and private equity executives with firms like Bain Capital and Neuberger Berman made earmarked donations through a No Labels PAC this year.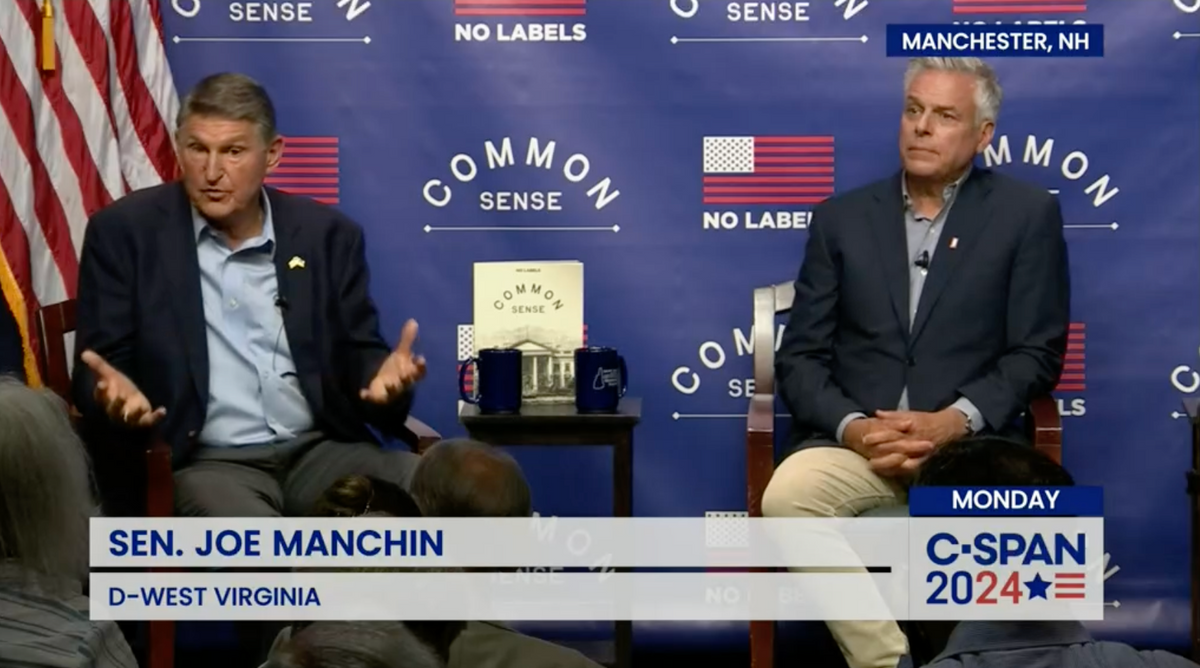 The dark money group No Labels, which is preparing to run a third-party presidential ticket, says it has "created a growing national movement of commonsense Americans." While the group has been making its pitch, one of its PACs has been earmarking donations for wealthy executives and billionaire investors.
The No Labels Problem Solvers PAC has been used this year to route hundreds of thousands of dollars in campaign donations to members of Congress, according to Federal Election Commission data. Its top recipients include House Problem Solvers Co-Chair Rep. Brian Fitzpatrick (R-Pa.), with almost $246,000; Rep. Vicente Gonzalez (D-Texas), with almost $132,000; and Rep. Tony Gonzales (R-Texas), with $30,000.
The PAC operates as a conduit that allows individual donors to earmark funds to political campaigns. The donations are given by the PAC, but because they are earmarked from individual donors the PAC does not have to abide by contribution limits and can funnel unlimited amounts of money to campaigns.
Around half of the at least 115 individual donors who gave through the No Labels Problem Solvers PAC this year reported their occupation as CEO, investor, executive, or similar titles, according to Sludge's review of FEC data. Dozens more gave their occupation as retired.
Numerous private equity executives gave through the No Labels PAC as the group is pursuing its multistate ballot access effort. Chris Gaffney, managing director of Great Hill Partners, went through No Labels to contribute the per-cycle maximum of $6,600 to each of Fitzpatrick and Gonzalez, as did Roger Evans of Greylock Partners. John Connaughton, co-managing partner of Bain Capital, gave the maximum donation to Fitzpatrick via the PAC.
Other executives who have earmarked donations through No Labels this year include the following: Robert Stavis, partner at venture capital and investment firm Bessemer Venture Partners; Ron Shaich, CEO and managing partner of investment firm Act III Holdings; and Matthew Kaplan, chair of the Almanac real estate business at investment firm Neuberger Berman.
Billionaire investor Howard Marks of Oaktree Capital, reportedly a fundraiser host for No Labels, with his spouse Nancy gave $5,800 to Gonzales through the PAC in early April. Rare among No Labels' largely-secretive donors, Marks has written a strategy memo about the role that the House Problem Solvers played in 2021 in forcing a vote first on the bipartisan infrastructure framework, supported by many business lobbying groups. The moderates' efforts delayed votes on the larger social spending and environmental programs included in the Build Back Better Act, which giant business groups like the U.S. Chamber of Commerce battled with what the Washington Post called a "massive lobbying blitz."
Several fossil fuel industry executives have opted to make donations through the Problem Solvers PAC this year. No Labels board member Andy Bursky, chairman of private equity and holding company Atlas Holdings whose assets include coal-fired power plants, earmarked a $3,300 donation to Gonzalez in February. In 2017, Gonzalez founded the Congressional Oil & Gas Caucus, and last cycle benefited from ad spending by a shadowy pop-up group that was funded by the American Petroleum Institute. Kane Weiner, president of oil and gas exploration company Texas Crude Energy based in Houston, gave $6,600 to Gonzalez and topped up a donation to Fitzpatrick, reaching $3,900 this cycle. Jack Blanton, chair of oil and gas company Nicklos Drilling, donated $500 to Gonzales through the PAC.
The Problems Solvers' Democratic co-chair, Rep. Josh Gottheimer of New Jersey, received $6,200 in earmarked contributions through the PAC in the second quarter from a trio of donors: Steven Halstedt, managing director of venture capital firm Centennial Ventures; Timothy Sloan, senior advisor at investment manager Fortress; and Weiner.
This month, No Labels held a New Hampshire event with honorary co-chair Sen. Joe Manchin (D-W.V.) and former Utah Gov. Jon Huntsman, a Republican, the first in a series of town halls that also advertise what the group calls its "insurance policy" presidential ticket, whose nominees are not yet decided.
Recently, No Labels has faced arguments from former Democratic lawmakers including Richard Gephardt, as well as the centrist group Third Way and the progressive group MoveOn, that its third-party presidential ticket would likely siphon votes in key states from the Biden re-election campaign and help usher in another Trump victory in the Electoral College. The Problem Solvers' co-chair Gottheimer issued a statement opposing the plan, and other caucus members were more outspoken in their criticism, such as Rep. Abigail Spanberger (D-Va.), who said it was "wasting time, energy, and money on a bizarre effort," among other things. No Labels responds that its polling has found its third-party ticket would draw equally from Democrats and Republicans, though its polling data shared with the Washington Post earlier this year showed Biden would lose a greater share of the vote than would Trump.
Several large Republican donors have used the No Labels PAC to steer donations this year: Janet Duchossois of Chicago, spouse of investor Craig Duchossois, gave $6,600 to Fitzpatrick through it in early May. Real estate mogul and Republican bundler Woody Hunt of El Paso used it to give the same amount to Fitzpatrick on June 30. Michigan Republican donor Edward C. Levy, CEO and co-owner of a mining and slag company, chipped in the maximum donation to Fitzpatrick as well.
Many of the donors who have earmarked donations through No Labels' PAC this year also donated in August of last year to an organization that No Labels set up to support its presidential plan's drive for ballot access in all 50 states. James Stanard of Sarasota, Florida, the former chairman and CEO of insurance company RenaissanceRe, donated $6,600 to Gonzalez in February after giving to the No Labels presidential plan. Amy and Drew McKnight, who is a co-CEO at investment manager Fortress, donated $13,200 to Fitzpatrick in May. Andrew Tisch, co-chair of conglomerate Loews Corporation and a No Labels board member, gave $1,000 to Fitzpatrick the same month. William Berkley of Key Largo, Florida, founder of insurance company W. R. Berkley, gave the $6,600 maximum to Fitzpatrick and Gonzales in May and June.
The PAC's earmarked donations to Arizona Independent Sen. Kyrsten Sinema's re-election campaign, made on March 6 and totaling $5,800, were from Raymond Chambers of Morristown, N.J., owner of investment firm Wesray Social Investments.
The PAC also made donations directly from its own account totaling $10,000 each to the campaigns of Manchin and Sinema in the first quarter of this year, and it gave $5,000 to Sinema's Getting Stuff Done leadership PAC on the final day of the second quarter, according to FEC records. The PAC gave $5,000 to the re-election bid of Sen. Roger Wicker (R-Miss.) in March and the same amount to Sen. Todd Young (R-Ind.) in June.
Since 2015, No Labels has sprouted up well over a dozen super PACs, political action committees, and joint fundraising committees to make donations to favored candidates and place outside spending in their primary and general races.
No Labels' two nonprofit arms, which have raised tens of millions of dollars in revenue starting in 2009, do not disclose information about their donors, though internal documents seen in 2018 by The Daily Beast revealed No Labels counts many finance executives and Republican megadonors as regular contributors.
The Problem Solvers PAC, whose treasurer is No Labels board member Jerry Howe, is expected to soon file its first FEC disclosure of the year. Howe's day job is as executive vice president of Leidos, which brought in the majority of its $13.7 billion in 2021 revenue from defense contracts.
Correction: this post originally listed Ron Shaich's employer as debt company ACT Holdings, when in fact it is Act III Holdings, whose portfolio includes restaurant company Cava and technology companies.
---
Read more: