Group Claiming to Speak for Rural Democrats is Tied to Fossil Fuel Lobbyists
Heidi Heitkamp's One Country Project urges Democrats to take a moderate approach to climate change.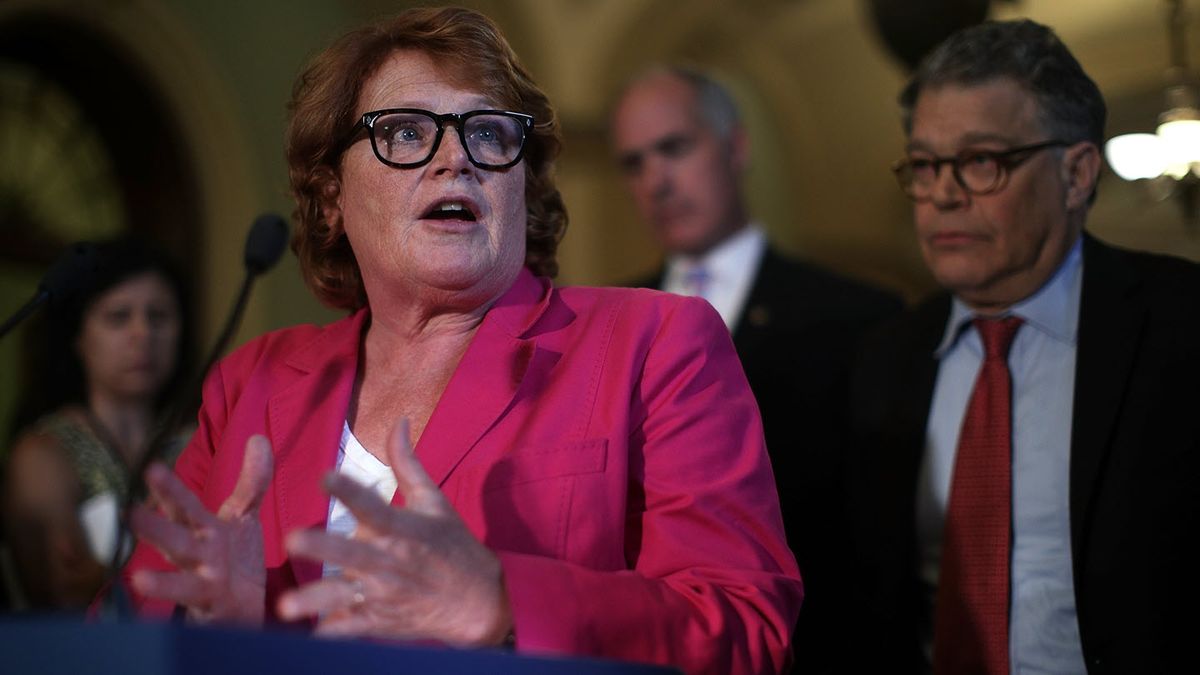 During her time in the Senate, North Dakota's Heidi Heitkamp was one of the most fossil fuel-industry friendly Democrats. She voted to block Congress from enacting a carbon tax, approve the Keystone XL pipeline, and expedite the approval of permits for drilling on public lands. Since being defeated by Sen. Kevin Cramer (R-N.D.) in 2018, Heitkamp continues to push a pro-fossil fuels agenda.

Last week, during an interview recorded at a fossil fuel industry-sponsored conference, she encouraged Democrats and environmental philanthropists to take an all-of the-above approach to climate change and to not abandon fossil fuels. 

"You're not going to get where you want to go by ignoring fossils and not working with the fossil industry on how we can decarbonize," Heitkamp said. "I think fossils can play a key role in the clean energy revolution, which means decarbonizing our energy without losing the reliability that we have in the electric grid and not leave resources behind."

Heitkamp received more than $633,000 in campaign contributions from PACs and individuals in the oil and gas industry during her two Senate elections, including $49,300 from BP, $49,200 from ConocoPhillips, and $43,300 from Occidental Petroleum, according to data from the Center for Responsive Politics. In the two-year 2018 cycle, she raised more campaign money from the oil and gas industry than any other incumbent Senate Democrat. 

In April, Heitkamp donated $750,000 of her leftover campaign funds to start One Country Project, a 501(c)(4) nonprofit, formed with ex-Sen. Joe Donnelly (D-Ind.), that says its mission is to educate Democrats on how to appeal to voters in rural districts. Through polling and talking point memos, One Country Project urges Democrats to move to the right on a range of issues, including climate change. Heitkamp is a member of the organization's board of directors. 
One Country Project's executive director is Tessa Gould, Heitkamp's former chief of staff who in March became a partner at Forbes Tate, a lobbying firm that represents clients in the natural gas and utilities industries. And the group's ties to Forbes Tate go even deeper: Its website is registered to Forbes Tates' director of operations and development, Elizabeth Gonzalez, according to an investigation by MapLight reporter Andrew Perez, and the two organizations appear to share the same D.C. address. Heitkamp paid Gould $55,000 in leftover campaign funds for "strategic consulting" in the first half of 2019, Federal Election Commission (FEC) records show. 

Forbes Tate lobbies for the Interstate Natural Gas Association of America, a trade group that represents companies in the gas pipeline industry such as Cheniere Energy, The Williams Companies, and Kinder Morgan. It also lobbies for electric utilities that burn oil, gas, and coal. Entergy, which Forbes Tate lobbies for on issues related to energy and water appropriations and the Nuclear Energy Innovation and Modernization Act, among other things, operates 23 power plants that burn either natural gas, oil, or coal located in several southern states. Entergy also operates two petroleum coke-fired facilities in Louisiana. Other fossil fuel-burning utilities that Forbes Tate lobbies for include the New Mexico-based PNM Resources, NorthWestern Energy, and Pacific Gas & Electric, the California utility that generates about 15% of its power through burning natural gas and recently shut off power to millions of Californians because its aging infrastructure posed a wildfire risk.

Perhaps not surprisingly, One Country Project's work on climate change urges politicians to distance themselves from aggressive climate crisis responses like the Green New Deal that threaten Forbes Tate's fossil fuel clients.

A September poll conducted by One Country Project and Third Way, a centrist think tank that has received funding from Koch Industries, found that rural Democratic voters believe that "going too far too fast is too risky" on climate change and favor policies that "protect our way of life" as opposed to an "all-out mobilization" that transforms the economy through "groundbreaking government policies." In a June memo, the group said that their study of social media posts found that rural people "who express belief in climate or who may have a propensity to support Democrats and want to address climate change" did not embrace the Green New Deal as a solution.

One Country Project's research appears to contradict polling conducted by environmental and progressive groups. A May survey from the Sierra Club, Data for Progress, and other groups found broad public support for the major elements of the Green New Deal, even in the most rural House districts.

One Country Project assigned the Democratic presidential candidates a grade of C- for their discussion of climate change during the July 30-31 debates. While there was a range of positions on climate change expressed during the debates, it was the first time during a debate that several candidates discussed their support for the Green New Deal proposal put forth by Rep. Alexandria Ocasio Cortez (D-N.Y.) and Sen. Ed Markey (D-Mass.). One Country Project criticized candidates for making the issue seem too urgent. "There is room to consider action, but sweeping transformational action could be seen as worse that the challenges presented by climate change itself," the group wrote in its report card.  
The sole campaign contribution Heitkamp made this year from her leftover funds was $1,000 to Sen. Martin Heinrich (D-N.M.), who is in a position to impact One Country Project's energy positions legislatively as ranking member of the Energy Subcommittee of the Energy and Natural Resources Committee. Using leftover campaign contributions for "personal use" is prohibited by the FEC. 

Donnelly joined lobbying shop Akin Gump Strauss Hauer and Feld as a partner in March. Akin Gump lobbies for oil and gas interests including ExxonMobil, Chevron, and the American Exploration and Production Council, a trade group representing oil and gas companies such as Andarko, Marathon Petroleum, and Gulfport Energy. ExxonMobil is a founding member of the Climate Leadership Council, a think tank that has put forth a carbon tax proposal embraced by some Republicans in Congress.

From 2013-2018, Donnelly received $63,690 in campaign contributions from the oil and gas industry, including $35,000 from PACs.

One Country Project did not respond to Sludge's request for comment for this article.
---
Related: