Is This Ex-Congressman Using His Leftover Campaign Funds To Help Lobbying Clients?
Former Rep. Buck McKeon has been donating to members of the House Armed Services Committee while lobbying for defense contractors and Saudi Arabia.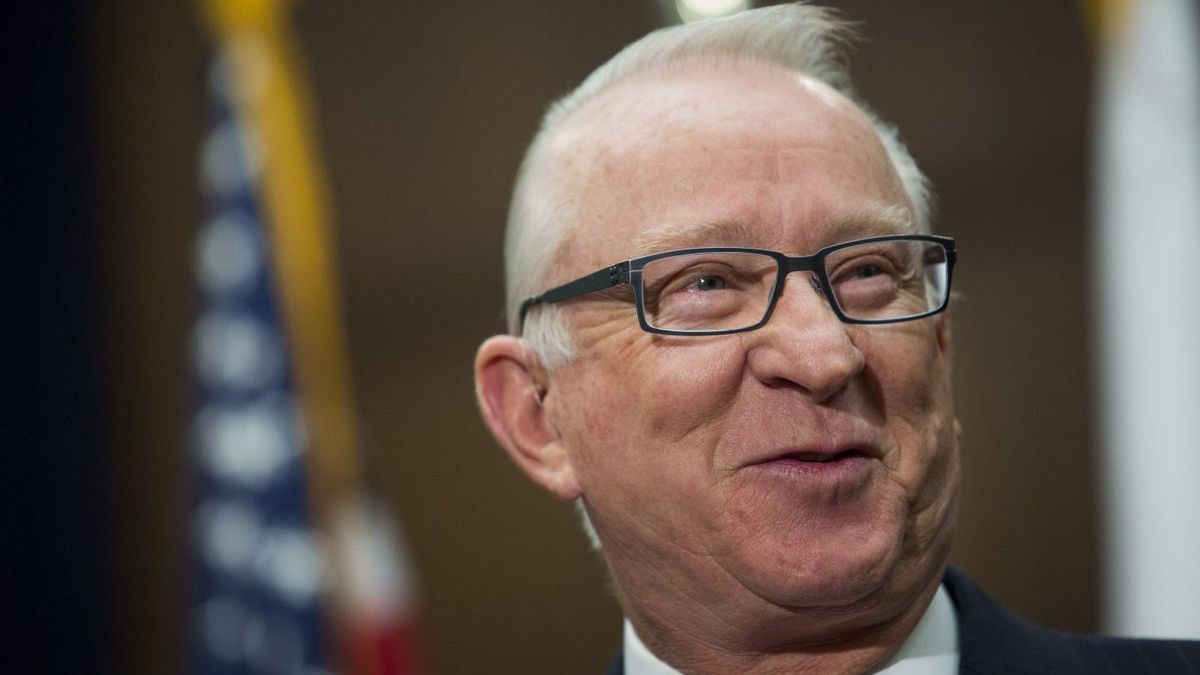 Retired lawmakers aren't supposed to use their leftover campaign funds to enrich themselves, but former Rep. Buck McKeon may be wielding his leftover campaign money as a tool for clients that pay him hundreds of thousands of dollars in lobbying fees each year.

McKeon is hardly the first politician to turn policy experience and Washington connections into lobbying muscle. What does set him apart is the fact that as of the start of 2018 election cycle, he still had nearly $140,000 sitting in his own electoral committee, Friends of Buck McKeon. Sludge's analysis of where that money is going in this election cycle shows what looks like a pattern of using those funds to secure influence for his lobbying clients. If he has, he could face punishment from the Federal Election Commission. But the practice wades into a gray area for which the FEC has never set strict guidelines.

McKeon served in Congress for 22 years, from 1993 to 2015. For the last four years of his political career, he chaired the House Armed Services Committee—a powerful committee responsible for overseeing the Department of Defense, setting the policies for how the military makes purchases from defense contractors, and what defense technology can be exported. Over McKeon's political career, his largest campaign contributors were from the defense sector, with nearly $1.6 million coming to the congressman through defense company PACs and individuals working for defense companies, according to data compiled by the Center for Responsive Politics.

Since leaving Congress, McKeon has launched a successful and lucrative lobbying practice at the self-styled McKeon Group. His biggest clients are two of his biggest donors from his time in office: Lockheed Martin and General Dynamics, each of which paid McKeon Group at least $120,000 to lobby on their behalf in D.C. in 2017. McKeon has also become one of Saudi Arabia's most important lobbyists in D.C., being paid $420,000 in the first quarter of 2018 in order to "maintain U.S.-Saudi relations" by another lobbying firm, Glover Park Group, which is itself a registered foreign agent of Saudi Arabia. McKeon was crucial to securing the sale of $500 million worth of precision-guided munitions to Saudi Arabia last year.
Campaign contributions from McKeon's old campaign committee are clustered around the House Armed Services Committee. Of the $33,500 in direct campaign contributions Friends of Buck McKeon has made this campaign cycle, 35 percent of those funds ($12,000) have gone to members of the House Armed Services Committee. But only 14 percent — 61 members — of the House of Representatives sit on the armed services committee, suggesting a pattern of prioritizing contributions to its members.

Buck McKeon and the McKeon Group did not respond to Sludge's request for comment.
An Ethical Grey Area

A campaign committee is established for the purpose of electing a specific political candidate. It's their war chest. Nonetheless, when a candidate leaves politics, a campaign is legally allowed to stay open forever, but candidates are barred from using the funds for personal use — just as when they were serving in office.

"A former member who uses leftover campaign funds to advance his lobbying career would violate the personal use prohibition," said Brendan Fischer of the non-partisan Campaign Legal Center. "Contributions may be a permissible use of leftover campaign funds, but a former member who shows a pattern of making contributions that promote the interests of their lobbying clients might violate the law."

It's a tough line to delineate, however, and one Fischer believes the Federal Election Commission has never explicitly addressed. The FEC's standard for "personal use" is whether an expense would exist if not for a politician's campaign or status as a federal office holder. Campaign contributions to other candidates are explicitly allowed by the FEC, including after a politician retires. But if McKeon's contributions coincide too closely with his lobbying activity, the FEC could find that he violated the law.

Former Rep. Cliff Stearns, now also a lobbyist, was the subject of a complaint filed by the Campaign Legal Center after it was exposed that he was using his leftover campaign funds for personal use, including payments to his wife and membership at the Capitol Hill Club. The complaint notes that, like McKeon, Stearns' campaign contributions closely coincided with his lobbying activity. Stearns and McKeon were two former politicians identified in a Tampa Bay Times investigation into so-called "zombie campaigns."

McKeon has a long history of flirting with ethics violations related to perceived profiting off of his political position. He was one of several politicians given a lower loan rate from Countrywide Loans than those that were available to the general public. His wife, Patricia, served as his long-time campaign treasurer and was one of the best-paid among House campaigns. According to The Nation, Patricia McKeon was paid $588,284 out of her husband's campaign coffers between 2002 and 2012.

Furthermore, when she opted to run for the California state assembly in 2012, her largest donors also happened to be some of her husband's, despite the fact that her touchstone campaign issue was the plastic bag tax in Los Angeles. Raytheon, Boeing, Lockheed Martin, and General Dynamics all gave to her campaign. According to Government Executive, 45 percent of the $75,000 Patricia McKeon raised for her failed Assembly bid came from defense contractors and lobbyists.

Like Stearns, McKeon also used his old campaign to purchase tickets to events that seemed to benefit him more for networking than as legitimate political expenses, including $450 for tickets for "First Lady Luncheon Tickets" at the Congressional Club. Notably, the membership of the Congressional Club is made up of spouses of sitting members of Congress, the President's cabinet, and Supreme Court Justices, according to its website—raising the question of whether McKeon, his wife, or both were the beneficiaries of the tickets.

Defense Contractors

During McKeon's 22 years in Congress, his largest campaign contributors were defense contractors. The defense sector contributed nearly $1.6 million to McKeon throughout his political career, according to data compiled by the Center for Responsive Politics. Lockheed Martin and General Dynamics top the list of donors throughout his time in office.

At the same time that McKeon is now lobbying for these companies, he has been making political contributions from his old candidate committee specifically to politicians in positions to help his lobbying clients.

According to lobbying disclosures McKeon filed in 2017, he lobbied on the National Defense Authorization Act, or NDAA, on behalf of Lockheed Martin, General Dynamics, L-3 Technologies, and Aerojet Rocketdyne. The NDAA is the annual defense policy bill and sets Department of Defense policies and authorizes procurements.

At least one McKeon client was a heavy beneficiary from this NDAA: General Dynamics. This year's bill authorizes the Navy to purchase a block buy of up to 15 Arleigh Burke class destroyers, calling for a dramatic ramp up in the Navy's fleet capacity. General Dynamics' Bath Iron Works is one of only two manufacturers of the ship. The language on the Arleigh Burke destroyers was inserted in the Seapower Subcommittee of the House Armed Services Committee. Through his campaign committee, McKeon gave to two of the senior Republicans on the Seapower Subcommittee: $1,000 to Mike Conaway and $2,000 to Vicky Hartzler.

Separate from the NDAA, McKeon also lobbied on defense appropriations for General Dynamics and Aerojet Rocketdyne in 2017. Friends of Buck McKeon gave $1,000 to Ken Calvert, the vice-chair of the House Subcommittee for Defense Appropriations. That subcommittee is responsible for actually providing the funds that the NDAA authorizes to be spent through the defense portion of the omnibus spending bill.
Saudi Arabia
On May 9, Rep. Ro Khanna (D-Calif.) introduced an amendment to the NDAA that would have ended the U.S.'s refueling of the Saudi-led coalition's aircraft in the longstanding war in Yemen. The amendment was shot down, largely along party lines. Every member of the House Armed Services Committee that McKeon's campaign committee gave money to voted against the amendment, including Mac Thornberry (R-Texas), Don Bacon (R-Neb.), Elise Stefanik (R-N.Y.), Liz Cheney (R-Wyo.), Vicky Hartzler (R-Miss.), Mike Conaway (R-Texas), and Duncan Hunter (R-Calif.). McKeon has lobbied for Saudi Arabia since November 2016.

"By enabling the refueling for the Saudis, we are supporting an American ally," said Cheney, who has received $2,000 from McKeon's campaign committee this election cycle, during the hearing on Khanna's amendment.

"We are working with the Saudis, to target their strikes as carefully as possible," said Thornberry, who has also received $2,000 from McKeon's old committee funds.

Still, it is hard to posit a direct cause-and-effect relationship in D.C., especially with so much lobbying happening on behalf of Saudi Arabia and so many different clients for McKeon.

"It is very hard to track cause and affect in this sort of situation, and it is unlikely that such payments are 'buying' particular votes, such as on the Saudi weapons," Sam Perlo-Freeman, Program Manager of the World Peace Foundation's Global Arms & Corruption Program, tells Sludge. "The payments may be more about strengthening a network of influence, favors, and loyalty, made with a general expectation of future return through good will and a sense of favors owed, rather than any specific, immediate return."

A resolution before the House Foreign Affairs committee relating to exporting Raytheon-manufactured Paveway bombs to Saudi Arabia was never voted on last year. The committee chair who blocked the resolution from coming to a vote, Ed Royce, received $2,000 from McKeon's campaign committee.

Even if the dollar amounts are relatively small, particularly in the age of Super PACs and major outside spending, the practice of lobbyists representing foreign governments giving campaign contributions raises significant questions about possible loopholes in campaign finance policy, as foreign nationals and governments cannot give directly to political campaigns They can, however, hire lobbyists who then in turn give money to political campaigns.

"Lobbyists unquestionably use campaign contributions to strengthen access and influence over members of Congress," Ben Freeman, director of the Foreign Influence Transparency Initiative, tells Sludge. "Lobbyists, like Buck McKeon, who are working on behalf of foreign powers disproportionately make contributions to members of committees that can change U.S. policy as those foreign powers see fit. They even make campaign contributions to specific Members of Congress they contact on behalf of their foreign clients, as McKeon has done with Rep. Ed Royce, for example."

"It's impossible to know for sure how these contributions affect individual decisions, but it certainly gives Members of Congress an incentive to support the arms deals and pro-Saudi policies that McKeon is pushing," Freeman said.

Last year McKeon also gave $1,000 to Rhode Island Senator Jack Reed, one of the only Democrats that McKeon contributed to. Reed is the ranking member of the Senate Armed Services Committee. Together, he, McKeon, and Thornberry sit on the steering committee of the Reagan National Defense Forum, a prestigious national security conference. The forum gathers the CEOs of major defense contractors, leaders of each branch of the military, ambassadors, directors of the intelligence community, and members of Congress overseeing defense policy.

While such events naturally provide an opportunity for defense contractors to hobnob with their customers, McKeon also appears to use the Reagan National Defense Forum as an opportunity for his foreign government lobbying clients to network with these decision-makers.

According to records filed with the Department of Justice under the Foreign Agents Registration Act, a McKeon Group lobbyist "invited Musab and Khalid of the Saudi Embassy to the Reagan National Defense Forum at the Reagan Library during the first weekend of December 2017." It is unclear who "Khalid" is, but "Musab" likely refers to Musab al Saud, Director of Political and Congressional Affairs at the Saudi Embassy in D.C.

"Gold-tier" sponsors of the Reagan National Defense Forum include McKeon Group lobbying clients Lockheed Martin, General Dynamics, and L3 Technologies. Last year Saudi Arabia purchased $600 million worth of Black Hawk helicopters manufactured by Sikorsky, a wholly owned subsidiary of Lockheed Martin.