Senator-Turned-Oil-Lobbyist Phonebanks With Heidi Heitkamp
The lobbyist campaigns for North Dakota's incumbent senator as one of her clients is seeking to expand a controversial oil pipeline in the state.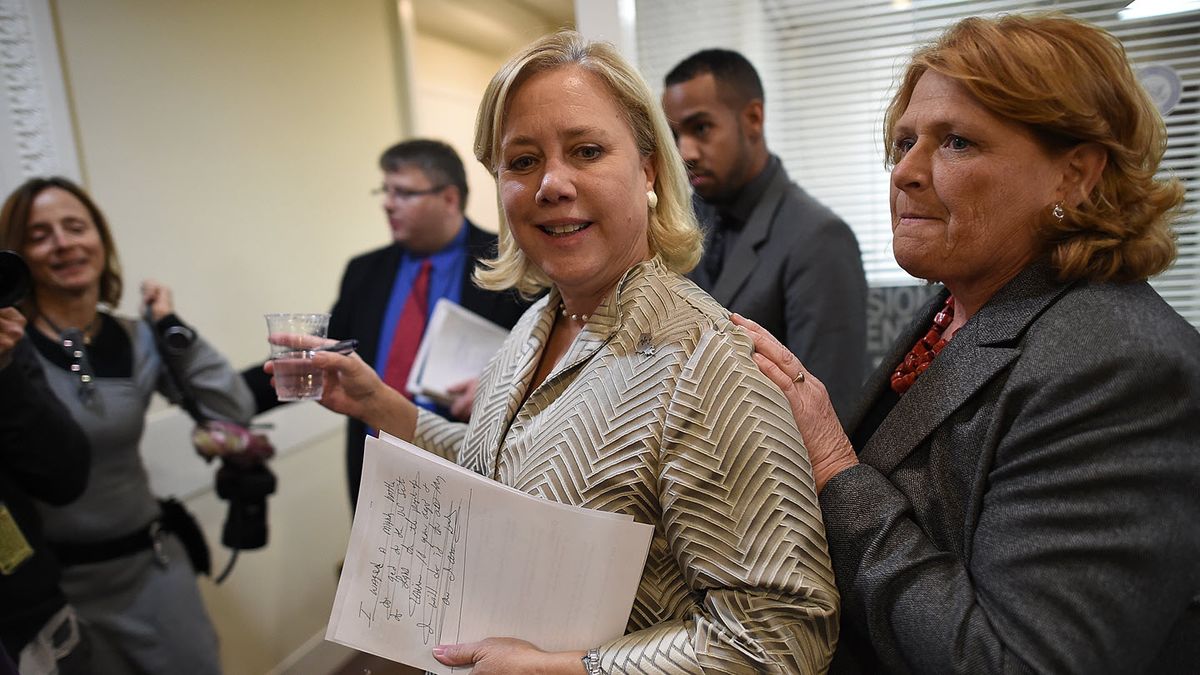 Last week, Sen. Heidi Heitkamp (D-N.D.), who is facing a highly competitive re-election, held a phone banking event with Mary Landrieu, a former U.S. Senator from Louisiana who is now a lobbyist and a consultant with an oil pipeline company that is looking to expand its operations in North Dakota.

According to a Facebook event page, Landrieu joined the Heitkamp campaign on Oct. 25 in Fargo, North Dakota, for an afternoon of phonebanking and po' boys. The event was first reported by Philip Wegmann for the Washington Examiner.

Landrieu began working as a lobbyist with Van Ness Feldman shortly after losing her Senate re-election race in 2014, specializing in energy issues and oil and gas development. Her clients include Noble Energy, FutureGen Industrial Alliance and environmental engineering company APTIM. In January 2017 she revealed in public testimony and an op-ed that she is also a paid consultant for Energy Transfer Partners.

Landrieu's campaigning for Heitkamp in North Dakota comes as Energy Transfer Partners takes the first steps towards expanding the capacity of the Dakota Access Pipeline, which transports fracked oil from the shale oil fields of the Bakken formation in North Dakota to Illinois, where it joins another Energy Transfer Partners pipeline and is transported to the Gulf Coast of Texas.

On Oct. 19, Energy Transfer Partners launched a binding expansion open season to seek commitments from shippers so it can move forward with the regulatory process required to increase the Dakota Access pipeline's capacity from 500,000 barrels of oil to 570,000 barrels per day. Once the open season is completed, Energy Transfer Partners will need final regulatory approval from federal and state agencies. The expansion can be completed by adding a chemical to the oil that makes it flow faster or by increasing pumping capacity, Justin Kringstad, director of the North Dakota Pipeline Authority, told the Bismarck Tribune.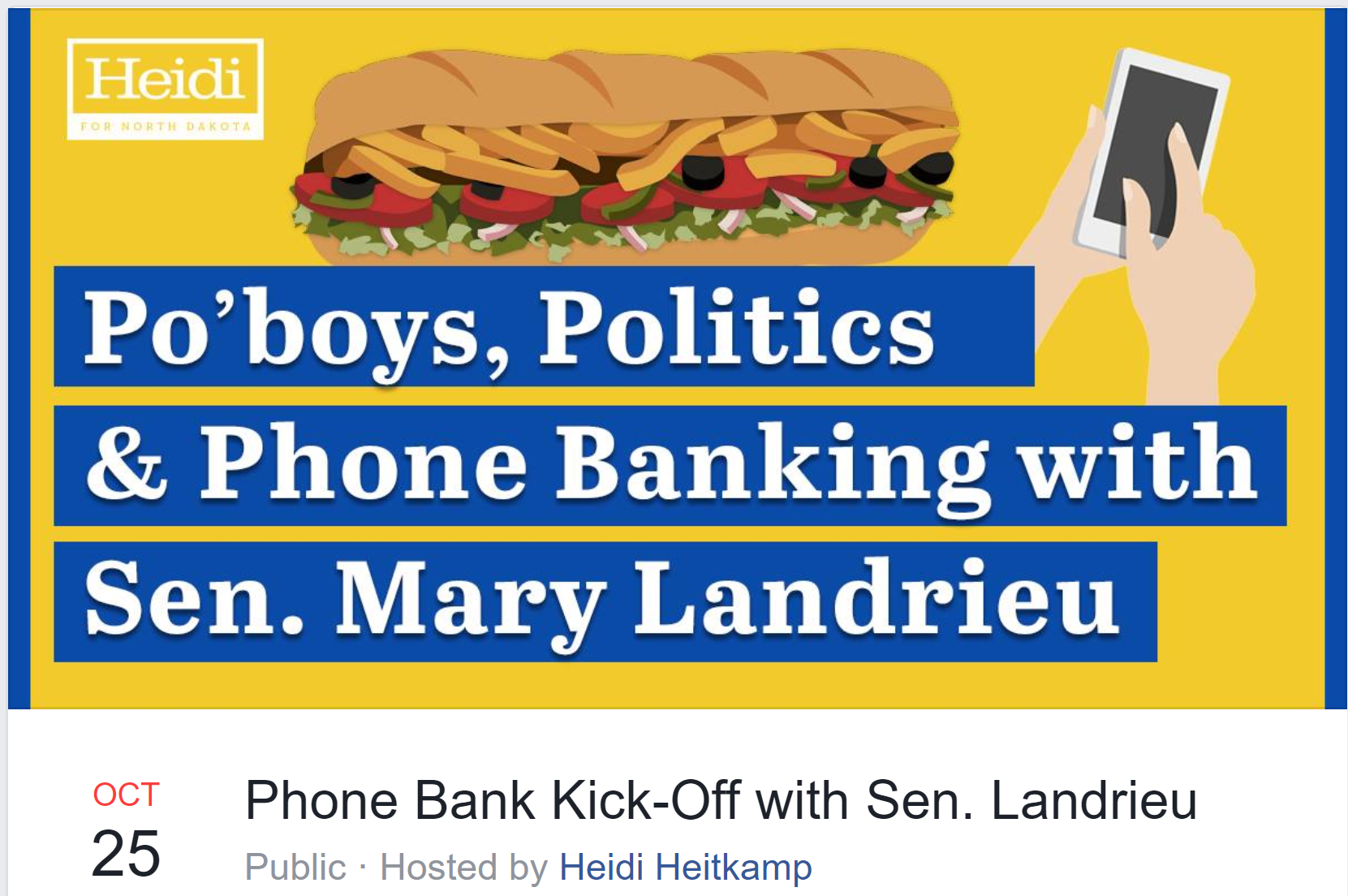 The Dakota Access Pipeline is the subject of ongoing efforts by the Standing Rock Sioux Tribe to shut it down over concerns that a leak could be detrimental to the tribe's sources of water,  since the pipeline crosses the Missouri River and Lake Oahe just upstream of its land.

During the period  when massive protests took place at the pipeline construction sites in 2016 and 2017, Heitkamp did not clearly support the cause of the protestors, a departure from most other Democrats. Instead, Heitkamp's public statements focused on urging the White House and regulators to quickly resolve uncertainties surrounding the project.

Heitkamp has received more campaign contributions from PACs and individuals affiliated with the oil and gas industry than any other Senate Democrat this election cycle ($355,309), according to data compiled by the Center for Responsive Politics. She has campaigned on her pro-fossil fuels agenda, touting her role in lifting the crude oil export ban, something that benefits Energy Transfer Partners and other oil transport companies, as a "signature achievement."

On Twitter, Landrieu said that Heitkamp is "great on energy policy issues."
Great to be on the trail supporting @SenatorHeitkamp. She is a strong and compassionate leader and great on #energy policy issues. I encourage the people of #NorthDakota to return her to the #Senate. #Vote pic.twitter.com/REttV6bp5W

— Mary Landrieu (@SenLandrieu) October 29, 2018
Landrieu worked with Energy Transfer Partners in Louisiana to win approval for the Bayou Bridge Pipeline, which will ultimately connect to the Dakota Access Pipeline to bring oil from North Dakota to Louisiana to be exported. Landrieu is not a particularly well-known figure nationally, and she does not appear to have any connections to North Dakota or Heitkamp outside of her work with Energy Transfer Partners. She did not respond to a request for comment for this article.