As it Cultivates a Socially Responsible Image, Juul Sends Lobbyist to ALEC's Annual Meeting
Juul says it wants to "make a meaningful, positive impact on our communities," but by participating in ALEC it is working with a group that helps corporations violate the public interest.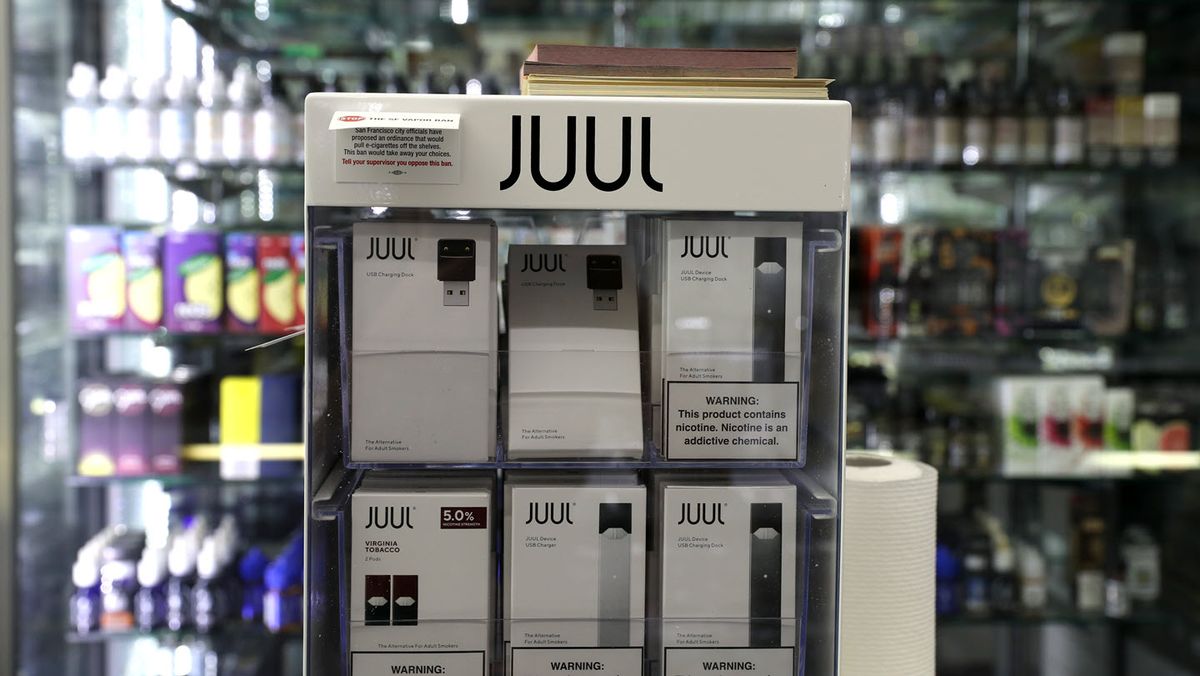 Juul, the Silicon Valley vape start-up that is popular among millennials, is participating in a secretive right-wing group that helps corporations and interest groups push their agendas in the states.
The company sent lobbyist Mark Bordas to the American Legislative Exchange Council's (ALEC) annual meeting that was held last week in Austin, Texas, according to a list of attendees obtained and published by investigative news site Documented. At the meeting, lobbyists like Bordas drafted and voted on model bills that they will ask state legislators who are members of ALEC to introduce as legislation in upcoming legislative sessions.

Juul says its mission is to improve people's lives by eliminating cigarettes and that making "a meaningful, positive impact on our communities" is one of its core values. Yet by participating in ALEC's annual meeting, it is working with a group that has promoted the tobacco industry for decades and helped corporate interests influence state legislatures and win policies in their favor, often against public interest group opposition.

In recent years, more than a hundred corporations have cut ties with ALEC following outrage over the group's support for 'Stand Your 'Ground' gun laws, denial of climate science, and affiliation with figures like David Horowitz, an anti-Muslim activist who the Southern Poverty Law Center describes as "a driving force of the anti-Muslim, anti-immigrant and anti-black movements."

Several of ALEC's leaders and members have espoused racist and extremist views without rebuke from the organization. Washington State Chair Rep. Matt Shea was referred to the FBI in 2018 for circulating a manifesto calling for the killing of all males who do not obey Biblical law or agree to end all abortions and same-sex marriages. Member David Stringer, a former Arizona representative, last year said that "there aren't enough white kids to go around," adding that "immigration today represents an existential threat to the United States."
Juul's participation in ALEC's annual meeting comes as the company is building relationships with communities of color and minority groups. According to a report from the Daily Beast, Juul has recently donated to the Congressional Black Caucus and the Congressional Hispanic Caucus, hired lobbyists and consultants with deep ties to lawmakers of color, lobbied civil rights leaders on health and criminal justice issues, and worked to promote its products in the LGBTQ community.

In addition to Bordas, Juul's part owner, Altria, sent seven lobbyists and government affairs employees to the meeting. Their attendance coincides with a federal effort that critics say would help the company undermine anti-tobacco regulation in the states, including bans on flavored products that appeal to children and teens.

In March, Juul confirmed to the New York Times that it had donated to ALEC Action, ALEC's 501(c)(4) advocacy partner.
Sludge asked Juul about its participation in the ALEC meeting, but did not hear back as of this writing.

Juul is supporting a bill in the U.S. Congress from Mitch McConnell (R-Ky.) that pairs an increase in the tobacco age from 18 to 21 and requires states to update their tobacco laws in order to continue receiving Substance Abuse Prevention and Treatment Block Grant funds.

Sens. Brian Schatz (D-Hawaii) and Dick Durbin (D-Ill.), see the Juul-backed McConnell bill as a way for tobacco lobbyists to influence state laws.

"Forcing state action creates a dangerous loophole that gives the tobacco industry an opening to intensify their efforts at the state level to undermine strong anti-tobacco proposals, such as regulations on flavored tobacco products," Schatz and Durbin said in a statement. "Big Tobacco's fingerprints should be nowhere near this effort."

[Related from Sludge: McConnell's Tobacco 21 Bill Exposes States to Big Tobacco's Wishlist]

Several state legislative bodies have recently passed industry-backed tobacco legislation. In Arizona, for example, a bill written in part by a vape-industry lobbyist that would raise the tobacco age to 21 while pre-empting tougher local laws on smoking and vaping has advanced, while a "clean" bill to raise the tobacco age to 21 stalled. The lawmaker who sponsored the industry-backed bill, Republican Rep. John Allen, attended the ALEC meeting last week. In Arkansas, a bill pre-empting localities from passing laws regulating tobacco sales, passed in April, was co-sponsored by ALEC meeting attendee Republican Sen. Missy Irvin.

ALEC has a long history of working with the tobacco industry. Since the 1980s, ALEC has helped tobacco companies including Philip Morris and R.J. Reynolds draft legislation and lobby lawmakers and other public officials. ALEC has helped the tobacco industry oppose the Food and Drug Administration's regulation of tobacco in the 1990s, promote "youth smoking prevention" programs designed to defuse public anger, and pass state legislation that preempts cities and towns from passing tougher laws.
More recently, ALEC has helped the tobacco industry oppose tobacco taxes and push back against research showing that vaping products pose health risks. In 2015, ALEC published an article criticizing a study by the Harvard T.H. Chan School of Public Health that found that chemicals in vape flavoring liquids pose respiratory health risks, saying that the authors did not study a wide enough variety of the flavors available on the market.
---
Related: