Delaney Super PAC's Biggest Donor is Wife of Former Health Care CEO
The $50,000 donation is one of many ways individuals tied to the health care industry are supporting the anti-Medicare for All candidate.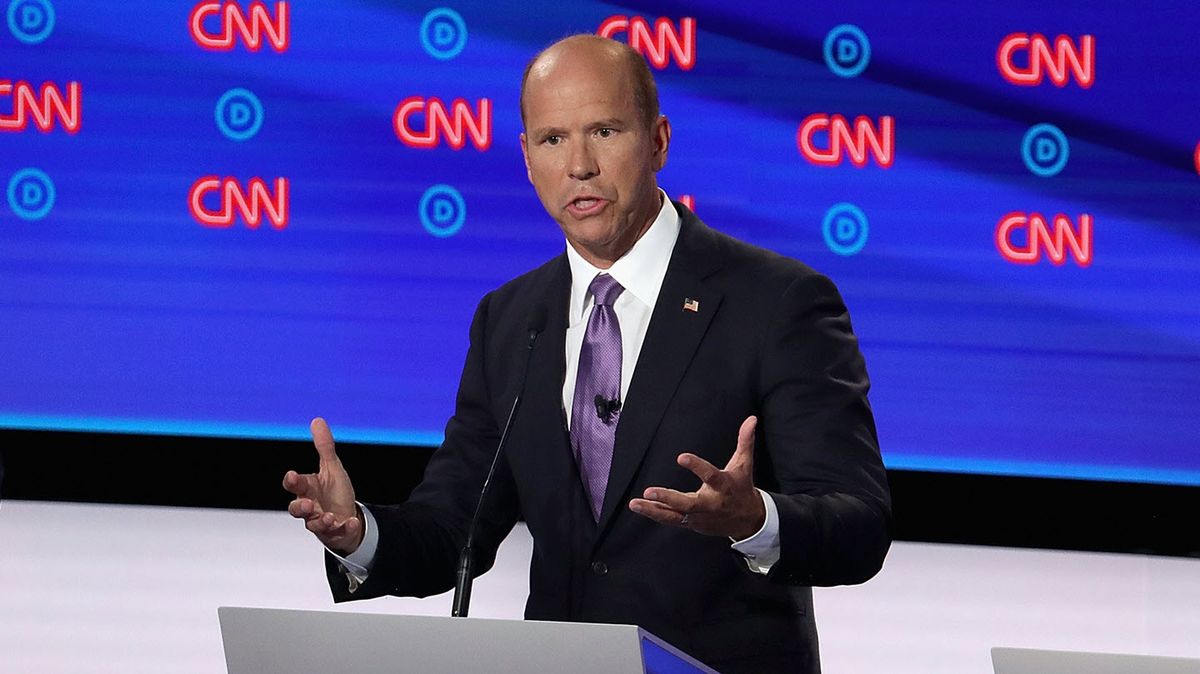 As former Maryland representative John Delaney campaigns against single-payer health care and enjoys his considerable investments in the health care industry, he's getting a boost from the wife of a close friend and former health care CEO. The biggest donor to a pro-Delaney super PAC, The Right Answer Committee, is philanthropist Katherine Bradley, whose husband, David, founded The Advisory Board Company, a major health care research and consulting firm.

In 2017, Advisory Board was acquired by Optum, a pharmacy benefit manager owned by insurance giant UnitedHealth Group. UnitedHealth Group CEO David Wichmann claimed that Medicare for All would "destabilize the nation's health system" in April.
Single-payer health care, as exemplified by Sen. Bernie Sanders' (D-Vt.) Medicare for All Act, would end the for-profit health insurance industry and decrease overall health spending in the U.S., according to multiple studies, including one published by the conservative, free-market think tank the Mercatus Center. The government would be able to bargain down drug prices, and fees for service to care providers would likely decrease (although providers would likely see an increase in patients, given that the roughly 30 million Americans without insurance today would all be covered).

Six individuals have contributed a total of $85,000 to the pro-Delaney super PAC in 2019, including $50,000 from Katherine Bradley. David Bradley hasn't contributed to the super PAC or to Delaney's campaign this year, but he, his wife, and two of his sons each donated $2,700 to the Delaney congressional campaign in 2017. From 2012-17, the Bradleys gave a total of over $39,000 to Delaney's campaigns. 

David Bradley is currently the chairman of Atlantic Media and was previously the company's majority owner. Katherine Bradley leads a nonprofit "education incubator" focused on charter schools in Washington, D.C. that's connected to the Bradleys' private family foundation. She also sits on the board of the foundation of charter school operator KIPP.

Other donors to The Right Answer Committee include former Republican Rep. Richard Hanna ($10,000), former finance executive Thomas Bauch ($10,000), and Gallatin Capital Partners co-founder Lee Sachs ($5,000). The committee has spent over $52,000 this year, which has covered legal fees and fundraising consulting. The PAC's treasurer, Andrew Fremder, was chief financial officer of Farallon Capital Management—the hedge fund of billionaire Tom Steyer, who is one of Delaney's competitors in the presidential primary—from 1994 to 2003.

As of June 30, the super PAC had over $210,000 in its account because of large donations from three finance industry executives in 2018, the year it was founded. One donor, Jason Fish, is chief investment officer at Alliance Partners, a subsidiary of Congressional Bank, which makes loans to health care companies and "finance companies that have healthcare industry expertise."

Delaney declined to disavow super PAC support for his presidential campaign, unlike several of his primary competitors. His campaign did not return Sludge's request for comment.

Read more on the health industry's influence from Sludge.
Health Care Execs Fund Delaney Campaign

In 2019, Delaney's presidential campaign has received large donations from several health care executives, including Robert Musslewhite (the maximum allowed donation of $2,800), CEO of both Advisory Board Research and Optum Analytics, and Caitlin Krebs ($1,000), chief business officer at biotech company Bluestar Genomics. David Mack ($2,800), a trustee of Northwell Health and a real estate developer, and his wife, Sondra ($2,800), both contributed.
Other donors involved in the health care industry include Paul Diaz ($2,800), a partner and health care investor at private equity firm Cressey & Company who was previously CEO of Kindred Healthcare, and Victoria Diaz ($2,800), who lives at the same address (Delaney has had business dealings with Kindred in the past); Amy Heller ($2,800), executive vice president of health care lending at Congressional Bank, along with Craig Heller ($2,800), who lives at the same address; and Kenneth King ($1,000), a partner and lawyer at Pepper Hamilton who defends pharmaceutical companies.

While he accepts money from health care interests, Delaney is misrepresenting Medicare for All to the public. In his first debate in late June, Delaney claimed that Medicare for All would shutter every single hospital, something Kaiser Health News and Politifact rated as false and evidence-free. In the second debate on Tuesday night, Delaney continued his attacks, egged on by CNN commentators who posed questions meant to incite a food fight. In response to Delaney's claim that Medicare for All would "take away" people's health care, Sen. Elizabeth Warren (D-Mass.) likened his rhetoric to Republican talking points. Medicare for All would give all Americans health care and would offer them access to any doctor in the country.

Delaney's anti-Medicare for All stance has won him praise from the likes of conservative Washington Post blogger Jennifer Rubin, former Republican governor of Arkansas Mike Huckabee, and even far-right Fox News host Laura Ingraham. The morning after this week's debate, Delaney went on Fox and Friends to criticize Sanders and Warren and decry things like "free vacation."
Meanwhile, Medicare for All continues to be popular among the general populace in many polls. Delaney called Medicare for All "political suicide," but a July 2 poll, which accurately described to respondents that Medicare for All would allow them to keep their preferred doctors and hospitals, showed 55% of all Americans favor the plan, including 78% of Democrats and 56% of independents.

The former congressman's ties to the health care industry go back decades. According to Forbes, a young Delaney bought a health care company but quickly transitioned into financing the industry. In 1993, with his uncle, the former head of health insurer Aetna, he founded HealthCare Financial Partners with $25 million from presidential contender Steyer. (The biggest donor to The Right Answer Committee in 2018 was Bill Duhamel, Jr., a managing member of Steyer's Farallon Capital Management from 1995 to 2010, who gave $130,000 to the super PAC.)

Years later, Delaney is a wealthy former finance executive worth as much as $280 million. Compared to the $24 million dollars that Delaney has put into his campaign, these health industry-connected campaign committee and super PAC donations are small. Nonetheless, they demonstrate where his key support lies.
---
More from Sludge: