Presidential Candidate Who Attacked Medicare for All is Invested in Health Care Companies
Former Rep. John Delaney assailed Medicare for All and asked Rep. Alexandria Ocasio-Cortez to debate him. Turns out he has a financial stake in the for-profit health care industry.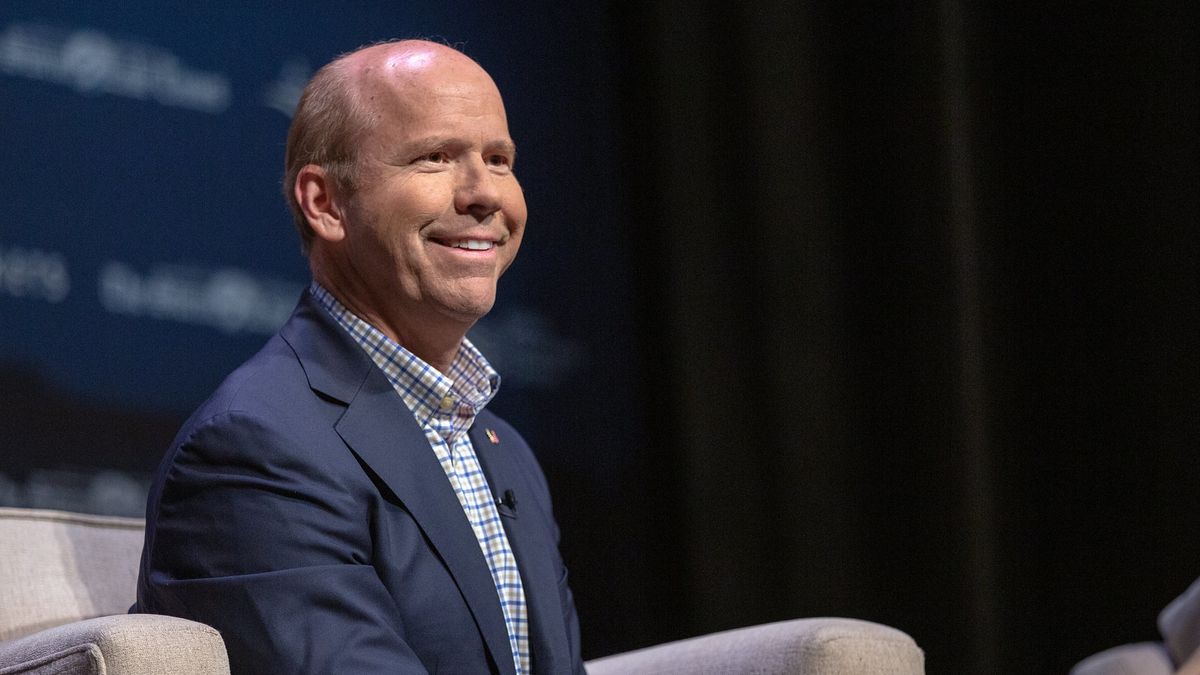 "Medicare for All may sound good, but it's actually not good policy nor is it good politics," declared Democratic presidential candidate John Delaney to crowd of booing Californians at the state's Democratic Party convention on June 2. The boos and jeers lasted a full minute.

But the business-friendly Democrat, a finance executive and a former representative from Maryland worth as much as $280 million, is sticking with his unpopular messaging. Registering at less than 1% in a recent CNN poll, Delaney needs exposure, and the California incident has gotten him some.

After seeing the video, progressive Democratic Rep. Alexandria Ocasio-Cortez (N.Y.) tweeted that Delaney should be "eliminated" from the presidential field.

"John Delaney, thank you but please sashay away 👋🏽," she wrote. Perhaps seeking more attention, Delaney then challenged Ocasio-Cortez to a health care debate, which her communications director bluntly rejected.

It's no surprise that a moderate Democrat isn't marching in the streets for a government-run health care program, but it's notable, in the context of his health care policies, that among Delaney's vast investment portfolio are several for-profit health care and medical device companies as well as funds that are invested in the health industry.

Sludge reviewed Delaney's latest financial disclosure and found that he has as much as $3.2 million invested in health care companies and funds with health industry holdings.

In general, health care, health insurance, and pharmaceutical companies are against a single-payer system. Medicare for All would not eliminate these types of businesses, but under the plan it's likely that the price of drugs and medical devices would decrease as the single payer, the federal government, would have considerable power in pricing negotiations.

"Politically, no government has been able to control doctors' fees without also controlling prices of pharmaceutical and medical supply companies," writes an analyst for Seeking Alpha. "If the USA joins the rest of the developed world with health care price controls, shares of medical equipment manufacturers and pharmaceutical companies will probably suffer."

Some Medicare for All opponents claim that the loss in government funding would reduce companies' capacity for research and development. In a single-payer system, however, hospitals and clinics would have larger numbers of patients and, thus, more demand for health care products.

Delaney's health care industry investments include medical device companies, pharmaceutical distributors, and surgical robotics companies.

In a family trust, Delaney owns stock in a range of health care companies. For example, Delaney owns between $100,001 and $250,000 of stock in Henry Schein Inc., which describes itself as a "worldwide distributor of medical and dental supplies, including vaccines, pharmaceuticals, financial services, and equipment." He also owns between $250,001 and $500,000 worth of stock in PerkinElmer, a Massachusetts-based company that specializes in imaging and screening technology used by medical practitioners and pharmaceutical research and development companies. Other health industry stock holdings in the family trust include medical device manufacturer Teleflex (between $100,001 and $250,000), dental equipment company Dentsply Sirona ($15,001-$50,000), and eyeglasses and contacts company National Vision ($15,001-$50,000).
The former Maryland representative is also invested in several funds that are either solely focused on health care companies or include health care companies in their portfolios. He has as much as $750,000 invested in a fund run by Healthpoint Capital Partners, which, according to his disclosure, is a "private equity fund exclusively focused on orthopedic and dental device businesses." The firm has investments in medical device company OrthoAccel, surgical robotics company Blue Belt Technologies, and sleep technology company ProSomnus. Delaney also has as much as $1.1 million invested in two executive funds managed by Pamlico Capital. According to Pamlico's website the health care sector is one of three sectors it invests in. Companies in Pamilco's portfolio include health care industry events and media firm Becker's Healthcare, physical therapy management services provider Jag-One, and telehealth company VRI.
Delaney's health industry connections go beyond investments. He holds two positions at financial firms that are invested in the health care industry. He is co-founder and a director of private equity firm Alliance Partners Holdings, LLC, which is invested in HydroWorx, an aquatic therapy manufacturer, and a cannabis company. He is a non-compensated advisory board member of Enlightenment Capital, which holds investments in a public health consulting firm and a company that makes medical trauma kits.

Delaney's campaign did not immediately return Sludge's request for comment.

---
Related: