ALEC Gala to Face Protest From Pro-Democracy Groups
The industry-funded group is celebrating 50 years with a gala in D.C.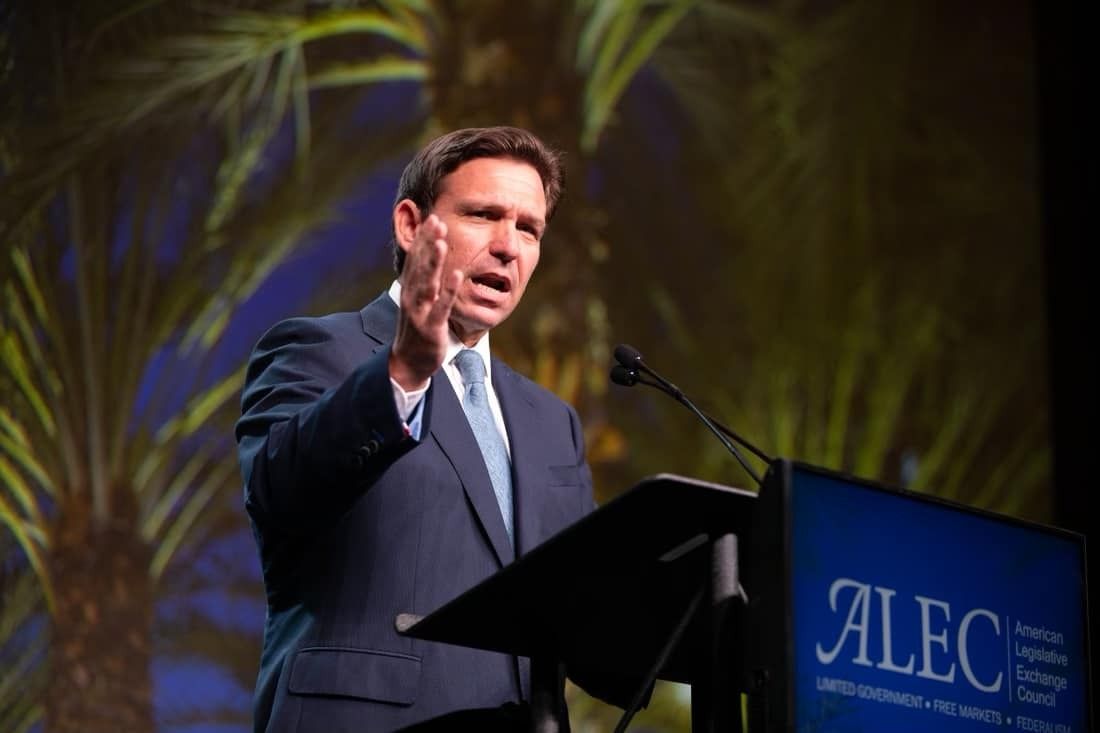 The controversial conservative group behind "stand your ground" gun laws and "right-to-work" labor policies is celebrating 50 years on Wednesday night with a gala in D.C.
The American Legislative Exchange Council's (ALEC) 50th anniversary gala, to be held at the National Portrait Gallery, will feature speakers including former corporate lobbyist and current ALEC CEO Lisa B. Nelson, as well as talk show host and political commentator Hugh Hewitt, among others. Tickets for the event are $750.
ALEC is an industry-funded membership organization for state legislators, lobbyists, and corporate executives. Though the group bills itself as nonpartisan, the vast majority of its legislative members are Republicans. Its industry partners include the pharmaceutical company trade association Pharmaceutical Research and Manufacturers of America (PhRMA), corporate lobbying giant the U.S. Chamber of Commerce, and industrial conglomerate Koch Industries, the company chaired by billionaire political financier Charles Koch.
The group's influence is immense. According to its website, ALEC's membership includes nearly one-quarter of all state legislators in the United States and hundreds of businesspeople. Individuals affiliated with the organization may participate in about 10 different task forces that focus on policy areas including energy, taxation, and civil justice. The task forces are co-chaired by a public official and at least one representative of private industry or an industry-funded think tank. For example, the Energy, Environment, and Agriculture Task Force has as its "public chair" Rep. Phil Green of the Michigan House and as one of its private chair[s]" the state lobbying director of the American Gas Association, Matthew Kiesling. These task forces work together to draft and approve model bills that state lawmakers may introduce during legislative sessions.
Because of the way it encourages representatives of private interests to collaborate on legislation as equals with public officials, ALEC is often described by its critics as a "corporate bill mill." ALEC's press materials have promoted the fact that both state lawmakers and business people have "a voice and a vote in shaping policy," according to a document archived by the Center for Media and Democracy.
Before the event, a coalition of pro-democracy groups will be holding a rally to protest what it describes as "50 years of community harm caused by bills that were drafted and promoted by ALEC." The coalition will also be calling on corporations to drop ALEC, according to a press advisory.
"This isn't how our democracy was supposed to work, and we need Congress to step up and pass the Freedom to Vote Act and John Lewis Voting Rights Advancement Act to curb ALEC's power and put the people, not corporations, in charge of our democracy," said Svante Myrick, president of the progressive group People For the American Way, one of the organizers of the protest.
"We're here to call out ALEC and its corporate sponsors and unite in the fight for the rights of people, workers, voters, and the planet," said Tefere Gebre, program director of Greenpeace USA, another group involved in the protest.
Other groups in the coalition include Center for Media and Democracy, Public Citizen, UnKoch My Campus, Common Cause, True North Research, and the Union of Concerned Scientists.
ALEC's gala is being sponsored by a long list of companies, nonprofits, and think tanks. Among the more than 40 sponsors are Alibaba, United Parcel Service, Humane Society of the United States, Philip Morris International, State Policy Network, and The Heritage Foundation. Tech industry group NetChoice, whose members include Amazon, Google, Meta, and TikTok, is also a sponsor.
"ALEC's anniversary is nothing to celebrate if you care about American families and our future because for fifty years ALEC and its super rich funders have fueled efforts to use state legislatures to undermine the American dream," said Lisa Graves, the executive director of True North Research. "ALEC has made it harder for Americans to vote but easier to get away with shooting someone to death, harder to secure worker rights but easier to get away with injuring consumers, harder to mitigate climate change but easier to pollute, harder to limit loan sharks but easier for predators to profit from privatizing public schools, harder to secure low-cost local broadband but easier to outsource good-paying American jobs."