Biden Decision in Apple Watch Patent Dispute Could Benefit His Megadonor
Joe Kiani, CEO of medical tech company Masimo, hosted a California fundraiser for Biden when the 2020 Democratic presidential nomination contest was still a crowded field.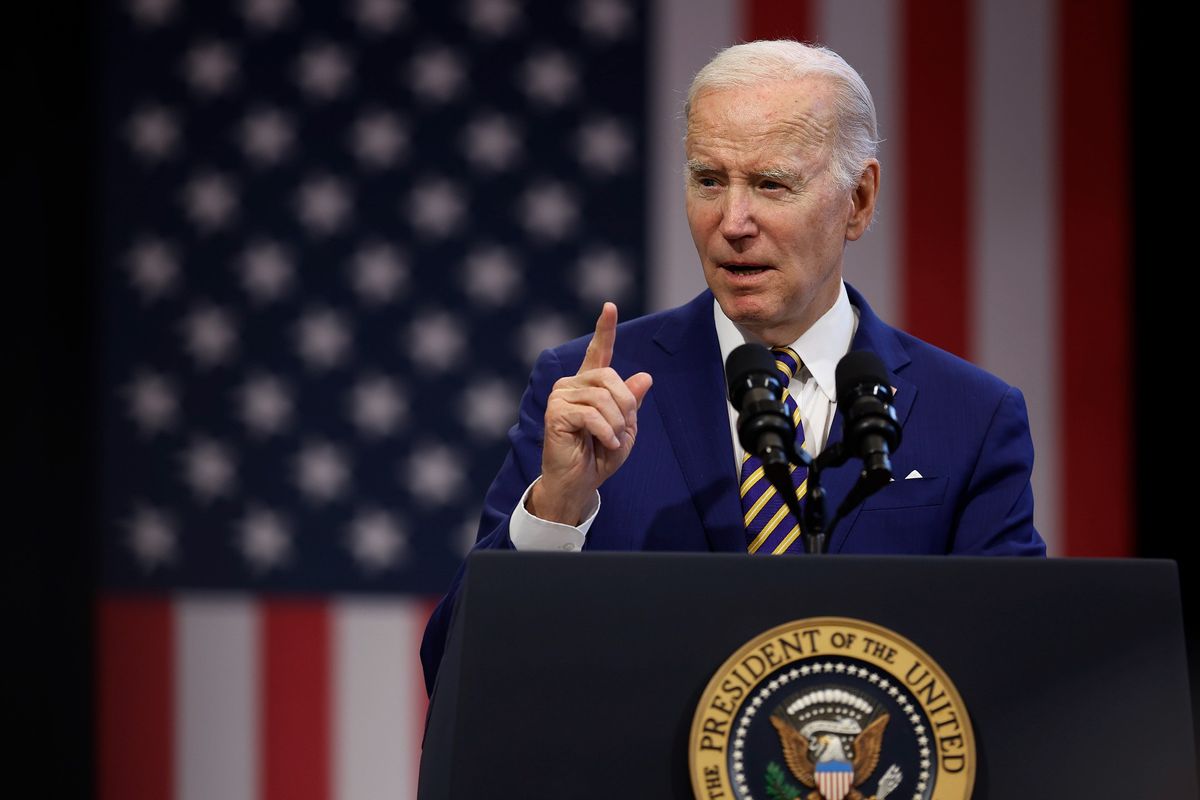 In upholding a federal agency's ruling in a dispute between Apple and medical device company AliveCor, President Biden has also boosted the patent case of one of his 2020 campaign's largest donors and fundraisers.
The megadonor is Joe Kiani, founder and CEO of medical technology company Masimo, which like AliveCor is battling Apple over patents underlying sensor features of the Apple Watch. Kiani and his company have donated millions of dollars to pro-Biden super PACs and the Biden Inaugural Committee, as well as hosting in-person and online fundraisers for Biden as a presidential candidate.
This week, Silicon Valley startup AliveCor announced that the Biden administration informed it that it had decided not to veto a U.S. International Trade Commission (ITC) ruling from December that Apple Watch devices' electrocardiogram (ECG) function infringes on its patents. The ITC ruling concluded that imports of Apple Watches with the ECG feature should be banned, among other remediation, but it also stated that enforcement of an import ban import should be held off while AliveCor's patents were being reviewed by a separate agency, the U.S. Patent and Trademark Office (USPTO).
Presidential vetoes of ITC rulings are a rare occurrence, although President Obama did step in in 2013 to veto a ban on iPhones and other Apple products after an ITC decision in a patent battle with Samsung. Apple says it plans to appeal the ITC ruling.
In siding with AliveCor, President Biden is keeping alive the possibility of an Apple Watch import ban, which is precisely what Kiani's company is seeking in a separate suit.
Masimo has launched similar patent challenges against versions of Apple Watches, seeking to have their importation to the U.S. banned. Masimo first sued Apple in 2020, and filed an ITC complaint in 2021, over what it argued was infringement of five pulse oximeter patents used for sensing blood oxygen levels.
Last month, an ITC judge ruled that one of Masimo's patents had been infringed by Apple in the devices, setting up the case for a full commission review. Masimo hailed the ruling as a win for intellectual property rights, and Kiani made a CNBC appearance to tout his company's case against the tech giant. A decision in that case on whether to ban certain Apple Watch imports is expected from the ITC in May. Masimo has requested that an import ban on infringing Apple Watches go into effect, which was supported by the initial ruling from ITC administrative law Judge Monica Bhattacharyya.
The appeals process in the two cases is expected to take more than a year, and the AliveCor dispute will also wend its way through the Patent Office's Trial and Appeal Board. Tech industry observers at The Verge suggested that the case could result in hefty licensing fees from Apple for AliveCor and Masimo over the technologies. Bloomberg Law estimated that annual royalties of up to $300 million a year could be on the table for Masimo. 
Biden Fundraiser Host
At a crucial point in the 2020 presidential nomination contest, Joe Kiani and his wife Sarah Kiani stepped up as major fundraisers supporting Biden's campaign.
The businessman Kiani already had a relationship with the former vice president: in 2017, the Masimo Foundation was listed as a $1 million donor to the Biden Foundation. The following year, Biden recognized Kiani as "one of his closest friends" in remarks given at a health care conference on the search for a cure for cancer. The foundation, which supported programs in areas like gay rights and college affordability, and in so doing provided salaries to some in Biden's orbit of political staffers, was shuttered as Biden readied to enter the presidential race.
Kiani, whose fortune is estimated by Forbes to be $1.2 billion, contributed $1 million to the pro-Biden super PAC Unite the Country during the 2020 election cycle: $250,000 in December 2019 and $750,000 in January 2020, just a few weeks before the Iowa caucus. In giving at least $1 million to the lobbyist-led super PAC supporting Biden's bid for the White House, Kiani vaulted himself into the company of an elite group of Biden megadonors including Karla Jurvetson, Reid Hoffman, Michael Bloomberg, and investment banker Richard C. Blum, husband of Sen. Dianne Feinstein.
During the pivotal month of January in the contest for the Democratic presidential nomination, the Kianis hosted a fundraiser for Biden at their Irvine, California home. At a time when candidates were still neck-and-neck in polls, the fundraiser was led by Rep. Lou Correa (D-Calif.) of the conservative Blue Dog Coalition, a caucus whose legislative actions often align with their big business donors. The event's co-hosts also included former Sen. Barbara Boxer, who had just joined a lobbying firm, and Bilal Muhsin, COO of Masimo and previously the company's executive vice president of engineering, marketing, and regulatory affairs.
The million-dollar contribution to the Biden outside spending group was by far Kiani's largest ever political donation. In the 2016 and 2018 cycles, Joe and Sarah Kiani's donations to federal candidates for office totaled a bit above $465,00 and $362,000, according to FEC data. But in the 2020 cycle, the Kianis' political donations total leapt to more than $3.8 million, with hundreds of thousands of dollars combined given to the Democratic National Committee (DNC), the Democratic Congressional Campaign Committee (DCCC), and state Democratic parties, in addition to the donations backing Biden.
After Biden clinched the 2020 nomination, Kiani made further large donations to pro-Biden groups, including $725,000 to the joint fundraising committee Biden Victory Fund and $500,000 to super PAC Priorities USA Action. In April 2020, Kiani hosted a virtual fundraiser for Biden, according to an invitation posted on Twitter. A few days before the 2020 election, the Biden campaign included Kiani on a list of 820 bundlers who had raised at least $100,000 for the campaign.
Craig Reynolds, a medical device executive and member of Masimo's board of directors, also made donations to support Biden's bid for the White House, giving $25,000 to the pro-Biden super PAC Unite the Country in January 2020 and $120,000 to the Biden Victory Fund joint fundraising committee in August and September 2020.
While the new Biden administration did not initially release a list of its inaugural sponsors, an FEC disclosure released in April 2021 shows that the Masimo Corporation gave $1 million to the Biden Inaugural Committee.
In September 2021, Kiani was named one of 30 members of the President's Council of Advisors on Science and Technology, an outside body that makes science and technology recommendations to the White House. The appointment—and Masimo being awarded nearly $3 million in federal contracts—drew fire from House Republicans on the Committee on Oversight and Reform.
In the 2022 midterms, the Kianis donated nearly $1.5 million to recipients including the DNC, the DCCC, and a joint fundraising committee led by Speaker Nancy Pelosi that received $250,000.
Masimo's lobbying at the federal level has been on the rise over the past few years, topping $440,000 in 2022 and touching on issues of patent reform and "anti-competitive behavior in the medical device supply chain," among other health care topics.
A Masimo spokesperson did not respond to a request for comment on Kiani's large donations behind Biden's presidential run and the administration's upholding of the ruling in the Apple Watch case.
---
---
Read more: