Apple Spent Record Amount on Lobbying as it Fought Antitrust Legislation
The company topped off its record lobbying year with a record fourth quarter.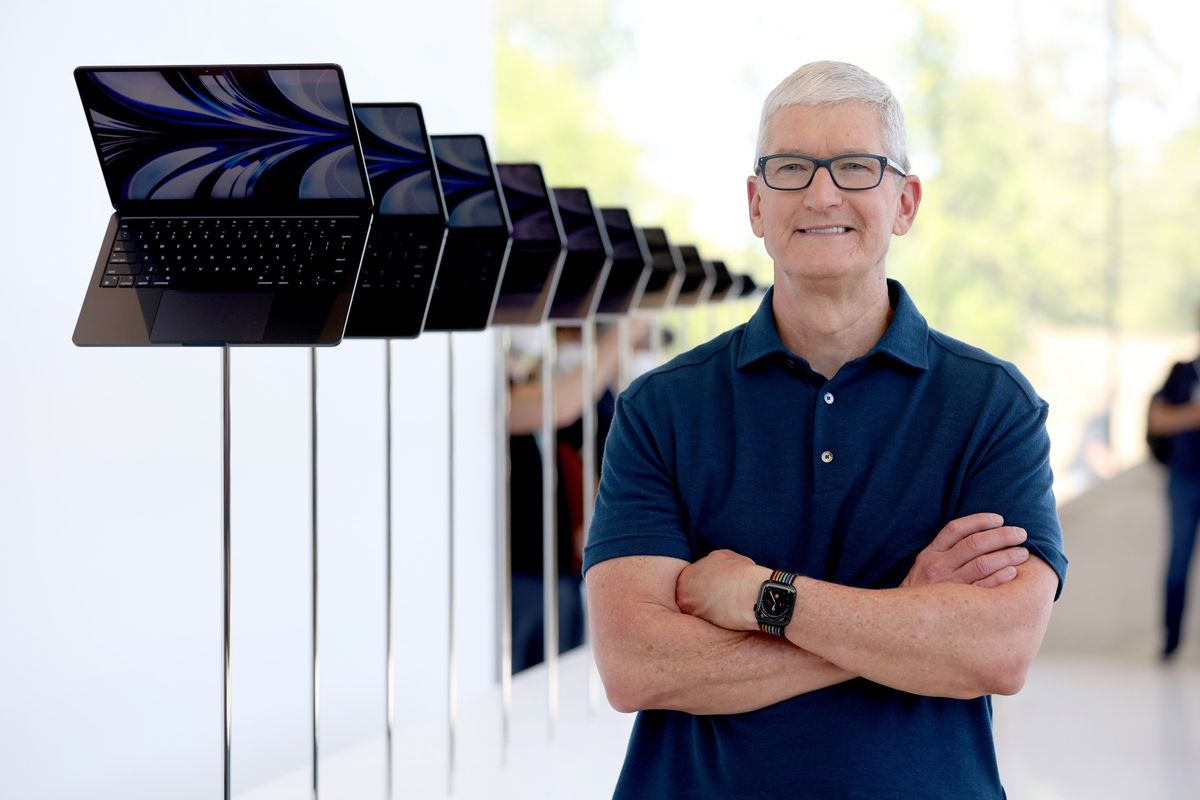 Apple spent a record amount on lobbying Congress and the federal government in 2022 as it sought to kill a pair of tech-focused antitrust bills that would have prohibited it from giving preference to its own apps on its App Store or requiring app developers to use its payment system, among other things.
According to disclosures filed with the Senate, Apple spent more than $9.3 million on federal lobbying in 2022, surpassing its previous high of $7.4 million spent in 2019. The company topped off its record year by spending more money on federal lobbying in the fourth quarter—nearly $2.9 million—than it had ever spent in previous quarters.
The antitrust bills, which would also have affected other large tech companies including Amazon and Alphabet, officially died earlier this month when the last congressional session came to a close. They had both been approved in the Senate Judiciary Committee by bipartisan majorities, but Senate Majority Leader Chuck Schumer (D-N.Y.) declined to call them up for votes on the Senate floor despite committing earlier in the year to do so. And in the House, one of the bills was advanced by the Judiciary Committee in June 2021, but former Speaker Nancy Pelosi did not call it up for a vote, saying she wanted the Senate to pass it first.
Although bills can be reintroduced in subsequent sessions of Congress, killing the bills last year was seen by Apple and the tech industry as crucial because it would likely be the last time for years that Democrats would control both chambers of Congress and the White House. Analysts had been predicting that Republicans would gain control of at least one chamber of Congress, and the antitrust bills have far less support among Republicans, despite that party's rhetoric against the unchecked power of Big Tech.
The bills to curb the market power of the largest tech platforms were the American Innovation and Choice Online Act (AICOA), sponsored by Sen. Amy Klobuchar (D-Minn.) with Sen. Chuck Grassley (R-Iowa) as a co-sponsor, and the Open App Markets Act, sponsored by Sen. Richard Blumenthal (D-Conn.) with Sen. Marsha Blackburn (R-Tenn.) as a co-sponsor.
The AICOA would have applied to tech companies with valuations of more than $550 billion, which would have included Alphabet, Amazon, Apple, and Meta, and prevented them from engaging in anticompetitive practices such as preferencing their own products and services. The Open App Markets Act would have targeted app stores with more than 50 million U.S. users—that is, those of Apple and Google—and barred them from requiring developers to use the platform's payment system for in-app purchases, among other prohibitions.
Over the summer, Sen. Grassley confirmed that the AICOA had enough support to advance past a possible filibuster in the Senate if it was given a floor vote. In comments to Punchbowl, Grassley said that he had assured Schumer that enough Republicans supported the bill for it to get over the 60-vote filibuster hurdle.
In its first three quarterly lobbying disclosures of 2022, Apple reported lobbying on the Senate versions of the AICOA and the Open App Markets Act more than any other bills in Congress, according to OpenSecrets. In the fourth quarter, the bills were frequently mentioned in lobbying reports from Google and Apple, as well as those filed by Amazon and Meta.
Apple CEO Tim Cook made multiple lobbying trips to Congress last year, according to reports. Cook met with lawmakers in late November as pressure was mounting on Schumer to bring the antitrust bills to a vote, and in June he visited senators including Democrat Jon Tester (Mont.) and Republican John Thune (S.D.). Earlier in the year, Cook appeared in D.C. at the International Association of Privacy Professionals conference, where he spoke against the Open App Markets Act allowing users to download other app stores, saying, "taking away a more secure option will leave users with less choice, not more." In January of last year, Apple's chief lobbyist Tim Powderly sent lawmakers on the Senate Judiciary Committee a letter that said "millions of Americans will likely suffer malware attacks on their phones" if the Open App Markets Act became law. 
In mid-November, with Senate floor time running out for the session, more than 45 public interest groups including Color of Change, Consumer Reports, Public Citizen, and Public Knowledge sent Schumer a letter that urged him to bring the tech antitrust bills for a vote before Congress recessed. Despite that pressure, Schumer did not move the bills last year, and they were not included in a climactic year-end omnibus package. The year-end deal struck with Minority Leader Mitch McConnell did include non tech-focused legislation, passed by the House in September, that advocates say will strengthen the ability for state attorneys general to bring antitrust cases.
The nonprofit Tech Oversight Project, funded by organizations established by the Omidyar Network's Pierre Omidyar and Facebook co-founder Chris Hughes, found in a June 2022 report that bipartisan majorities favored the AICOA: "58% of national likely voters support the bill while just 26% are opposed." Tech policy experts at the Center for American Progress gave the bills a thumbs-up to "enhance consumer choice and competition online," urging Schumer to pass the measures last summer.
Apple's lobbying was supplemented by lobbying from its trade associations. Carrying the banner for its Big Tech members, including Apple, a new tech tech lobbying group called the Chamber of Progress, launched in 2021, spent $280,000 on federal lobbying. The lobby group was founded and led by former Democratic House staffer Adam Kovacevich, who then worked in government affairs and public policy at Google for more than a dozen years. A Chamber of Progress letter opposing the bills in mid-2021 gathered signatures from nonprofits including TechNet that count Apple and the other tech giants as members. TechNet more than doubled its lobbying spending last year to over $1.8 million, and the Computer & Communications Industry Association, which also counts Apple as a member, nearly doubled its spending compared with the previous year, totaling almost half a million dollars.
While Apple worked to stymie the antitrust legislation in Congress, in September Politico reported that the company was the subject of a possible Department of Justice lawsuit into how it wielded its immense market power, including through its App Store and the Apple Pay platform. The potential lawsuit draws on allegations from app developers that Apple enforced the rules arbitrarily for which apps were required to pay a 30 percent cut of in-app purchases—what they called the "Apple tax."
Apple's Revolving Door
Unlike the other tech giants, Apple eschews giving PAC donations to politicians. But like other Big Tech firms, its government affairs operation makes extensive use of lobbyists who have just gone through the revolving door from congressional offices. Several of the Apple's new employees who lobbied on AICOA and the Open App Markets Act in the fourth quarter and before were previously employed by congressional offices.
April Jones, senior government affairs and policy counsel at Apple, had been counsel for Sen. Klobuchar from January 2019 until September 2020, and also previously held the title deputy legislative director, before starting to lobby for the company in the fourth quarter of 2021. ZJ Hull previously worked as legislative counsel for Rep. Zoe Lofgren (D-Calif.) and senior policy advisor for the Committee on House Administration, before starting to lobby for Apple in the third quarter of 2020. Nick Rossi held a number of positions in the office of Senate Republican Whip John Thune (S.D.), ending as chief of staff in September 2021, before beginning to lobby for Apple in the fourth quarter of 2021. Conor McGrath, in Apple government affairs, was a legislative aide for Sen. Jerry Moran (R-Kans.) until January 2021, having previously worked for Sen. Roy Blunt (R-Mo.). He began lobbying for the company in the second quarter of 2022.
A report from Public Citizen released last month found that the four tech giants targeted by the antitrust bills used 38 lobbyists with ties to the House or Senate Judiciary Committees in lobbying against AICOA.
In a 2019 ethics report, the Center for American Progress recommended closing the revolving door with a lifetime lobbying ban on members of Congress and a five-year ban on their senior staffers—a measure far stronger than the current rules, where former U.S. senators have only a two-year ban on lobbying Congress, and former U.S. House members and some senior staff have just a one-year ban.
If such a five-year ban for senior congressional staff were in effect, it would have applied to at least four of the eight in-house lobbyists that Apple used in the fourth quarter of last year to lobby on antitrust bills.
More former Hill staffers lobbied on the antitrust bills for trade associations of which Apple is a member. Peter Chandler, TechNet's vice president for federal policy and government relations, had been chief of staff for Rep. Debbie Dingell (D-Mich.) before starting at the trade association in December 2018. Koustubh "K.J." Bagchi, the senior director of technology policy at the Chamber of Progress and a lobbyist, had been legislative counsel to former Rep. Mike Honda, who had represented a Silicon Valley district.
Early in 2022, the U.S. Chamber of Commerce—one of the top-spending lobbying groups in D.C. in recent years—mobilized to argue that the tech antitrust bills would hinder American competitiveness. The Chamber of Commerce posted a mammoth second half of the year, with quarterly lobbying spending of almost $24 million and $21 million, totaling $79.4 million in 2022, not counting its subsidiaries that spent on federal lobbying. The business lobbying group mentioned the AICOA at least half a dozen times each quarter, and the Open App Markets Act at least twice each quarter.
---
Read more from Sludge: