NYC Public Campaign Financing Program Leveled the Playing Field: Report
A new Brennan Center analysis found that New York City's small-dollar matching program was key in electing record numbers of women and people of color to City Council.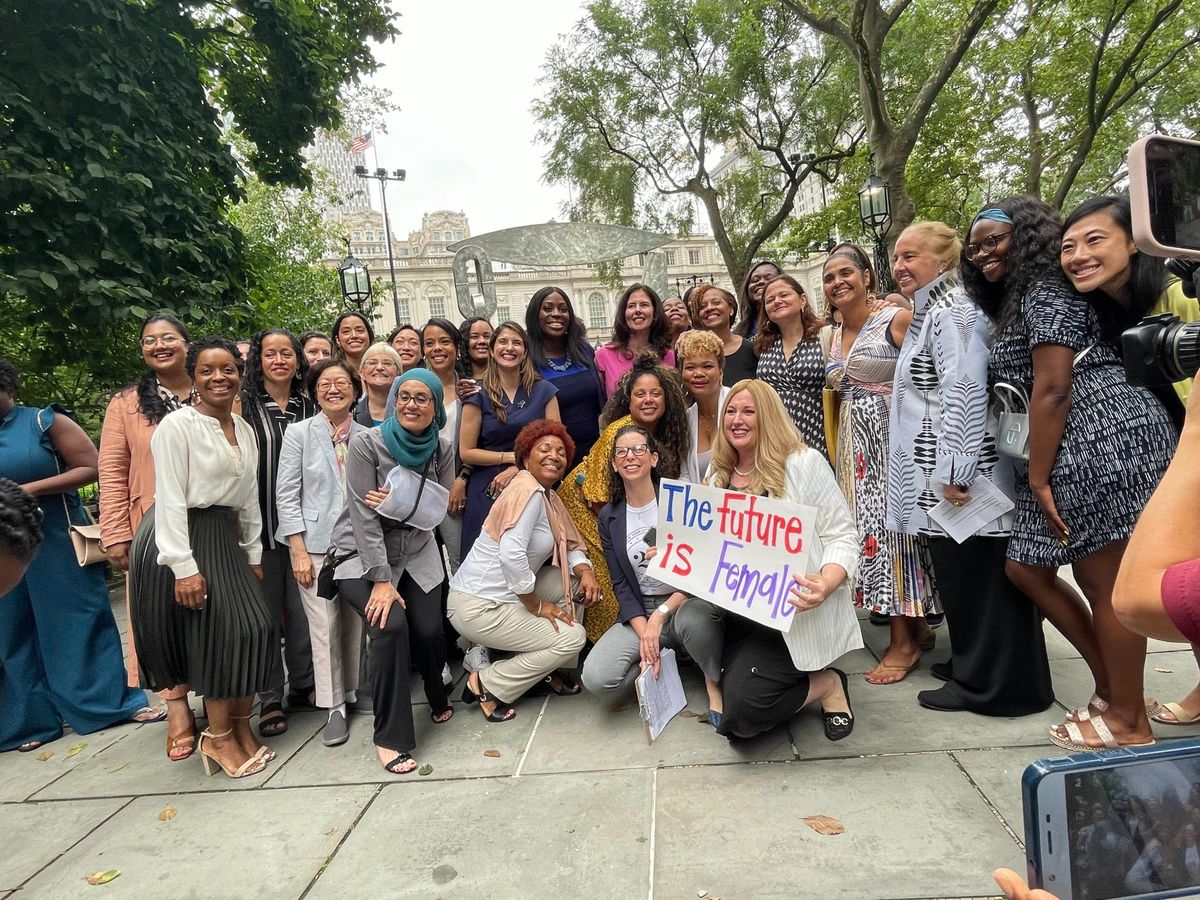 New York City voters last month elected a record number of women to the City Council, increasing the number of women to 29 of the legislature's 51 members, up from 14 currently. The incoming City Council class also features a record number of people of color, with 35 members identifying as such, up from 26.
A new report from the nonpartisan policy institute Brennan Center for Justice, which has studied New York City elections and campaign finance laws for over a decade, finds that the share of women on the City Council will surpass the 52% of the city's population made up by women, and people of color on the Council will nearly match their share of 68% of city residents.
The representativeness of New York City government, when looking at gender and race, stands in contrast with many legislative bodies, including that of the U.S. Congress. Women hold only 27% of U.S. House and Senate seats, though women make up 50.8% of the population, according to U.S. Census data. While about four in 10 Americans identify as other than white, just 23% of members of Congress are Black, Hispanic, Asian/Pacific Islander, or Native American, Pew Research found.
Several of the newly elected council members who are women of color told Sludge, soon after winning their primary contests in June, that New York City's public campaign financing program helped make possible their runs for office.
"The public matching funds program allows candidates like me, who come from working-class backgrounds and are not tied to institutional wealth or the wealth of the political establishment and special interest groups, to run on a more even playing field," said Shahana Hanif, a former City Council employee and the daughter of Bangladeshi immigrants.
City Council candidates who participate in the program have donations from city residents up to the first $175 in a contribution matched at an 8-to-1 ratio, meaning a $175 check can qualify for $1,400 in funding. They also agree to observe individual contribution limits of $1,000 maximum in city council races, as well as spending limits that this year were $190,000 in each of the primary and general elections, and reporting requirements that release contribution data online. The ratio of New York City's longstanding matching program was strengthened with support from 80% of voters in a 2018 referendum, increased from a 6-to-1 match. The New York City Campaign Finance Board (CFB) says the fund "provides candidates with a strong incentive to finance their campaigns by engaging with average New Yorkers instead of seeking large contributions from special interests."
The Brennan Center's latest analysis of campaign finance data from the CFB underscores how much the city's small-donor matching system succeeded in leveling the playing field. First, the voluntary match was overwhelmingly used: 97% of the women and people of color who won Council seats raised money through the program, according to the report. "We have seen more candidates running, more contributions collected, and more public funds paid to more candidates than in any previous election cycle," Matt Sollars, CFB's director of public relations, told Sludge.
The analysis also found that the system produced race and gender equity in fundraising across every competitive contest in primary elections, which are important because virtually every primary winner goes on to win the general election contest. This cycle, the data showed, women and people of color slightly outraised men and white candidates—women by 4%, candidates of color by 2%—with the authors finding that candidates overall relied to similar extents on public matching funds in their funding mix.
The program resulted in office seekers being matched so fairly, through campaign funding unlocked by small donations from city residents, that even in districts where the top two primary candidates were a man and a woman, or a white candidate facing off with a person of color, they had nearly the same amount to spend through the June 22 primary date. Whereas women and candidates of color running for Congress have faced historical disadvantages in fundraising, a Brennan Center report found last year, New York City's small-dollar matching program offers far greater parity.
New York Attorney General Letitia James, a former City Council member and the first Black woman elected citywide to be public advocate, who recently announced she will be running for governor in next year's election, vouched earlier this year for the importance of the small-dollar match. "When I first ran for office, I did not know millionaires, and I did not know those with deep pockets—but I knew those who wanted to have a voice in government and have a seat at the table," James told the Brennan Center. "The public financing system in New York City gave me the opportunity to compete and succeed, allowing me to represent individuals whose voices have been historically ignored and who wanted a representative who looked like them, who understood their values, and recognized their struggles."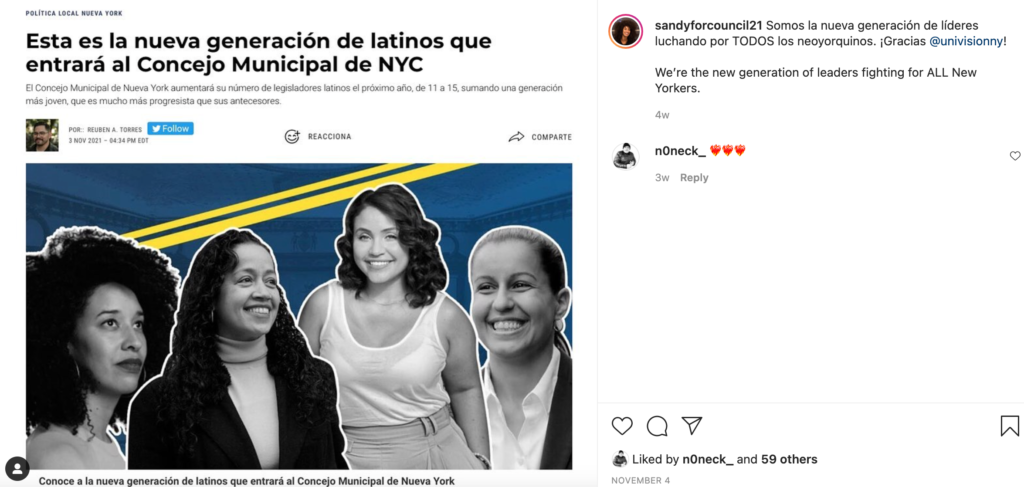 "The public financing system allows folks to listen to the masses of people because it spreads out who has the ability to touch elected officials," said New York City Public Advocate Jumaane Williams, another former City Council member-become-citywide official who is running for governor. "You can speak to people who give $5 and $10—and that's all they can afford—just as much as people who can cut a $2,000 check. And it's important to be able to balance that out for the betterment of the entire city."
The successful 2018 ballot initiative to strengthen the matching system was based on legislation introduced in March 2016 by progressive New York City Council member and government reformer Ben Kallos, which sought to boost the matching ratio for small donations of $175 or less and slash the maximum allowable contribution for participating candidates, to encourage small donors.
Though the public financing option set record levels for candidate and donor participation this year, the program faces a challenge from a new legislative item introduced in the New York City Council that over two dozen good government groups say would undermine the independence and effectiveness of the CFB. The bill, introduced by conservative Democratic Council Member Kalman Yeger of Brooklyn, would allow the Mayor's Executive Budget to alter the CFB's funding estimates, which currently do not face revisions, potentially putting the CFB under pressure from the politicians whose elections it oversees. Groups opposed to the measure, which had a hearing on Nov. 29 in the Committee on Governmental Operations, include the Brennan Center, Common Cause New York, immigrant-led organization Make the Road New York, and the League of Women Voters of New York City, among others.
Also this week, over 60 labor, racial justice, voting rights, and government watchdog groups sent a letter to state lawmakers supporting the advancement of election and campaign finance reforms in next year's legislative session. The reforms they seek include allocating sufficient funding for the planned statewide small donor public financing program, adequate resources for the automatic voter registration policy adopted late last year, and restarting the constitutional amendment process to again pass same-day voter registration and no-excuse absentee voting, among other things. A recent report from New York State Sen. Zellnor Myrie, Democrat from Brooklyn, aims to raise reforms to the state's election administration systems, including restructuring the dysfunctional New York City Board of Elections, for further legislative action next year in the Senate Elections Committee that he chairs.
Featured image via the organization 21 in '21 on Twitter.
---
Read more: