Small Donors Hit Record Highs in New York City's Public Campaign Financing Program
The next New York City Council is poised to have a majority of women and a record number of people of color, after the primary election set new highs in small-dollar donations.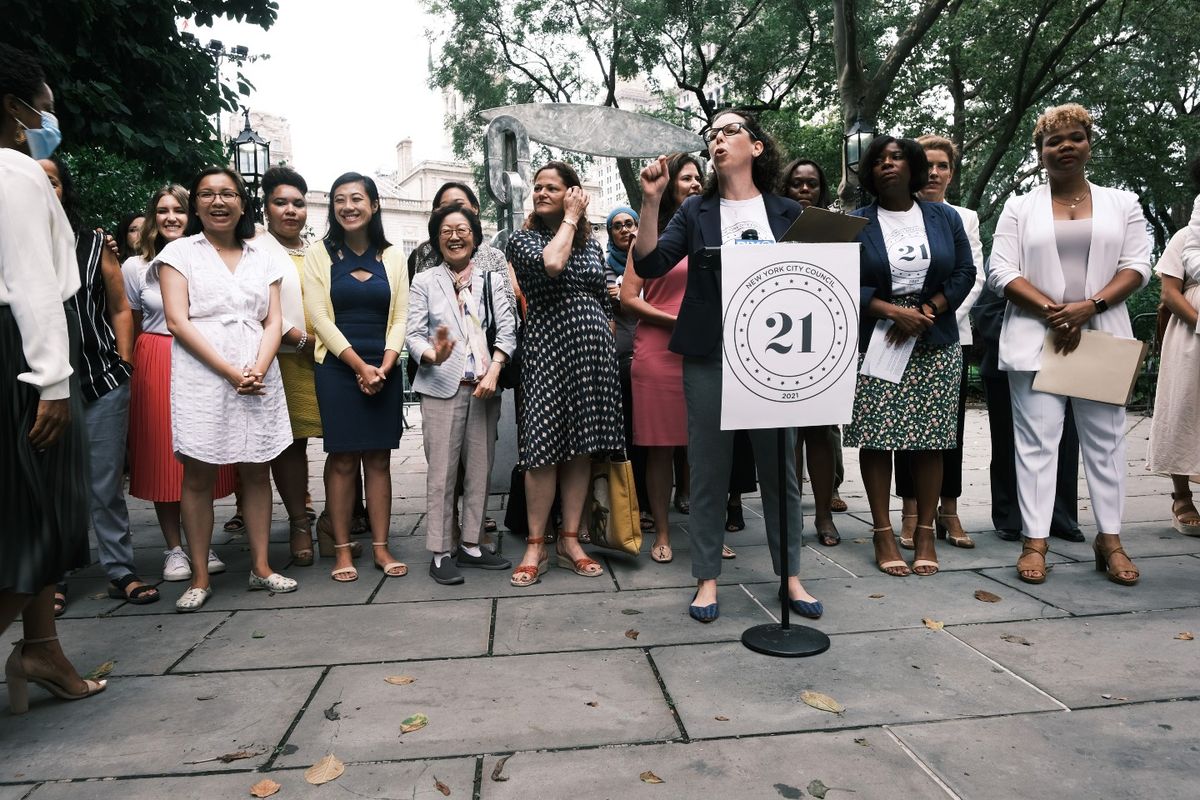 The New York City primary elections last month were marked by the city's first use of ranked-choice voting, and yet another snafu by the city's dysfunctional Board of Elections in releasing election results.
While most attention was on ranked-choice voting in the race for mayor, New York City's longstanding public campaign financing program shattered its previous records, with more small donors using the system than ever before and more candidates participating.
The New York City Council is poised to include a record number of women and people of color, given the likelihood that primary nominees will win in the Nov. 2 general election. At least 29 of the 51 Council seats are likely to be held by women, up from the 14 women currently in the Council, and at least 35 likely members identify as people of color, up from 26 currently in the Council.
According to Sludge's review, at least 22 candidates who are women and won their primaries for open City Council seats opted into the public financing program, with 15 of them raising and receiving the maximum amount they could spend in their primary contests.
Since 1988, New York City has offered office seekers the option of a public matching funds program that amplifies small-dollar contributions and helps grassroots candidates run without having to rely on fundraising from an existing network of business interests or wealthy backers.
This cycle, the city's Campaign Finance Board (CFB) has issued more than $112 million to candidates opting-in to have small donations matched out of a public fund. In the 2017 election cycle, which featured a much smaller mayoral field with the current occupant up for re-election, the CFB paid $17.7 million to qualifying candidates.
New York City candidates taking part this year had small donations from NYC residents, up to the first $250 donated to citywide candidates and $175 to candidates for borough president or City Council, matched at an 8-to-1 ratio. To qualify for matching funds, candidates must first meet dual contribution thresholds—for example, a minimum of 75 in-district donors for Council candidates raising at least $5,000, or a minimum of 1,000 contributors raising at least $250,000 for mayoral candidates. Candidates must also agree to abide by individual contribution limits—$1,000 for City Council, $2,000 for mayoral candidates—and spending limits in the primary and general elections. The match ratio was strengthened from a 6-to-1 match by a 2018 referendum that was approved by 80% of New York City voters. Funding for the program is allocated out of a special campaign finance fund in the New York City budget.
"We have seen more candidates running, more contributions collected, and more public funds paid to more candidates than in any previous election cycle," said Matt Sollars, CFB's director of public relations. "As a result, voters had more candidates, and a more diverse group of candidates, to choose from in the June primary elections than ever before."
Seven of the eight leading candidates for mayor participated in the public matching program, the lone exception being former Wall Street executive Ray McGuire, as did virtually all candidates for city comptroller and borough president. In the race for mayor, Brooklyn Borough President Eric Adams defeated former NYC sanitation commissioner Kathryn Garcia by less than one percentage point, 50.4% to 49.6%, in the eighth round of counting voter preferences in the ranked-choice voting system.
Public funding issued by CFB through the primaries was nearly twice as much as the amount of private funding received, which totaled nearly $66 million across all races. One hundred and thirty participating candidates reached the maximum amount of public funding that they could spend in their race, more than the 104 candidates that participated overall in the 2017 cycle. The small-donor match was designed to encourage candidates to circulate in their communities, and so far this year 72.4% of contributions have come from NYC residents, according to CFB, at an average amount of $139.
Fully 93.2% of individual contributions to New York City candidates this cycle have been less than $250—nearly the reverse of donations in New York state elections, where between 2016 and 2019 only 9% of funding came from small donors and 73% of came from donations of over $1,000 or from PACs and LLCs.
Even with the presence of robust public campaign funding, big donors sought to influence New York City primary races by funding super PACs that sent mailers to voters and ran ads on TV and digital platforms. The CFB reported that outside groups in total made almost $39 million in independent expenditures, with Adams benefiting from the most super PAC spending at $7.7 million. Only about 3% of Adams' backing was spent to promote Garcia's bid, which mostly went toward digital ads. An analysis by the nonprofit newsroom The City found that super PAC spending favored the five men among the Democratic mayoral hopefuls over the three women in the race by over 13-to-1. Overall, public campaign funding issued to date was nearly three times the total spent by outside groups.
In the new Council class, several candidates told Sludge their campaigns relied on the public funding program to help fund voter outreach in their districts' first ranked-choice election. Because of term limits of two consecutive four-year terms, 35 of the 51 Council seats will turn over after this year, the most open Council seats since the 2001 election. With Democratic primary candidates strongly favored to win their general election contests, next year's Council is slated to include its first openly gay Black woman, Crytal Hudson of Brooklyn, and seven foreign-born New Yorkers.
Shahana Hanif is a Brooklyn organizer and former City Council employee, the daughter of Bangladeshi immigrants, who won the primary in Council District 39 that includes parts of the the neighborhoods of Cobble Hill, Carroll Gardens, and Kensington. Hanif is expected to be the first Muslim woman elected to Council, as well as one of two first South Asians in the body. She started advocating for expanded care for people with disabilities after being diagnosed with lupus at the age of seventeen.
"The public matching funds program allows candidates like me, who come from working-class backgrounds and are not tied to institutional wealth or the wealth of the political establishment and special interest groups, to run on a more even playing field," Hanif told Sludge. "It allows the community to hear equally from all the candidates and not just those who can raise the most money."
Hanif said her campaign started fundraising early to demonstrate its support and was the first in its race to receive the full payout of matching funds. "In the process, we expanded our donor base and received donations from young women, immigrants, and neighbors who had never donated to a political candidate," she said.
In Council District 18 in the east Bronx, community activist Amanda Farías is poised to be one of 15 new members of Latino or Afro-Latino descent. In 2017, the progressive Farías was defeated by the conservative former state senator Rubén Díaz Sr., but he is retiring after losing a bid for Congress, and last month Farías won the Democratic primary in the sixth round of ranked-choice voting. She'll be one of eighteen women under 40 years of age in the Council, and one of 26 women of color.
"I think public campaign financing allows people, specifically women and women of color, to perform more competitively in their races because it keeps spending at an even keel, especially in a competitive race," Farías told Sludge. She says her campaign planned its outlays around the spending limits of the public financing program, $51,000 in the year before and $190,000 in the primary election.
"In terms of the match, it gave the campaign the ability to have a robust team where we could hire Spanish and Bangla speakers, have a comprehensive mail plan, and invest in ranked-choice voting education," Farías said. "Small donor matching is a great opportunity for local people to be more engaged and help keep candidates accountable to their community."
Last week, the incoming class of women held a press conference highlighting their goal of electing a woman as Council speaker. Two current members—Carlina Rivera of Manhattan and Adrienne Adams of Queens—are rumored to be among the candidates for the powerful position.
Reinvent Albany is one of several good government groups, along with Common Cause New York, that in 2018 advocated for the ballot measure strengthening the city's public matching system, for example by lowering the limit on individual contributions.
"Small dollar donations decrease the risk of corruption—it's much easier to influence someone with $10,000 than $10, and public financing reduces the perception of corruption in public officials," said Tom Speaker, policy analyst with Reinvent Albany. "There are countless places where you can see a position that a public official takes and see donations and wonder why. When more donations are coming from small donors, it's much less likely that people will find much to be suspicious about."
After the November 2022 elections, New York state is set to adopt a matching funds option based on New York City's model—though the program had a more circuitous route to adoption, where state lawmakers ended up approving a commission's recommendations in 2019. The nonpartisan Brennan Center for Justice found that nearly 90% of the largest individual donors, giving $5,000 and above, in New York's 2020 state legislative races came from areas with higher employment rates than the state average. A matching fund option for state senators and assembly members could help close the fundraising gap for candidates who rely more on small donors, while making the donor base far more representative of the state population as a whole. A 2019 Brennan Center report found that New York City neighborhoods with many small donors have lower incomes, higher poverty rates, and higher concentrations of minority residents compared with those where more State Assembly small donors reside—for example, 24 times more people in the predominantly Black neighborhood of Bedford-Stuyvesant gave money to candidates for the 2009 City Council than to candidates for the State Assembly.
The New York program, enacted into law on April 3, 2020, will offer a 6-to-1 match for statewide candidates such as governor and a tiered match for state legislative candidates, and is to be overseen by a seven-member Public Campaign Finance Board. Gov. Andrew Cuomo has yet to appoint his nominee, resulting in one vacancy; earlier this year, attorney Ekow Yankah, a Democratic appointee, was unanimously elected chair and Brian Kolb, a Republican appointee, vice-chair of the body overseeing public financing in the 2024 elections.
"We expect to see a similar trend with the beginning of state matching funds, with more small-dollar donors and candidates in-district for fundraising more," said Speaker of Reinvent Albany. "It will lessen the risk of special interest influence in elections and positions that candidates take."
---
Read more: