Virginia Pro-Democracy Groups Rally for Reforms Amid Record Campaign Cash
With control of the state House and Senate at stake, Virginia's 2023 elections have broken state fundraising records. Several close-fought races have brought in around $10 million each.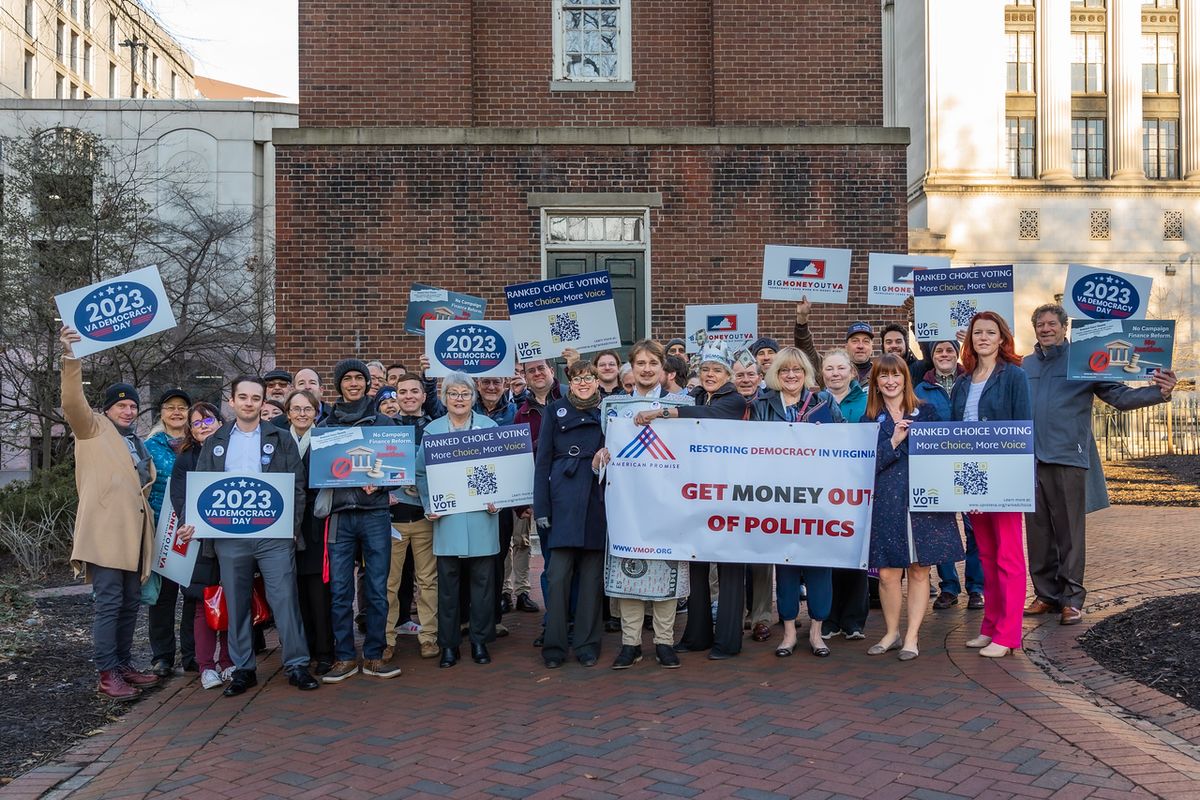 The Nov. 7 election for all 140 seats in the Virginia House and Senate, with party control of each chamber in play, is swimming in record amounts of campaign cash.
Contributions to candidates in Virginia's General Assembly contests this year have blown past the state's previous high water mark. Over $158.3 million has been raised by state House and Senate candidates through Oct. 26, according to data from the nonpartisan Virginia Public Access Project (VPAP). That total is nearly 31% more than was raised during the 2019 cycle when the previous record was set.
Virginia is one of a handful of states with no limits on the amount of money that individuals, state parties, PACs, corporations, and union groups can donate to candidates, according to the National Conference of State Legislatures (NCSL). The Commonwealth is one of 11 states with no individual campaign contribution limits, and one of only five states with no limits on the other groups' campaign donations as well. Virginia groups that advocate for reforming the state's campaign finance laws say the deluge of donations this election cycle underscores the need for a cap on campaign contributions.
Heading into Election Day, Republicans hold a 52-48 edge in the Virginia House of Delegates, while Democrats are defending a 22-18 majority in the state Senate. In the upper chamber, four districts voted for Joe Biden for president in 2020 and opted for Republican Glenn Youngkin for governor a year later. If Republicans win control of both chambers, Gov. Youngkin would have a green light for a conservative agenda on education policy, access to legal abortion, and more.
Several closely-contested Virginia races have attracted fundraising hauls that outpace those of a marquee race for the U.S. Congress. For example, in a Loudon County state Senate race, Republican candidate Juan Pablo Segura has raised $5 million to Democratic candidate Russet Perry's $6 million, according to VPAP. Their combined intake is more than candidates raised in many of the most competitive races for U.S. House last year.
With the prospect of Republican lawmakers enacting limits on access to reproductive health care in the state, candidates are spending on what the Washington Post described as "endless advertisements and breathless mailers," with millions of dollars rushing into campaigns in October alone.
Over the past few years, Virginia groups concerned about the dominance of wealthy donors have worked with legislators to propose limits on campaign largesse. Legislation to set donation limits at $20,000 per election cycle was blocked last year by a bipartisan vote of 10-5 in a state Senate committee. Two years prior, a proposal for a public campaign financing system was left to expire in a state House subcommittee by a vote of 5-0.
Good government groups like BigMoneyOutVA, a volunteer-led nonpartisan group that supports campaign finance reforms, are calling on lawmakers to reintroduce state legislation that would place a cap on donations to candidates for governor, attorney general, General Assembly, and other offices.
"Virginians feel that out-of-state billionaires and wealthy individuals shouldn't be buying our elections," said Nancy Morgan, coordinator of BigMoneyOutVA.
"The money arms race has escalated to a point where you have two major donors, Dominion Energy and Clean Virginia, vying for prominence and influence, which is a race to the bottom for the voters," Morgan said. Dominion Energy and Clean Virginia have been among the top donors in state House and Senate races this cycle, VPAP figures show.
Top Virginia Campaign Donors
Counting all donations since 2022, the largest donor group in Virginia has been Youngkin's Spirit of Virginia PAC, giving out more than $14.3 million, according to a tally from VPAP. Its top recipient has been the state Republican Party, at nearly $5.5 million, with over a million dollars given to two Senate hopefuls and six-figure donations to many more Republican candidates.
The second-largest state donor has been utility giant Dominion Energy, with nearly $12.9 million given near-equally to Democratic and Republican candidates. In recent years, the Richmond-based electric company has flexed its state lobbying power on both sides of the aisle, for example by pushing through last-minute changes to major energy legislation and helping to kill a proposal that would bar it from contributing to the elected officials that regulate it.
Almost matching Dominion's donations in Virginia since 2022 has been $12.8 million given by the House Democratic Caucus, followed by $12.5 million given by Charlottesville investor Michael D. Bills, almost entirely to the PAC of the advocacy nonprofit Clean Virginia that he founded. The group advocates for rules that would curb the political influence of Dominion Energy and another large public electric utility, Appalachian Power Company, over state regulators.
The national campaign group Republican State Leadership Committee (RSLC) has doled out more than $6.9 million to Virginia GOP groups and candidates so far. In 2021 and 2022, the RSLC received millions of dollars from the Concord Fund, a "dark money" nonprofit with long ties to conservative legal activist Leonard Leo. Leo's wealthy donor network and role as co-chairman of the conservative Federalist Society helped him cultivate an unprecedented $1.6 billion gift in 2021 from Chicago-based manufacturing magnate Barre Seid to the Marble Freedom Trust, which donated $16.5 million to the Concord Fund between May 2020 and April 2021, according to tax returns.
BigMoneyOutVA has been meeting with legislators and statehouse lobbyists to discuss how campaign contribution limits can level the playing field in elections, Morgan said. The group points out on its website that Virginia ranked a distant 46th in a 2020 government ethics index from the nonpartisan Coalition for Integrity, scoring especially poorly on whether elected officials, legislators, and executive branch officials are prohibited from accepting gifts from lobbyists.
Based on contribution data through September, at least 10 Virginia candidates raised a majority of their money from companies and trade associations that lobby the General Assembly, according to a VPAP analysis.
VA Democracy Day in the Capitol
In January, BigMoneyOutVA was part of a coalition of groups that held an inaugural Democracy Day, where members gathered in Richmond to meet with their legislators on a pro-democracy agenda. In addition to campaign contribution limits, groups in the coalition are supporting reforms that include strengthening disclosure of campaign donations, empowering the state Department of Elections, offering a public campaign financing option, and restricting the personal use of campaign funds. The next rally day is planned for January 23, 2024.
A 2021 poll by the nonpartisan Wason Center, sponsored in part by BigMoneyOutVA, found 78% of Virginians support the goal of reducing money given to politicians by donors.
"This year, with the growth of our coalition of nonpartisan, pro-democracy groups, we're aiming to get over 100 people to raise their voice and show support for campaign finance reform, good governance, and ranked-choice voting," said Morgan.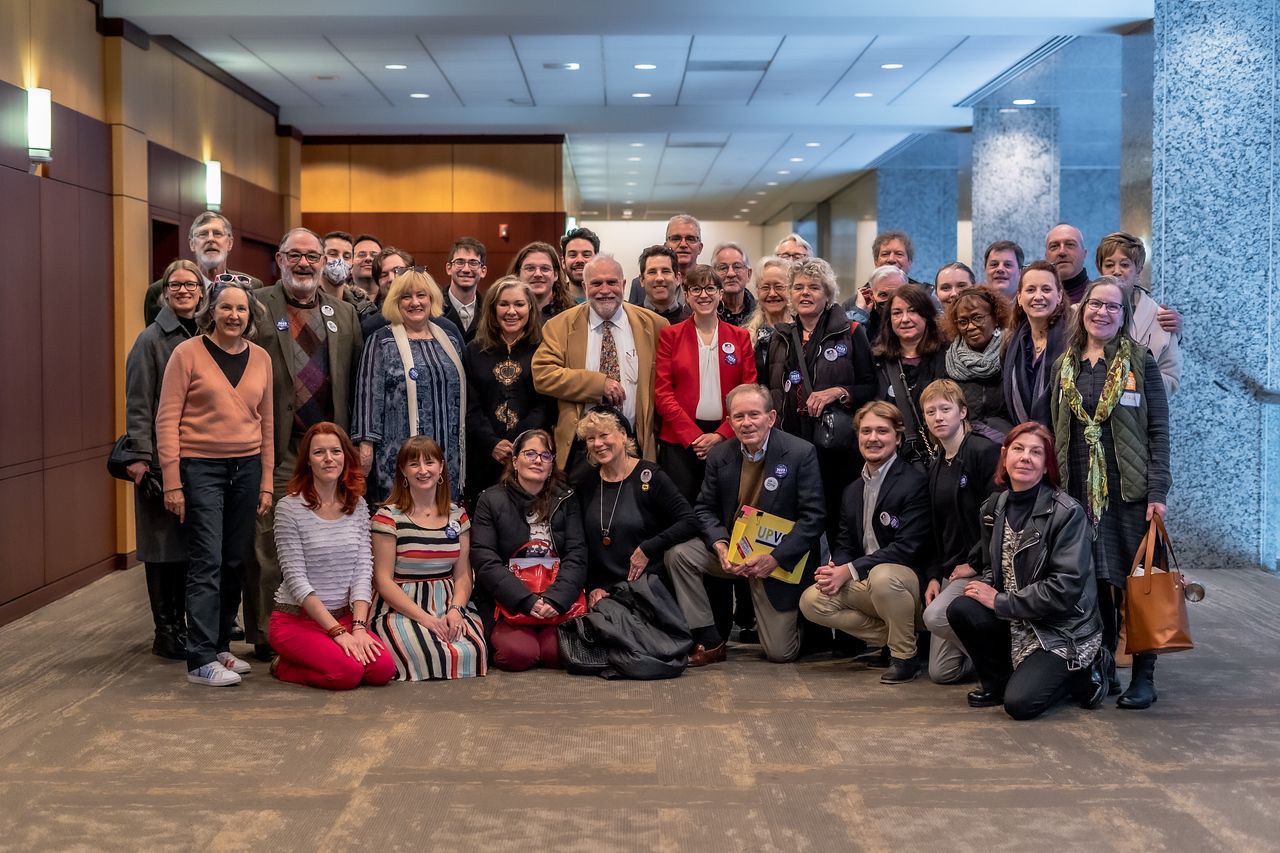 The nonpartisan League of Women Voters of Virginia is part of the coalition planning to turn out for Democracy Day in January and promote its reform measures to the next General Assembly. The organization's president, Joan Porte, told Sludge that members are motivated by a sense of frustration that Virginia is the "Wild West" of campaign finance.
"We support limiting campaign contributions and regulating use of funds for campaign-related expenses," Porte said. "This is a big issue because there are no limits now on how people can use this money. We also support establishing an independent state agency to provide oversight and enforcement of campaign finance-related activity."
The four other states with no limits on campaign contributions are Alabama, Nebraska, Oregon, and Utah, according to NCSL's overview.
Other groups that will participate in the 2024 Democracy Day include American Promise, FairVote, and RepresentUs. Ahead of the 2024 Democracy Day, BigMoneyOutVA is holding discussions on democracy issues and advocacy training on potential reforms in Virginia cities including Staunton and Williamsburg, Morgan says. In Williamsburg, volunteers will hold a "Democracy is Brewing" meeting on Nov. 13 at the regional library.
Looking at one plank of the reform agenda, Morgan says, if a legislative fix can be passed to ban the personal use of campaign funds, public faith in the political system as a whole stands to improve.
"In Virginia right now, I can give someone a million dollars and they can go on a vacation to the Caribbean, and the only way you find out about it is if the press finds out," she said.