Virginia Senate Panel Rejects Contribution Limits, but Other Reforms Will Be Considered
Virginia's notoriously lax ethics and campaign finance laws are the targets of a slew of bipartisan reform bills scheduled for hearings in the weeks ahead.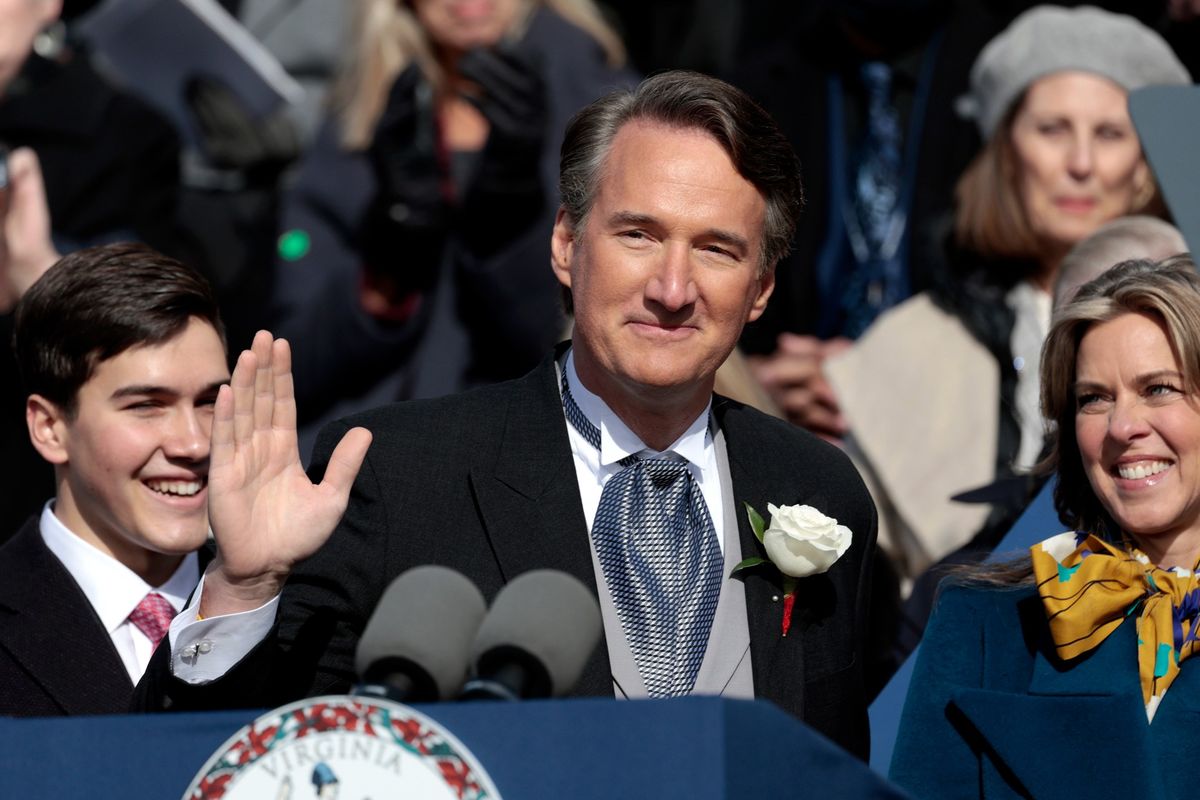 The Virginia governor's race in November shattered the state's spending records, with Republican Glenn Youngkin edging out Democrat Terry McAuliffe after the campaigns spent a combined $141 million, an increase of 84% over the amount spent in the previous cycle.
Virginia is one of just 10 states with no limits on how much money an individual can contribute to a candidate, and one of only five with no limits on corporate contributions. Six- and seven-figure donations flowed to each gubernatorial candidate—for example, Youngkin accepted a $1 million donation from LSMP LLC, a company owned by former chairman of pork producer Smithfield Foods Joseph W. Luter III, and McAuliffe received nearly $900,000 from media magnate Robert L. Johnson, according to contribution data compiled by the nonprofit Virginia Public Access Project (VPAP).
Last week, Virginia Senate lawmakers rejected a bill that would have capped individual donations at $20,000 per election cycle, stopping the measure that had been introduced by Democratic Sen. Chap Petersen with a bipartisan 5-10 vote in the Senate Privileges and Elections Committee. A measure from Democratic Sen. Joe Morrissey that would have capped contributions at $25,000 met the same fate last Tuesday in the committee, by the same vote. At the federal level, individual campaign contributions are capped at $2,900 per election. 
But while the Senate committee shot down contribution limits, a slew of campaign finance reform legislation was introduced in the Virginia Senate and House of Delegates this month, and two of the items passed the Senate this week. Those bills, which would enhance campaign finance disclosure requirements, will now move to the House. 
In addition, state lawmakers will soon hold hearings on legislation that would address disclosure requirements, enhance the government's enforcement capacity of campaign finance laws, restrict donations from public utilities, and limit personal uses of campaign funds. The hearings are scheduled to take place ahead of the Feb. 15 "crossover" date, the last day that each Assembly house can act on its own legislation.
Nancy Morgan, the state coordinator of the Virginia chapter of the grassroots group American Promise, said that the sharp rise in election spending prompted a new willingness among lawmakers to consider rules around campaign finance disclosure and rules enforcement.
"After the most expensive election in Virginia history, with independent spending coming in from outside the state and with attack ads, it raised legislators' awareness that campaign finance reform isn't necessarily a threat, that good laws protect legislators as well as enhancing good government and building the confidence of voters," Morgan said.
Outside spending groups poured millions of dollars into the contest for governor, as national groups like Americans for Prosperity and the anti-Biden Restoration PAC sought to influence the high-profile race. During the Republican primaries earlier last year, "dark money" groups launched attack ads using the loophole of creating federal PACs to avoid filing regular disclosure reports with state authorities, as state PACs are required to do.
In the general election, Youngkin benefited from nearly $4.5 million in independent spending on his behalf, according to figures from VPAP, compared with $580,000 that was spent on behalf of McAuliffe.
Youngkin, a former CEO of the private equity firm Carlyle Group, loaned his campaign $20 million, then raised $2.2 million after winning the election, funds that could legally be used to repay himself or support allied candidates in future races. McAuliffe raised more campaign money than his rival and received more donations from the Democratic Governors Association than Youngkin did from the Republican Governors Association.
The Commonwealth of Virginia's statehouse culture is notoriously lax in its campaign finance ethics, with lawmakers allowed to spend lavishly from campaign funds on personal uses with virtually no disclosure or enforcement, and with the parties coming together to vote down reforms year after year. Morgan's group of advocates, Virginia Money Out of Politics (VMOP), kept the issue in the public eye through outreach events and preparing background materials for the Joint Subcommittee to Study Comprehensive Campaign Finance Reform that was formed by the General Assembly in early 2021.
"We published the Citizens Report on Campaign Finance Reform in anticipation of the subcommittee's work this year to look at the roadmap to comprehensive campaign finance reform," Morgan said. Earlier this month, the group's members testified at a pre-legislative hearing in Fairfax. The nonpartisan VMOP is a volunteer group affiliated with the national group, American Promise, which advocates for an amendment to the U.S. Constitution to allow Congress and states to regulate election spending, and is part of the broader "MoneyOutVA" umbrella of self-funded advocacy groups. Nearly 30 groups in Virginia supported VMOP's letter this month with good government group VaOurWay calling on lawmakers to address campaign finance reform and the corrosive effects that the perception of "pay-to-play" has on the legislative process, including Indivisible Virginia, Sierra Club Virginia Chapter, and the Let America Vote Action Fund.
Virginia Money Out of Politics also crowdfunded a new poll of Virginians on the long-delayed issues of campaign finance reform, conducted by the nonpartisan Watson Center located in Newport News. The poll found that 88% of respondents agreed that groups who raise and spend money in Virginia elections should be required to publicly disclose their contributors, and 86% supported stronger reporting requirements for online credit card donations as a way to prevent foreign money from influencing elections. The poll targeted 826 Virginia households from Nov. 3 – Dec. 2. Overall, 78% of Virginia registered voters said that reducing the amount of money from big campaign donors in elections was very or somewhat important to them.
Last week, two Senate bills that would strengthen disclosure requirements were approved by the Privileges and Elections Committee, and this week each was passed by the Senate. The first, from Democratic Sen. ​​Jeremy McPike, would mandate electronic filing of campaign finance reports with the state Board of Elections, and it passed unanimously. The second, from Senate Democratic caucus whip Barbara Favola, would broaden disclaimer requirements for campaign advertisements to cover more electioneering communications, including those that don't expressly advocate for or against a candidate. The bill would also require ads funded by outside groups and ads supporting or opposing referendums to include a disclaimer with the names of their sponsors' three largest contributors, or individuals representing a contributor. It passed by a Senate vote of 23-15. However, this week its companion measure—House Bill 489 from Democratic Del. Dan Helmer—was "laid on the table," or not advanced, in a hearing of the joint subcommittee.
This type of legal provision allowing voters to follow the money paying for campaign messages back to its original source has proven popular. A CLC poll released in November 2019 found that 83% of voters nationally support publicly disclosing contributions to organizations involved in elections, with a majority of 56% strongly in favor, and that the support extends across partisan and demographic lines. Reports from CLC have previously flagged that many nonprofits or LLCs that spend on elections don't have nearly the same reporting requirements as PACs with state election authorities, leading to huge gaps in public understanding about the funding behind attack ads or inflammatory election mailers.
One bill that advanced to a state House committee hearing next week is a disclosure-related measure introduced by freshman Republican Delegate Tim Anderson, an attorney representing a district in the Virginia Beach area. The bill would require the state Department of Elections to provide a web interface for searching donation info for individual candidates and elections, among other things.
"I was thrilled to have 12 of my colleagues provide bipartisan support for House Bill 86, which was reported unanimously from subcommittee today," Anderson said. "An interactive website for citizens to use will make transparency in political donations clearer to all Virginians."
Strengthening democratic practices in states and localities is a focus of the nonpartisan Campaign Legal Center (CLC), whose director for state campaign finance, Patrick Llewellyn, testified virtually this week to the House of Delegates in favor of greater transparency measures. In September, CLC provided comments to the Virginia legislature's Joint Subcommittee to Study Comprehensive Campaign Finance Reform, identifying as a top priority "original source" disclosure requirements for groups that spend large amounts of money in state elections.
"Virginians have a right to know who is spending big money to influence their votes," Llewellyn told Sludge. "Unfortunately, current Virginia law leaves several gaps through which wealthy special interests can secretly spend money on elections. CLC supports efforts to improve campaign finance disclosure requirements in Virginia to ensure big spending on all types of election-related spending must be disclosed and to provide voters with the critical information about who is funding that spending."
Looking ahead in the legislative process, Morgan mentioned the Commonwealth Caucus, a bipartisan group of 17 Virginia lawmakers that looks for opportunities to pass bipartisan legislation, as key figures whose support could help to advance the campaign finance reform items. Morgan said that for the past couple of years, the group has focused on redistricting issues, but that this year they've mentioned campaign finance reform as a priority.
The other nine states with no contribution limits for individuals, as tracked by the National Conference of State Legislatures, are Alabama, Indiana, Iowa, Nebraska, North Dakota, Oregon, Pennsylvania, Texas, and Utah.
Morgan said her group recognizes it's likely to be years before Virginia legislators bring state campaign finance laws back within the bounds set by the majority of states or federal rules. "By having bills on contribution limits on the docket and having people talk about them, eventually we'll have limits," she said.
---
Read more: