Virginia Senate Blocks Ban on Personal Use of Campaign Funds
While lawmakers killed a bill to rein in their often-lavish personal spending of campaign money, the state approved a study this year of comprehensive reform measures.
In Virginia, politicians can take campaign contributions of unlimited size from corporations and then spend campaign money on themselves in ways that would be illegal in all but two other states.
A 2016 investigation by the Associated Press found that Virginia lawmakers often take advantage of the state's lax laws, spending campaign funds on things like fancy restaurants, club memberships, high-end hotels, car repairs, and cell phone bills. For many lawmakers, this money comes almost entirely from state business interests, with very little from constituents. The spending is hard to trace because the disclosures required of expenditures are broad, with no requirements for itemized receipts.
Last month, it seemed the Virginia legislature was close to passing a law to stop to the pocketing of campaign cash. The House of Delegates passed a bill 100-0 that would bar personal use of campaign funds, bringing the state in line with federal rules. But in the Senate, where the Democrats hold a 21-19 majority, lawmakers from both parties balked, despite attempts at a last-minute rewrite, and sent the bill back to committee, killing it for the year.
The Senate killed the bill with a voice vote, leaving no roll call record of its supporters and opponents. Some of the senators who ducked a vote are candidates for statewide office and during last month's special session were simultaneously raising money for their bids, which often include expensive TV commercials.
"Campaign finance reform in Virginia is like the movie 'Groundhog Day,'" said Nancy Morgan, coordinator of the Virginia chapter of American Promise, a nonpartisan money-in-politics reform group. "Bills are introduced, but they never get out of subcommittee."
Morgan says the Virginia chapter has been active for three years as a volunteer group working to build public awareness of money-in-politics issues and influence legislators around bills to cap contributions, improve ad disclosures, and ban donations from corporations. Morgan points to Virginia's rank, lower than all but five states, in the S.W.A.M.P. Index of ethics and transparency measures from the anti-corruption nonprofit Coalition for Integrity.
"Of the bill to ban personal use, we thought, 'This has to pass,' but then going over to the Senate and seeing its convoluted process, they ended up rewriting the bill. It's disappointing because it was the lowest-hanging fruit and the rationale for sending it back to committee was the so-called 'Pizzagate,'" Morgan told Sludge, referring to some senators' ostensible concerns with the bill over being penalized for eating a slice of campaign-bought pizza. "There are enough best practices around this country on how to restrict personal use of campaign contributions."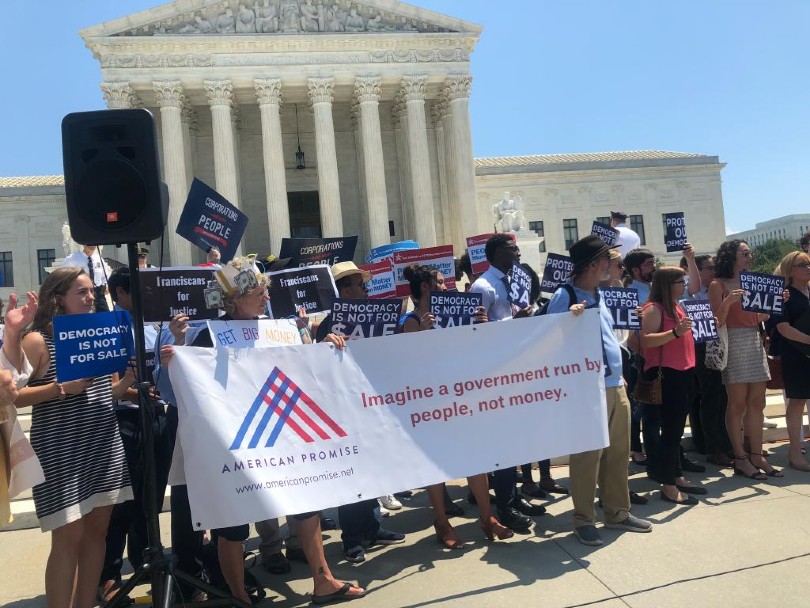 While the ban on personal use was one of many campaign finance reform bills that were abandoned earlier in the legislative session, the General Assembly did take one action on cleaner elections and greater trust in government: the creation of a joint subcommittee to study and issue a report on comprehensive campaign finance reforms.
Morgan said their group and allies will be engaging with the joint subcommittee process in ways that they hope will lead to bills being reintroduced next year with senators' concerns assuaged. Far from dropping out of the legislative deliberations, their chapter and other grassroots groups including Voters' Right to Know, the League of Women Voters of Virginia, and Take Back Our Republic are already seeking to participate in the report before it's finalized in late October and released in November.
"So we can better inform the study group, we started a year ago looking at best practices in terms of campaign finance limitations and disclosures, and enforcement and monitoring structures, to help guide on what the best practices are," Morgan said. She said their chapter has been consulting with nonpartisan government ethics and reform groups Campaign Legal Center and Common Cause. "I think the commission should get feedback from legislators about their perceptions of campaign finance, look at public funding of elections as well as an independent ethics commission, to translate into a win-win for legislators and the public."
For three decades, good government groups in Virginia have been waiting for the state legislature to pass bills that would bring the commonwealth in line with the campaign finance laws of nearly every other U.S. state. It was in 1992 that then-Governor Doug Wilder, a Democrat and former state senator, convened a bipartisan commission that recommended, among other things, that campaign contribution limits to state candidates be put in place. But in the years since, with state government control divided between the two parties or united under the GOP, campaign finance reform has regularly fallen by the wayside. In what is now the second year of unified Democratic control of Virginia government, reformers were pushing for an end to what one American Promise volunteer called in an op-ed the state's "pay-to-play regime."
Virginia is one of five states that allows unlimited campaign contributions from corporations, along with Alabama, Nebraska, and Utah. The fifth, Oregon, is in the process of changing its laws—in November, Oregon voters opened the door to campaign contribution limits by passing a constitutional amendment with 78% support, and state lawmakers are working on legislation to cap donations. Virginia and Oregon are two of the 11 states that have no limits on individual contributions to candidates. Virginia legislators are only compensated with part-time pay— $17,640 for delegates and $18,000 for senators, plus per diems—creating the conditions for the use of campaign funds for personal legal expenses and travel. Unlimited donations from special interests lead comfortable incumbents to routinely amass campaign war chests that dissuade challengers.
In the commonwealth, donations often come from powerful corporations such as Dominion Energy, the largest political donor in Virginia last year at $1.3 million given. In the Senate, minority leader Tommy Norment holds up to $250,000 in Dominion Energy stock, according to the nonprofit advocacy group Clean Virginia, and has received $180,000 in campaign contributions from the power company while blocking utility rate reform with majority leader Dick Saslaw, recipient of $460,000 in Dominion contributions. "If something as simple as avoiding the appearance of corruption in Virginia can't pass, then we must seriously consider whether we have the right people representing us," said Clean Virginia Executive Director Brennan Gilmore about the Senate killing the personal use ban bill.
The joint subcommittee examining the state's campaign finance rules will have 14 members, consisting of 10 legislators and four citizens—two of which will be chosen by the speaker of the House, one by the Senate leader, and one by the governor's office. Morgan says that the commission's plan is to hold four meetings this year, but that they hope more public meetings or working groups will be held and that the work will transform into legislation-ready packages for next year, with input from ethics groups. "We don't want just legislators writing regulations on what they can be compensated for in their campaigns," Morgan said.
Information from the independent nonprofit resource Virginia Public Access Project (VPAP) shows that total spending in state Senate and House elections has steadily risen over the past two decades. The top donors to Senate candidates last year, after Dominion Energy, were the Virginia Beer Wholesalers Association, Clean Virginia Fund, the Auto Dealers Association, Amazon, Verizon, and the broadband and cable industry association, followed by more corporations including Altria and power companies.
Many of the same companies were top donors to the House of Delegates last year, also including healthcare company HCA, the Virginia Bankers Association, and Capital One, according to VPAP.
Democratic Gov. Ralph Northam, who is prohibited from serving consecutive terms, had supported banning corporate political donations and limiting most campaign contributions at $10,000 during his 2017 run for office.
---
Read more coverage of state campaign finance: