Health Insurance and Pharma Lobbyists Max Out to the Dem Party
The Senate braces for a showdown over expanding Medicare to include dental and vision benefits after healthcare industry lobbyists have bundled six-figure donations for Democrats' campaign arms.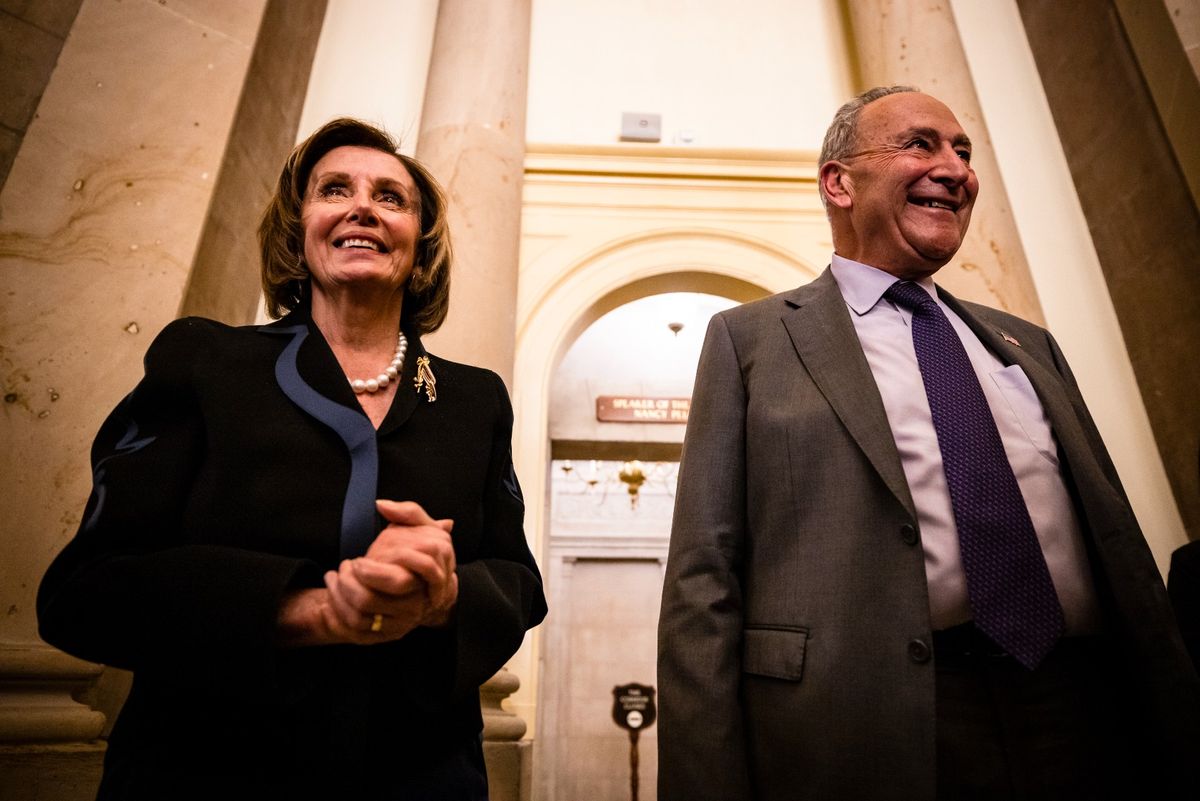 Eight months after President Biden released his domestic agenda, the social spending package included in the Build Back Better Act is now being considered in the Senate, after a version of it passed the House on Nov. 19 by a vote of 220 to 213.
The Senate is likely to change the bill before holding a vote, and some of the key sections still being debated pertain to issues of healthcare access and affordability. Senate Majority Leader Chuck Schumer said recently that Democrats aim to have the bill on Biden's desk by the December holidays.
One question for Senate Democrats on the budget reconciliation bill is whether to expand Medicare benefits to include dental, vision, and hearing coverage. The health insurance industry lobbied behind the scenes this year against expanding Medicare because it could reduce their competitive advantage, and the House-passed version of the bill only included a hearing benefit. Independent Sen. Bernie Sanders laid down a marker in late October that dental and vision must be included, but Sen. Joe Manchin has said he is reluctant to expand the program because he is concerned about its solvency, and Sen. Kyrsten Sinema has sought to bring down the bill's 10-year spending total.
Another issue is how to address drug pricing reform. The House-passed version of the Build Back Better Act (BBB) is less extensive in allowing Medicare to negotiate the prices of commonly-issued prescription drug treatments with pharmaceutical companies than what House Democrats had previously passed. The BBB now in the Senate would allow negotiations on no more than 10 high-cost drugs starting in 2025 for Medicare Part D and 2027 for Part B, rising to no more than 20 treatments in 2028 and later years, selected from the 50 drugs with the highest spending under each part. It would also apply to all insulin products. The drug pricing reforms in H.R. 3, previously passed by the Democratic-controlled House in December 2019, would have required Medicare to negotiate a minimum of 25 drugs in 2024 and 50 drugs in following years, up to 125 drugs and any single-source insulin products not already included.
Since the beginning of the year, as the Democrats have been developing these proposals, health care industry lobbyists have been donating amounts far above the maximum of $2,900 that individuals are allowed to give to campaigns. By donating to the Democrats' campaign arms, lobbyists like those for the industry's major trade association America's Health Insurance Plans (AHIP) are able to donate up to $36,500 per year. Additionally, many lobbyists have been bundling checks for the Democrats, in several cases delivering amounts in the six figures.
Health Insurance Industry Lobbyist Donors
Lisa Kountoupes, a principal of D.C. lobbying firm Kountoupes Denham Carr & Reid, lobbied for AHIP throughout 2021 on health care topics including provisions on Medicare expansion in the CARES Act, and in the third quarter, on "Issues related to Medicare expansion and the Medicaid coverage gap in H.R. 5376, the Build Back Better Act." Kountoupes has bundled $77,000 in checks for the Democratic Senatorial Campaign Committee (DSCC), according to a semi-annual FEC report released on July 30. On March 31, Kountoupes, whose bio describes her as "one of the preeminent insiders on how to make things happen in the halls of Congress," contributed the $36,500 maximum allowable by law to the DSCC, and on April 1 she gave $2,500 to the DCCC. In the third quarter, she contributed $2,000 to Schumer's campaign in two donations of $1,000 apiece.
The firm's partner Lori Denham contributed $5,000 to the DSCC on March 31. This year, Denham has lobbied on behalf of AHIP, pharma giant Abbott Labs, and over-the-counter drug association the Consumer Healthcare Products Association, whose members include large drugmakers like AstraZeneca, Bayer, and Sanofi. Denham also represented the Association for Accessible Medicines, a group advocating for generic and biosimilar medicines whose members include pharmaceutical companies Glenmark and Teva.
Heather Podesta, founder of lobbying firm Invariant, bundled $177,000 for the DSCC this year, according to the group's semi-annual FEC filing, and a total of $113,800 for the Democratic Congressional Campaign Committee (DCCC). Podesta and Invariant lobbied this year on behalf of the Business Roundtable, the association of hundreds of large companies that includes AHIP members Aflac, Centene, Cigna, Humana, Kaiser Permanente, New York Life Insurance Co., and USAA, to name a few. Podesta also lobbied for the American Council of Life Insurers, a trade association of hundreds of companies, including New York Life. Other Invariant lobbyists, including Eric Rosen and Nicole Venable, represented the Business Roundtable this year and donated to the DSCC, giving $5,000 and $3,500 apiece.
Caryn Dyson, lobbyist with Akin, Gump, bundled $102,000 for the DSCC according to the group's semi-annual FEC report. Her lobbying clients this year have included Healthcare Leadership Council, whose members range from health insurance companies like Anthem to pharma giants like Pfizer, as well as treatment maker Varian Medical Systems.
Jonathon Jones, managing partner of the Tiber Creek Group (previously known as Peck Madigan Jones), bundled $100,000 for the DSCC, according to the group's semi-annual FEC report. His lobbying clients this year have included Anthem, Bristol-Myers Squibb, PhRMA, Vertex Pharmaceuticals, and the Business Roundtable.
Melanie J. Nathanson, partner at lobbying firm Nathanson+Hauck, bundled $89,800 for the DSCC. Her lobbying clients this year include ​Coherus BioSciences, medical insurance company ​CareFirst BlueCross BlueShield, ​and the Pharmaceutical Care Management Association (PCMA), among others.
DSCC Donors Lobbying for Healthcare Industry
Mike Smith, a principal and director of Cornerstone Government Affairs, bundled $141,500 for the DSCC this year, according to the group's FEC report. His Cornerstone bio says he is "Recognized by various publications as a 'Top Hired Gun,' a 'Top Corporate Lobbyist,' and a leading Democratic fundraiser." His lobbying clients this year have included Health Care Alliance for Patient Safety, whose partners include the American Optometric Association, Johnson & Johnson Vision, and eyewear company EssilorLuxottica. He also lobbied for the Catholic Health Association, a network of more than 600 hospitals and 1,600 long-term care and health facilities nationwide. Smith, whose dozens of lobbying clients this year included pharmaceutical companies Nervgen and Inovio, gave $1,000 to Manchin's campaign in March.
Emily Austen Katz, director of Prime Policy Group, bundled $45,350 for the DSCC. Her lobbying clients this year have included health care system Allina Health, medical care company Global Medical Response, and communications firm Burson Cohn & Wolfe working on behalf of AstraZeneca Pharmaceuticals, among others.
Sarah Egge, principal with ​​SplitOak Strategies, bundled $26,700 for the DSCC earlier this year. Her recent lobbying clients have included UnitedHealth Group, biotech company Alkermes, and several pharmaceutical companies including Alnylam, Bristol-Myers Squibb, and Johnson & Johnson, according to Senate records.
Ronald Abramson, attorney with lobbying firm Buchanan Ingersoll & Rooney PC, has contributed $36,500 to the DSCC this cycle in three donations and $33,250 to the DCCC in two donations. The firm has lobbied this year for clients including biopharm company AIM ImmunoTech, urgent care center ​​Patient First, Galephar Pharmaceutical, pharmaceutical developer Ohemo Life Sciences, Zynerba Pharmaceuticals, and several other health services.
Brian J. Griffin, partner at lobbying firm The Duberstein Group, contributed $36,500 to the DSCC in March. This year, Griffin has lobbied for PhRMA on drug pricing issues, as well as for Gilead Sciences, Pfizer, the Business Roundtable, and Children's Hospital Association. He donated $5,000 to Manchin's fundraising committee in May.
Brian Pomper, partner at lobbying and law firm Akin, Gump, contributed $35,500 to the DSCC on Feb. 1. His lobbying clients have included the Innovation Alliance, a coalition whose members include pharma giant AbbVie, as well as biotech companies Genentech and Amgen.
Pamela Smith, partner at bipartisan healthcare consulting firm Tarplin Downs & Young, bundled $30,000 for the DSCC. Her lobbying clients this year have included Abbott Labs, AbbVie, drug company AIS Healthcare, Anthem, BIO, PhRMA, Sanofi, Takeda, Vertex, and others.
Former Hill chief of staff Sean Richardson, now with the Tiber Creek Group (rebranded in April from Peck Madigan Jones), contributed $2,000 to the DSCC on March 31, while lobbying for multiple health care industry clients: Anthem, AstraZeneca, Vertex Pharmaceuticals, and informatics solutions company LabWare.
Former Democratic Senator Kent Conrad of North Dakota, a federal lobbyist this year for AHIP member company Molina Healthcare regarding "issues related to Medicaid funding and prescription drug pricing" in the BBB, has contributed $2,000 to the DSCC this year in two donations.
DCCC Donors Lobbying for Healthcare Industry
Vincent Roberti, chair of bipartisan government affairs firm Roberti Global, bundled over $190,000 for the DCCC as reported in a November FEC disclosure. This year, he lobbied for PhRMA, Biotechnology Innovation Organization (BIO), biotech company Amgen, Astellas Pharma, and Pfizer, among others.
Steve Elmendorf bundled $63,000 for the DCCC, according to the group's semi-annual FEC filing released on July 19. His lobbying clients this year have included UnitedHealth Group, healthcare company Kindred Healthcare, online marketplace eHealthInsurance, and Pfizer.
Zachary Pfister, policy director at Brownstein Hyatt Farber Schreck who is touted on their website as the "Go-to advocate for House Democratic engagement," bundled $148,000 for the DCCC, according to FEC records. His lobbying clients this year have included HCA Healthcare company, Tenet Healthcare, and Novartis.
John Michael Gonzalez, partner at Tiber Creek Group, bundled $23,500 for the DCCC. His lobbying clients this year have included Pfizer, Bristol-Myers Squibb, healthcare company Fresenius Medical Care, and an in-house group on behalf of pharmaceutical company Novartis.
Tom O'Donnell, co-founder and managing partner of Gephardt Government Affairs, contributed $15,000 to the DCCC in April. His lobbying clients this year have included UnitedHealth Group, specifically on "Medicare budgeting, reimbursement, and modernization issues," and the National Association of Chain Drug Stores, on issues of drug reimportation.
David Thomas, partner with Mehlman Castagnetti Rosen & Thomas, donated $10,000 to the DCCC in April. This year, Thomas lobbied for AHIP on "Medicare vision, dental, and hearing" and the BBB, as well as representing Procter & Gamble, the Association for Accessible Medicines, and AHIP member Providence St. Joseph Health.
Millions in Insurance Industry Lobbying
Former health insurance company executive-turned-whistleblower Wendell Potter, president of pro-universal healthcare group the Center for Health and Democracy, wrote recently that the dentistry lobby is the main reason Medicare historically hasn't covered dental care, with the American Dental Association (ADA) getting an assist from the powerful AHIP in blocking the proposed care for dental and vision needs in the BBB.
AHIP has spent over $8.6 million on federal lobbying through the third quarter of this year, with the ADA adding over $1.6 million in spending through September, according to OpenSecrets. The industry-funded Better Medicare Alliance, which defends the existing Medicare Advantage system and opposes expansion of benefits, also reported $100,000 in lobbying in the second quarter, according to Senate records, in a disclosure signed by the group's COO, Robin Goracke, previously a U.S. Department of Health and Human Services (HHS) employee focused on Medicare policy and a former Hill staffer.
In addition, executives and employees with AHIP's 150-plus member companies have been contributing to party groups this year. Among the more than 1,200 contributions, Republicans were favored, according to Federal Election Commission data queried from the nonprofit Code for Democracy, with nearly $124,000 going to the National Republican Congressional Committee and almost $50,000 to the National Republican Senatorial Committee. The DSCC brought in nearly $56,000 and the DCCC almost $27,000.
So far this year, the insurance industry has donated more than $312,000 to the campaign of Majority Leader Chuck Schumer, according to figures from OpenSecrets, as well as over $76,000 and $50,000 to the fundraising committees of Sinema and Manchin. Sen. Maggie Hassan of New Hampshire, who is up for reelection next year, has received almost $90,000 from the industry this cycle, the third-highest amount among Democrats.
In the BBB, the Senate will likely debate provisions the House passed on paid leave for workers that are opposed by Sen. Manchin, which would bounce the bill back to the House to approve with another vote. Also up in the air is lifting the cap on state and local tax (SALT) deductions, a measure favored by over two dozen bipartisan House members and led by a conservative House Democratic caucus.
Thank you for reading! If you're glad this inside-the-Beltway information is easily findable online for anyone to read, please help our nonprofit newsroom continue our investigative reporting by subscribing. Reader support keeps us going.
---
Read more from Sludge: