Senators Own up to $25 Million in Big Tech Stocks
Senators invested in tech stocks like Amazon, Apple, and Google may soon be voting on antitrust bills introduced in the Senate that would impact their portfolios.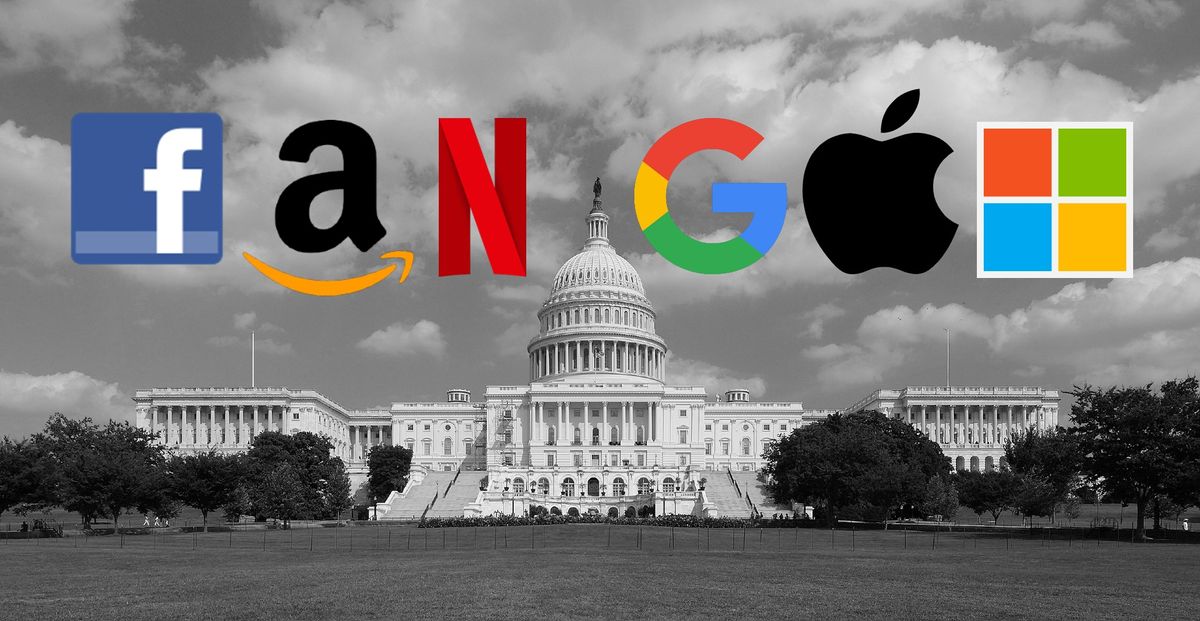 On Friday morning, new unredacted documents were released from a state attorneys general lawsuit claiming that Google and Facebook colluded to divvy up the digital ad market, with Google allegedly giving Facebook special advantages when using its ad platform through a secret agreement nicknamed "Jedi Blue." The unsealed complaint provided a wealth of details on the antitrust suit filed by the Texas attorney general in December 2020 and joined by 14 other states and Puerto Rico. The documents also allege that Google pitched tech giants Apple, Facebook, and Microsoft on joining efforts to stall proposed data privacy protections for children and teens.
As the House and Senate consider sweeping new legislation aimed at reining in the power of Big Tech, senators may soon vote on laws that could enable the regulatory breakup of companies in which they're invested. Currently, 18 senators or their households own stock in the tech companies nicknamed FANGAM—for Facebook, Apple, Netflix, Google (parent company Alphabet), Amazon, and Microsoft—valued at a minimum of $9.9 million and a maximum of $24.6 million, according to a Sludge review of financial disclosures. The assets are reported to the Senate Office of Public Records as being held individually, by a spouse, in a joint trust, or for a dependent child, and their values are only disclosed as broad ranges, making a more precise tally impossible.
Three senators with stock holdings in Big Tech are members of the Judiciary Subcommittee on Privacy, Technology, and the Law: Democrat Jon Ossoff, with up to $5 million in Apple; Democrat Sheldon Whitehouse, with a total of up to $5.5 million held with his spouse in the FANGAM group; and Republican John Kennedy, with up to $15,000 held in Microsoft for a dependent. Eight other senators whose households own shares in Big Tech are members of the Committee on Commerce, Science, and Transportation's Subcommittee on Communications, Media, and Broadband, which has jurisdiction over the Internet.
Senators appear to be most heavily invested in Apple of all the Big Tech companies, with 14 senators holding a combined up to $14 million worth of its stock, followed by Microsoft, with 12 senators owning a combined up to $4 million in their households' portfolios. Ten senators are invested in Amazon stock, with a combined investment of up to $3 million, and eight are invested in Google, with a combined maximum value of $2 million. Five senators own stock in Facebook worth a combined up to $845,000, and the two who own Netflix stock count a combined up to $600,000 held in the video platform. Slightly over half of senators invested in Big Tech are Republicans, at 10 members, but Democrats hold the vast majority of the dollar amount in FANGAM, with a minimum of $7.7 million and a maximum of $20.4 million held—about 80% of the Senate-wide minimum and maximum totals.
The latest allegations come just weeks after Facebook whistleblower Frances Haugen provided internal company documents to the SEC, which according to news reports show that the social network's researchers were aware of radicalizing effects of its algorithm and the serious mental health effects of its apps, but that management blocked steps to address the many harms of their products in order to maximize profits and juice user growth.
Over the past couple of months, senators have introduced bills that would target Big Tech companies' power to squash competitors and rig lucrative digital ad markets. In June, members of the House Judiciary Committee introduced—and narrowly passed out of committee—a package of six antitrust bills addressing the market power of Amazon, Apple, Facebook and Google, including measures to bar the platforms from favoring their own products. With influential tech industry lobbying groups mobilized in a "full court press" against the package, the most contentious of the measures, the Ending Platform Monopolies Act, passed the committee by a vote of 21 to 20, with several committee members ducking the ultimate vote. Last week, the chair and ranking member of the House Judiciary subcommittee that oversees antitrust laws met with Haugen as they continue to work on legislation focused on Big Tech's market share ahead of a potential full House vote.
On Oct. 14, Sens. Amy Klobuchar (D-Minn.), chair of the Senate Judiciary Subcommittee on Competition Policy, Antitrust, and Consumer Rights, and Chuck Grassley (R-Iowa), the ranking Republican on the Senate Judiciary Committee, unveiled the American Innovation and Choice Online Act, a companion to the House's antitrust package that would bar practices that reformers say are anticompetitive. The Senate version has 11 co-sponsors as of this writing.
In August, Democratic Sen. Richard Blumenthal of Connecticut introduced the bipartisan Open App Markets Act, also referred to the Judiciary Committee, which would ban companies like Apple and Google from privileging their own offerings in their app stores while also providing a legal avenue for third-party app stores, among other changes. In the previous Congress, the bipartisan ACCESS Act similarly aimed to foster competition by requiring the largest tech companies to make user data portable and social media services interoperable.
The Ending Platform Monopolies Act, sponsored by Rep. Pramila Jayapal (D-Wash.), would make it illegal for large tech platform operators to sell their own products on their platforms or to require businesses to buy products from them in order to access their platforms, aiming to eliminate conflicts of interest and potentially changing the business operations of Amazon's marketplace, Apple's App Store, and Google's search indexing of its own products like YouTube links. The Platform Competition and Opportunity Act would prohibit large platforms from acquiring rivals, as Facebook did with Instagram and WhatsApp.
This month, a group of 60 organizations including the Electronic Frontier Foundation (EFF) and the National Hispanic Media Coalition launched a campaign webpage, HowToStopFacebook, advocating for stronger federal data privacy laws that will prevent companies from gathering data for algorithmic amplification of inflammatory content and suppression of other kinds of content in order to maximize time that users spend on social media apps.
In an Oct. 14 statement on Sens. Klobuchar and Grassley's non-discrimination bill, Sarah Miller, executive director of the anti-monopoly group American Economic Liberties Project, said, "Given the way judges rule in favor of dominant firms, this bill alone will not be enough to free the small businesses, entrepreneurs, workers, and local communities stuck in Silicon Valley's grip...The Senate must continue to reassert its power over the handful of men whose corporations undermine economic dynamism, eviscerate the free press, and threaten our democracy itself."
Methodology
This analysis, with data current as of Oct. 25, 2021, does not include stocks held by senators in companies that are included as part of the wider industry of internet-focused companies like Salesforce, PayPal, Yelp, or e-commerce site Alibaba. It also does not include stock held by senators in electronics manufacturing companies related to the internet like Dell, Intel, or Oracle. Stock holdings and value ranges were disclosed in 2020 annual financial disclosures, new filer disclosures, and periodic transaction reports published by the Senate Office of Public Records.
Misc. Findings
Sen. Dianne Feinstein (D-Calif.) previously disclosed her spouse, investor Richard Blum, holding a large amount of Avid Technology stock in her disclosure for calendar year 2019, but in her 2020 report disclosed having sold all the Avid shares.
On July 30, Sen. Hickenlooper's spouse purchased between $15,000 and $50,000 worth of shares in social media company Pinterest, while unloading up to $50,000 in stock in the social media company Snap on July 27. The transactions were disclosed on Aug. 8.
Retiring Sen. Pat Toomey (R-Penn.) and his spouse reported receiving up to $15,000 worth of shares in Zomato, a multinational online food delivery technology company, after an exchange of stock when it acquired sports company Fitso in January.
Two senators report holding stock in eBay: Jacky Rosen, in a joint trust with up to $15,000 worth, and John Boozman, with up to the same amount.
Sen. Inhofe's 2020 disclosure report lists his Apple investment as held by an excepted trust and his Microsoft shares held in an excepted investment fund, with Amazon stock categorized as capital gains.
Republican Sens. Roger Marshall of Kansas and retiring Rob Portman of Ohio each reported their households selling off shares of Microsoft stock last year, earning some capital gains.
---
Read more: