Four Waste Coal Provisions Manchin Put in the Infrastructure Bill
A review of legislative text shows that several provisions in a section drafted by Manchin's committee would benefit companies involved in waste coal, which happens to be what the Manchin family coal brokerage specializes in.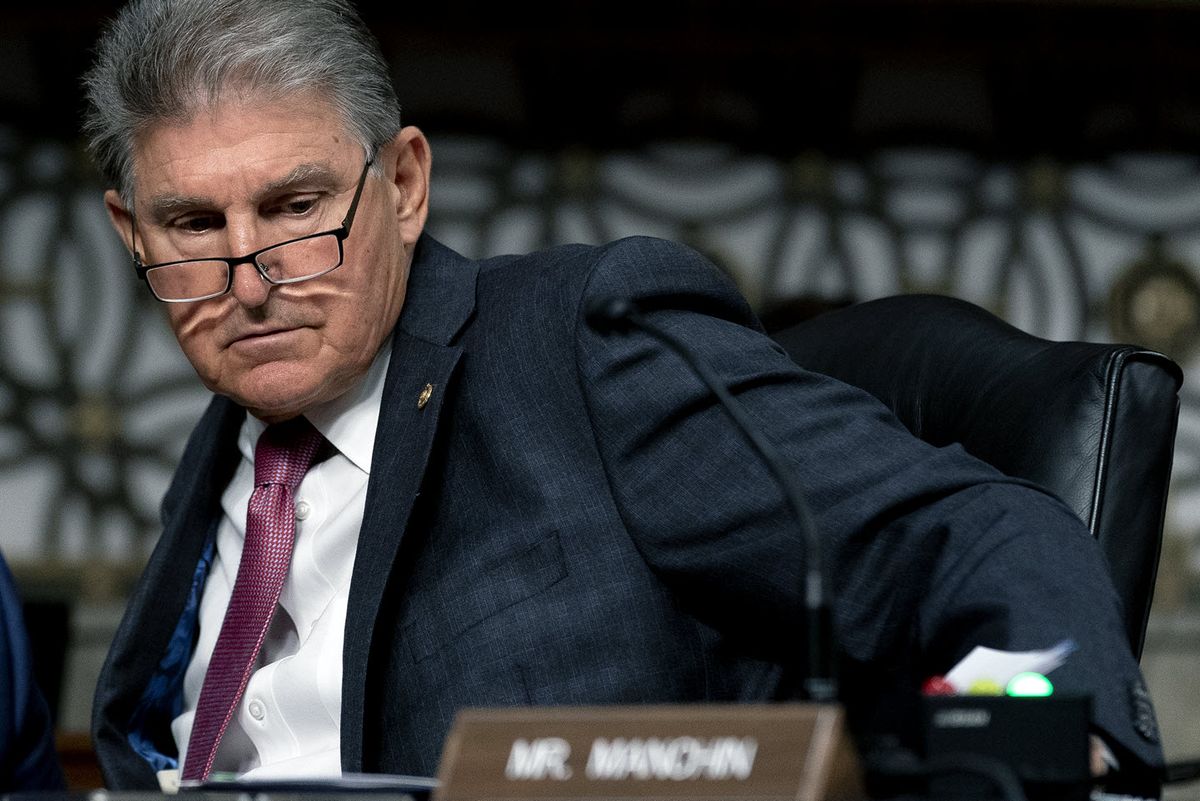 While he's been demanding large cuts to the Democratic reconciliation package, Sen. Joe Manchin (D-W.V.) has consistently urged the House to take up and pass the bipartisan infrastructure bill that the Senate passed in August.
Many of the business lobbying groups that fund Manchin's campaigns back the infrastructure bill, but there may be another incentive driving Manchin's support. A review of the legislative text shows that several provisions in a section drafted by Manchin's committee would direct benefits to companies involved in waste coal, a niche area of the coal industry that happens to be what the Manchin family coal brokerage specializes in.
Enersystems does not release information about its revenue, but the few public documents available show that it has a contract to provide waste coal to the only power plant in West Virginia that burns it for power. It is currently run by Sen. Manchin's son, but Sen. Manchin earns about $500,000 from it annually through dividends on his shares, which he states in his financial disclosures are worth as much as $5 million.
Here's a rundown of the waste coal-related provisions, which were originally part of Manchin's Energy Infrastructure Act that he pushed through as chairman of the Energy and Natural Resources Committee and that became division D of the infrastructure bill. Since Enersystems' operations are largely undisclosed, it's impossible to know how the Manchins' company could benefit from the provisions and the billions in government funding they would make available. Still, the fact that they are specifically tailored for Manchin's company's niche industry is noteworthy.
Rare Earth Demonstration Facility: The bill would fund a $140 million facility to be housed at West Virginia University "to demonstrate the commercial feasibility of a full-scale integrated rare earth element extraction and separation facility and refinery." The language of that section specifies that it must use as feedstock "acid mine drainage, mine waste, or other deleterious material."
Geological Mapping Program: The bill amends the 1992 Geologic Mapping Act to say that the "program shall include an abandoned mine land and mine waste geologic mapping component, the objective of which shall be to establish the geologic framework of abandoned mine land and other land containing mine waste." It further states that the priorities of the mapping should be abandoned mine sites and other areas containing mining waste that may contain multiple critical minerals.
Critical Minerals Mining and Recycling Research: The bill establishes a $100 million program providing grants "to support basic research that will accelerate innovation to advance critical minerals mining, recycling, and reclamation strategies and technologies." The bill text specifies that at least 30 percent of the grants must go to projects related to secondary recovery of critical minerals, which it defines as including mine waste pile materials.
Abandoned Mine Reclamation: The bill provides $11.3 billion in grants for the Abandoned Mine Land Reclamation program, as Sludge has previously covered. These projects typically entail the removal of piles of waste coal, which is generally sold to special power plants equipped to burn the material through contracts like the one Enersystems has, from which Manchin has taken at least $5.2 million in income since joining the Senate.
---
Read more: