Criticizing Joe Manchin's Coal Conflicts is 'Outrageous,' Says Heitkamp
The former senator now works with multiple front groups, including one run by a fossil fuel lobbying firm.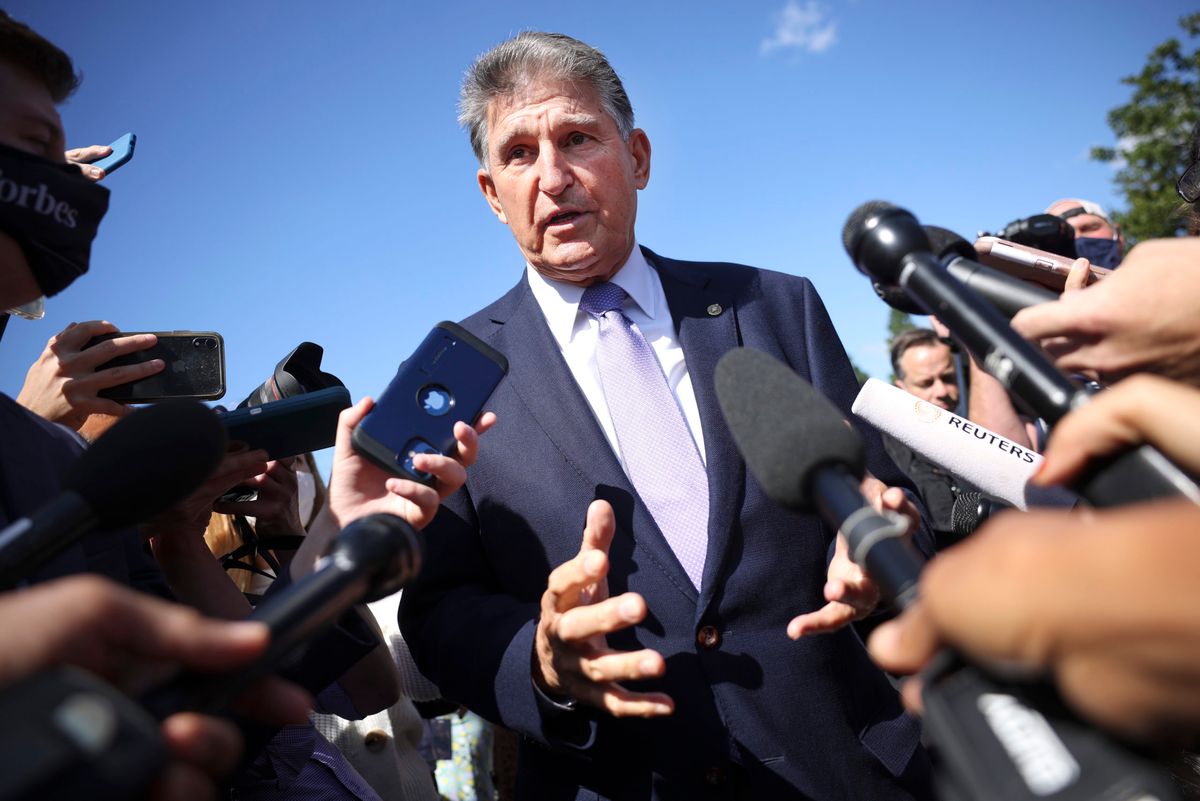 Former Democratic U.S. Senator Heidi Heitkamp, who now works for multiple corporate front groups, defended Energy and Natural Resources Committee Chair Sen. Joe Manchin (D-W.V.) on CNN against people who say his multi-million dollar stake in a family coal company is a conflict of interest as he works to kill climate legislation.
"I think the criticisms aren't coming from a good faith basis or background," Heitkamp said on Friday during an appearance on CNN's Amanpour & Company. "It's easy to say, oh look, it's because [Manchin's] got dividends in an oil company, that's why he's unreasonable and that's going to somehow mark him as someone who's not trustworthy, I find it absolutely outrageous.
"I think this is nothing more than smear tactics on Joe to try and malign his motivations as opposed to try and respond to his concerns," Heitkamp said.
As Sludge has reported multiple times since 2019, Joe Manchin owns a stake worth as much as $5 million in waste coal brokerage Enersystems, a West Virginia-based company that is now run by his son. The company has paid Sen. Manchin more than $4.5 million in dividends since he became a member of the U.S. Senate, including $492,000 in 2020, according to his most recent annual financial disclosure. Joe Manchin's wife Gayle disclosed receiving $613,000 in income from the company from 2019 until her nomination to join the Appalachian Regional Commission.
Following our reports, several other outlets have written about Manchin's coal income, including the New York Times in a front-page article. The conflict of interest has become a frequent line of criticism on social media against Manchin, who has been a prominent figure in congressional news as he holds one of the key deciding votes for President Biden's social policy agenda.
As chairman of the Senate Energy and Natural Resources Committee, Manchin has more power over federal energy policies than nearly any other member of Congress. As Democratic leaders negotiate the final details of the reconciliation package, Manchin is pushing for his committee to be given sole jurisdiction in the Senate over the Clean Electricity Performance Program, a major climate initiative of President Biden's that would charge power companies that don't hit clean energy targets and pay companies that do. Manchin wants to weaken the definition of clean energy, which was defined by the House as having a carbon intensity that is not more than 0.10 metric tons of carbon dioxide equivalent per megawatt hour, so that the burning of more fossil fuels could qualify.
"I'm all for all of the above," Manchin told The Hill regarding his desire to expand the definition of clean energy.
During her years in the Senate, Heidi Heitkamp received more than $638,000 from the oil and gas industry and often sided with the industry on key energy and environmental matters. The League of Conservation Voters gives Heitkamp a lifetime score of 52%, which is lower than any other current Democratic member of the Senate besides Manchin, who currently has a lifetime score from the group of 49%. Heitkamp's votes included blocking Congress from enacting a carbon tax, approving the Keystone XL pipeline, expediting the approval of permits for drilling on public lands, and confirming former ExxonMobil CEO as secretary of state.
Heitkamp now co-runs a nonprofit called One Country Project that appears to be managed by lobbying firm Forbes Tate, whose fossil fuel industry clients include the Interstate Natural Gas Association of America, Entergy, and Pacific Gas & Electric, and Williams Companies. She is also an advisor for the Facebook-tied American Edge Project and chair of Save America's Family Enterprises, which opposes levying capital gains taxes on heirs based on the cost of assets when they were originally acquired.
---
Read more from Sludge: