Buttigieg Backed by Pharma Lobbyist Who Sought Drug Price Hikes in Poor Countries
In touting the endorsement of Josh Black, the Buttigieg campaign declined to mention that Black now works for the pharmaceutical industry's top lobbying group.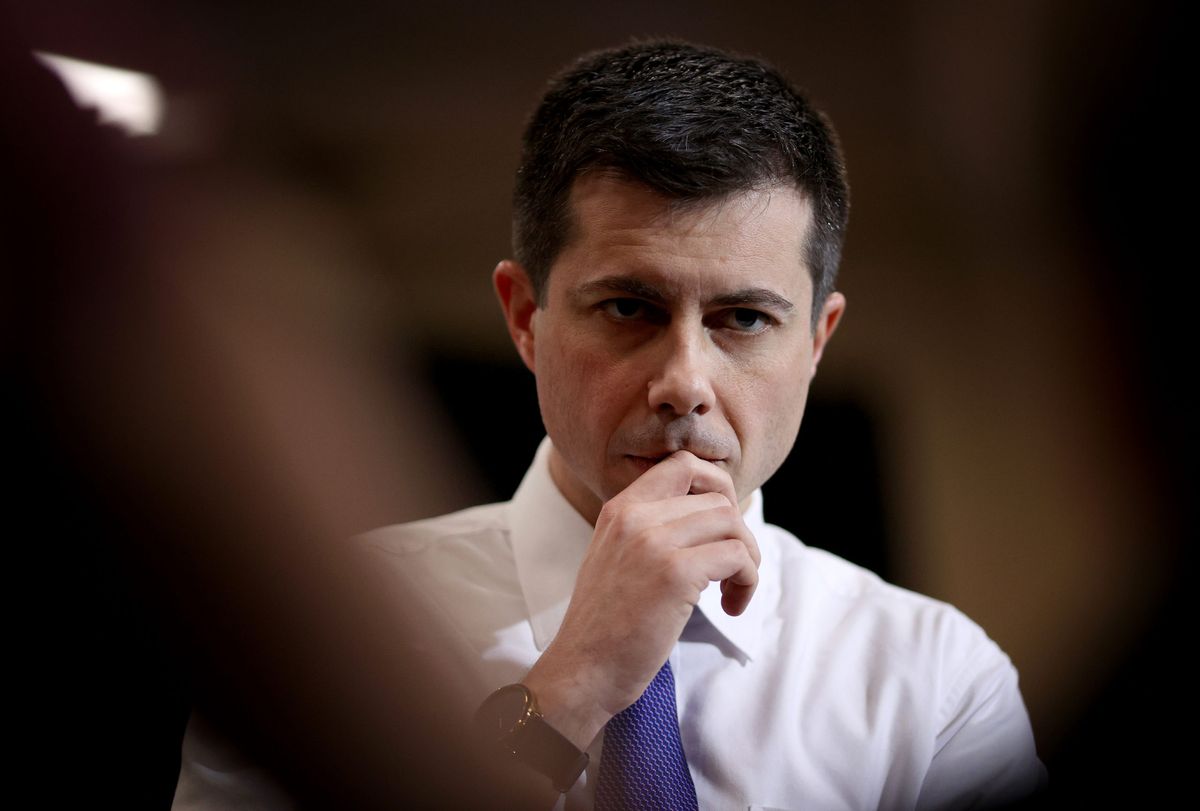 Buried in a list of foreign policy endorsements released by the Buttigieg campaign in late December was a name that may prove problematic for the embattled former Mayor: Josh Black. No doubt, Black has foreign policy credentials⁠—he served as U.S. chief of sanctions and counterterrorism at the United Nations from 2008-16, then as director of multilateral affairs for the National Security Council, the position ascribed to him on the endorsement list. What the Buttigieg campaign neglected to mention was Black's current position as associate vice president for international advocacy at Pharmaceutical Research and Manufacturers of America (PhRMA), the chief lobbying arm of America's pharmaceutical industry. While Buttigieg has already faced criticism for his dependence on corporate power brokers, the uniquely controversial nature of Black's endorsement adds to a growing list of concerns many voters and activists have about Mayor Pete.
In his capacity as associate VP of international outreach, Black acts as PhRMA's liaison to the U.N., where he formerly served as a top sanctions official. In President Trump, the pharmaceutical industry has found an enthusiastic partner, and drugmakers quickly sought to capitalize on the Trump administration's corporate-friendly governance.
In August 2018, Black joined forces with the administration to pursue one of Big Pharma's more odious goals—clawing more money out of poor countries for life-saving drugs. The pharmaceutical industry has long advocated for strengthening intellectual property rights. At first glance, this seems innocuous enough; as PhRMA puts it, the industry seeks "adequate incentives for creators" and measures "strengthening an innovation economy." In reality, the industry's objective is to prevent competition from driving down prices. This is where international law becomes problematic, from the drugmakers' perspective.
Under the 2001 Trade-Related Aspects of Intellectual Property Rights (TRIPS) agreement, countries can bypass pharmaceutical companies' intellectual property rights and manufacture essential drugs in order to reduce prices. This is known as "compulsory licensing." The logic behind compulsory licensing is that people should not go without life-saving drugs simply because their country is poor. The pharmaceutical industry disagrees.
In September 2018, world leaders convened for the first-ever United Nations General Assembly Meeting on Ending Tuberculosis. Despite being virtually eradicated in wealthy countries, the CDC estimates that TB kills 1.7 million people annually, with these deaths overwhelmingly concentrated in the Global South. This gives little economic incentive for pharmaceutical companies to develop new treatments, since the market for them would be limited to poor countries. After 40 years without any new TB treatments, Johnson & Johnson introduced bedaquiline in 2013. Despite this breakthrough––and Johnson & Johnson's $82.1 billion revenue in 2019––the drug remains cost-prohibitive for over 80% of TB patients. Since the drug was approved for use, only 37,000 people have actually received it.
In the run up to the U.N.'s TB meeting, bedaquiline became the flashpoint for PhRMA's larger effort to undermine compulsory licensing. Black, as PhRMA's top representative at the U.N., was instrumental in the lobbying organization's behind-the-scenes fight to influence the resolution to be adopted after the meeting. PhRMA insisted that any mention of TRIPS also include language recognizing the importance of IP rights, and the need to adequately incentivize innovation. Private communication obtained by The Intercept showed that the administration's arguments against early drafts of the resolution mirrored those made by Black on PhRMA's behalf.
Before the U.N. meeting, PhRMA published a "fact sheet" which offered dubious industry talking points in response to "myths" about efforts to combat TB. Some notable "myths" included were claims that "the biggest obstacle to fighting TB worldwide is the cost of medicines," or that "weakening IP protections will help fight TB." As if working hand in glove, the Trump administration placed "extreme pressure" on other countries to adopt language that reflected PhRMA's demands for the final resolution, according to Doctors Without Borders.
Journalist David Dayen, writing prior to the U.N. meeting, predicted that a "resolution [which] doesn't reaffirm compulsory licensing" would send a "message that countries opting for this legal procedure would face blowback." The final declaration makes no mention of compulsory licensing at all. Language that the Trump administration demanded was included, stipulating that the implementation of IP rights must include "appropriate incentives in the development of new health products."
Language that PhRMA opposed was either altered or removed all together. While a first draft recognized countries' power to "enforce" IP rights, the final draft softened their agency, opting instead for the ability to "interpret" or "implement" them. The final draft references the need for greater investment in "innovation" 13 times. In essence, the resolution argues that countries—rich and poor alike—should be giving pharmaceutical companies more money for TB research and treatments, not less. PhRMA, with Black as their chief U.N. liaison, won the day. PhRMA and the Trump Administration have since continued their campaign to undermine compulsory licensing in the Global South.
It's no secret that the pharmaceutical industry is among the most powerful forces in Washington. Big Pharma spends more on lobbying than any other industry, and that spending has increased dramatically under the Trump administration. From January through September of 2019, drugmakers spent $129 million lobbying Congress, with PhRMA alone spending $22.8 million.
One of the main factors driving drugmakers' unprecedented lobbying expenditures is a rising popular outrage at the industry's perceived greed. The pharmaceutical industry recently became the most unpopular industry in America. A bipartisan 2019 poll found that 84% of Americans believe drug prices are unreasonable, and 75% blame pharmaceutical companies for high costs. According to the authors, the poll shows "broad demand across the political spectrum for aggressive policy interventions" aimed at reducing drug prices.
Buttigieg, who has been notoriously willing to accept money from sources other candidates have sworn off, pledged not to take contributions from federal lobbyists. However, as noted by the Washington Post, Buttigeig has been brazen in violating that pledge. From January through September, Mayor Pete accepted campaign contributions totaling $1,146 from Black, who is not a registered lobbyist but is a vice president at the pharmaceutical industry's main lobbying arm. This fits a pattern of Buttigieg violating the spirit, if not the letter, of the few fundraising pledges that he has made to voters.
Presumably, Buttigieg understands the image problem that comes along with accepting money from, and the endorsement of, a Big Pharma lobby executive. Notably absent from Black's description on Buttigieg's "foreign policy" endorsement list was any mention of Black's role at PhRMA. Amid a crisis of high drug costs, which has forced untold numbers of Americans to go without medicines they need, Mayor Pete has good reason to bury that detail. Politicians make fundraising pledges because they are keenly aware of voters' reluctance to support a candidate who they believe is beholden to special interests.
Those special interests have taken notice, too. Buttigieg has received contributions from executives at some of the world's largest pharmaceutical companies, including Merck, Eli Lilly, Pfizer, Bayer, and Bristol-Myers Squibb, to name a few. Rajesh Parekh, head of McKinsey's pharmaceutical and medical products practice, also donated $2,000 to Pete. In October, Thaddeus Burns, the head of government and public affairs at Merck, held a high-dollar fundraiser for Buttigieg in Geneva. Readers may be surprised to learn that Buttigieg publicly proclaimed that he "[favors] Medicare for All" in early 2018, given that his position has lurched to the right over the course of his presidential campaign. Despite his early support, candidate Buttigeig has rapidly blossomed into one of Medicare for All's most vociferous and disingenuous critics. This mirrors PhRMA's own opposition to single-payer healthcare.
Buttigieg's campaign did not immediately respond to a request for comment about Black's endorsement and contributions.
---
Related: