Top 10 Sludge Stories of 2019
We're entering an election year in which special interests will almost certainly pour more money into politics than ever before. We depend on our readers to be able to produce our original investigative reporting.
From ICE contractors in your neighborhood to Sen. Mitch McConnell's campaign contributors in the swamp, here are the Top 10 most-viewed Sludge stories of 2019.
The 2020 election year is sure to be chock full of campaign-finance muck to investigate. Sludge is a 100% reader-supported independent newsroom—our only new funding this past year has come from small-donor readers.
(You can also help us spread the word about our focus on following the money by sharing our Twitter thread.)
10. Where the 2020 Candidates Stand on Campaign Finance (Apr. 1)
A rundown of where the Democratic presidential candidates stand on campaign finance reform.
9. Presidential Candidate Who Attacked Medicare for All is Invested in Health Care Companies (June 4)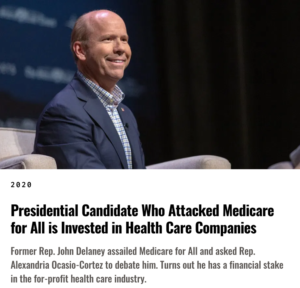 A look the $3.2 million John Delaney had invested in the health industry as he attacked Medicare for All from the Democratic presidential debate stage.
8. These Corporations and Public Charities Funded the State Abortion Bans (June 13)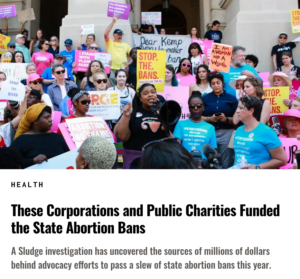 An extensively-researched story uncovering the sources of millions of dollars behind advocacy efforts to pass a slew of state abortion bans this year.
7. America's Biggest Christian Charity Funnels Tens of Millions to Hate Groups (Mar. 19)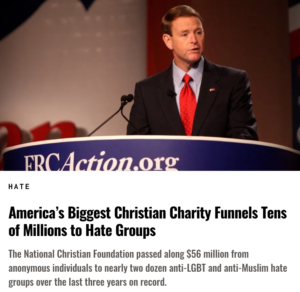 A report finding that the National Christian Foundation, the largest Christian charity in the U.S., gave $56 million to anti-LGBT and anti-Muslim hate groups from 2015 to 2017.
6. As He Attacks Medicare for All, Mayor Pete Gets Campaign Cash From Health Care Executives (Oct. 18)
A look at the contributions Pete Buttigieg took from 100+ senior health sector employees in Q3 as he ramped up his attacks on Medicare for All.
5. Who Is Making Money From CBP in Your State? (June 27)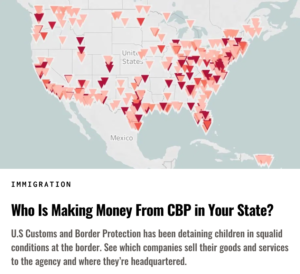 An analysis with an interactive map that lets you see which companies sell their goods and services to Customs and Border Protection and where they're headquartered.
4. After Record Fundraising Haul From Big Pharma, McConnell Vows to Block Drug Pricing Bill (Oct. 18)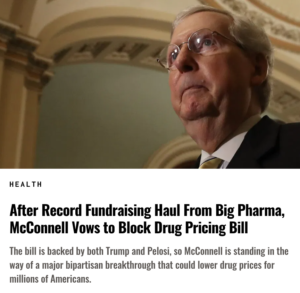 A report on how Sen. Mitch McConnell came out against a bill to let the government negotiate prices with drug companies after a fundraising quarter in which he got $195,300 from executives and PACs of pharmaceutical companies.
3. America's Biggest Charities Are Funneling Millions to Hate Groups From Anonymous Donors (Feb. 19)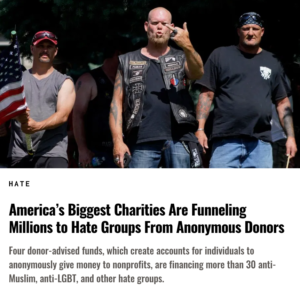 The first report in a series by Senior Reporter Alex Kotch. Four donor-advised funds, which create accounts for individuals to anonymously give money to nonprofits, are financing more than 30 anti-Muslim, anti-LGBT, and other hate groups.
2. ICE Contracts Are Booming. See Which Vendors Are in Your State. (July 30)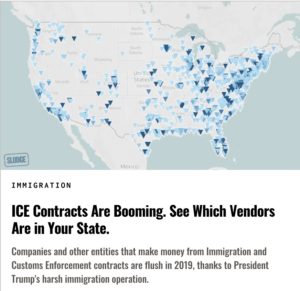 A report by Alex Kotch continuing his groundbreaking analysis of ICE contractors, including an up-to-date interactive map. This widely-circulated report was shared by Sleeping Giants and used for follow-up stories by local newsrooms.
… and rounding out our year in muckraking, a summer scoop:
1. As He Blocks Election Security Bills, McConnell Takes Checks from Voting Machine Lobbyists (June 10)
A campaign-finance find that Sen. Mitch McConnell has been getting money from voting machine lobbyists while blocking election security legislation.
If you're in a position to make a tax-deductible contribution to support our independent newsroom, you can do so online in under a minute by giving to our affiliated 501(c)3 non-profit organization, the Participatory Politics Foundation. All donations will support Sludge's investigative journalism.
Questions and feedback welcome, email me: david at readsludge [[dot]] com, or DM me for my Signal number.