Who Is Making Money From CBP in Your State?
U.S Customs and Border Protection has been detaining children in squalid conditions at the border. See which companies sell their goods and services to the agency and where they're headquartered.
The acting head of U.S. Customs and Border Protection (CBP) resigned Tuesday after harrowing reports of squalid conditions at the agency's overcrowded detention facilities near the border with Mexico. Hundreds of children have been denied showers, oral hygiene, even mattresses. Reports described one massively strained facility in Clint, Texas, where girls aged 10 to 15 were caring for a two-year-old boy who needed to be held and didn't have a diaper. At that facility, there were reportedly 300 children in a single room.

From 2010 to June 24, 2019, CBP paid $6.4 billion to 1,123 outside vendors for an array of goods and services including vehicles, food, furniture, housekeeping, video recording equipment, and leasing, according to Sludge's review of data from the Federal Procurement Data System. These payments have swiftly increased under the Trump administration. The biggest recipients are defense contractors such as Lockheed Martin and PAE Aviation and Technical Services. Other top vendors include information technology company Leidos, G4S Secure Solutions, advertising firm Ogilvy, which is owned by a British parent company, and consulting firms Deloitte and McKinsey & Company.
Several universities including Columbia University, University of Southern California, and Utah State University also received payments from CPB.
Major consumer companies have been profiting from CBP. The agency has bought software from Microsoft and photocopying equipment from Konica Minolta. It has used the services of AT&T and Comcast. Microsoft subsidiary LinkedIn got $20,700 from CBP in 2018 for information technology software.
Visit the interactive map to view CBP vendors in your state. Hover over the marks and vendors' names will appear after a momentary delay.
Unlike with the Dept. of Health and Human Services' "unaccompanied alien children" program, it's difficult to discern which CBP purchases go towards detaining children. Sludge's data covers purchases for all CBP activities. A public spreadsheet with the full data, including descriptions of the goods or services provided, is here.

According to reports, kids held at the Clint detention center are hungry and sick. Some are forced to sleep on cold floors without mattresses. A lice outbreak occurred, and guards gave six kids who had lice just two combs, to share. Most children there were reportedly separated from their families at the border.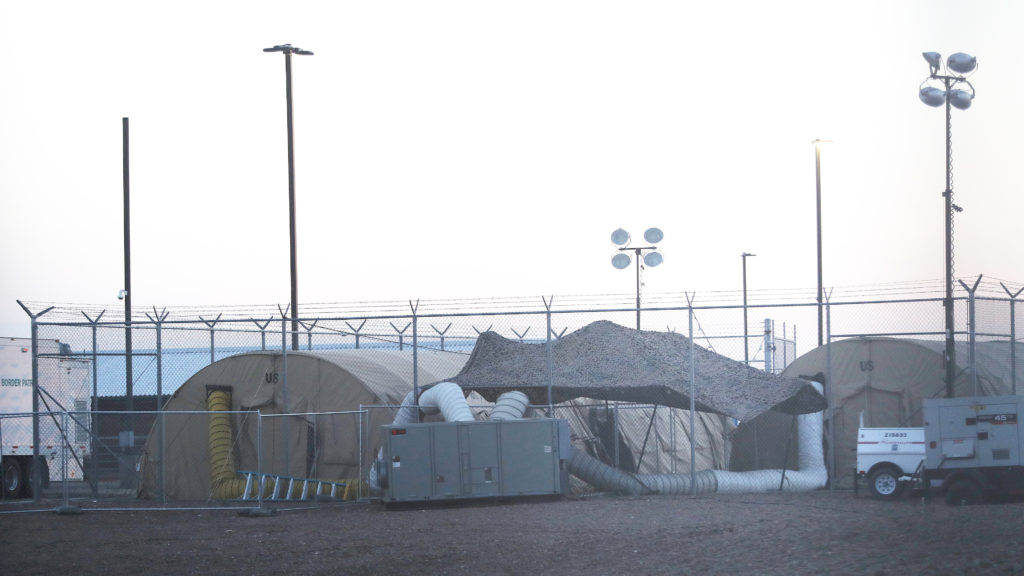 A Department of Homeland Security report based on five border facilities shows that conditions there were dangerous and unsanitary. Detainees were denied access to showers and fed only bologna sandwiches, leading to health problems. Severe overcrowding left some adults in standing room-only cells for a full week.

During President Barack Obama's second term, CBP purchases increased, and under Trump, they've skyrocketed. In 2017, Trump's first year as president, CBP paid $912 million to outside vendors, but in 2018, that number jumped up to over $2.2 billion. So far in 2019, CBP has spent over $1 billion on vendor goods and services.

Customs and Border Protection, a division of the Department of Homeland Security, does a number of things in managing America's borders, including overseeing entry and exit, international trade, inspecting agricultural products, policing drug trafficking, enforcing immigrations laws, and processing asylum seekers at designated ports of entry.

Here are all of the vendors, ranked in descending order of total CBP payments since 2010.
Some vendors are owned by parent companies. Below are these parent companies, ranked in descending order of total CBP payments since 2010.
Wayfair Walkout
Because of President Donald Trump's harsh immigration policies that have helped create a humanitarian crisis at the border, detention centers run by CBP, Immigrations and Customs Enforcement (ICE), and the Department of Health and Human Services have been bursting at the seams. Since Trump took office, 24 immigrants, including at least seven children, have died in ICE custody, often because of poor or nonexistent medical care.

On Wednesday, workers of online retailer Wayfair staged a walkout protesting the company's sale of $200,000 worth of bedroom furniture to BCFS Health and Human Services, a large, Baptist nonprofit contractor that detains "unaccompanied alien children," or kids under 18 who allegedly crossed the border alone. The nonprofit is set to open a new "captured children" center in Carrizo Springs, Texas, which will house over 1,000 kids and 2,000 adults. The items purchased from Wayfair will be used at the new facility.

These types of immigrant children shelters, funded by the Department of Health and Human Services' Office of Refugee Resettlement, are distinct from CBP's holding cells, which fall under the auspices of the Department of Homeland Security. ICE, also part of Homeland Security, contracts with private prison companies and local governments to imprison undocumented adult immigrants.

[Related: Read Sludge's report on the companies that contract with ICE.]

The Carrizo Springs center will be one of many "unaccompanied alien children" shelters overseen by the Department of Health and Human Services, to which CBP and ICE hand over undocumented minors after processing in detention centers like the one in Clint. BCFS is one of the government's biggest immigrant children shelter contractors, having taken in over $1.5 billion from the Department of Health and Human Services since 2009, including a record $502 million in 2018. Kevin Dinnin, president of the nonprofit Baptist Child and Family Services, which operates BCFS Health and Human Services, took home $503,000 in total compensation in 2017.

Children at BCFS shelters have accused staff of sexual abuse, and the nonprofit recently operated a heavily criticized tent city in Tornillo, Texas.

Wayfair executives announced on Wednesday that they would donate $100,000 to the American Red Cross despite the workers' having asked Wayfair to donate the money to RAICES, a nonprofit that "promotes justice by providing free and low-cost legal services to underserved immigrant children, families, and refugees." The Wayfair workers said the Red Cross donation was a good thing, but it wasn't what they wanted.

---
Related: