GEO Group Donated to the Trump-Tied Turning Point USA, Then Got Rave Review
TPUSA's communications director visited a GEO Group detention facility and called it nicer than public schools she'd attended.
Right-wing student organization Turning Point USA (TPUSA) accepted $50,000 from the foundation of the nation's largest private prison company in 2017, a Sludge investigation of tax documents has found. The GEO Group Foundation gave two donations of $25,000 on March 24 and October 23, each listed as "part of [its] annual contribution."

GEO Group rakes in hundreds of millions of dollars each year in Immigration and Customs Enforcement (ICE) contracts, which have increased sharply under President Donald Trump's harsh immigration policies. TPUSA, which openly supports Trump and regularly has Trump administration officials and family members, such as Mike Pence and Donald Trump Jr., speak at its events, frequently sides with ICE, the division of the Department of Homeland Security that detains undocumented immigrants and contracts with private prison giants including GEO Group and CoreCivic. TPUSA Pres. Charlie Kirk often tweets in favor of ICE.

TPUSA is a 501(c)(3) nonprofit founded by Charlie Kirk in 2012 to "identify, educate, train, and organize students to promote the principles of freedom, free markets, and limited government." The group bills itself as a "grassroots activist network," yet it receives funding from Republican politicians and GOP megadonors, including Rep. Greg Gianforte (R-Mont.), Home Depot co-founder Bernie Marcus, former Illinois Gov. Bruce Rauner, and shipping supplies magnate Richard Uihlein.

Following the GEO Group Foundation donations, multiple TPUSA leaders created social media content praising ICE and GEO Group.

On Sept. 7, 2018, TPUSA's communications director at the time, Candace Owens, claimed to have toured an ICE transitional facility in Broward County, Florida, that is owned and operated by GEO Group. After she left the building, she raved about the conditions of the facility, saying in a video posted on Twitter, "This place is nicer than where I went to the public school system."

"This place is like an elementary school," she said, angry that "the leftists" had portrayed ICE detention center conditions as poor. "There are colors on the wall everywhere…Where they dine, they're sitting down laughing, eating food." Owens claimed detainees could take Zumba classes, do arts and crafts, and play soccer and volleyball. "These people are treated great! They're treated fantastically!"
Owens' video received more than 39,000 retweets and had 824,000 views.

At the time of Owens' video, news reports showed that detained immigrants had filed hundreds of claims of sexual abuse by ICE employees over several years.

It's likely, given how the GEO Group Foundation described its 2017 contributions, that the foundation gave another $50,000 to TPUSA in 2018.

Two days after Owens' visit to the Broward Transitional Center, TPUSA Pres. Kirk tweeted, "ICE agents are NOT thugs, they're American heroes." Two months later, Kirk posted a two-minute produced video praising ICE.
Despite Owens' rosy picture of the Broward Transitional Center, a 2013 report on the center by nonprofit law firm Americans for Immigrant Justice detailed "detainee-on-detainee rape" with no investigation or charges and "shameful medical practices." A year earlier, members of Congress demanded that ICE investigate the facility regarding medical misconduct.

A Florida Atlantic University alumna wrote in a Medium post that Cielo Fortin-Camacho, an attorney for Kids in Need of Defense (KIND), called Owens' video "beyond ignorant."

"I work in those detention facilities, and I represent the unaccompanied minors who live there or have lived there," Fortin-Camacho allegedly wrote on Facebook. "To say the facilities are in any way similar, let alone better, than a public school is bullshit."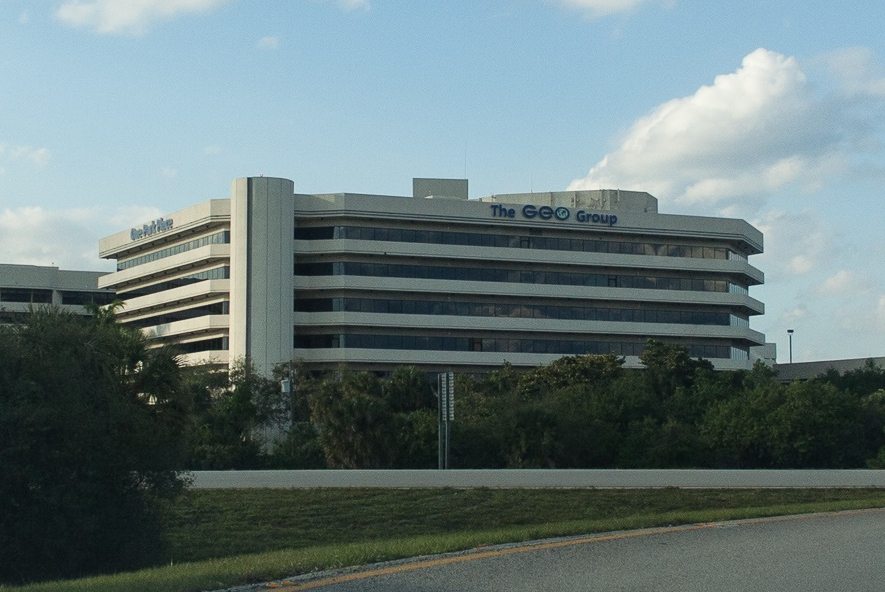 According to USASpending.gov, the GEO Group has received over $143 million in ICE contracts for its Broward Transitional Center since 2009, with an annual record of nearly $35 million in obligations in 2018. So far this year, GEO Group has gotten $27.1 million worth of ICE contracts for the facility. Work from the center's most recent contract, worth close to $11 million, began on June 13, 2019.

GEO Group has received more than $1.8 billion in ICE contracts since 2008, making it ICE's biggest contractor, according to a 2018 Sludge analysis. The company has received an even larger sum from its Department of Justice contracts.

Since the start of Trump's presidency, 24 immigrants, including at least seven children, have died in ICE custody. Some died from inadequate or nonexistent medical care, drug withdrawal, or suicide. ICE's medical services provider "is severely dysfunctional," wrote an ICE supervisor in an internal December memo obtained by The Young Turks. "Unfortunately preventable harm and death to detainees has occurred."

Owens didn't inform her viewers that the facility she visited was a transitional center, a 700-person facility "for short-term non-criminal and low-security detainees." GEO Group says that it is a "unique community resource" that "represents one of the few 'purpose-built' community correctional centers of this size in the United States." Thus, conditions there are likely quite different than in typical privately run immigrant detention centers.

Owens did not respond to emails seeking comment on her visit to the ICE facility. TPUSA and the GEO Group did not respond to questions about the GEO Group Foundation's donation.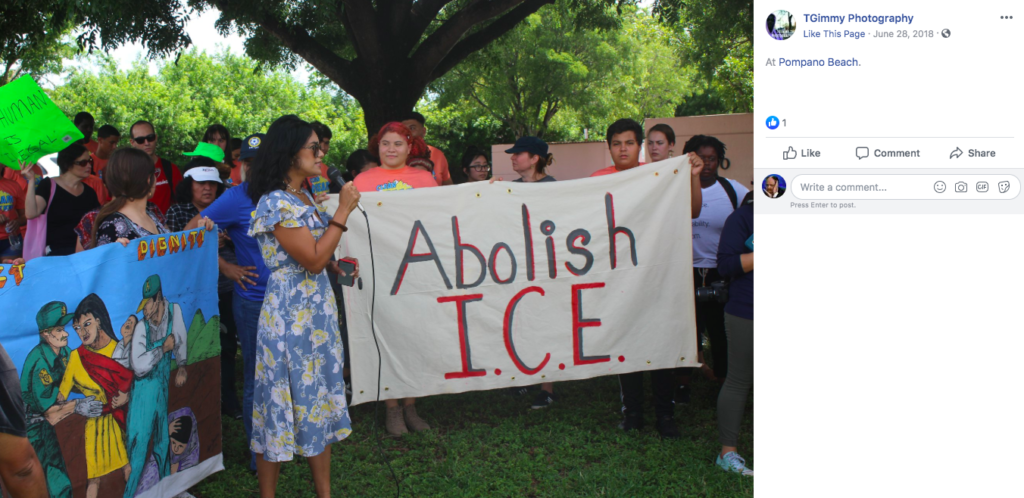 TPUSA has another indirect link to GEO Group. The faculty adviser to the TPUSA chapter at Florida Atlantic University, political science professor Marshall DeRosa, has taught civics courses to prisoners at a GEO Group facility in Florida, along with some of his students, through a program that is financially supported by the Charles Koch Foundation. DeRosa was formerly a faculty member at the League of the South Institute, the research arm of the neo-Confederate group League of the South, which the Southern Poverty Law Center currently classifies as a hate group.

DeRosa is no longer affiliated with the League of the South, which has become violent and more radical in recent years. After learning of DeRosa's ties to the group, students and activists became concerned that an advocate of the Confederacy was teaching conservative principles to a largely African-American group of prisoners.

GEO Group has close ties to Florida Atlantic University; four GEO Group officials, including two board members of the GEO Group Foundation, previously served on the FAU Board of Trustees. DeRosa had nothing but good things to say about the private prison corporation. "GEO is very much committed to recidivism. They have a reentry program. They're amazing," he said.

A 'Blooming Romance with the Alt-Right'

TPUSA's affiliation with a neo-Confederate is not out of step with the organization's history of racist staffers. The group is viewed as so far to the right that members of the white nationalist group Identity Evropa have attempted to infiltrate TPUSA university chapters, with one member saying he wanted to turn his school's chapter into a "front" for Identity Evropa.

In May, a video surfaced of a now-former University of Nevada TPUSA chapter president saying, "white power" while a friend yells, "Fuck the n*****s!"

New Yorker staff writer Jane Mayer revealed racist text messages sent by TPUSA's former field director, Crystal Clanton, who texted, "i hate black people. Like fuck them all . . . I hate blacks. End of story." Another TPUSA member was caught on video praising the Nazis and lamenting that they didn't "keep fucking going." In early 2018, the Southern Poverty Law Center outlined TPUSA's "blooming romance with the alt-right."

Owens, who is black, told a crowd in February, "If Hitler just wanted to make Germany great and have things run well, OK, fine…I have no problems with nationalism." She left TPUSA in May after campus chapters called for her resignation and is now focusing on her "Blexit" campaign, which uses a severely incomplete and inaccurate history of the Democratic Party in an effort to convert black Democrats into Republicans.

The GEO Group Foundation does not appear to have donated to TPUSA in the years leading up to 2017, but the company has made controversial and possibly illegal political donations in the recent past. The company appears to have broken the law barring corporations with government contracts from making political donations, having given $225,000 through a wholly-owned subsidiary to a pro-Trump super PAC in 2016. Another subsidiary also donated $125,000 to a super PAC supporting former Florida Gov. Rick Scott (R) for Senate in 2018.
---
Related:
---