Will Sen. Reed Stand Up to His Defense Donors on Yemen?
Jack Reed's campaigns and leadership PAC have taken $362,400 from four defense contractors that have sold 90% of the American weapons bought by Saudi Arabia. Now he has a key role in negotiations around banning the companies' Saudi sales.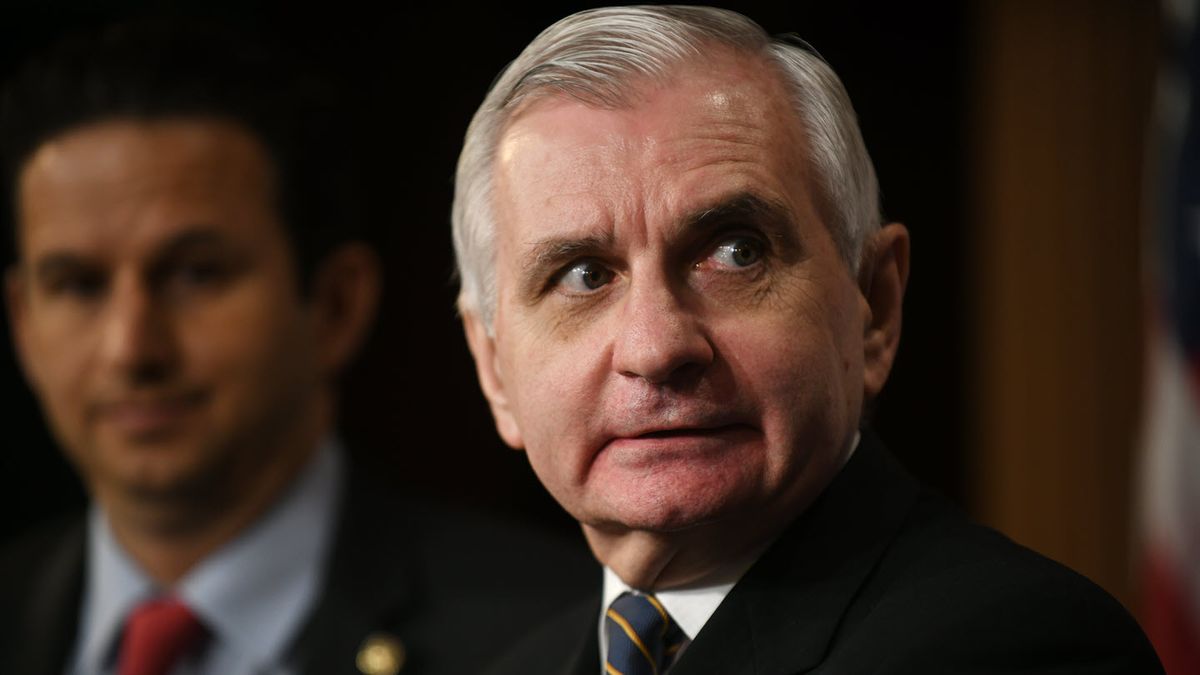 In the coming weeks, lawmakers who oppose America's involvement in the Saudi-led war in Yemen have a chance to attach measures withdrawing American assistance to a "must-pass" bill authorizing the military budget. Activists are calling on Sen. Jack Reed (D-R.I.), the ranking member on the Armed Services Committee, to make sure it happens.

But will he, given his decades of campaign donations from the defense contractors who are profiting the most from the Yemen war?

Members of the armed services committees in the Senate and House will soon convene a conference committee to iron out differences in the 2020 National Defense Authorization Act (NDAA), which authorizes military spending and establishes military policies. The version passed by the House contains language suspending sales and transfers of precision guided munitions to Saudi Arabia for one year and prohibiting military assistance for the coalition's fight against the Houthis, an anti-Saudi resistance group, in Yemen, while the Senate's version contains no such language.

If the Yemen provision is included in the final version of the NDAA, it will ratchet up pressure on the White House over the issue. Dozens of progressive groups wrote in a Sept. 3 letter to Reed and other Democratic leaders that the House NDAA Yemen provisions "effectively override President Trump's vetoes" of bipartisan resolutions meant to block the sales of weapons to Saudi Arabia. "This would reaffirm Congress's power of the purse, oversight authority, and the right to make all necessary and proper laws to exercise its will," the groups wrote.

Reed says he wants to end U.S. support for the coalition fighting in Yemen, but he has not been as consistent on the issue as many other Democrats, including his counterparts who lead the Armed Services Committee in the House. He voted to pass the NDAA without the Yemen language in June, and in March 2018 he was one of just 10 Democrats who voted to table a resolution from Sen. Bernie Sanders (I-Vt.) that would have removed U.S. forces from hostilities in Yemen. (Months later Reed flipped and voted in favor of the resolution.)
His spokesperson recently told a reporter at WPRI that the senator "believes we should not provide support to offensive military operations against the Houthis as part of the ongoing civil war in Yemen," but when Sludge emailed the spokesperson to ask if the senator would thus vote against the NDAA if it does not contain the House's language blocking such support, they did not respond.

Demand Progress, a progressive grassroots group, is pushing Reed to do everything in his power to fight for the House's Yemen language. "The ultimate exercise of his power would probably be to make it clear that he would oppose any NDAA that doesn't retain the Yemen language and that he would urge others (including House leadership and rank and file there) to oppose it as well," David Segal, executive director of Demand Progress, told Sludge.

According to a June report by the Armed Conflict Location and Event Data project, the death toll in Yemen since the Saudi coalition's attacks began in 2015 has passed 90,000. The World Food Programme estimates that 20 million out of Yemen's total population of 30.5 million are at risk of starvation, with 14.4 million people in need of immediate assistance in order to save their lives.

Donations From Companies That Sell Billions in Weapons to Saudi Arabia
While Reed has recently been getting pressure on Yemen from constituents and anti-war activists, his relationship with companies that are profiting from the war in Yemen by selling weapons to Saudi Arabia goes back decades.

Since he entered the Senate in 1997, Reed has taken nearly a million dollars in campaign funds from PACs and individuals in the defense sector, and according to a Sludge review of Federal Election Commission records, Reed's biggest defense donors include four companies that account for over 90% of arms sales to Saudi Arabia over the past ten years: General Dynamics, Raytheon, Lockheed Martin, and Boeing.

General Dynamics, Reed's top overall career campaign donor according to the Center for Responsive Politics, has given $85,900 via its PAC to Reed's campaign committees and leadership PACs, according to Sludge's analysis. The company's employees—primarily executives—chipped in another $68,350 for Reed. Donors include Chairwoman and Chief Executive Officer Phebe Novakovic, Executive Vice President of Maine Systems John Casey, and registered lobbyist and Vice President for Government Relations Betsy Schmid.

General Dynamics has sold Saudi Arabia general-purpose bombs, light-armored vehicles, M-1 tanks, and high explosive projectiles since 2009. A General Dynamics bomb was used in 2016 airstrikes on a market in Yemen that killed 97 civilians.
Massachusetts-based Raytheon has sold Saudi Arabia Paveway II laser-guided bombs, RIM-116 rolling air-frame missiles, Javelin guided missiles, a command and control system for planning and executing strikes, and more. The company has given Reed $115,000 through its PAC, and its employees have contributed another $28,200.

Raytheon also contributes to a Rhode Island nonprofit where Reed is a board member. The Providence Performing Arts Center's Seats for Service Members program, which provides compensated orchestra tickets to members of Rhode Island's National Guard, counts Raytheon among its Gold Sponsors. The organization's website lists Reed as an ex officio member of its Board of Directors.

Reed's political committees have also received $89,500 from the PAC of Lockheed Martin and $72,000 from the PAC of Boeing, both companies that have sold weapons and aircraft that were used in Yemen to Saudi Arabia.

According to the investigative outlet Bellingcat, in August 2018, a Lockheed Martin-manufactured laser-guided Paveway II bomb was used in a Saudi coalition attack on a school bus in Yemen that killed 54 people, including 44 children. The U.S. Defense Security Cooperation Agency approved Lockheed Martin to sell Saudia Arabia 4,020 of these bombs in 2015.

Boeing has sold Saudi Arabia Chinook and Apache helicopters, F-15 fighter jets, and a range of missiles and bombs. 

"These donations are very concerning as we are trying to end a war in which these companies' weapons are being used," Demand Progress' Segal told Sludge. "Being a recipient of a lot of corporate PAC money is usually a sign that the industries in question think that your views are in alignment with theirs—or that if they aren't yet that you can be brought into better alignment with them."
---
Related: