Here Are Koch Industries' Favorite Democrats
Four of the most conservative House Democrats have consistently received donations from the PAC of the company run by America's most powerful libertarian.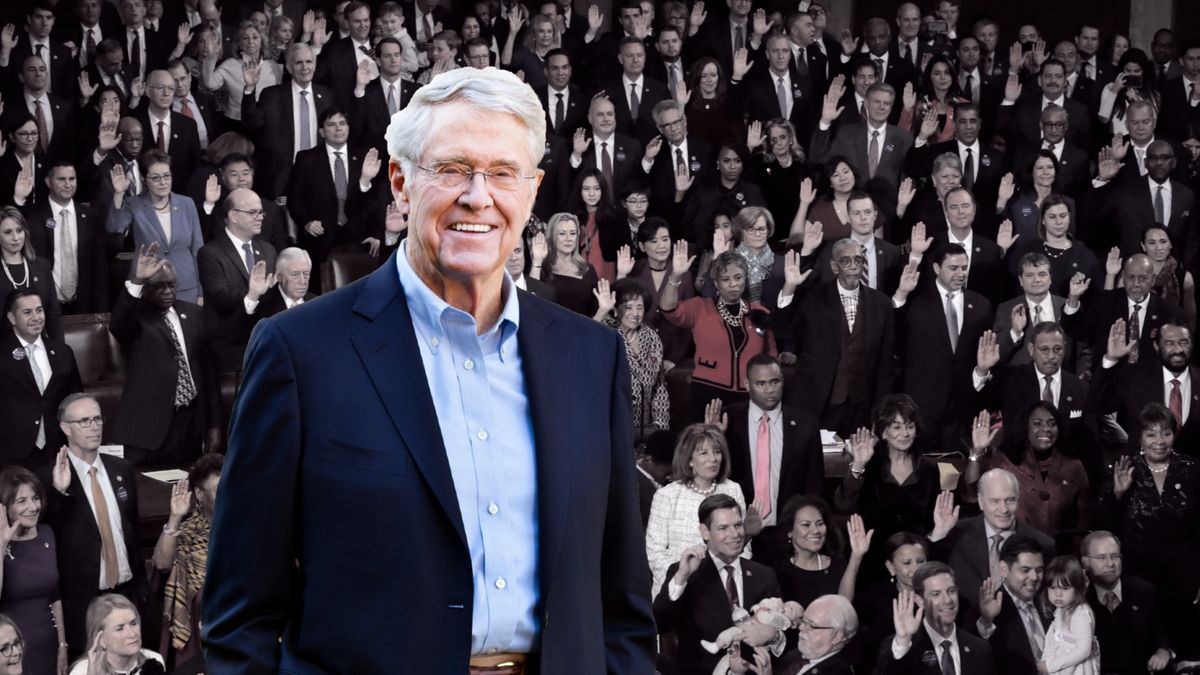 Billionaire fossil fuel titan David Koch died today of various illnesses at age 79. Last year, he stepped down from his positions at manufacturing conglomerate Koch Industries and his family's vast, conservative political network. But his older brother, Charles, is still very much involved in the family business and in rightwing politics.

Not too long ago, the political action committee of Koch Industries donated modestly to congressional Democrats. But since the 2008 elections, when Barack Obama became president, those contributions to Democratic campaigns have steadily declined. In the 2018 election cycle, only 1.5% of KochPAC's contributions went to Democrats. In the first year of Obama's presidency, the Tea Party was born with help from the Koch brothers' political nonprofit Americans for Prosperity, and American politics have become increasingly polarized ever since.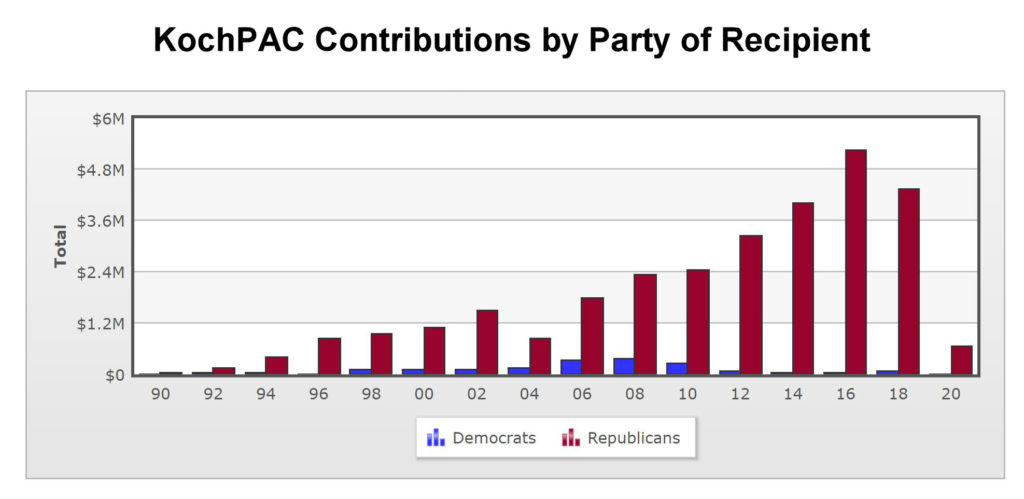 Still, a handful of conservative Democrats continue to take in donations from Koch's corporate PAC. All are members of the most conservative group of congressional Democrats, the Blue Dog Coalition, a group of 26 House representatives "dedicated to pursuing fiscally-responsible policies, ensuring a strong national defense, and transcending party lines to get things done for the American people."

So far this year, Democratic Reps. Jim Costa (California's 16th District), Henry Cuellar (Texas' 28th), Collin Peterson (Minnesota's 7th District), and Kurt Schrader (Oregon's 5th) have received KochPAC donations totaling $10,000, according to campaign finance records from the Federal Election Commission. These four members are the only Democrats in Congress to receive donations from KochPAC after the 2014 election cycle, according to data analyzed by the Center for Responsive Politics.

Cuellar and Peterson are long-time favorites of Koch Industries, having received donations from the corporate PAC since 2004 and 1996, respectively.

Since 1996, the campaigns and leadership PACs of seven current members of the Blue Dog Coalition have benefited from a total of $252,000 in contributions from KochPAC:

Rep. Jim Cooper of Tennessee ($15,000 from 2004-08)
Rep. Jim Costa of California ($7,000 since 2016)
Rep. Henry Cuellar of Texas ($49,000 since 2004)
Rep. Collin Peterson of Minnesota ($131,500 since 1996)
Rep. Kurt Schrader of Oregon ($11,000 since 2016)
Rep. David Scott of Georgia ($13,000 from 2008-10)
Rep. Mike Thompson of California ($22,500 from 1998-08)
Costa, Cuellar, Peterson, and Schrader are the only Blue Dogs who have gotten KochPAC money since 2010.

Peterson, who's been in Congress since 1991, has piled up the most money from KochPAC, and his leadership PAC, Valley PAC, has gotten far more attention from Koch Industries than the others' leadership PACs. Members of Congress typically use leadership PACs to fund congressional allies' campaigns.

While the number of Democratic recipients of Koch Industries PAC money has taken a dive, why do these Blue Dogs remain in the good graces of libertarian billionaire Charles Koch, whose political network is so large and powerful it rivals that of the Republican Party itself? Given Koch Industries' profitable oil refining and transportation operations, these conservative Democrats' records on energy and environment legislation—or their ties to the fossil fuel industry—may offer some answers.

Peterson is chair of the House Agriculture Committee, which oversees many aspects of Koch Industries subsidiaries' business. The conglomerate produces fertilizers, other plant nutrient products, and chemicals, via subsidiaries such as Koch Ag and Energy Solutions. Its Georgia-Pacific subsidiary makes paper products and depends on a steady stream of logs, and the Agriculture Committee oversees forestry and conservation. The committee also oversees livestock issues, and Koch Industries owns Matador Cattle Company, which raises cattle and other livestock.

In 2009, Peterson opposed the Obama administration's effort to assess the indirect effects of ethanol production on greenhouse gas emissions, and he opposed a related climate change bill. "I will not support any kind of climate change bill," he said at the time. Koch Industries entered the ethanol business a year later and as of 2016 was the country's fifth-largest ethanol producer.

A decade later, despite farmers being heavily impacted by climate change-driven droughts, hurricanes, and wildfires, Peterson has refused to follow most of his Democratic colleagues in taking climate change seriously. His agenda for the 2019-20 Agriculture Committee "only mentions climate change indirectly," according to Politico. Peterson has told reporters that there are "a lot of other issues that gotta get dealt with" before climate change.

Peterson, who owns an interest in a family farm in Minnesota, scores 31% on the League of Conservation Voters' national environmental scorecard, and he scored just 20% in 2018.

Koch Industries subsidiary Koch Pipeline Company operates oil and gas pipelines that run through Minnesota, delivering crude oil from Canada and North Dakota to refineries in the Twin Cities area. Another subsidiary, Flint Hills Resources, is part-owner of these pipelines and owns one of the two Twin Cities-area refineries, the Pine Bend Refinery, which Charles Koch and his father bought in the late 1960s. Other Koch Industries companies such as Georgia-Pacific, glass manufacturer Guardian Industries, and Koch Ag and Energy Solutions also have facilities in Minnesota.

Given Peterson's top spot on the Agriculture Committee, Koch Ag and Energy Solutions could benefit from his good graces and indifference to climate change. In addition to producing fertilizers and plant nutrient products, the company markets, transports, and stores natural gas, and produces methanol.

It's pretty clear why Cuellar, nicknamed "Big Oil's Favorite Democrat," continues to get campaign funds from Koch Industries' PAC. Representing oil-rich Texas, Cuellar has frequently voted to aid the oil and gas industry and doesn't keep his support a secret. "I strongly support domestic energy and oil production as a way to shore up our nation's energy and economic independence," states Cuellar on his website. Cuellar has a lifetime score of 42% from the League of Conservation Voters.

Cuellar's campaigns have brought in a total of over $612,000 from oil and gas PACs since 2001.

Ten Koch Industries subsidiaries have operations in Texas, including Koch Minerals, which "acquire[s], develop[s], and trade[s] heavy crude oil, conventional oil, unconventional gas, and conventional natural gas," according to its description in an SEC filing. The conglomerate's largest chemical production plant is located in Texas, which is also home to Matador Cattle Company.

Jim Costa has a lifetime environmental score of 49% from the League of Conservation Voters, and he's a member of a few committees the Kochs are surely watching closely. He's on the Agriculture Committee and is chair of its Livestock and Foreign Agriculture subcommittee. He's also a member of the Natural Resources Committee, which oversees oil and gas development as well as coal mining regulations. (Koch Industries has a coal operation.)

Costa owns farms in Fresno, Calif., worth as much as $5 million, according to his most recent financial disclosure.

Schrader does much better than the others on his environmental rating, with a lifetime score of 70% from the League of Conservation Voters. A former farmer, Schrader is a member of the Energy and Commerce Committee, which has jurisdiction over chemical waste, clean air and water, and environmental protection—all areas with which Koch Industries has had violations.

As of December 2018, Schrader was personally invested in oil and gas companies, owning as much as $170,000 worth of stock in ConocoPhillips, Exxon, and Pioneer Natural Resources, among other companies, as Sludge previously reported.
---
Related: