Democratic Rep. Tulsi Gabbard Advises Koch-Funded University Center
The center's director has ties to neo-Confederate figures.
A Democratic presidential candidate is an advisor to an academic center funded by the Republican Party's most notorious donor, Charles Koch.

Hawaii Rep. Tulsi Gabbard, who announced her candidacy for the 2020 Democratic presidential nomination in January, is one of 12 advisors of a foreign policy center at the Washington, D.C.-based Catholic University of America. The Center for the Study of Statesmanship (CSS) was founded in 2017 with a $2.65 million grant from the Charles Koch Foundation, which gives tens of millions of dollars to American colleges and universities each year, usually to fund ideological, free-market academic programs.

The position is not listed on Gabbard's 2017 financial disclosure, the most recent available. The center, which "considers how American constitutionalism, with its emphasis on limited and decentralized power, virtue, and deliberation, relates to statesmanship in foreign and domestic affairs," brings in professors and visiting fellows, sponsors conferences, seminars, and lectures.
Gabbard, a military veteran, has often opposed U.S. engagement in overseas conflicts, including in war-torn Syria, so she is not out of place among anti-interventionists. "Having experienced first-hand the true cost of war," states her 2020 campaign website, Gabbard "made a personal vow to find a way to ensure that our country doesn't continue repeating the mistakes of the past, sending our troops into war without a clear mission, strategy, or purpose."
But for a Democrat—especially a 2016 Bernie Sanders surrogate who has progressive views on campaign finance reform and single-payer health care—to accept a position at a think tank funded by Koch and staffed with several Koch-linked individuals is unusual.

Gabbard spokesperson Lauren McIlvaine told Sludge, "As a soldier and veteran of two Middle East deployments, Congresswoman Tulsi Gabbard has been a leading voice for ending costly, counterproductive regime change wars, working to end the new Cold War and nuclear arms race, and taking the trillions of dollars being spent on these wars and using them to serve the needs of our people on things like healthcare, affordable housing, and infrastructure. The mission of CSS is aligned with the work that she has dedicated herself to, which is why she agreed to serve on their Council of Advisors."

The Kochtopus

Over the last few decades, Charles Koch, who runs the industrial conglomerate Koch Industries, and his brother David created a large and powerful conservative political network with funds that rival those of the Republican Party establishment. The Kochs and their wealthy conservative allies have spent hundreds of millions of dollars on the last several federal elections, often using independent political spending groups to run ads and ground operations to boost right-wing Republican candidates.

Gabbard "has been a strong proponent for ending Citizens United and the corruptive influence of special interest money in politics," said McIlvaine.

Electoral politics is just the final step in the Koch influence operation. The Kochs' effort to transform America begins with funding higher education, typically giving large amounts of money to finance or create free-market educational programs at American colleges and universities, such as George Mason, Florida State, Kentucky, and West Virginia.

According to long-time Koch deputy Richard Fink, investing in "intellectual raw materials," or university research, is the core of the Kochs' "Structure of Social Change" strategy. From universities, the Koch political operation seeks not only "intellectual raw materials" but also a pipeline of young conservative graduates to join its network.

The next step in the social change process is funding conservative think tanks that create policy proposals in line with the Kochs' libertarian, free-market ideology, which Koch-funded political advocacy groups promote and use to impact elections. Then, the network uses direct political spending to help elect right-wing Republicans who will push these policies, such as tax cuts and environmental deregulation, that boost Koch Industries' profits.

After decades of business and political advocacy, Charles and David Koch are each worth $52 billion.

Ralph Wilson, co-founder of the activist group UnKoch My Campus and now an independent researcher, told Sludge, "Gabbard's involvement [with CSS] shows just how successfully the Koch network has duped public figures into legitimizing their dangerous ideology and political agenda."

Koch Links at CSS

Some CSS advisors have additional ties to the Koch network.

Around the same time that CSS was founded, CSS advisor Monica Duffy Toft created a similar center at Tufts University, the Center for Strategic Studies, with a $3 million grant from the Charles Koch Foundation.

Advisor John B. Henry is the chairman and CEO of the Committee for the Republic, an anti-imperialist group co-founded by longtime Koch ally C. Boyden Gray. Gray and Koch are both major donors to George Mason University's law school.

Gray is also on the board of the Federalist Society, a network of conservative judges to which the Charles Koch Foundation is a major donor. The group's executive vice president, Leonard Leo, who stewarded an anonymous $20 million grant to George Mason University's law school that was given in conjunction with $10 million from the Charles Koch Foundation, is on the board of trustees of Catholic University and the board of visitors of its business school.
Lobbyist Bill Wichterman, a former George W. Bush advisor who is currently registered to lobby for companies including IBM and Qualcomm, is another CSS advisor. Wichterman previously lobbied for defense contractor Northrop Grumman and helped the Judicial Crisis Network, which receives funding from Koch-linked groups, shepherd Donald Trump's first Supreme Court nominee, Neil Gorsuch, through the nomination process.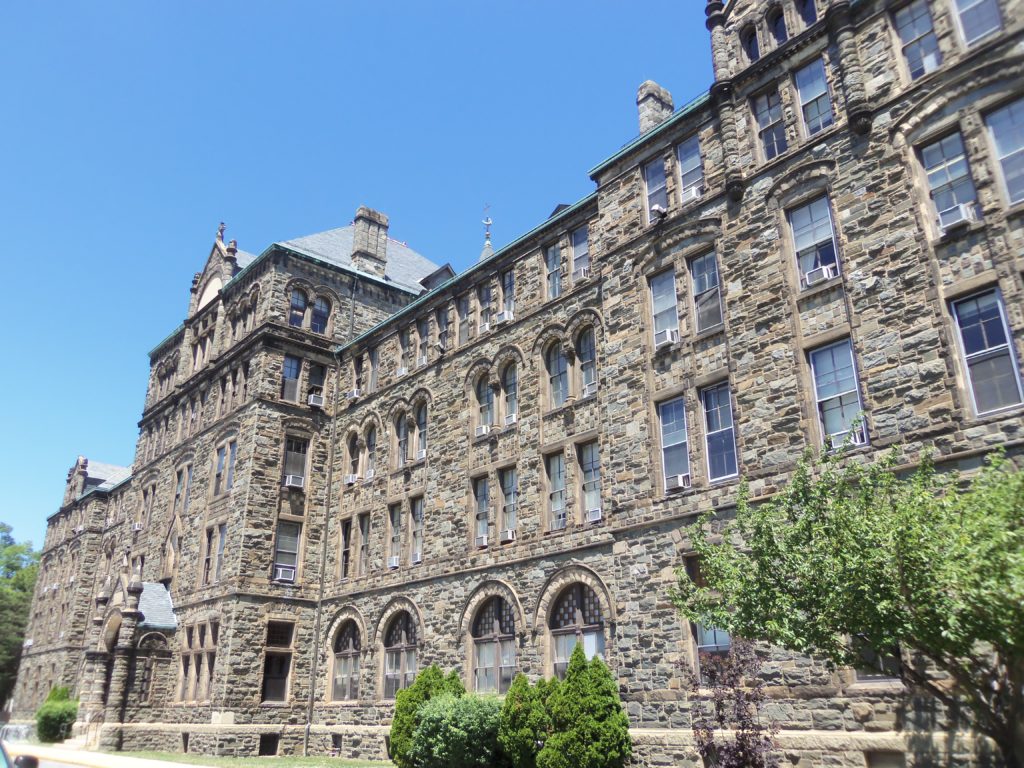 Former Ohio Rep. Dennis Kucinich, who is generally viewed as a left-wing Democrat but has defended Trump on Fox News on several occasions, is another advisor to the center.

The Charles Koch Foundation has given heavily to Catholic University in the last several years. In 2013, it granted the school $1 million so it could launch its School of Business and Economics, prompting 50 Catholic educators to write a letter in protest. "You send a confusing message to Catholic students and other faithful Catholics that the Koch brothers' anti-government, Tea Party ideology has the blessing of a university sanctioned by Catholic bishops," read the letter.

In 2016, Koch's foundation committed $10 million more to the business school.

Neo-Confederate Ties

The Charles Koch Foundation has funded academics who have neo-Confederate ties or views, including Marshall DeRosa of Florida Atlantic University. CSS's founding director, politics professor Claes G. Ryn, appears to be part of this trend.

Ryn has appeared on the podcast of Tom Woods, a founding member of the League of the South, which, in its current form, the Southern Poverty Law Center considers a neo-Confederate hate group. He has written for the website of Lew Rockwell, the founder of the neo-Confederate Mises Institute and a League of the South charter member. And Ryn's institute has published DeRosa's work. DeRosa was once a "faculty member" at the League of the South Institute, where he taught courses on subjects including on topics including "Why secession was, and is, constitutional" and "How the 'Fourteenth Amendment' was never constitutionally passed by Congress nor ratified by the States."
Kucinich joins Rockwell on the advisory board of the libertarian Ron Paul Institute; Ryn is a member of the institute's academic board. Paul once published a racist newsletter and later defended the Confederacy.

"This is another example of the Charles Koch Foundation boosting the careers of fringe operatives with deep ties to neo-Confederate and white supremacist ideology," said Wilson. "This is taking place on a campus attempting to advance Koch's free-market ideology with Catholic theology as a moral framework for 'human flourishing.'"

Gabbard herself has alleged alliances with bigoted forces. As Sludge previously reported, Gabbard has ties to anti-Muslim Hindu nationalists and accepted campaign donations from members of a Hindu nationalist group.

Gabbard is "not aware of Mr. Ryn's associations," said McIlvaine. "She continues to forcefully denounce hatred, bigotry, and racism, calling for inclusivity, respect, and aloha—love."

---
Related:
---