Health Industry Lawyers and Lobbyists Seem to Really Like Michael Bennet
As the Colorado senator attacks Medicare for All on the campaign trail, health industry lawyers and lobbyists are writing him checks.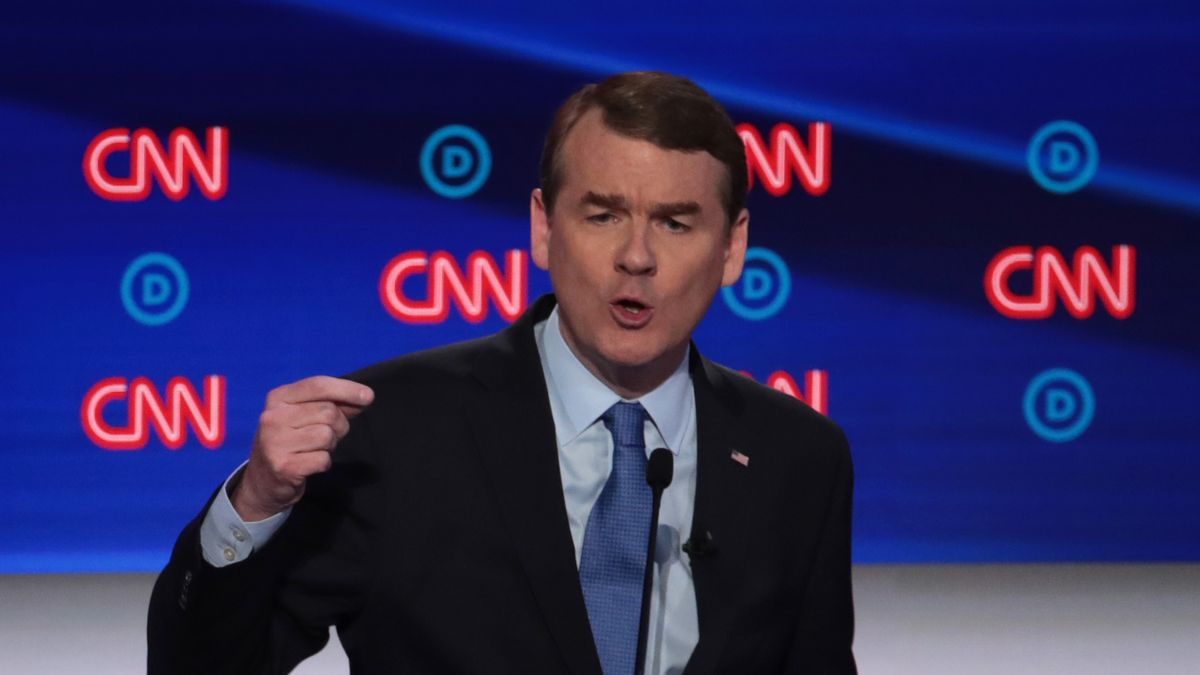 In mid-July, Democratic presidential candidate and Colorado Sen. Michael Bennet told a crowd of Iowans that if Sen. Bernie Sanders (D-Vt.) becomes the Democratic presidential nominee, his support for Medicare for All could allow Trump to win Colorado. Bennet claimed that his constituents would be concerned about losing their private health insurance plans; instead, he asserted, people want "choice."

Sanders has been clear that Medicare for All would replace the for-profit insurance system with a single federal plan with no premiums, co-pays, or deductibles. Candidates including Bennet, former Vice President Joe Biden (D-Del.), and former Rep. John Delaney (D-Md.)—along with plenty of Republican politicians and the top, industry-backed anti-Medicare for All front group—erroneously claim that the program would kick Americans off their health care, yet Sanders' plan requires every health provider to accept Medicare—giving Americans maximum doctor choice.
In his second presidential debate, on July 31, Bennet said that Sen. Kamala Harris' (D-Calif.) health care proposal would ban employer-based health insurance and cost the American taxpayers $30 trillion. Harris then attacked Bennet for using "Republican talking points," and New York City Mayor Bill de Blasio accused him of fearmongering over Medicare for All.

"As Joe Biden said," stated Bennet in the debate, "It doesn't make sense for us to take away insurance from half the people in this room and put huge taxes on everybody in this room."

Insurance- and Pharmaceutical-Funded Campaigns

Over the course of his ten-year Senate tenure, Bennet's campaigns have received nearly $1 million from corporate PACs in the health sector. During the 2016 election cycle, the most recent Senate election for Bennet, his campaign received $154,000 from pharmaceuticals and health product PACs, including $10,000 from Gilead Sciences PAC, $9,000 from Celgene's PAC, and $8,000 each from the PACs of AbbVie, Genentech, and Sanofi U.S.

This year, Bennet joined the other Democratic presidential candidates in refusing corporate PAC donations. But a slew of health industry interests are still showing their appreciation for Bennet's opposition to a government-run health system that would cover every American and end the careers of health insurance CEOs, who average an annual compensation of $18 million per year.

Read more on the health industry's influence from Sludge.
Sludge identified 15 attorneys, including a lobbyist who works for health industry interests, and a consultant, along with two health care executives and a health care investor, who have given large donations to the Bennet campaign this year, according to Federal Election Committee reports. Donors include: 

Norman Brownstein, chairman of Brownstein Hyatt Farber Schreck and a registered federal lobbyist for Lifepoint Health and several affiliates of Lifepoint's owner, Apollo Global Management ($2,800 donation, the legal maximum)
Aitan Goelman, a partner at Zuckerman Spaeder, who has represented generic drug manufacturers ($2,800)
Joel Klein, chief policy and strategy officer at Oscar Health Insurance ($2,800)
John Phillips, a lawyer at Bartlit Beck who has represented drugmaker Bayer ($2,800)
Thomas Strickland, a lawyer at WilmerHale and former chief legal officer of UnitedHealthcare ($2,800)
Alex Young Oh, a lawyer at Paul Weiss who has represented drug companies Merck and Pfizer ($2,000)
Hampton Dellinger, a Boies Schiller attorney who helped a major health care company get a $2.6 billion government contract and defended another against a medical negligence lawsuit ($1,000)
Curtis Lane, founding partner at private equity firm Windrose Health Investors ($1,000)
Jane Eyer, a regional vice president at insurer UnitedHealthcare ($600)
Pharmaceuticals and health products PACs topped the 2017-18 donor list of Bennet's leadership PAC, Common Sense Colorado, which mostly passes on money to some of his colleagues' campaigns. This year, no PACs have contributed to Common Sense Colorado, but several federal lobbyists have, including Akin Gump's Brian Pomper ($2,500), who lobbies for Bayer, Biogen, Gilead Sciences, Merck, Pfizer, and the Biotechnology Innovation Organization (BIO), the largest trade association in the biopharmaceuticals industry; Nathanson+Hauck's Melanie Nathanson ($1,250), who lobbies for Coherus Biosciences, Quest Diagnostics, and ​BlueCross BlueShield of Massachusetts; and David Rudd ($1,250), a lobbyist for Blue Cross Blue Shield of South Carolina.

Pomper and Nathanson also contributed to the Bennet campaign, but their donations were refunded.

Late last year, Bennet's Senate campaign filed a report revealing that corporate lobbyist Jonathan Mantz had gathered $28,000 worth of donations for Bennet. Mantz, a principle at BGR Group, currently lobbies for a few health industry interests, including Select Medical Corporation and U.S. Acute Care Solutions, but in the past, he has represented drugmakers Eli Lilly, Genentech, Gilead Sciences, and GlaxoSmithKline. Before his lobbying career, Mantz worked for the Democratic Senatorial Campaign Committee and was finance director of Hillary's Clinton's 2008 presidential campaign.
The Bennet campaign did not return a request for comment and did not answer Sludge's questions about why so many health industry donors gave to his campaign and whether those donors have any impact on his campaign platform.

Siding with Industry

Bennet's opposition to single-payer health care is consistent with his political past. Despite initially supporting a public option in the Affordable Care Act of 2010, Bennet switched sides and helped prevent the public option from being added to the bill.

Seven years later, faced with a budget amendment authored by Sens. Bernie Sanders (D-Vt.) and Amy Klobuchar (D-Minn.) to allow drug importation from Canada, something that 12 Republican senators supported, 13 Senate Democrats voted against it, including Bennet and presidential contender Cory Booker (D-N.J). A few months later, Sanders, along with Sens. Bob Casey (D-Pa.) and Elizabeth Warren (D-Mass.), offered another amendment, this time to a Food and Drug Administration-related bill, to allow importation of drugs from FDA-approved facilities in Canada. The measure was rejected in committee, 13-10, with two Democrats joining the GOP in voting it down: Bennet and Patty Murray (D-Wash.) Had they voted with their Democratic colleagues, the amendment would have gone to the full Senate for a vote.

Bennet's current proposal, Medicare-X, maintains the private health insurance system, including employer- and union-sponsored insurance, and provides an "affordable" public option that, unlike Medicare for All, will not be free of charge.
---
Related: