Private Equity's Latest Scheme: Closing Urban Hospitals and Selling Off the Real Estate
Thousands are expected to rally Thursday against the closing of Hahnemann University Hospital, a 171-year-old facility in Center City Philadelphia.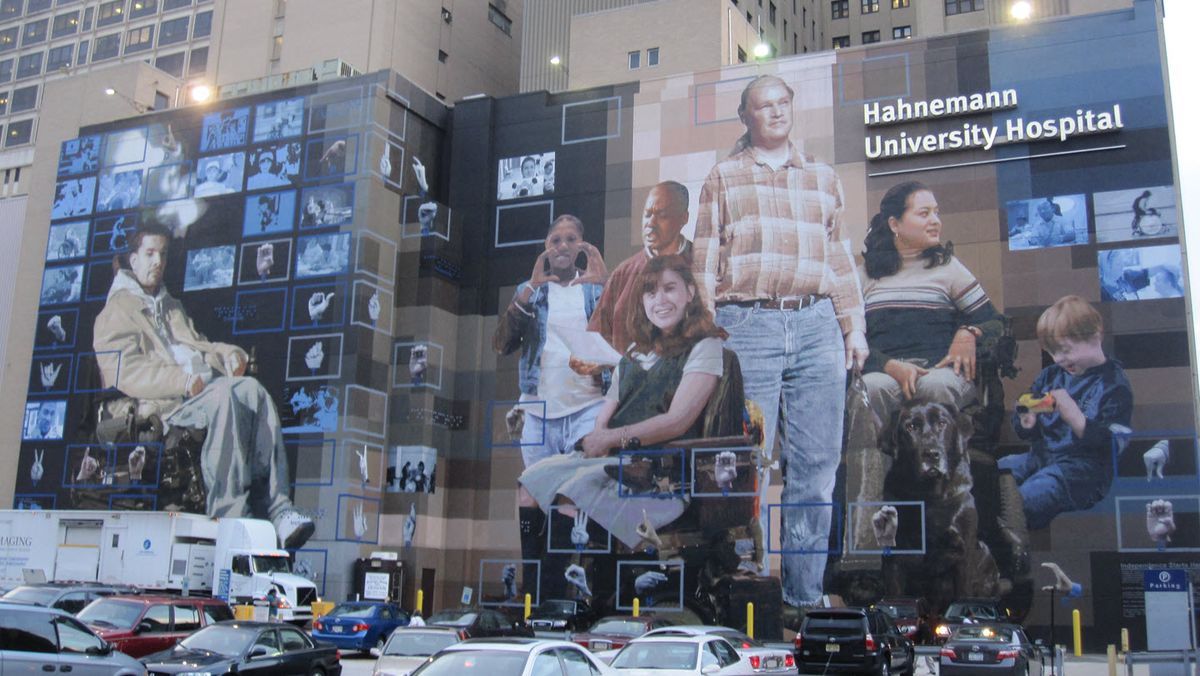 The American Prospect is a nonprofit, independent magazine
covering public policy and politics. Sludge is re-publishing this article.
On Thursday, thousands of union workers and community members are expected to rally against the decision of private-equity tycoon Joel Freedman to close Philadelphia's 171-year-old Hahnemann University Hospital. Workers and community members are accusing Freedman of closing a vital medical center for the poor in order to sell the prime real estate to build luxury condos and hotels.
The closure of the hospital means that more than 2,500 union workers will be thrown out of work and tens of thousands of mostly poor Philadelphians, who rely on the hospital for primary care, will see their lives upturned as they search for other options. Nearly half of the residents who use Hahnemann are on Medicaid and two-thirds are black and Latino, according to The Philadelphia Inquirer.
The hospital is expected to close in August, but already the decision to close its emergency room has sent panic throughout Philadelphia.
"This is nothing short of a public-health emergency. People will get hurt, and they will die as a direct result of this one man's action," says Dylan Toolajian, an oncology nurse and a union member of thePennsylvania Association of Staff Nurses and Allied Professionals (PASNAP).
"It's basically corporate greed that is closing an institution that serves some of the most underserved populations in the city," adds Talia Gottesman, a nurse and member of PASNAP.
Private equity firms are notorious for buying companies with borrowed money and selling off their assets to make quick bucks. The industry has been playing an increasing role in the health-care industry, creating mega-hospital networks that grow through acquisitions in geographically dispersed markets. In this way, private equity can build a hospital giant while flying under the radar of antitrust scrutiny.
Critics have warned about the entry into health care of rapacious firms primarily interested in increasing profits. And many fear that the closing of Hahnemann could be the beginning of a new maneuver: of private equity buying up hospitals in gentrifying areas, only to sell them for their valuable real estate.
The fight over the closing of Hahnemann hospital has already taken on national implications. Bernie Sanders has signaled that he intends to make it a major campaign issue, with his team in Philadelphia this week to film an ad about the hospital closing.
"The business model of America's current health-care system is not about healing people or providing access to medical care—it is about making as much money as possible for insurance companies, drug companies and wealthy investors," said Sanders.
"The situation in Philadelphia illustrates the entire problem: In a city with one of the highest poverty rates in the country, a major hospital serving low-income communities is on the verge of laying off 2,500 people, abandoning 500 medical residents, and closing its operations thanks to an investment firm looking to make as much money as possible in a corporate fire sale," added Sanders.
In 2018, Freedman's company, Paladin Healthcare, bought the hospital with a loan from MidCap Financial, a subsidiary of the notorious private-equity firm Apollo Global Management. Now, less than a year and a half after buying the hospital and despite making no major capital investments, Freedman is closing the hospital, claiming it isn't profitable.
Instead of trying to sell the hospital to another entity, Freedman says that he merely intends to sell the hospital's assets and real estate to the highest bidder. The medical buildings, situated in prime territory on Broad Street along the Vine Street Expressway, are considered a "gateway location" for gentrifying the neighborhood.
To many private equity experts, what Freedman is doing looks like a classic routine of private equity firms buying a company simply to destroy it and strip its assets.
"This is pretty clearly a pure real estate deal," says Eileen Appelbaum, co-director of the Center for Economic and Policy Research (CEPR). "It's very common for private equity to do this in retail, but it's not common in hospitals. The thing that is troubling about this if it succeeds, this would be the first time that the property of the hospital was put into a platform company and could be sold off."
The Paladin portfolio only includes ownership of Hahnemann and management of an urban hospital in Washington, D.C., despite the fact that they largely serve a low-income population on public assistance and would need to be balanced out by a more lucrative suburban hospital to make sense as an investment. That suggests that the real-estate play was under consideration all along.
In addition, while Paladin put Hahnemann into bankruptcy, it did not include the real estate as part of the bankruptcy filing. "Paladin continues to own the real estate and stands to make a fortune without lifting a finger by selling it to developers who are already salivating over what they can do with this well-located property," said Appelbaum.
Other private equity firms have used similar tactics to strip real estate out of companies, like the firms behind Marsh Supermarkets and Sears, both of which created private trusts to handle real estate, earning millions in rent and billions in disposing of the properties after bankruptcy.
The announcement of the closing of the hospital will likely overburden the other two hospitals in the city serving low-income patients, Temple University Hospital and Thomas Jefferson University Hospital. According to the Centers for Medicare and Medicaid Services, those two locations already have emergency roomvisit times above the national average of 332 minutes.
"All the hospitals are being stretched to the limit, our emergency department sees 40,000 patients a year, and that is going to be absorbed by two other hospitals in the city," says Sue Bowes, a veteran nurse at Hahnemann. "When you are having a stroke or a heart attack, minutes matter and having to drive another 10 minutes to get help can be a matter of life and death."
Many public officials are also concerned about the effect that Hahnemann's closing will have on the poor population that uses its services. "Hahnemann is the most significant of hospitals who serve the neediest communities, almost two-thirds of their patients require public assistance. They serve people regardless of [immigration] status, they serve the indigent," says Philadelphia City Councilwoman Helen Gym. "I am outraged, and I am angry at a system that would allow peoples' lives to be left into the hands of profiteers and careless, reckless people like Joel Freedman."
Many doctors and nurses at the hospital worry that many of the long-term care patients, particularly those with cancer, who often stay in the hospital for up to a year while receiving bone marrow transplants, will have their lives threatened by the closing of the hospital.
"There is a really heavy psycho-social element to cancer care, and there are a lot of benefits to be had for both the provider and the patient when there is a common understanding of one another, and I feel like the closeness of that relationship really fosters respect and that improves communication, and that improve outcomes," says oncology nurse Dylan Toolajian. "So when patients have to bounce around with different providers, that can be challenging for them on a personal level, but it can also impact the quality of care and decrease it. It means that continuity of care is severed, which opens the door for errors."
Private equity experts worry that private equity firms buying up hospitals simply to sell them for their real estate could become a trend.
"This is an industry where once somebody does this successfully, lots of other private equity firms will follow," says Eileen Appelbaum. "You just have to think to yourself how many hospitals are in gentrifying neighborhoods in urban America, where the property is worth a lot more than the hospital itself."
Union workers and community members say that's why they intend to fight against the closing.
"It's a community, despite the fact that there are lots of hospitals in the city of Philadelphia, the patients and workers who get served by one hospital are a community," says Sue Bowes. "I am fighting really hard for this hospital not just for us but so that another hedge fund doesn't come in and close down hospitals, and leave patients with nowhere to go. It's just simply wrong."
An earlier version of this story stated that Paladin Healthcare had four hospitals in Los Angeles in its portfolio. Paladin ended that relationship in January and has not updated its website. Also, while the article never stated that Paladin owned the Howard University Hospital in Washington, the story has been updated to reflect that Paladin only manages it. The Prospect regrets the error.
---
Related: