Democratic Leader Ben Ray Luján Endorses Green New Deal, Won't Take Fossil Fuel Exploration Money
A spokesperson for Luján told Sludge that he won't take money from fossil fuel PACs and executives, but he hasn't signed the No Fossil Fuel Money pledge.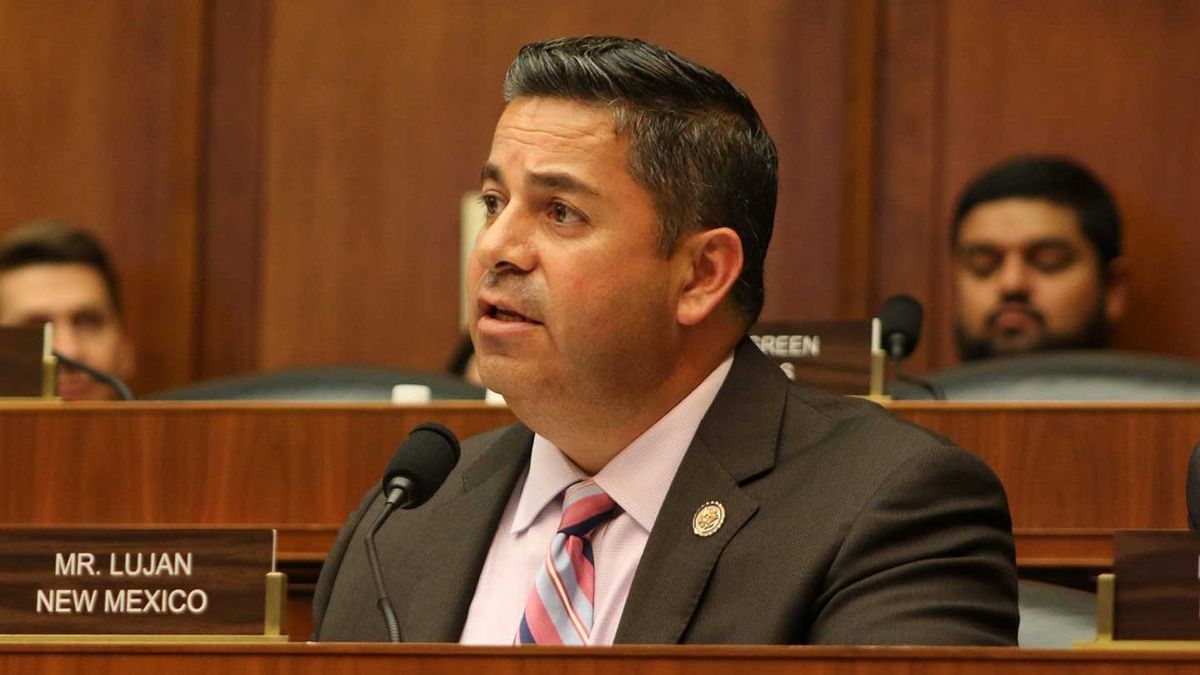 Last night, the Sunrise Movement and Rep. Alexandria Ocasio-Cortez (D-N.Y.) scored a big victory: The assistant speaker of the U.S. House endorsed the Green New Deal.

Rep. Ben Ray Luján (D-N.M.), a moderate who led the Democratic Congressional Campaign Committee in 2018 and is now running for Senate, attended a climate event in his home state of New Mexico on Thursday, where he announced he would join the 91 cosponsors of Ocasio-Cortez's Green New Deal legislation.

"Our climate is in a crisis," said Luján at the town hall, which was hosted by Sunrise Movement Santa Fe. "I've learned so much from constituents and listening to young people that have come to chat with me, to visit with me, that have written me letters, that have called, that have texted, and reached out to me online, and that's why I'm happy to share with you this evening that I am co-sponsoring the Green New Deal."

Also speaking at the event were Green New Deal co-sponsor Rep. Deb Haaland (D-N.M.) and Alan Webber, the mayor of Sante Fe who promised to create a city-wide Green New Deal.

In a statement, Sunrise Movement Co-Founder and Executive Director Varshini Prakash said, "This endorsement makes him the highest ranking Congressional Democrat yet to back the plan…Rep. Ben Ray Luján's endorsement is a watershed moment in the fight for a Green New Deal for America."

"As a candidate for Senate, Rep. Ben Ray Luján must show young voters that he will be accountable to the people, not to the fossil fuel CEOs and lobbyists who continue to block progress on climate change," continued Prakash.

Dozens of Democratic politicians have signed the No Fossil Fuel Money pledge, including 10 presidential contenders. Luján, however, hasn't signed on, and likely wouldn't qualify under its current conditions. The pledge requires candidates to "not knowingly accept any contributions over $200 from the PACs, executives, or front groups of fossil fuel companies—companies whose primary business is the extraction, processing, distribution, or sale of oil, gas, or coal."

In the first quarter of 2019, Luján received thousands of dollars from the PACs of a coal company, fossil fuel-burning utilities, and an electric utility trade association:

A Luján campaign spokesperson told Sludge that the campaign is not accepting donations from the PACs of oil, gas, and coal exploration companies and will reject large donations from executives of those companies. The campaign is in the process of returning a March 18 donation of $1,500 from the Arch Coal PAC.

"Congressman Ben Ray Luján made the decision to refuse oil, gas, and coal money at the beginning of the year, and he will not accept those donations in his Senate campaign," said the spokesperson. "The climate is in crisis and our leaders cannot wait to act, which is why he's also announced his support of the Green New Deal."


This is a new policy for Luján, who accepted tens of thousands of dollars from fossil fuel PACs including Andeavor, Arch Coal, BP, and Exxon Mobil during the 2018 election cycle.

The Sunrise Movement's Prakash told Sludge, "We're glad that he is returning [the Arch Coal PAC] contribution and that he's not accepting money from the PACs of oil, gas, or coal companies, but to show he's serious about standing up for our generation and fighting for a Green New Deal, he needs to sign the No Fossil Fuel Money pledge."

The campaign will keep its 2019 donations from fossil fuel-burning utility companies and will continue to accept such contributions. The electric utility industry has been a large funder of Luján, whose 2018 campaign accepted $75,000 from the PACs of utilities that burn or distribute fossil fuels, such as NextEra Energy, Pacific Gas & Electric, and Duke Energy.

The Luján spokesperson said, "The congressman will continue to accept donations from utility companies who bring heat, electricity, and water to rural communities and Navajo Nation and those who employ middle-class workers on solar and wind farms throughout the state, which includes the companies listed in this report. Ensuring that all families have heat during the winter, clean drinking water, and electricity regardless of their zip code is a policy Congressman Luján as championed during his entire career and is proud to stand by."

"Why does he need to take contributions from the PACs or executives of these companies in order to have relationships with the people those companies serve?" asked Prakash. "He should join Rep. Deb Haaland in signing the No Fossil Fuel Money pledge."
This article has been updated to reflect that Sen. Ed Markey did not attend the Santa Fe town hall event.
---
Related
---