Beto O'Rourke Says He Won't Take Fossil Fuel CEO Money—But He Already Has
Two Houston-based oil and gas CEOs each gave the maximum allowed donation to O'Rourke's campaign on March 29.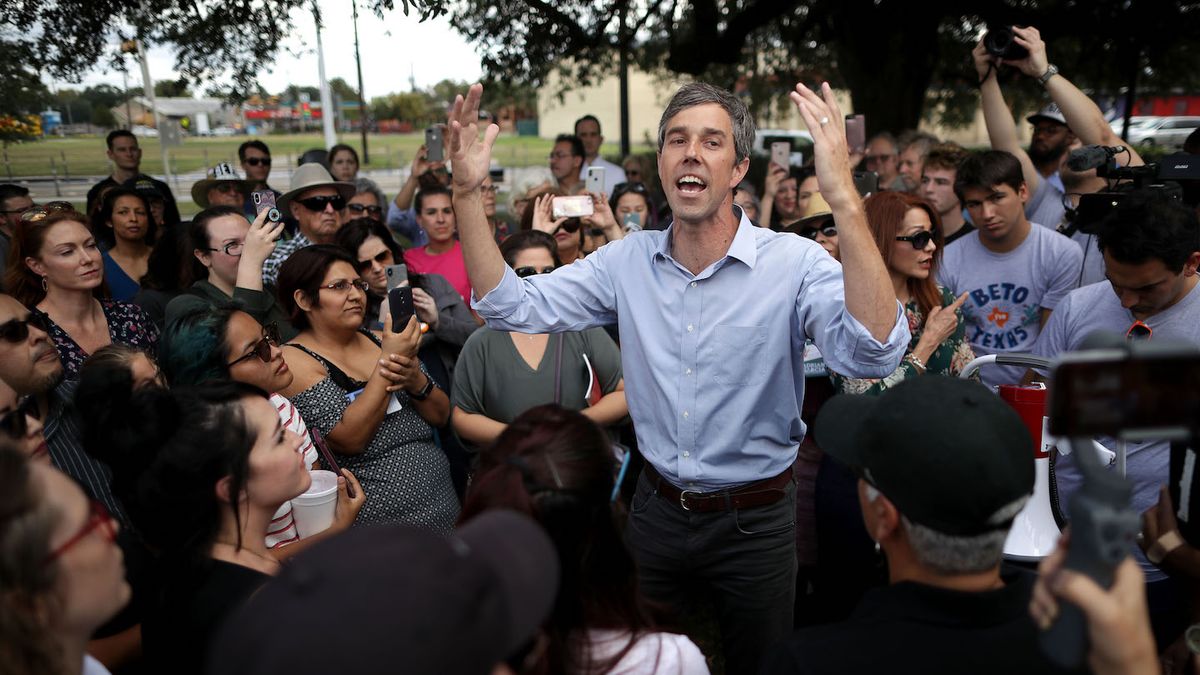 Democratic presidential candidate Beto O'Rourke responded to a request from climate activists on Tuesday night by saying he doesn't accept campaign donations from fossil fuel lobbyists and doesn't intend to accept oil and gas industry CEO's contributions as well.

"Will you pledge today to not knowingly accept any campaign contributions of over $200 from the PACs, executives, or lobbyists of fossil fuel company by signing the No Fossil Fuel Money pledge?" asked a Sunrise Movement member at an event at the College of William and Mary yesterday.

"Not only do we not take PAC money," responded O'Rourke, "we don't take any lobbyist money either, so the answer is 'yes,' we won't take any lobbyist money from oil and gas corporations.

"But if you work in the oil fields, you answer the phones in the office, if you're one of my fellow Texans in one of our state's largest employers," he continued, "we're not going to single you out from being unable to participate in our democracy."

In response to a follow-up question, O'Rourke said he "doesn't plan to" accept donations from fossil fuel CEOs. When shown the pledge on paper, he said, "I'm happy to put CEOs on there, absolutely.

The problem is, however: He has already accepted money from two oil and gas CEOs this year, as well as from a state lobbyist from Chevron.

Sludge's review of the O'Rourke campaign's first-quarter campaign finance report shows that the promising presidential candidate has already received the maximum primary election contribution of $2,800 from Antonio R. Sanchez, III, the president and CEO of Houston-based Sanchez Energy and chairman of a related company, Sanchez Midstream Partners, and $2,800 from Antonio R. Sanchez, Jr., CEO and chairman of the privately held Sanchez Oil & Gas Corporation. In total, O'Rourke's campaign received $22,400 from eight executives at the three companies, all of whom gave the maximum allowed amount on March 29.


In addition, O'Rourke received a $250 donation from Patrick Killen, a New Mexico state lobbyist for oil giant Chevron, as well as other large donations from the president of Berenergy Corporation, the owner of Navigator Oil and Materials, and the general counsel of Exxon Mobil Mexico.

"We agree with Beto that PACs, executives and lobbyists have an outsized influence on our elections and that we need to focus on everyday people participating in our democracy," said David Turnbull, strategic communications director at Oil Change U.S., which helps coordinate the No Fossil Fuel Money pledge. "For this reason, the No Fossil Fuel Money pledge only focuses on fossil fuel industry PACs, executives and lobbyists, because these are the entities and individuals who have been blocking progress on our climate crisis, not the workers in the industry just trying to make ends meet for their families.

Turnbull went on to explain that the O'Rourke campaign, which has already raised millions of dollars, doesn't need the contributions from fossil fuel executives, which make up a tiny fraction of his campaign fundraising.

"Beto doesn't need this money to wage his campaign. But what he does need is the trust of people concerned about our climate crisis around the country, who want to see Beto back up his strong climate rhetoric with a real willingness to stand up to the out-of-control fossil fuel industry fueling the crisis, even if it's in his backyard. Beto has work to do on this front, given his voting record in support of fossil fuel industry priorities like removing the crude export ban and increasing offshore drilling and gas exports."

The O'Rourke campaign did not immediately respond to a request for comment.

Sanchez Energy, the "third-most active driller in the Eagle Ford Shale of South Texas," is currently facing some headwinds. On Feb. 20, it was delisted from the New York Stock Exchange for failing to keep its stock price above $1 per share. A few days later, two companies sued Sanchez Energy for underpaying millions of dollars in royalties on oil and gas leases, asking for a total of over $5.8 million.

The Sanchez family business began as an oil and gas brokerage, and Sanchez, Jr. helped his father expand into drilling in 1973. He has made hundreds of millions of dollars since then. Sanchez, Jr., a "top Bush patron," was appointed by then-Governor of Texas George W. Bush to the University of Texas Board of Regents, along with other major donors to the family's political campaigns. He ran as a Democrat for governor of Texas in 2002 but lost to Republican and current Energy Sec. Rick Perry.

The Sunrise Movement, a youth-led environmental activist organization, has been urging politicians around the country to refuse donations from the corporate PACs of fossil fuel companies and from executives and lobbyists in the industry. O'Rourke signed a similar pledge during his 2018 Texas Senate race but was removed from the pledge after Sludge's report that he'd taken dozens of large donations from oil and gas executives.
"It's clear that Beto O'Rourke is feeling the heat," said Stephen O'Hanlon, communications director of the Sunrise Movement. "He's being asked by young people at campaign stops all across the country to sign the No Fossil Fuel Money pledge and reject contributions from oil and gas executives and lobbyists. If he wants to earn the support of young people he needs to sign the pledge and show that he's not taking money from the executives and lobbyists who are destroying our future."

Ten of O'Rourke competitors in the Democratic presidential primary, including progressives such as Sen. Bernie Sanders (D-Vt.) and moderates like Rep. Eric Swallwell (D-Calif.), have signed the No Fossil Fuel Money pledge, putting him in the minority that have not.

According to the pledge website, "Taking the pledge means that a politician or candidate's campaign will adopt a policy to not knowingly accept any contributions over $200 from the PACs, executives, or front groups of fossil fuel companies—companies whose primary business is the extraction, processing, distribution, or sale of oil, gas, or coal."

Organizations that endorse the pledge include 350 Action, Daily Kos, Greenpeace, and Public Citizen.

"We remain hopeful Beto will live up to his words with action to reject the influence of the leaders of the fossil fuel industry by actually signing the No Fossil Fuel Money pledge, and show a true willingness to tackle this climate crisis head on," said Turnbull.

---
Related:
---