After City Incentives, South Bend Real Estate Executives Donate to Mayor Pete's Presidential Campaign
Real estate executives benefited from policies of Mayor Pete Buttigieg's administration that some criticize as reckless gentrification. Now they're returning the favor.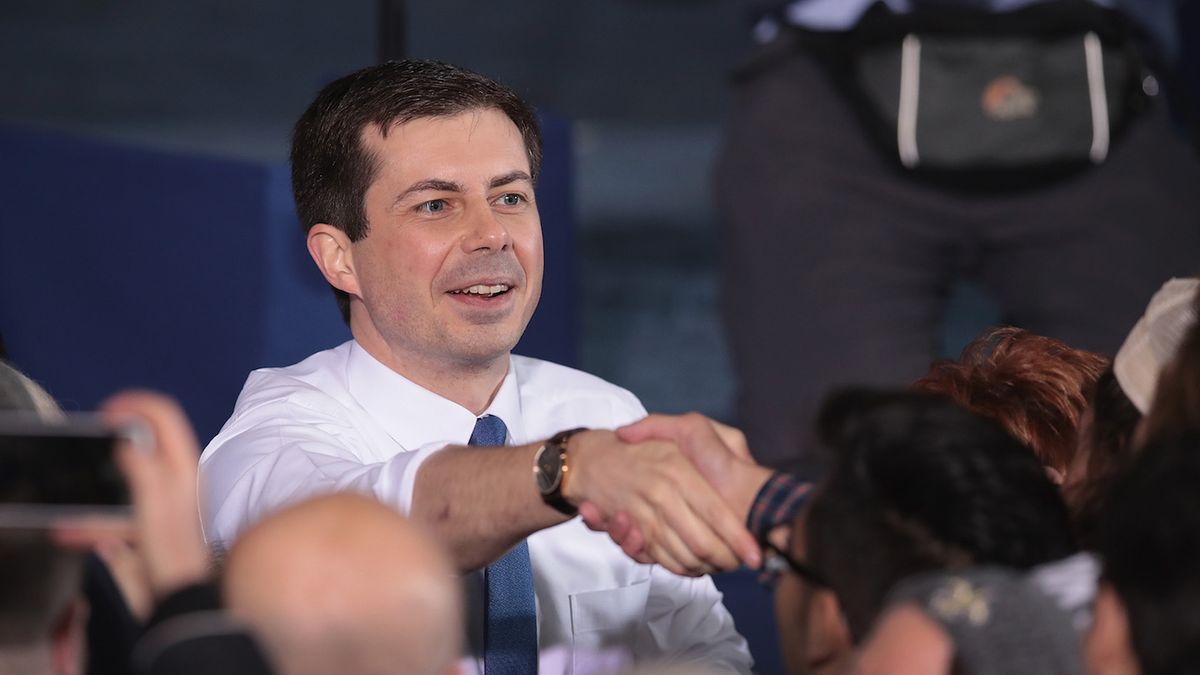 Rising Democratic star Pete Buttigieg has had quite the start to 2019. Due to a successful CNN town hall event, numerous eloquent interviews, and what seems like an answer to every question, the South Bend, Indiana, mayor's presidential campaign took in $7 million since it officially launched on Jan. 23.

But in addition to the many new friends Buttigieg has made recently are several old ones, including South Bend-based real estate executives whose companies have benefited from government subsidies initiated by Buttigieg, who have already donated to his nascent presidential campaign.

One of Buttigieg's major initiatives as mayor was a redevelopment program that knocked down hundreds of homes in majority black and Latino neighborhoods and replaced some of them with new developments, as described in a recent article from Buzzfeed News. The initiative has often been cast as a success, yet some residents of color lost valuable financial assets. Some would have preferred a rebuilding effort, engaging the neighborhood communities, instead of widespread demolition. The city was also very aggressive with building code enforcement, charging residents for fixes they couldn't pay for and then demolishing the homes anyway.

After numerous complaints, Buttigieg's government increased grants for home repairs. Still, during his time as mayor, homelessness and displacement have increased. He sold city parkland to private developers. And he gave financial incentives to luxury condo developers.
One such developer, Great Lakes Capital, is a private equity firm that invests in South Bend real estate projects that its connected commercial real estate business, Bradley Company, oversees. "Look around the many new developments across St. Joseph County, and it's a good bet that Great Lakes Capital (GLC) is somehow involved in the projects," reads a profile at southbendregion.com.

The two founding partners, Ryan Rans and Brad Toothaker, both donated $2,500 each to Buttigieg's presidential campaign in March through their company, a partnership (each gave $1,400 for the primary election and $1,100 for the general). Toothaker also made an individual in-kind contribution for the primary of $1,234 in the form of donated catered food and drink at what likely was a campaign event or fundraiser.


In addition, two employees of the Bradley Company, including a senior broker, combined to give $2,950 to the Buttigieg campaign in 2019's first quarter, meaning that upper-level employees of the connected firms gave the campaign over $9,000 between January and March.

Great Lakes Capital has benefited from development subsidies from the city of South Bend. In late 2015, for example, the South Bend Redevelopment Commission voted to grant Great Lakes Capital $790,000 to restore a downtown building and convert it into apartments, storefronts, and offices. Earlier that year, Great Lakes Capital had contributed $5,000 to Buttigieg's mayoral campaign.

The mixed-use building, now named Studebaker Lofts, is home to upscale, market-rate apartments.

Several years ago, Great Lakes Capital entered into an agreement with the city of South Bend to develop Ignition Park, a 140-acre technology business hub. The city council is now giving millions of dollars in tax incentives to companies that will move into a 16 million-dollar building that Great Lakes Capital will build there. Great Lakes Capital also partnered with the city, state, General Electric, and the University of Notre Dame to construct a jet engine lab.

Great Lakes Capital is currently co-developing a high-end office building in downtown South Bend. In late 2017, Buttigieg's administration recommended a $9 million property tax abatement for the developers and later added hundreds of thousands of dollars in extra incentives.

From 2012-16, Scott Ford was the executive director of South Bend's Department of Community Investment under Buttigieg. He led the department's efforts to invest $440 million in private companies, including those that worked with the city to develop mixed-use downtown properties. When he became executive vice president of Bradley Company, with which his agency worked directly, he faced ethics-related scrutiny. Buttigieg had opposed a proposal to restrict the employment options for the first year after a city employee vacates their job, and said of Ford in 2016, "Scott in many ways has been the intellectual architect of my urban policy, and he's done amazing work with the business community and neighborhoods and his own team. He's also educated me in many ways about how the built environment of the city can and should develop."

Ford contributed $2,700 to Buttigieg in February.

The president and owner of RealAmerica LLC, another Indiana-based real estate developer, donated $500 to Buttigieg's presidential effort in March. In 2014, the company scored a development agreement with the city that allowed it to purchase an old, historic hotel for $1 and develop it into apartments, with the help of $2.3 million in incentives from South Bend for building improvement costs. Great Lakes Capital previously pulled out of an agreement with the city to develop the hotel. Now called The LaSalle, this building also features upscale, market-rate units.

Overall, Buttigieg's fundraising numbers display strong support from small donors. Sixty-four percent of the money he raised from individuals came from donations of under $200, less than the small-donor share of first-quarter fundraising by Bernie Sanders, Elizabeth Warren, and Andrew Yang, but ahead of the rest of the Democratic candidates. He has stayed true to his pledge to refuse corporate PAC money, and since he signed the No Fossil Fuel Money Pledge on March 27, he does not appear to have accepted large donations from executives of oil, gas, or coal companies.
The Buttigieg campaign and Great Lakes Capital did not return Sludge's requests for comment.

Small donors are a big thing these days. The Obama campaign made a big deal about small donors, but they really only raised about 30% of their money that way. Sanders changed the game in 2016. Now everyone is interested. Here's small donor %: pic.twitter.com/YpEXnjhLif

— Paul Blumenthal (@PaulBlu) April 16, 2019
---
Related:
---