Senators Who Will Impact Green New Deal Own Stock in Fossil Fuel Companies
Several members of the Senate Energy and Environment committees collectively own millions of dollars worth of stock in companies such as Chevron, Exxon, and ConocoPhillips.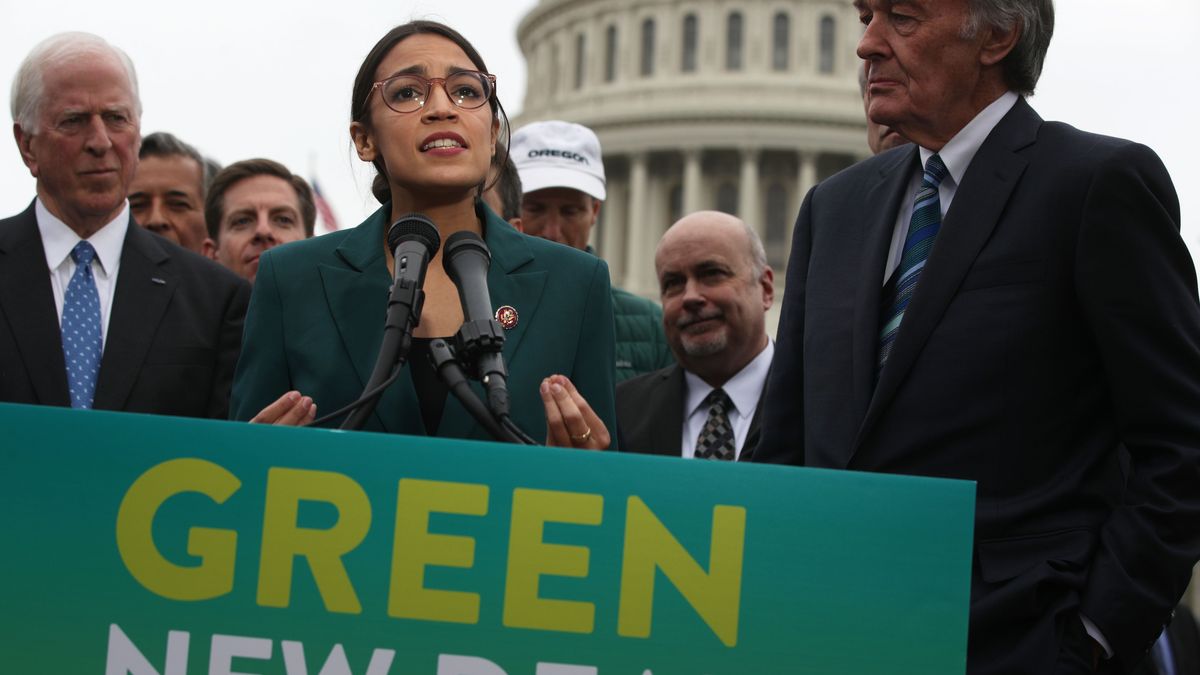 Democratic Sen. Ed Markey (Mass.) and Rep. Alexandria Ocasio-Cortez (D-N.Y.) introduced a resolution on Thursday that would commit the federal government to create an ambitious Green New Deal—a plan to reach net-zero greenhouse gas emissions while creating millions of green energy jobs, vastly improving American infrastructure, and rescuing the environment from climate change. Its fate now lies with committees whose members have millions of dollars personally invested in the fossil fuel industry.

The Senate bill was referred to the Environment and Public Works Committee, which has jurisdiction over air pollution, environmental policy and regulation, the environmental effects of toxic substances other than pesticides, and water pollution.

As these senators deliberate over the resolution, seven, including the committee chair and the ranking member, appear to have financial conflicts of interest. Of the 21 committee members, five Republicans and two Democrats, along with their spouses, are personally invested in fossil fuel companies, utilities that burn fossil fuels, companies that make products used in fossil fuel extraction, transmission or refining, or mutual funds invested in such companies, a Sludge investigation has found. The seven members may own as much as $2.4 million worth of stock in companies tied to fossil fuels.

The personal investments of members of the Senate Energy and Natural Resources Committee, to which the resolution will likely also be referred, are considerably greater. Out of the total 20 members, eight—six Republicans, one Democrat, and one Independent, including ranking member Joe Manchin (D-W.V.)—and their spouses own as much as $5.8 million worth of stock in fossil fuel-linked businesses. This committee oversees oil, gas, and coal production and distribution, mining policy, and oil and gas regulation, as well as the privatization of federal assets.

Sen. Sheldon Whitehouse (D-R.I.), a member of the Environment and Public Works Committee, and his spouse have as much as $60,000 invested in Berkshire Hathaway, which has an energy subsidiary focused on natural gas transmission and coal-based power generation, and up to $100,000 invested in Ingersoll-Rand, a company that manufactures products for the oil and gas industry. A Whitehouse spokesperson told Sludge, "Trades made in the Senator's account are conducted by a financial adviser without any input from the Senator or his family." But the spokesperson did not answer Sludge's questions about whether this kind of investment is a conflict of interest or whether Whitehouse's family investments have ever influenced a policy decision.

No other senator on either committee responded to Sludge's inquiry.
While the Republican-controlled Senate committees are not likely to consider the Green New Deal resolution, many of the committee members are likely to continue to serve on the committee during future sessions, when Democrats could have control.

Other members of the Environment and Public Works Committee who have fossil fuel-linked investments include Sen. Shelly Moore Capito (R-W.V.), who owns as much as $795,000 worth of stock in companies such as Chevron, Exxon, and Royal Dutch Shell; Sen. Tom Carper (D-Del.), who owns up to $630,000 worth of stocks and bonds in fossil fuel industry companies, as Sludge previously reported; and Sen. John Boozman (R-Wy.), who has up to $150,000 invested in fossil fuel stock.

Sludge previously reported that members of the House Committee on Energy and Commerce, which oversees environmental protection, clean air, climate change, energy policy, and drinking water safety, have as much as $16 million invested in the fossil fuel industry.

Andy Behar, CEO of the shareholder advocacy nonprofit As You Sow, told Sludge he believes these investments should be investigated by financial regulators.

"Personally, this is insider trading. It's something the Securities and Exchange Commission should be investigating, and something that other shareholders should be very concerned about," Behar said. "The fate of a company is resting on government contracts. These [senators] have undue influence, and they're not being forthright about it. They should divest."
Financing Fossil Fuels

As You Sow introduced a Wells Fargo shareholder resolution in November for the bank to "adopt a policy for reducing the greenhouse gas emissions resulting from its loan and investment portfolios to align with the Paris Agreement's goal of maintaining global temperatures substantially below 2 degrees Celsius" and to issue related annual reports. Wells Fargo is a key American investor in tar sands oil and coal, having invested heavily in the Dakota Access Pipeline.

Energy and Natural Resources Committee Chair Lisa Murkowski (R-Alaska) has a stock investment in Wells Fargo worth between $100,001 and $250,000.

Ranking member Joe Manchin (D-W.V.) is heavily invested in his family coal company, Enersystems (as much as $1 million), which netted him $381,180 in dividends, interest, and business income in 2017. Manchin also has a large stake in energy company Farmington Resources (up to $500,000). Democrats gave the West Virginia senator the ranking member spot in December over objections from progressives and activists because of his ties to the fossil fuels industry.

Sen. John Hoeven (R-N.D.) owns oil wells interest in his home state worth as much as $1 million in total, as well as sizable investments in companies such as Honeywell and Caterpillar, which both make products for use in oil and gas extraction and refining, for a total as much as $2.1 million. Hoeven sits on the Energy, Natural Parks, and Public Lands, Forests, and Mining subcommittees.

"For the most part, since [Supreme Court case] Citizens United, the government is bought and sold by big industry," said Behar. "We're seeing just absolute impunity. The co-option of public service into corporate hands—this is a corpocracy."
---
Related: