AIPAC-Tied 'Dark Money' Group Runs Attack Ad Against Rashida Tlaib
Democratic Majority for Israel is attacking the Palestinian American member of Congress over remarks and votes related to the war between Israel and Hamas.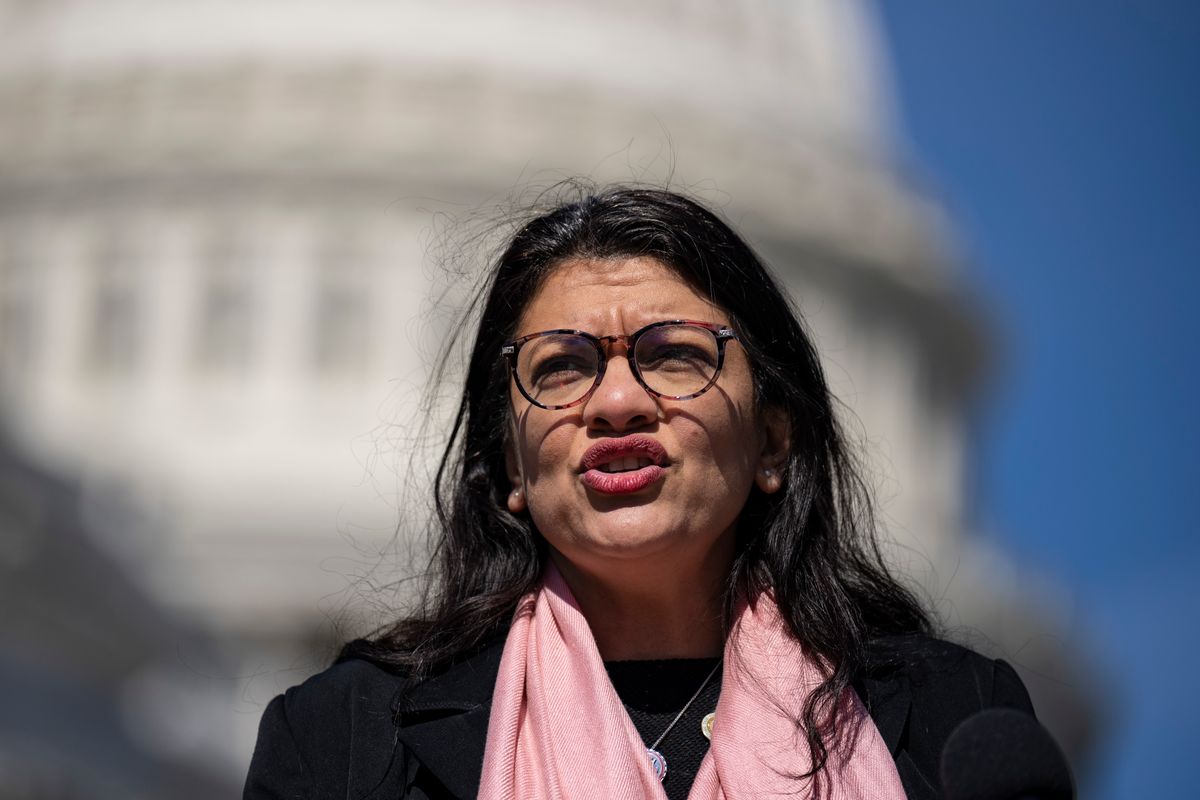 A nonprofit called Democratic Majority for Israel (DMFI), which has spent millions of dollars in Democratic primaries over the past two election cycles to combat progressive candidates, is spending six figures to air a television ad against Rep. Rashida Tlaib (D-Mich.), the only Palestinian American member of Congress. The ad attacks the third-term Tlaib, who does not have a major primary challenger ahead of the August primary elections for 2024, over her positions on the Israel - Hamas war.
DMFI, founded in 2019 by Democratic pollster and consultant Mark Mellman, is tied to pro-Israel lobbying group American Israel Public Affairs Committee (AIPAC), which so far this year has bundled hundreds of thousands of dollars in campaign donations for Democratic representatives who push back against progressives' criticism of Israeli government policies affecting Palestinians. Mellman has worked for multiple AIPAC-affiliated organizations and several DMFI board members have previously held positions with AIPAC or its affiliates.
Among other things, the DMFI ad attacks Tlaib over co-sponsoring an Oct. 16 resolution from Rep. Cori Bush (D-Mo.) that urges the Biden administration to call for a cease-fire, saying the legislation "would allow the terrorists to rearm themselves."
"Our ad clearly shows her wanton disregard for the safety of the citizens of one of the United States' closest allies, Israel," said Mellman, the group's president, in a press release.
In a statement after the Oct. 7 Hamas attack, Tlaib said, "I grieve the Palestinian and Israeli lives lost yesterday, today, and every day. I am determined as ever to fight for a just future where everyone can live in peace, without fear and with true freedom, equal rights, and human dignity."
Progressive political group Justice Democrats released a statement calling the ad "nothing but misinformation intended to incite further violence and harassment against Congresswoman Rashida Tlaib."
Who Funds DMFI?
DMFI is a nonprofit and does not have to disclose its donors, even as it runs political attack ads. However, some of its donors are nonprofits and have reported their contributions to DMFI on their tax forms, revealing the sources of a portion of the $9.9 million it has reported raising to the IRS.