Rep. Manning Violated the STOCK Act 51 Times Last Year
A new disclosure shows Rep. Kathy Manning (D-N.C.) and her spouse made dozens of undisclosed stock trades last year.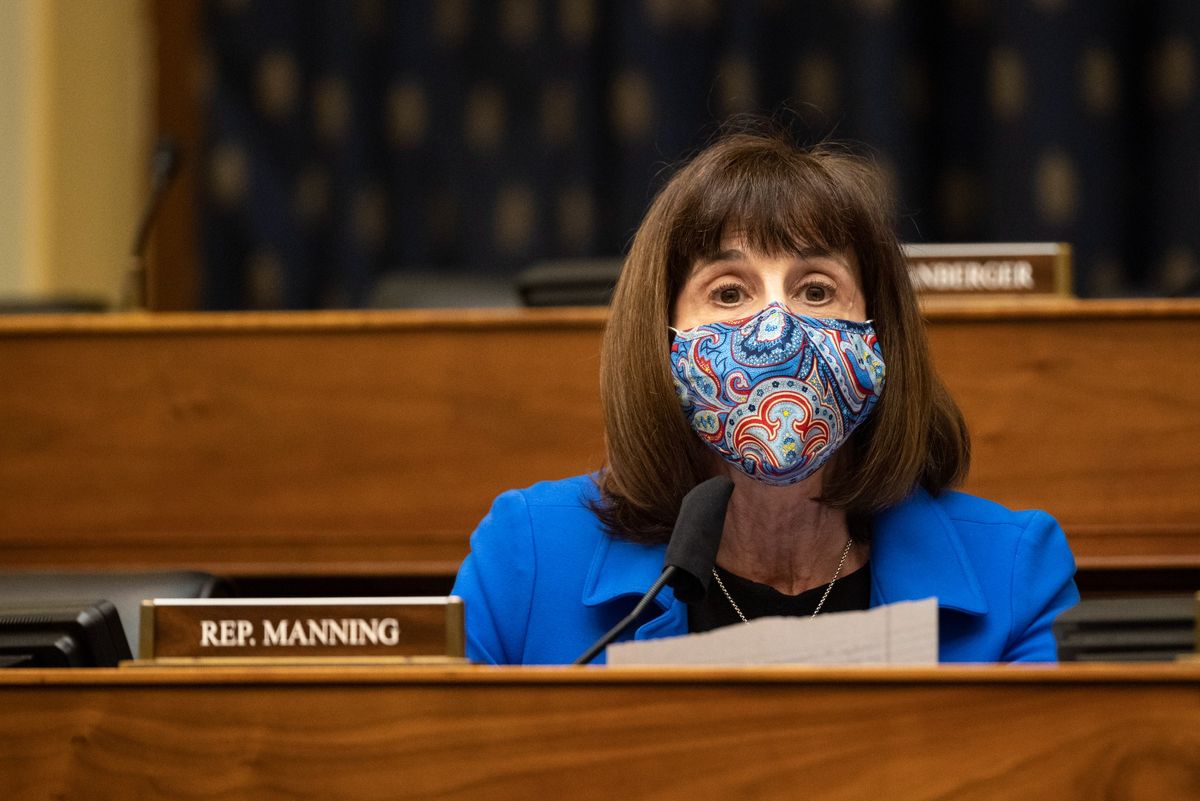 Democratic House Rep. Kathy Manning and her spouse were busy buying and selling corporate stocks last year while failing to follow a federal law that requires members of Congress to publicly disclose their financial trades within 45 days.
Manning on Friday filed a periodic transaction report showing the couple failed to follow the 45-day reporting requirement on 51 trades they made last year with a total value of between $275,000 and $1.25 million. The report reveals that the couple has been trading stocks since as far back as last January, shortly after the freshman Manning was sworn in as a member of Congress. Many of the trades were of assets owned jointly by the couple but some were made with assets owned solely by Manning's spouse.
Many of the trades were in tech stocks including Meta, Amazon, Netflix, and Nvidia that could be dramatically impacted by legislative battles that have been playing out in Congress over the past year. Companies like Amazon and Meta could have their business practices challenged by a slate of technology-focused antitrust bills that have been winding their ways through the legislative process, while semiconductor companies like Nvidia may benefit from billions in subsidies that the House recently approved in the America COMPETES Act. In June, Manning was one of eight House representatives who signed a letter to Democratic leaders asking for the package of antitrust bills to be delayed from moving forward in a House Judiciary Committee markup.
Since 2012, members of Congress have been required by the STOCK Act to disclose financial transactions worth over $1,000 within 45 days. Manning is just one of more than 50 members who have not followed this law recently, according to tracking from Business Insider. The penalty for violating the law is a $200 late fee for first-time offenders, but members can apply for a waiver by appealing the penalty to the House and Senate ethics committees.
Following years of public outrage over congressional stock trading, House Speaker Nancy Pelosi recently said that she would hold a vote on banning members of Congress from trading stocks. Details of the legislation Pelosi will put on the floor have yet to be finalized, including whether or not the spouse's of members of Congress would be allowed to continue making trades.
Manning, who represents a North Carolina district that encompasses the cities of Greensboro and Winston-Salem, serves as the freshman representative to leadership for the moderate New Democrat Coalition. By time of publishing, her D.C. office did not respond to a request for comment about the late disclosure.
Manning is not a co-sponsor of any of the three items of legislation introduced last year that would limit congressional stock holdings: H.R. 336, which would prohibit ownership and transactions of securities by members of Congress and their households, or H.R. 459 or H.R. 1579, which would ban trading of stocks by members of Congress while in office but would still allow spouses to buy and sell stocks.
Recently, two more bicameral bills have been introduced targeting the stock trading of federal lawmakers: the Bipartisan Ban on Congressional Stock Ownership Act, which would similarly ban stock ownership by members' households, and the STOCK Act 2.0, which among other disclosure enhancements would ban trading by members of Congress of individual stocks.
---
---
---
Read more: