At Least 100 House Members Are Invested in Fossil Fuels
Reps among the top oil and gas investors in Congress bought more shares in pipeline companies as the House moved to pass the bipartisan infrastructure bill.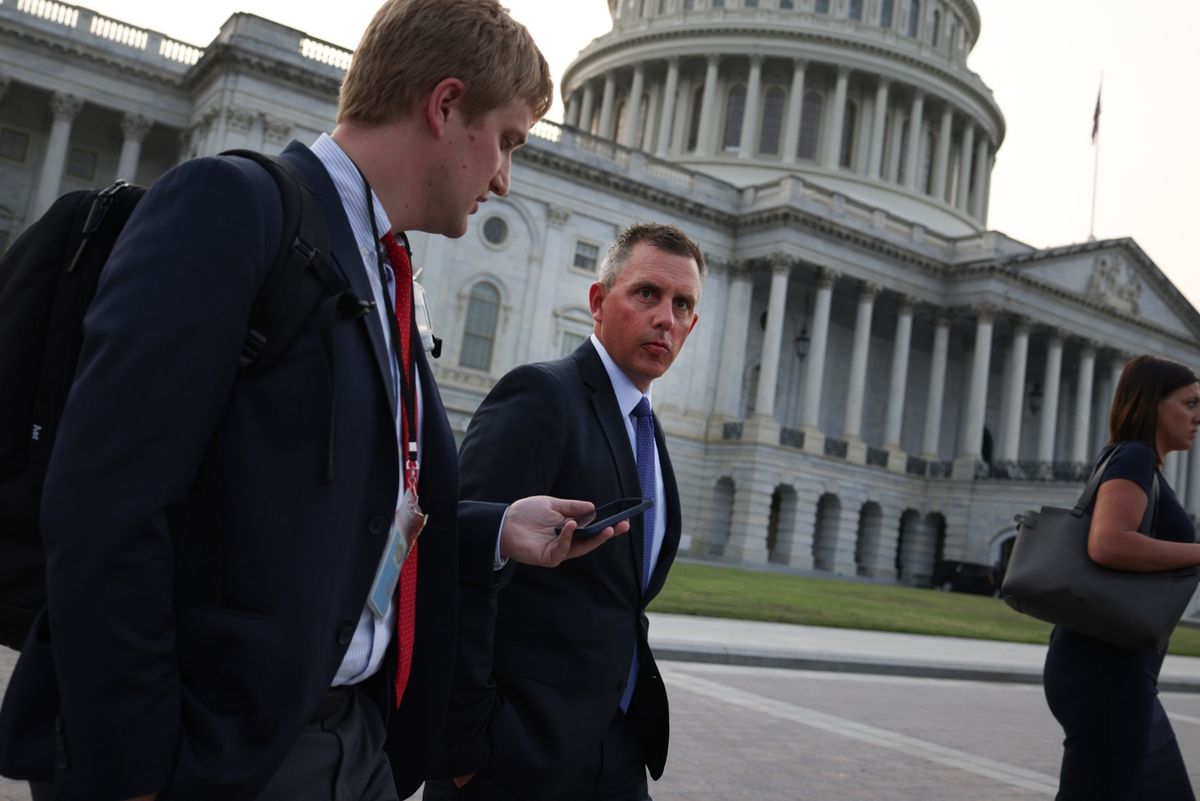 In May, the International Energy Agency laid out an ultimatum to policy makers: for the world to have a 50/50 chance at reaching net-zero emissions by 2050, no new fossil fuel developments can be approved, starting immediately.
The U.S. fossil fuel industry has other plans. Oil drillers, fracked gas companies, and pipeline firms are investing to expand their production in the surging Permian Basin, an area located mostly in West Texas, and giant offshore export terminals are being planned to speed up the shipping of crude oil from the region across the globe. Production of oil, gas, and gas liquids there is projected to grow by 50% by the end of the decade if left unchecked, according to a new report from the nonprofit Oil Change International, driving up greenhouse gas emissions and exporting more fossil fuels to burn.
The Production Gap Report of the United Nations Environment Programme, which tracks fossil fuel production worldwide, found recently that countries are on track to produce more than double the volume of fossil fuels in 2030 than is compatible with the emissions goals of the Paris Agreement on climate. When countries blow past these targets over the next eight years, and as drilling in the Permian Basin spews more of the potent warming gas methane into the atmosphere, nearly a quarter of U.S. House members will be among the investors profiting from the irreversible environmental destruction.
Since Sludge's analysis of congressional fossil fuel investments two years ago, the vast majority of lawmakers who were invested in the industry then and are still in office have held onto their stakes. At least 100 U.S. House members own investments in the fossil fuel industry as of the date of publication, according to a Sludge review of financial disclosures. These investments include corporate stocks, oil wells, and shares in energy industry funds that receive failing grades on sustainability from the resource Fossil Free Funds. The investments are either owned by the member of Congress, their spouse, jointly, or by a dependent child. Of the 100 congresspeople invested in fossil fuel companies, 59 are Republicans and 41 are Democrats, and all of the top 10 members with the most invested in the industry are Republicans.
One of the representatives with the largest investment in fossil fuels was selected by the House Republican Steering Committee for several climate-related committees: Kelly Armstrong of North Dakota, who owns hundreds of oil and gas wells around Dickinson, North Dakota through a family business. The second-term Armstrong's oil and gas assets were valued in his 2020 annual disclosure report as worth between $3 million and $10.6 million, and he collected income of up to $1.5 million from them in 2020.
In January, Armstrong was nominated for a seat on the House Energy and Commerce Committee, which has jurisdiction over national energy policy, environmental protection, clean air and climate change, and interstate and foreign commerce, and he joined the Energy Subcommittee. An outspoken defender of burning fossil fuels who said that the Green New Deal proposal would "end North Dakota's economy as we know it," Armstrong is one of six GOP members of the House Select Committee on the Climate Crisis. He also belongs to the Coal Caucus and the Conservative Climate Caucus, which says it works to "introduce Republican members and staff to leaders in industry, think tanks, and more."
Energy & Commerce Investors
This year, the House Energy and Commerce Committee held markups of major energy legislation, taking up bills on methane emission standards and pipeline security in June and the Biden administration's signature Build Back Better Act in September, including its Subtitle D on Energy-related measures like the proposed Clean Electricity Performance Program, later dropped from the package.
Nine of the 22 Republican members of the Energy and Commerce Committee owned fossil fuel stocks at the start of this year, including the second- and third-most senior ranking members. Longtime Rep. Fred Upton of Michigan and his spouse hold between $50,000 and $200,000 in a number of companies, including up to $115,000 in ExxonMobil and up to $15,000 apiece in Chevron and BP. Rep. Michael Burgess of Texas owns a small amount of stock in Canadian oil and gas production company Obsidian Energy. Also, Rep. Billy Long of Missouri holds up to $350,000 in companies including electric utility Southern Company, having sold up to $100,000 of its stock in June in one of his only stock transactions last year. Rep. Neal Dunn of Florida and his spouse hold up to $100,000 worth of Southern Company stock, and the spouse of Rep. Greg Pence of Indiana holds up to $100,000 in Marathon Petroleum. Third-term Rep. John Curtis of Utah, a member of the Subcommittee on Environment & Climate Change, owns up to $15,000 in Chevron shares and up to $15,000 in oil company Valero Energy, which he purchased in June.
A couple of Democrats on the Energy and Commerce Committee similarly held onto the fossil fuel industry stocks in their portfolios through the hottest year on record last year and a record-setting wildfire season on the West Coast. The Democratic committee members with fossil fuel assets include Senior Whip Debbie Dingell of Michigan, who owns up to $50,000 in electric company NextEra Energy, which operates methane gas facilities along with its solar and wind capacity. Conservative "Blue Dog" Kurt Schrader of Oregon began 2021 with up to $15,000 in oil and gas producer ConocoPhillips, then throughout the year picked up stock in Chevron, ExxonMobil, and pipeline giant Enterprise Products Partners, among other fossil fuel companies, filing his disclosure reports in handwritten scrawls that cannot be read by computers.
The oil and gas industry is on track this year to match the $112.5 million it reported spending on federal lobbying last year, according to OpenSecrets. ExxonMobil and Chevron stand out among industry groups in their sophisticated lobbying pushes and PR campaigns against policies that would reduce greenhouse gas emissions in line with the Paris Agreement, according to a report last month from the UK think tank InfluenceMap. At least nine House members' households own ExxonMobil stock, according to Sludge's review of disclosures, and at least five own Chevron stock.
Real quick – We're a two-person investigative newsroom focused on uncovering the financial interests of Congress. This story is made possible by newsreaders who want this conflict-of-interest information to be findable online. Please consider subscribing to this accountability reporting and joining our readers who keep us going with a donation of $5 a month.
Texas Republicans Top the List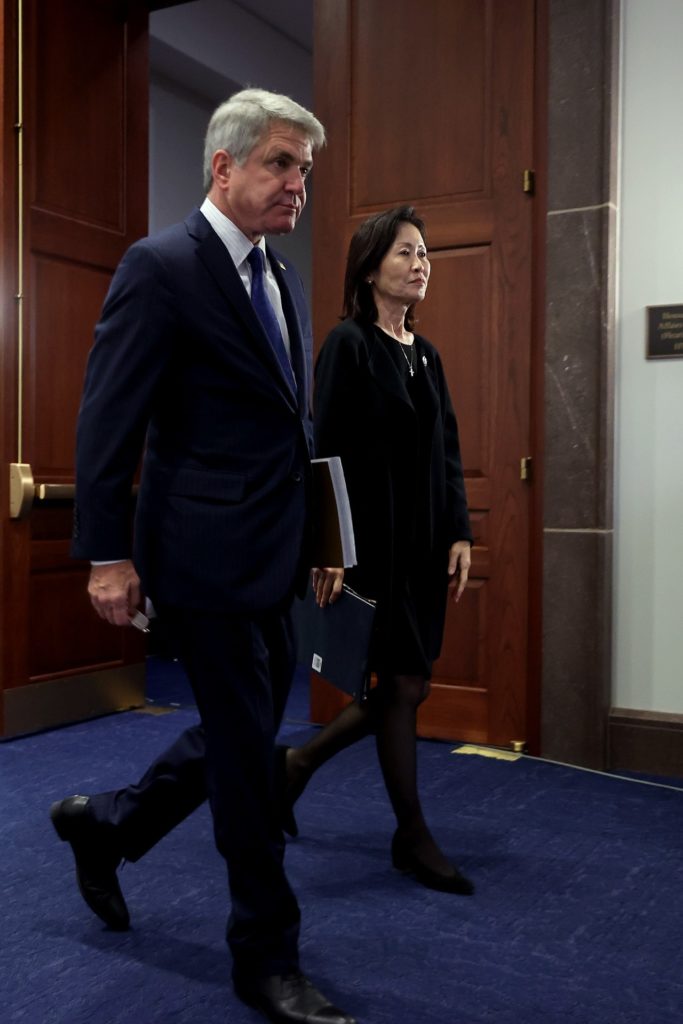 Second-term Republican Rep. Van Taylor of the Texas Third Congressional District, encompassing Plano and part of Dallas, is among the House members with the highest amount of fossil fuel wealth, reporting between $3 million and $12.4 million, largely in ExxonMobil stock worth as much as $10.8 million. Taylor, previously a state legislator, also owns up to $1 million in Chevron stock and mineral interests in Polk County, Texas and in North Dakota through Texican Land Company LP. His company VanAnne Holdings also owns up to half a million dollars in Midland-based oil and gas company Mexco Energy Corp. He took over $3.3 million in income from the fossil fuel assets in 2020, mostly from his largest Exxon shareholding.
Tenth-term Republican Rep. John Carter of the Texas Thirty-First Congressional District, located north of Austin in the center of the state, disclosed owning Exxon Mobil stock that at the end of 2020 was worth as much as roughly double what he reported the maximum value of his holdings in the company being worth at the end of the prior year. In January, Carter was among the 139 Republican House members who voted to sustain objections to the certification of Electoral College results, despite around 62 federal and state pro-Trump lawsuits having failed for lack of evidence.
Rep. Michael McCaul, who represents the Texas Tenth Congressional District between Austin and Houston, started the year with millions of dollars invested in fossil fuel companies including Chevron, oil and gas exploration company Murphy Oil, and National Fuel Gas Company. In September, McCaul purchased up to $50,000 in Chevron stock, and in the first week of October he sold off between six and seven figures worth of stock in Murphy Oil.
Fifth-term Rep. Roger Williams, who represents the Twenty-Fifth Congressional District located between Austin and Fort Worth, owns up to half a million dollars in offshore drilling company Van Dyke Energy through ​​Jack Williams Chevrolet, as well as up to $65,000 in Chevron with his spouse, and other companies.
Pipeline Stock Pickups
Several of the members with the largest fossil fuel investments purchased more shares in energy companies throughout 2021, especially in pipeline firms and fossil gas companies. The bipartisan infrastructure bill signed into law provides new funding for gas pipelines and a petrochemical hub, and according to Food & Water Watch, weakens the environmental review process. The Build Back Better Act remains stranded in the Senate, even after the clean energy standard that would have mandated power plants reach 80% zero-emission electricity by 2030 was stripped from the plan by oil and gas industry favorite Sen. Joe Manchin (D-W.V.), owner of a family coal brokerage.
Second-term Republican Mark Green of Tennessee started the year with between $1.5 million and $3 million invested in fossil fuel companies, including up to $1 million each in oil refiner CrossAmerica Partners and midstream company NGL Energy Partners. In October and November, as the House debated energy provisions in the Build Back Better Act, he was trading shares in companies like Phillips 66 Partners, Enable Midstream Partners, and pipeline company NuStar Energy. Most recently, Green bought up to $1 million of stock in midstream company MPLX on Nov. 8, days after the House passed the bipartisan infrastructure bill, also selling up to half a million dollars in CrossAmerica shares.
Rep. Virginia Foxx (R-N.C.) owns shares worth between $500,000 and $1.5 million across nine fossil fuel companies, led by shares worth up to $210,000 in Plains All American Pipeline, up to $190,000 in Enterprise Products, and up to $115,000 in ExxonMobil. The ninth-term Foxx stepped up her energy industry investments several times this year, including August pickups of stocks in Enterprise Products and oil and gas pipeline company Antero Midstream, September pickups of BP and ExxonMobil stock, and more shares of Enterprise and Antero purchased on Nov. 11, a week after the House passed the infrastructure bill.
Wealthy Republican Trey Hollingsworth of Indiana has purchased up to $5.2 million in pipeline company shares this year, up from just $15,000 held as of the end of last year, including up to $1 million bought just days after the infrastructure bill was signed into law in November.
A Few Stock Sales
Rep. Frank Pallone (D-N.J.), chair of the powerful House Energy and Commerce Committee, started the year with up to $15,000 in both Chevron and electric company Dominion Energy owned by his spouse, who then sold up to the same amount in each stock in an August sell-off, though he did not mark the sales as full divestments from the company so it's possible that he still owns up to $14,999 in each. After the Democrats' win in the 2018 midterms election, Pallone repeatedly rejected calls from the activist group Sunrise Movement to sign the No Fossil Fuel Money pledge, which would refuse fossil fuel industry PAC contributions and donations above $200 from fossil fuel executives and lobbyists, and has dismissed the Green New Deal framework for addressing the climate crisis. Pallone's office did not respond to a previous Sludge inquiry about whether he supported any of the three House bills introduced that would ban members of Congress from trading individual corporate stocks while in office.
Wealthy freshman Rep. Peter Meijer (R-Mich.) started the year with a maximum of $400,000 in fossil fuel investments, including shares worth up to $50,000 in Chevron and ExxonMobil, but sold many of these assets in February, though the transactions were not marked as full divestments.
Similarly, the spouse of freshman Rep. Marie Newman (D-Ill.) had held up to $15,000 in Exxon stock at the start of 2021, then sold up to that same amount in February without specifically marking it as a full divestment. The progressive Newman has signed the No Fossil Fuel Money pledge and has called for greater government investment in green energy.
Vermont's Peter Welch's spouse sold up to $15,000 in Exxon stock in September, possibly a divestment from the industry ahead of his announced run for Senate next year to fill the seat of retiring Pat Leahy.
A Divestment
Two years ago, Sludge found that the spouse of Rep. Ro Khanna (D-Calif.) owned up to $7.5 million worth of fossil fuel company stocks. In October, Khanna told Newsweek that his wife's funds had divested 98% of their fossil fuel industry holdings, and that August purchases by his wife's funds of up to $100,000 in Chevron and ExxonMobil stock were inadvertently bought by a money manager. Nearly all of the fund's fossil fuel industry assets, including Chevron and Exxon stock, as well as electric utilities Southern Company and Williams Companies and oil companies Phillips 66 and Cabot Oil & Gas, were sold in August and September, periodic transaction reports show. At least one investment of up to $15,000 in electric utility NextEra Energy remains, which his office says it will review.
Khanna, who chairs the Subcommittee on the Environment of the House Oversight Committee, held hearings with fossil fuel industry executives in October questioning their companies' history of climate denialism and misleading PR, which ended in committee chair Rep. Carolyn Maloney (D-N.Y.) announcing subpoenas of documents from oil industry executives.
In Sludge's previous analysis, as of Dec. 2019, at least 29 senators and 105 representatives held stock in the fossil fuel industry, valued as much as $14.5 million and $78.2 million respectively. Last month, Sludge's updated look at the U.S. Senate found 28 senators with fossil fuel investments in their households, with assets worth up to $12.6 million.
Misc. Findings
Speaker Nancy Pelosi's spouse holds an investment of up to $50,000 in Clean Energy Fuel Cells Corp., a California-based company that is developing liquid gas fueling stations for long-haul trucks to compete with diesel. The unsustainable impacts of continued fossil gas extraction and its accompanying methane emissions were documented in a May 2019 report from over a dozen environmental groups including 350, Greenpeace USA, and the Rainforest Action Network.
Sixth-term Republican Austin Scott of Georgia often traded shares this year in Clean Energy Fuels Corp. and FuelCell Energy, a Connecticut-based fossil gas company. He bought up to $15,000 of shares in each in June, then bought another up to $15,000 in FuelCell stock in September and sold up to $15,000 in Clean Energy Fuels stock in October as the House debated the Build Back Better Act. In his 2020 annual report, investments of up to $50,000 in each company belonged to his spouse.
Third-term Democrat Vicente Gonzalez of the Texas Fifteenth Congressional District, who shortly after taking office in 2017 founded the Congressional Oil & Gas Caucus, owns just over $10,000 in Chevron stock. Gonzalez was among the Blue Dog Coalition members seeking to delay passage of the Democrats' reconciliation plan this summer, when it included a clean energy standard, and successfully pushed to first pass the infrastructure bill, legislation that was praised by trade group the American Gas Association.
Third-term Democrat Tom Suozzi of New York, who is leaving his seat next year in his run for governor in the 2022 state election, bought and sold shares of oil and gas exploration company Devon Energy in May and June worth up to $65,000, having already held up to $100,000 in Devon stock at the end of 2020.
The spouse of fifth-term Democrat Maxine Waters of California owns up to $250,000 in oil and gas company Chesapeake Operating, sending her household royalties of between $15,000 and $50,000 in 2020.
Methodology
For the past three years, Sludge and data scientist Andy Friedman have been developing software to scrape the House and Senate financial disclosure portals and extract entries from the thousands of documents to create a machine-readable dataset of congressional financial information. For this analysis, Sludge matched assets in the House dataset with fossil fuel companies in the company list of the No Fossil Fuel Money pledge, maintained by the nonprofit research and advocacy organization Oil Change International. Investments in the Energy Select Sector SPDR Fund and Vanguard Energy ETF were included based on their grades in the Fossil Free Funds resource of the environmental nonprofit As You Sow. Sludge manually reviewed investment data for the subset of handwritten forms and investment totals included here include periodic transaction reports available up to Dec. 26, 2021 for members with identified fossil fuel industry investments.
Correction: This article was updated with information from Rep. Khanna's office that at the time the congressman spoke to Newsweek in October, household assets in Chevron, ExxonMobil, and other fossil fuel companies had been sold by his spouse's investment funds. (Dec. 30, 1pm ET.)
Thank you for reading! Congress makes it virtually impossible to track its members' investments, but we're relentlessly focused on the conflicts of interest of lawmakers. We don't have a rich donor or foundation grants for this work. This labor-intensive data research is supported by readers like you who band together to give $5 a month, or a bit more, because they believe it's important that policy makers' corporate stock holdings are examined in news reporting.

If you can, please help keep us going by subscribing to support this investigative journalism. 🙏
---
Read more climate muckraking from Sludge: