The Conflicted: Reps Own Stock in Companies While Serving on Committees Overseeing Them
Despite public anger over congressional stock trading, senators and reps have held on to personal investments in companies that fall under their committees' jurisdiction.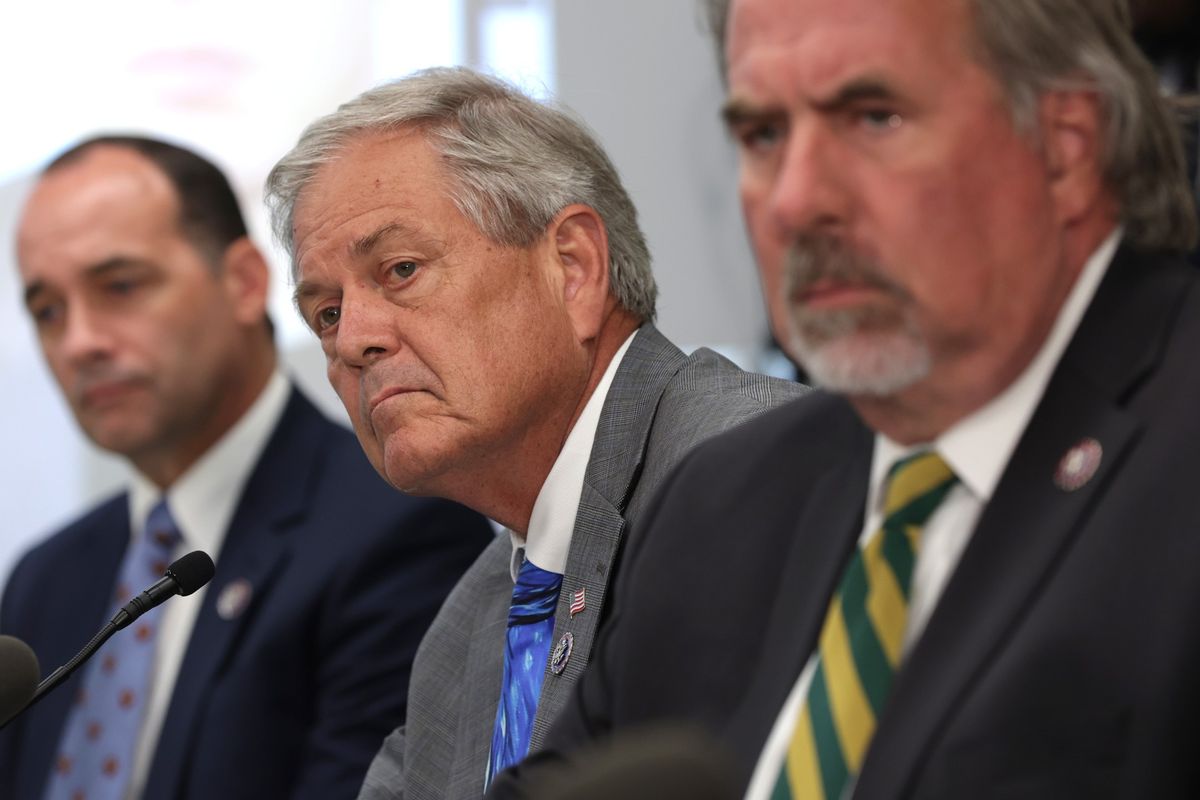 Polls show Americans want to crack down on the glaring ways that members of Congress could enrich themselves with insider information, after several lawmakers were caught in 2020 making stock trades following privileged briefings on the coronavirus pandemic. The issue of senators and representatives trading stocks has popped up in the North Carolina Senate contest and other midterm races.
But even when lawmakers are not buying and selling stocks, in many cases they're holding stocks that pose conflicts of interest with their work on congressional committees. Sludge reviewed the latest congressional annual disclosures and transaction reports and found several examples of representatives and senators holding stock in companies while serving on the committees that are responsible for preparing legislation determining how their investments' industries are regulated. In some cases, lawmakers are holding stock in government contractors while sitting on the committees that approve funding for the agencies that dole out their investments' contracts.
In June, third-term Rep. Ralph Norman (R-S.C.) was tapped to join the House Financial Services Committee by Ranking Member Patrick McHenry, who touted Norman's "extensive private sector experience in real estate development."
In taking the position, Norman gained new power over an industry in which he is heavily invested: Norman holds between $500,000 and $1 million worth of stock in South State Corporation, the holding company for SouthState bank, according to his financial disclosures. The asset sent him between $15,000 and $50,000 worth of dividends in 2021. In his disclosure, Norman also listed liabilities to four creditors, including South State, valued at between $3 million and $12 million relating to property investments.
Asked whether Rep. Norman might join some of his House Republican colleagues and publicly support bills to limit congressional stock activities, Austin Livingston, his communications director and deputy chief of staff, told Sludge his boss is leaning against it.
"Rep. Norman has no position yet on any proposed legislation concerning direct ownership of stocks or individual securities," said Livingston. "However, given what we've consistently seen from House Democrat leadership, Congressman Norman does not expect any such legislation to be well formulated." Livingston declined to comment on the bank assets and liabilities listed in Norman's annual financial disclosure.
In January, Speaker Pelosi was pushed by House members to reverse her position and say she would support her Democratic colleagues advancing tighter rules for lawmakers' stock trading. But since an April 7 hearing to examine proposals, the Committee on House Administration, the body Pelosi tasked with developing legislation on transactions or ownership of securities, has yet to release the text that may be introduced. A framework was expected in August, with a vote in September, according to a Punchbowl News item. Meanwhile, the willingness of the Senate to take up a reform measure is unclear, with little heard publicly from a working group of Democratic senators reportedly laboring to find consensus earlier this year.
Good government groups have been pushing congressional leaders to "move expeditiously to advance legislation" that would prohibit members of Congress from owning or trading individual stocks and other securities. In an Aug. 2 letter addressed to Speaker Pelosi, a coalition of nearly two dozen groups including the nonprofit Citizens for Responsibility and Ethics in Washington (CREW) wrote, "​​We fear that without your strong leadership and advocacy this critical good government reform will stall. The August recess and the November elections loom. Each day that passes increases the chance that Congress will not have time to take up and pass this legislation. That must not happen."
For the past four years, Sludge has dug through the investment portfolios of hundreds of members of Congress using a combination of software tools and manual review of scanned PDFs. Below are a selection of lawmakers who are invested in the stocks of companies that fall under the jurisdiction of the congressional committees on which they sit, based on a review of the most recent annual disclosures, for 2021, and subsequent periodic transaction reports.
Big Tech
Rep. Debbie Dingell (D-Mich.) owns between $500,000 and $1 million worth of Microsoft stock and up to $100,000 worth of Meta stock as a member of the House Energy and Commerce Committee. The committee's sprawling jurisdiction includes "electronic communications and the internet" as well as "privacy, cybersecurity and data security." A tech platform antitrust bill that Microsoft supports, the Open App Markets Act, was referred to the Energy and Commerce Committee last August, though no committee action has been taken on it yet. Still, the committee has been engaged in many issues that could impact Microsoft's business. The Energy and Commerce Committee has held hearings already this session on legislation to protect internet users' privacy, reforming tech companies' legal immunity protections, and more.
The stock holdings of Rep. Ed Case (D-Hawaii) include up to $1 million in Apple, up to $500,000 in Amazon, and up to $250,000 in Microsoft shares. The third-term representative sits on the Commerce, Justice, Science, and Related Agencies subcommittee of the House Committee on Appropriations, which funds the federal government. Among the subcommittee's responsibilities is setting funding levels for the Antitrust Division of the Department of Justice, which enforces federal antitrust laws and is increasing scrutiny of the practices of platforms operated by the Big Tech companies. Earlier this year, a bipartisan group of House lawmakers, not including Case, asked the Department of Justice to look into what they called Amazon's "pattern and practice of misleading conduct" during an antitrust investigation in the previous Congress.
Case is also the policy co-chair of the Blue Dog Caucus, a group of conservative Democrats, many of whom initially blocked the passage of the Build Back Better Act last August until a further review of its 10-year spending impacts was performed. In recent years, Amazon has disclosed being a member of the behemoth business lobby group the U.S. Chamber of Commerce. Last summer, the Chamber said it would do "everything we can" to spike the Democrats' Build Back Better Act, which died in the Senate in December.
Military Contractors
After a report last year by Insider found that Rep. Pat Fallon (R-Texas) was late in filing more than 90 disclosures as required by the STOCK Act, a number that has since grown to 122 instances of late reporting, Fallon filed a report in May with details on last year's flurry of trades. As of his 2021 annual financial disclosure, released in August, Fallon still owns between $50,000 and $100,000 worth of stock in Boeing as a member of the House Armed Services Committee, which takes the lead in the annual bill authorizing the mammoth defense budget.
Boeing was the third-largest U.S. military contractor last year, according to Defense News, bringing in over $35 billion in defense revenue from the U.S. government and foreign governments. Also a member of the House Committee on Oversight and Reform, which is tasked with investigating wasteful contracts, Fallon sold Boeing stock and stock options a number of times throughout 2021.
Another House Armed Services Committee member, Rep. Blake Moore (R-Utah), moved his stock holdings—including in military contractors—to a blind trust after being dinged for 76 instances of late reporting of stock trades under the federal STOCK Act, according to a tally by Insider. According to his latest financial disclosure, Moore owns up to $50,000 worth of stock in Boeing and up to $66,000 of stock in Raytheon, the second-largest defense contractor last year. On June 7, Moore entered into a blind trust agreement, "To avoid any conflict of interest, or appearance of such conflict…" Earlier this year, Moore joined as a co-sponsor of a bipartisan House bill to limit congressional stock ownership, the TRUST in Congress Act (H.R. 336).
Rep. Pete Sessions (R-Texas) has held on to between $50,000 and $100,000 worth of stock in Lockheed Martin while sitting on the House Committee on Oversight and Reform. In May of last year, Sessions joined a letter led by the four House co-chairs of the Joint Strike Fighter Caucus calling on Congress to continue "robust investment" in the F-35 joint strike fighter led by Lockheed Martin, a program whose runaway costs and technical problems have been widely criticized by Armed Services Committee members and Pentagon watchdogs.
Sen. Jerry Moran (R-Kan.), a member of the Defense subcommittee of the Committee on Appropriations, which allocates federal funds, has for several years owned between $15,000 and $50,000 worth of Boeing stock in a joint trust, according to his annual financial disclosures. Another Armed Services Committee member, Sen. Tommy Tuberville (R-Ala.), has sold his investments in Lockheed Martin and Raytheon, but in March picked up shares in Northrop Grumman worth up to $15,000. Sen. Gary Peters (D-Mich.) on the Armed Services Committee has similarly held on to between $15,000 and $50,000 worth of stock in Raytheon since an exchange for the shares from United Technologies stock in April 2020, according to his latest financial disclosure. The Airland subcommittee, one of three on which he serves, has jurisdiction over "Army and Air Force research, development, test, and evaluation (RDT&E)," among other things.
Fossil Fuel Company Stocks
One of the most prominent lawmakers personally invested in an industry bound by their committee is Sen. Joe Manchin (D.-W.Va.), chair of the Senate Committee on Energy and Natural Resources, whose stakes in family-held coal companies have generated millions of dollars in income since he joined the Senate. Manchin played a key role in shaping the Democrats' budget reconciliation plan by stripping it of programs opposed by the fossil fuel industry, then dramatically announcing on Fox News in December that he could not support it, before reversing course in July and backing a smaller version.
Rep. Dina Titus (D-Nev.) is a member of the Railroads, Pipelines, and Hazardous Materials subcommittee of the Transportation and Infrastructure Committee, the body that has jurisdiction over issues of pipeline safety. The fifth-term Las Vegas representative owns stock in several energy companies, including between $15,000 and $50,000 apiece in utilities Southern Company and Dominion Energy, both of which are vast gas pipeline operators.
Retiring Rep. Fred Upton (R-Mich.), the ranking member of the Energy subcommittee of the House Energy and Commerce Committee, holds between $100,000 and $250,000 worth of stock in ExxonMobil, as well as up to $15,000 worth of BP shares. Other trusts owned by Upton—noted in his annual disclosure as not managed by him—hold up to $15,000 worth of stock in ConocoPhillips, NextEra Energy, Alliant Energy, and oil field services company Schlumberg. His lifetime environmental voting score from the League of Conservation Voters, on congressional votes going back to 1987, stands at 29%.
The spouse of Sen. Shelley Moore Capito (R-W.Va.), a member of the U.S. Senate Committee on Environment and Public Works, has held on to fossil fuel industry investments in stocks including Chevron, Duke Energy, and ExxonMobil since last year's Sludge analysis.
A Health Subcommittee Chair
Rep. Lloyd Doggett (D-Texas) chairs the Health subcommittee of the House Ways & Means Committee. According to his 2021 annual disclosure and periodic transaction reports filed in 2022, Doggett's investments include between $101,000 and $265,000 worth of stock in pharmaceutical and consumer health products company Johnson & Johnson. In the previous Congress, Johnson & Johnson submitted comments to the Ways & Means Committee regarding Medicare Part D legislation.
"These new revelations make it even more urgent that Congress pass legislation banning members and their spouses from owning or trading stocks," said Donald Sherman, senior vice president and chief counsel of CREW. "When members own stock in companies they regulate, or when they buy or sell stock at suspicious moments, the public loses trust in our government and in Congress's legitimacy. We welcome any draft legislation that would accomplish this goal, and we're hopeful that the Committee on House Administration's upcoming proposal will address the full scope of this problem and not attempt to expand the scope beyond its own branch at this time. This cannot wait any longer – the American people deserve to know that the needs of the public, not members of Congress's stock portfolios, come first."
CREW wrote earlier this year that provisions in such legislation should include a ban on owning or trading of stocks by lawmakers' households, including by the funds of spouses and dependent children.
The D.C. offices of Reps. Dingell, Case, Fallon, and Doggett did not respond to Sludge's inquiries on whether the representatives had positions on forthcoming House legislation targeting congressional stock ownership. None are co-sponsors of three House bills introduced last year to limit congressional stock transactions.
Several House members appear to have missed the mid-August deadline to post their most recent annual disclosures, after being granted extensions. No annual disclosure form for 2021 is posted on the website of the Office of the House Clerk for Rep. Trey Hollingsworth (R-Ind.), who last year purchased millions of dollars worth of stock in two pipeline companies. Hollingsworth's office did not respond to an inquiry as to whether the congressman had submitted his annual financial disclosure, after being granted an extension by the Committee on Ethics to file by August 13.
Congress does not release its members' financial information as data. Some of the disclosures are posted only as scanned PDFs, often running into the hundreds of pages apiece, and occasionally illegible. Dozens of House members and several U.S. senators continue to file their annual disclosures in handwritten or non-standard formats, making it impossible for software to programmatically access their financial information.
---
Read more: