Ossoff to Intro Bill to Ban Members of Congress and Their Spouses From Trading Stocks
Sen. Jon Ossoff (D-GA) is planning a bill to ban stock trading by federal lawmakers and their spouses, but it faces an uphill battle this year.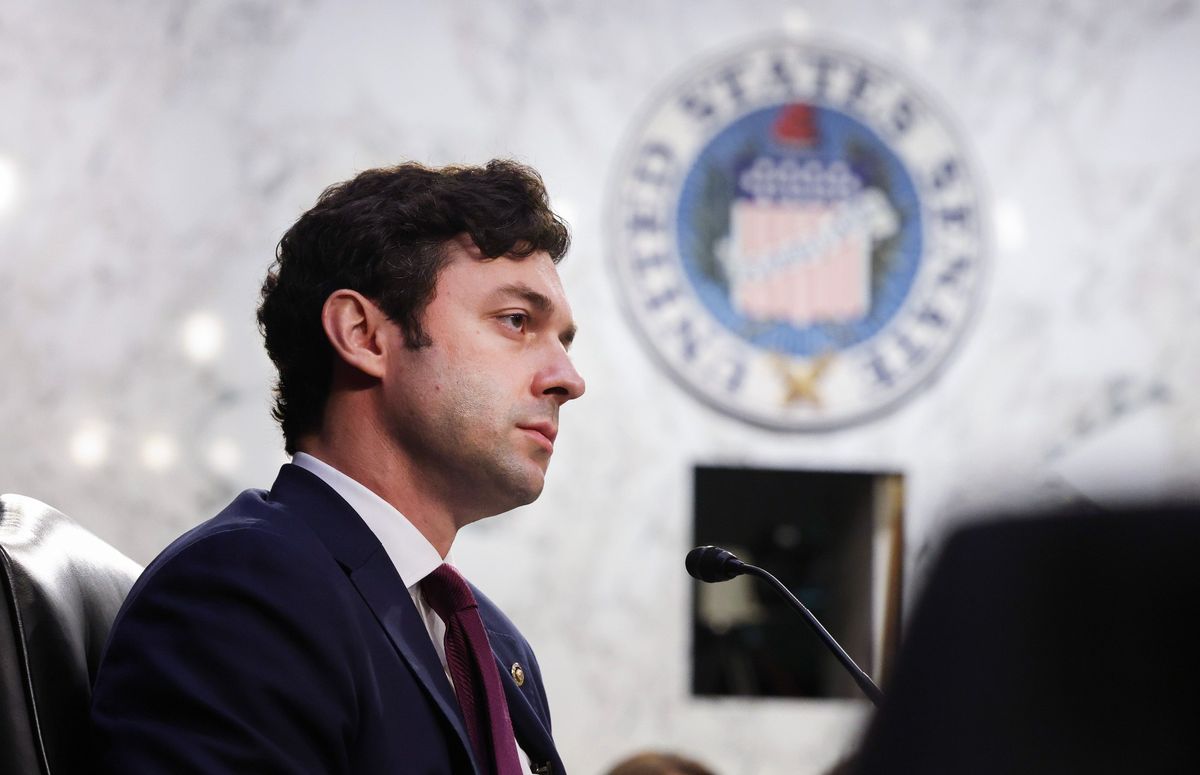 House Speaker Nancy Pelosi made headlines last year with the multimillion dollar stock trades of her husband, investor Paul Pelosi, who among other plays exercised call options on Google stock in June that locked in $5.3 million in gains. Not done, the Pelosis purchased millions more in call options from December 17-21, just days after she defended the practice of stock trading by members of Congress in a press conference.
Another congressional spouse outdid Paul Pelosi's Google call last year, in terms of the highest dollar amount transacted in a single company's stock. That distinction belongs to Kurt DelBene, a former Microsoft executive who in December was confirmed by the Senate as CIO and assistant secretary for information and technology at the Department of Veterans Affairs. He's the husband of Suzan DelBene, the fifth-term representative from Washington's First Congressional District, which encompasses a third of King County outside Seattle.
Update, Jan. 12, 12pm ET: Rep. DelBene's communications director says that Kurt DelBene was given Microsoft stock in options over his career at the company and sold his shares to divest before taking a role in government, an intention which they could not disclose in Oct. 27 news reports about his stock sale, or in a Washington newspaper report on Dec. 9, because his nomination had not yet been announced, which it was on Nov. 3, or confirmed, which it was on Dec. 17.
In late August 2021, Kurt DelBene reported a purchase of Microsoft stock valued between $5.2 million and $25.5 million in two transactions, then divested shares in two transactions in September and October of over $5 million apiece. The DelBene household had started the year with between $1 million and $5 million of Microsoft stock in a joint trust, generating income of up to $100,000 in 2020, with an additional up to $250,000 in Microsoft shares held by Kurt, so the hefty stock pickup in August more than doubled their holdings. Rep. DelBene is the vice chair of the tax-writing House Ways and Means committee and chair of the business-favoring New Democrat Coalition, whose 97 caucus members edge out the 95 House progressives.
In the months before the DelBene household's Microsoft moves, the House was lobbied intensely by tech industry groups who were fighting an antitrust package being developed in the House Judiciary Committee, including a measure introduced by progressive caucus chair Rep. Pramila Jayapal of Washington that would make it easier for federal regulators to break up dominant platforms. The contentious package to rein in Big Tech market power continues to be worked on, and if it comes to a full House vote, the votes of the New Democrats could be decisive, with Democrats having only about a five vote margin over Republicans.
In its most recent corporate responsibility report for 2020, Microsoft disclosed paying dues of between half a million and a million dollars to three trade associations—the Internet Association, the Information Technology Industry Council, and the U.S. Chamber of Commerce—and paying smaller amounts in dues to 13 other government affairs groups. Microsoft's PAC has also donated tens of thousands of dollars to the New Democrats' PAC over the past few election cycles, totaling $16,000 in the 2020 election cycle and $15,500 last year, according to FEC data.
Members of Congress acknowledge they have access to nonpublic information that could be used in stock trades—in reintroducing the Ban Conflicted Trading Act last March, Democratic Sens. Jeff Merkley said, "members trade on information they hear that the general public doesn't. And that's just wrong." Co-sponsor Sen. Sherrod Brown of Ohio added, "Elected officials have access to nonpublic information that can affect individual companies and entire industries." The bill, which has a companion in the House with 22 bipartisan co-sponsors, would prohibit members of Congress and certain employees from buying or selling individual corporate securities while in office after a six-month period. The Senate version was co-sponsored by Georgia Sen. Rev. Raphael Warnock when it was introduced in March, and by New York Sen. Kirsten Gillibrand in September.
As Sludge recently covered, the bill contains a major loophole: spouses of senators and reps would be still allowed to buy and sell corporate stocks, and it's proven virtually impossible to use existing laws to prosecute members of Congress for insider trading based on nonpublic information. More than one in six corporate securities reported by members of Congress are owned by a spouse, Sludge calculated, and about 18% of House members' spouses own corporate securities.
Now, another Democratic senator is planning to introduce a stronger bill: freshman Jon Ossoff of Georgia is reportedly looking for a Republican co-sponsor of a bill that would prohibit members of Congress and their families from trading stocks. Ossoff won the Georgia runoff election against Republican Sen. David Perdue on Jan. 5, 2021 after highlighting the timing of Perdue's stock trades at the start of the coronavirus pandemic, which prompted a Department of Justice investigation that was closed in mid-2020. Update, Jan. 12, 6pm ET: Ossoff's office released the text of the Ban Congressional Stock Trading Act, introduced with Sen. Mark Kelly (D-AZ), which would require members of Congress and their households to place corporate securities in a blind trust after 120 days and would prohibit stock transactions while in office.
Another bill that would ban members of Congress from stock trading, the TRUST in Congress Act, introduced by centrist Democrat Rep. Abigail Spanberger of the battleground Virginia Seventh Congressional District with GOP Rep. Chip Roy of Texas, would require members and their spouses to transfer all their corporate securities to qualified blind trusts while in office. The bill does not currently have a Senate version and trails the Ban Conflicted Trading Act in the number of House co-sponsors.
Ossoff entered into a blind trust on March 26, 2021, adding a layer of independence between his legislative activity and his investment. According to his 2020 financial disclosure, Ossoff holds corporate stock worth up to $5 million in Apple, up to $250,000 in Berkshire Hathaway and Century Bancorp, up to $100,000 in Coca-Cola and snacks company Mondelez International, and up to $15,000 in Caterpillar and Kraft Heinz.
The Ban Conflicted Trading Act and the TRUST in Congress Act are not likely to pass this year, with no hearings scheduled in the House or the Senate committees to which they have been referred. A similar fate is likely for Ossoff's bill in this Congress, given Pelosi's defense of the status quo.
In August 2018, Sen. Elizabeth Warren introduced an anti-corruption package that would have barred members of Congress and some employees from owning individual corporate securities, requiring divestment—under one option, to broader investment funds set up by the federal government—but the bill didn't gain any Senate co-sponsors in the 115th or 116th Congresses. The bill's House companion was introduced by Rep. Jayapal, with nine co-sponsors in 2018 and six co-sponsors in 2020, toward the goal of "restoring Americans' faith in government."
Cross-posted from The Brick House Cooperative.
---
Read more: