House Dems Launch PAC to Fight Progressive Primary Challengers
Its founders are among the top fundraisers from corporate PACs in the House Democratic caucus.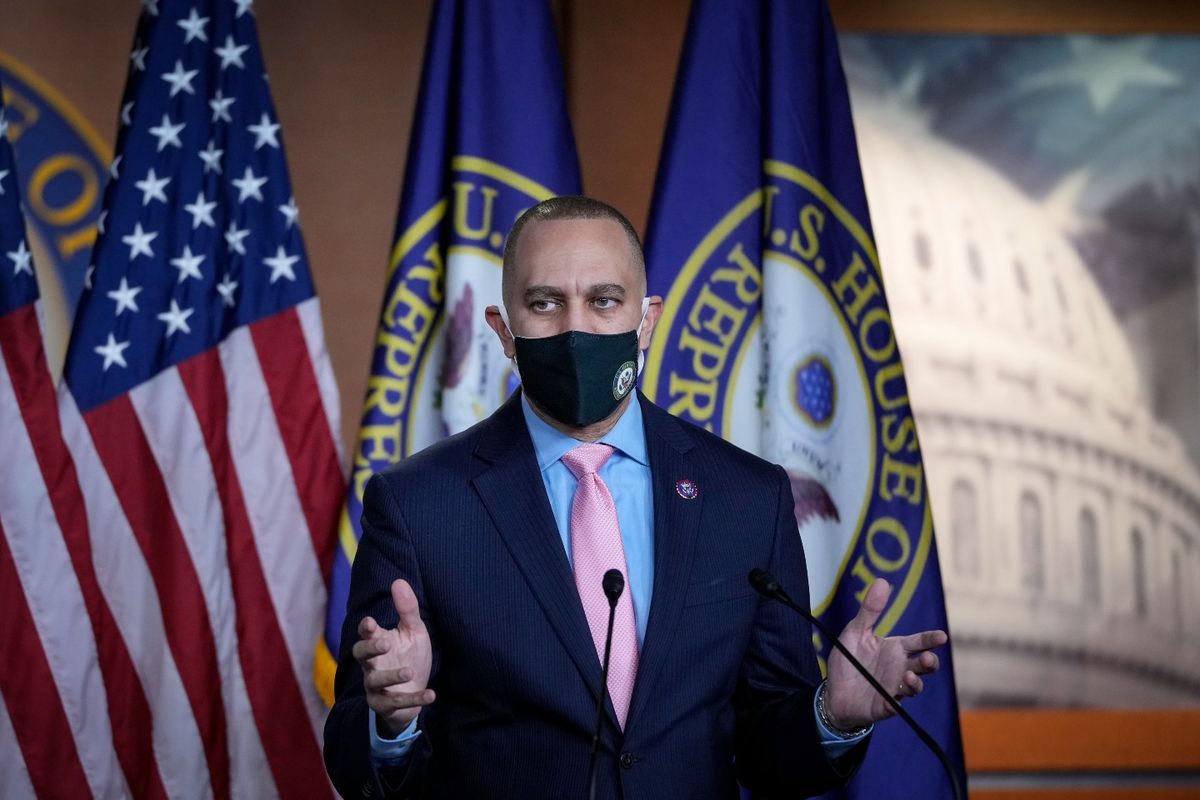 Progressive Democrats notched a few more primary wins last cycle in U.S. House contests, with Representatives Jamaal Bowman of New York, Cori Bush of Missouri, and Marie Newman of Illinois defeating longtime incumbents. 
Now, three of the most corporation-friendly House Democrats have launched Team Blue PAC to defend incumbents from progressive primary challengers including two candidates who have been endorsed by Justice Democrats, according to a report today from NBC News. The PAC was officially formed on May 21.
The three representatives behind the new PAC are Hakeem Jeffries of New York, Chairman of the House Democratic Caucus; Josh Gottheimer of New Jersey, co-chair of the centrist Problem Solvers Caucus; and Terri Sewell of Alabama, former vice chair of the moderate New Democrat Coalition and a member of the Congressional Black Caucus. The PAC's goal is to bolster protection efforts for incumbents in safe Democratic districts by raising and spending money on their behalf, stepping in for the Democratic Congressional Campaign Committee, which formally and informally engages in primaries, but mostly spends on races in competitive districts.
"This is another way for Wall Street and corporations to funnel hundreds of thousands of dollars to incumbents just to stop the emergence of a new generation of progressive, working class leadership in the Democratic Party," said Waleed Shahid, a spokesperson for Justice Democrats. "But we've overcome being outspent in nearly every primary before through small dollar donors and grassroots organizing."
Team Blue PAC's three founders were in the top 13 corporate PAC money recipients among all House Democrats in the 2020 election cycle, according to OpenSecrets. Sewell's more than $1.6 million raised from corporate PACs places her seventh among House Democrats, while Gottheimer's over $1.3 million puts him eleventh and Jeffries with nearly the same amount comes in at thirteenth.
The vast majority of Sewell's funding raised last cycle, almost 81.6%, came from PAC contributions, according to OpenSecrets, making her the most PAC-reliant House candidate. Ninety-four percent of Sewell's 2020 PAC haul came from those affiliated with corporations. Jeffries brought in the fourth-most in donations overall among House Democrats in 2020.
Two members the new PAC plans to defend, according to NBC News, are Rep. Danny Davis of Illinois and Rep. Carolyn Maloney of New York, who are each facing a primary challenge from a candidate backed by Justice Democrats: gun violence prevention and Medicare for All advocate Kina Collins is challenging Davis, and nonprofit leader Rana Abdelhamid is challenging Maloney.
In the upcoming contest in Illinois' Seventh Congressional District, including parts of the West Side of Chicago, challenger Collins pointed earlier this month to Davis' reliance on corporate PACs—which gave him almost 74% of his PAC contributions last cycle, compared to about 20% from labor. Davis' top donor industry in the 2020 cycle was insurance, according to OpenSecrets, at over $51,000 given, with $22,500 coming in from pharmaceutical industry PACs. The health sector contributed over 11% of his campaign's over $546,000 in PAC funding last cycle, when he defeated Collins with 60% of the primary vote to her nearly 14% received.
In the race in New York's Twelfth Congressional District, including parts of New York City like the East Side of Manhattan, human rights activist and challenger Rana Abdelhamid introduced her bid in April with a video on economic inequality. Last cycle, Maloney's top donor industry to her campaign and leadership PAC was securities and investment, with $325,000 contributed by PACs and employees, followed by real estate with $295,000, and insurance with nearly $223,000. PACs in the finance, insurance, and real estate sector accounted for just shy of half of Maloney's total PAC funding raised in the 2020 cycle, and corporate PACs made up over 72% of her PAC contributions last cycle, compared to almost 18% from labor. Maloney, who is a member of the Congressional Progressive Caucus, defeated primary challenger Suraj Patel last year by around 3,250 votes, a few percentage points of the over 94,000 votes cast.
Rep. Sewell is the vice chair for outreach of the New Democrat Coalition, which counts 95 pro-business House Democrats who seek to shift the party away from progressive economic policies. The coalition has a PAC that raises millions of dollars in contributions each cycle from hundreds of major Hill donors including the PACs of JPMorgan Chase, ExxonMobil, Goldman Sachs, and Pfizer. Last cycle, the New Democrat Coalition's PAC raised over $3.2 million and spent nearly $2.8 million, with some $762,300 of that sent to House Democratic candidates.
Gottheimer, as a co-chair of the Problem Solvers Caucus, recently joined two other House Democrats in threatening to block the Biden administration's infrastructure plan unless a tax break that overwhelmingly benefits the top 5% of income earners was added to the package. Sludge found that the Problem Solvers Caucus set up four joint fundraising committees last cycle that took a total of more than $3.6 million in contributions from corporate executives and their spouses.
House lawmakers routinely pay their parties "dues" in the hundreds of thousands of dollars, much of it raised from business PACs and trade associations, to earn influence over legislative decision-making. Davis' position as chair of the Worker and Family Support Subcommittee of the powerful House Ways and Means Committee meant that his dues to the party reached $300,000 last cycle, according to an internal party document published by The Intercept. Rep. Jeffries, in House leadership, was pegged to kick in $575,000 in party taxes; Gottheimer was tasked with bringing in $250,000 for the party.
According to the group's formation filing with the FEC, its treasurer is Chris Koob, a Democratic accountant and compliance professional who was formerly treasurer of Persist PAC, a super PAC that supported Sen. Elizabeth Warren's presidential campaign.
Correction: Rep. Sewell was the New Dems' vice chair for outreach in the previous 116th U.S. Congress, and remains a member of the coalition in the 117th Congress.
---
Read more from Sludge: